Household appliances have come a long way in the last few years, including the beloved washing machine. It's a household staple that doesn't get the recognition it should. But now with modern technology, it has somewhat made it into the spotlight. Expect automatic cycles, delay start systems, Wi-Fi connectivity, the list is endless! In this review, we list the three major brands that currently offer smart washing machines in Australia to help you decide which is best for you, and what features you should keep an eye out for.
What is a smart washing machine?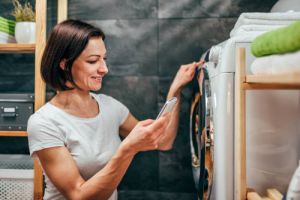 When you think of the term "smart", it typically refers to an appliance that's designed to make life easier. Whether it's added functionality, a versatile touchscreen interface or app connectivity, all of this adds up to an appliance designed to help get the day-to-day tasks done without fuss. Wi-Fi connectivity is what allows you to sync the appliance to your smartphone and have all the control at your fingertips, even if you're not home. That's pretty smart!
How much do smart washing machines cost?
Washing machines with Wi-Fi connectivity can range in price, but expect to pay upwards of $1,000 for most models, with the brands and models mentioned in this review costing between $950 and $2,300. The cost will also depend on the size of the washing machine you buy, with larger units fetching higher prices, such as a Samsung 16kg front load washing machine, which retails for around $3,000.
| Model | Price |
| --- | --- |
| LG 8kg Front Loader WD1208TC4W | $949* |
| Samsung 8.5kg Front Loader WW85M74FNOR | $2,199* |
| Miele 8kg Front Loader WCE 670 | $2,299* |
Source: respective retailers, September 2019
Who sells Smart Washing Machines?
In Australia, appliance giants LG, Samsung and Miele are currently the main suppliers of washing machines with Wi-Fi connectivity. While there might be others out there, here's a look at one model from each brand.
LG 8kg Front Loader WD1208TC4W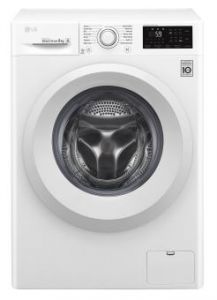 This unit from LG features an 8kg load capacity and connects to LG's Smart ThinQ app. The system allows you to automatically troubleshoot your washer, plus download more wash cycles and view usage history.
Other key features include its Inverter Direct Drive Motor System, stated to deliver a reliable, quiet and durable mechanism with less moving parts than the traditional belt and pulley system. In addition, it's equipped with LG's 6 Motion Wash Technology, which uses a combination of six different motions based on hand-washing to wash your clothes. This is done automatically, meaning you can simply choose a cycle and the machine selects what it thinks is the best combination of washing motions for the load.
Similar to other washing machines from LG, this unit lets you 'Pause' the wash cycle and 'Add Items' you may have missed. It's important to note that the door will remain locked if the water temperature is above 40°C or the water level is high.
Water efficiency rating: 5 stars (consuming 77L/wash)
Energy efficiency rating: 4 stars (consuming 326kWh/365 uses)
RRP: $949*
Samsung 8.5kg Front Loader WW85M74FNOR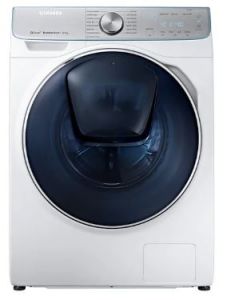 In a similar size bracket to the model above, this 8.5kg front loader from Samsung is also equipped with Wi-Fi connectivity. Samsung's Q-rator technology is built into the washer and can be accessed via a smartphone. The system features a 'Laundry Planner' that allows you to manage your laundry finishing times to suit your daily schedule, plus its 'Laundry Recipe' function further acts as a "personal laundry expert" and recommends ideal wash cycles for each load. Additionally, the 'HomeCare Wizard' remotely identifies problems and provides a troubleshooting service, ideal for when your machine starts to send itself into a spin.
A key design feature of this model is its QuickDrive system, said to deliver a full clean performance in up to half the time with 20% less energy compared to older generation models. Its 'Q-Drum' is designed with two drums – a 'main drum' and a 'backplate' – which rotate independently. This is said to ensure clothes move in dynamic action powered by double forces.
In addition, it also has Samsung's AddWash door, allowing you to add forgotten clothing or fabric softener after your wash cycle has started. You can further add in hand-washed clothes that you just want to rinse or spin dry. You can also use the door to air out the drum between washes.
Water efficiency rating: 5 stars (consuming 73L/wash)
Energy efficiency rating: 5 stars (consuming 320kWh/yr on warm wash)
RRP: $2,199*
Miele 8kg Front Loader WCE 670
This unit from Miele features an 8kg capacity and is designed with Miele's WiFiConn@ct functionality, allowing you to start the washing even when you're not home! In addition to status messages, it notifies you when you're running low on detergent levels, letting you know when to replace or top up.
Its standout feature seems to be the ProfiEcoMotor, claimed to consume less electricity and is maintenance-free. Similar to other Miele washing machines, it has a honeycomb drum design for apparent "gentle garment care". Plus, it's claimed to smooth out clothes after a wash program and decrease ironing time. It's also equipped with TwinDos and CapDosing, which allows you to dispense special detergents, fabric conditioners and additives using portioned capsules.
Additionally, it features a delay start option and a countdown indicator to have the washing fit around your busy schedule, with an inbuilt 'WaterControl' System, stated to monitor water intake and detect leakages to ensure that you're not left with fright the next time the water bill comes around.
Water efficiency rating: 5 stars (consuming 67L/wash)
Energy efficiency rating: 5 stars (consuming 245kWh/yr)
RRP: $2,299*
You may also be interested in:
Should I buy a Smart Washing Machine?
Ultimately, the washing machine you end up purchasing will depend on a number of factors, including your household size, budget and added functionality you're after. If Wi-Fi connectivity is something that would help in your day-to-day, then perhaps a smart washing machine is one to consider. The added features of starting your unit remotely or troubleshooting may help you save time, especially if you have a busy schedule.
However, expect to pay extra for the additional functionality. So, if you're looking for a budget-friendly option, you may need to look elsewhere. To help you compare washing machine brands mentioned in this review alongside a range of others, you may also like to check out our ratings, which might offer you some additional guidance as to how each brand has been rated by everyday Aussies, and which one may be the best fit for your household.
Picture credits: By Zivica Kerkez/shutterstock.com, Andrey_Popov/shutterstock.com
*Prices taken from respective retailers, correct as of September 2019.