Fact Checked
Household appliances have come a long way in the last few years, including the beloved washing machine. It's a household staple that doesn't get the recognition it should. But now with modern technology, it has somewhat made it into the spotlight. Expect automatic cycles, delay start systems, Wi-Fi connectivity, and more. In this review, we list the major brands that currently offer smart washing machines in Australia to help you decide which is best for you, and what features you should keep an eye out for.
What is a smart washing machine?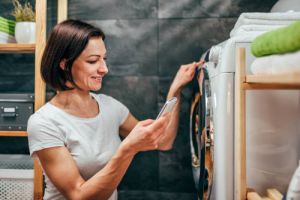 A smart washing machine is a washing machine that comes with additional functionality and 'smart' features, such as Wi-Fi connectivity, a compatible app or similar modern functions to help with its ease of use or performance. While not as common as traditional washing machines, smart washing machines are the next step in laundry technology, and will likely become more commonplace as more brands come to the market with additionally functionality and features.
Smart washing machine features
It can be hard to decipher which features qualify as 'smart' and which are standard of a washing machine. Some smart features to keep an eye out for are: 
AI enhanced technology:

Some appliance brands have started to integrate AI into their technology which can help to self diagnose and determine the appropriate wash cycle for your clothing. Using soil level diagnosis, weight and fabric type a washing machine with these features can decide the water temperature, duration of the wash and spin speed to use. 

Wi-Fi and app connectivity:

Through the use of wireless connection and apps, washing machines can send you alerts about how long your cycle has left, when you're beginning to run out of detergent or any maintenance notifications that were auto-diagnosed by the appliance. 

Auto-dosing:

Many models of smart washing machine now have an auto-dosing function to determine how much detergent is needed for a wash. You simply fill the detergent dispenser so it's full and the washing machine will auto-dose how much is needed for that particular wash, saving you wasting washing detergent.  
How much does a smart washing machine cost?
Washing machines with smart technology such as Wi-Fi connectivity can range in price, but expect to pay upwards of $1,000 for most models, with the brands and models mentioned in this review costing between $950 and $2,300. The cost will also depend on the size of the washing machine you buy, with larger units fetching higher prices.
Who sells Smart Washing Machines?
There are a number of brands that sell smart washing machines, but three major appliance brands that sell them are Samsung, LG and Miele. You can buy direct from the brand or from retailers like The Good Guys and Appliances Online. 
Samsung Smart Washing Machine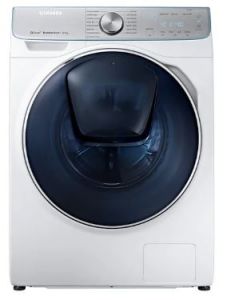 Samsung's range of smart washing machines retail from $1,500 to $2,500 with 8kg to 12kg washing capacities available. Some of the smart features Samsung's washing machines include are AI enhanced washing which is a self-diagnosis style washing setting. It allows the washing machine to self-diagnose the load of laundry and adjust the wash speed, length and temperature to suit that wash. Another smart feature includes AI energy mode which uses AI to save on your energy consumption through the Samsung SmartThings app. 
LG Smart Washing Machine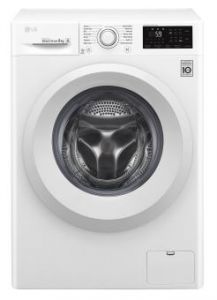 Retailing from $800 to upwards of $1,500, LG has a generous range of front loader smart washing machines. Many models feature smart technology that connects to LG's Smart ThinQ app. The system allows you to automatically troubleshoot your washer, plus download more wash cycles and view usage history. Other key features include its Inverter Direct Drive Motor System, stated to deliver a reliable and quiet performance. In addition, some models are equipped with LG's 6 Motion Wash Technology, which uses a combination of six different motions based on hand-washing to wash your clothes. This is done automatically, meaning you can simply choose a cycle and the machine selects what it thinks is the best combination of washing motions for the load.
Miele Smart Washing Machine
Miele are a slightly pricier brand of smart washing machine retailing from $2,000 to upwards of $3,000, but still offer the same smart technology and more. Some models are designed with Miele's WiFiConn@ct functionality, allowing you to start the washing even when you're not home. In addition to status messages, it notifies you when you're running low on detergent levels so you can top up easily. Its standout feature is the ProfiEcoMotor, which consumes less electricity and is maintenance-free. It's also equipped with TwinDos and CapDosing, which allows you to dispense special detergents, fabric conditioners and additives using portioned capsules.
You may also be interested in:
Purchasing a smart washing machine
While smart washing machines offer a lot of added features that may not be a necessity for some homes, they can help to make laundry day simpler. Whether you're looking for something to help you manage your laundry load while out and about or simply want to help reduce your energy bill with more energy efficient washing, a smart washing machine could be an ideal choice. If you're still uncertain about a particular brand of washing machine, compare brands below to get your started. 
Original Author: Veronika Hleborodova