*The PowershopLITE product is currently not promoted by Powershop. See here for current Powershop offers. Details below should be treated as historical.*
Whether you're attracted to the idea of 'green' energy or just really, really like the colour pink- you're here because something tickles your fancy about Powershop. If you're struggling to make sense of how the 'Powerpacks' work, or aren't overly keen on the idea of monitoring your usage through an app, the good news is that you can still be with the provider without any 'fuss'. Enter stage left: PowershopLITE, your knight in shining armour. This looks, performs and even smells like a run-of-the-mill power plan, but does it cost the same as one, too? Find out below.
What is PowershopLITE ?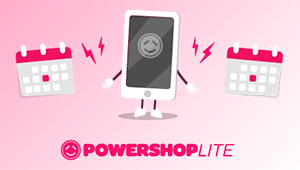 PowershopLITE is Powershop's energy plan that offers "a bit more simplicity". What this means is that instead of logging into an online shop to purchase packs when you're running low on power, you'll be able to set and forget your electricity, with your bill paid at the end of a monthly cycle by direct debit or credit/debit card.
Savvy customers will still get the option to download the Powershop app to manage their account and usage, though it's not necessary. This plan also gives customers the promise of 100% carbon offset energy at no extra cost. Read on to see how much this plan could cost you over a year.
PowershopLITE features
PowershopLITE has a range of features which, according to the Powershop website, are:
"Great" rates but no access to the online shop for discounted Powerpacks
Set and forget style where an amount can be direct debited out of your account each month
Access to the Powershop app to help manage your usage and account
100% carbon offset energy for no extra cost
PowershopLITE vs Powerpacks
There are some key differences between PowershopLITE and purchasing packs, with access to a discount on your power bill being the major kicker.
Powershop's regular schtick gives you the power to purchase electricity or natural gas ahead of time – much like prepaid phone credit. You'll be able to hop into the online store and pick from a range of what the retailer calls Powerpacks, which will last you between one and three months a pop, catered towards how much energy you would normally use in that time. These packs come with discounts that increase the longer you pay ahead. It's one of very few energy plans that offer an unusual payment method and requires a degree of proactivity, which may deter some.
It's those people that prefer to go with a plan like PowershopLITE, offering the benefits of being with Powershop without the added effort. What you'll be missing out on, though, is the discounts available with the Powerpacks.
How do I sign up to PowershopLITE?
If you've been on Powershop's website, you'll have probably realised that PowershopLITE isn't as heavily marketed as its Powerpacks. When signing up online, you'll automatically be shifted onto the regular Powershop plan, though don't fret because a simple phone call to the provider should fix you right up. However, given that you'll likely get the most value from Powershop's other plan, it could be worth staying on the line to have a chat about your options.
Keep in mind that we've referred to PowershopLITE as regular in this article for a reason – there are many offers that work the same way, with some even offering carbon offset power too! Click the link below to explore your options.

Image credits: SizeSquare's/shutterstock.com, gst/shutterstock.com