The abundance of smartphone apps on the market today can often lead to doubts about which are actually worth downloading. Even if it's free, customers don't want to waste their time navigating through apps that provide no real useful insights, which is why we're putting the Simply Energy app under the microscope to find out if it's worth adding to your device's home screen.
Compare Electricity Plans
What is the Simply Energy app?
The Simply Energy app gives customers access to a range of features and power usage insights otherwise only available through the 'MyAccount' web portal. The application can be used on smartphones, tablets and computer, where account management is claimed to be 'simple' and 'convenient'. Customers with smart meters will benefit the most out of the app, as live usage data is not available with conventional meters.
What does the Simply Energy app do?
Simply Energy customers can access a variety of online features, such as:
View and pay bills securely
Change to paperless billing
Choose direct debit as preferred payment method
Monitor live energy usage (only with a smart meter)
Browse electricity consumption history
How to set up the app
To set up the app, customers will need to register a new account via the MyAccount portal on the Simply Energy website, log in and fill in personal details. Once your MyAccount information has been entered, you can download the Simply Energy app for free via the App Store or Google Play. Then log in to the app using your MyAccount details.
Simply Energy app for iPhone
The Simply Energy app can be downloaded free of charge through the App Store. The size of the application is 19 MB, and your Apple operating system must run iOS 9.0 or later. It is compatible with iPhone, iPad and iPod touch. Here's a snapshot of the app on an Apple device.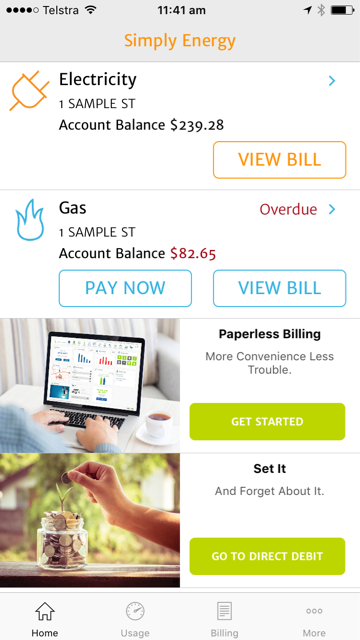 Simply Energy app for Android
Android users can download the Simply Energy app for free via the Google Play store. The current version of the app is 9.2 MB in size and requires Android 4.4W and up to operate. Here is a snapshot of the app taken from the Google Play website: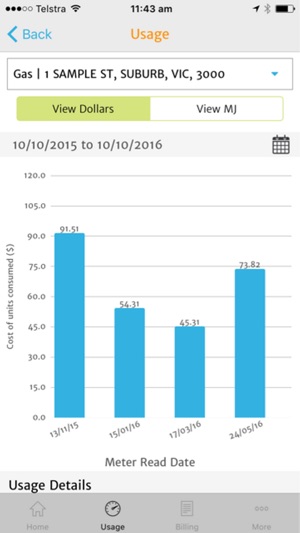 Does the Simply Energy app track power usage?
Yes, the Simply Energy app lets customers monitor electricity usage either daily, monthly or per interval, which provides a bill projection. In order for customers to tap into their live energy usage habits, they will need to be connected to a smart meter. By tracking household power usage, customers can avoid bill shock and identify areas where they can save energy.
Can I pay my electricity bill on the Simply Energy app?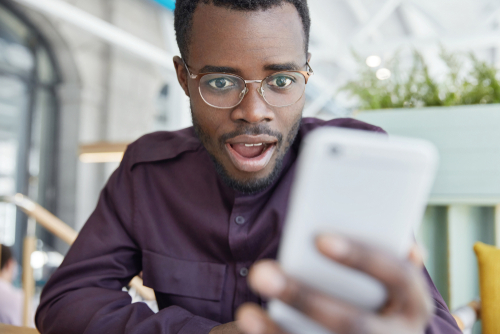 Customers can pay their energy bills using the Simply Energy app, as well as manage their accounts on the go. There is also a feature for users to view past billing statements and payment transactions, which can be handy for customers looking to audit their yearly energy costs.
Is it worth downloading the Simply Energy app?
For customers with a remotely read smart meter, the Simply Energy app certainly offers plenty of convenience. Despite its many claimed functions, reviews on the App Store and Google Play indicate that improvements need to be made. At the time of publication, the Simply Energy app received a dismal 1.9 score out of 5 on both the App Store and Google Play. That said, it's free to download so there is no harm installing it and trying it out for yourself.
Are Simply Energy plans right for me?
If price is the biggest influencer in choosing a power plan, then Simply Energy generally dishes up some of the most competitively priced deals in Australia. Another positive from the retailer is the range of plans it offers, some of which may include movie tickets and vouchers to sporting clubs.
Just be mindful that, depending on where you live, you'll have to be an eligible member of a specific motoring club to sign up to their cheapest offer. If this is the case, then you might find better value elsewhere, or you might have some luck with Simply Energy's other products. Your options aren't limited to Simply Energy, however, and by using our comparison tool below you can view a range of deals from more than 30 electricity retailers.

Image credits: Stock-Asso/Shutterstock.com, WAYHOME studio/Shutterstock.com