Nowadays it isn't unusual to check out a company's app before signing up to a product or service. With new providers popping up all the time, a solid app can provide that X factor to help separate one retailer from the next. If managing your electricity account in the palm of your hand sounds appealing, then you're in the right spot. Canstar Blue reviews several energy apps from some of Australia's largest power companies, including Origin, AGL, EnergyAustralia, Powershop and Simply Energy.
What can you do with energy provider apps?
Some energy providers have apps that give customers access to a range of features and energy monitoring tools. Depending on the power company and if the property is connected to a smart meter, most apps will:
Allow customers to pay their bills
Show insights of energy usage habits (smart meter required)
Include historical electricity consumption data
Send notifications of bill due dates
Enable customers to manage their account details
Best Electricity Provider Apps
Origin Energy App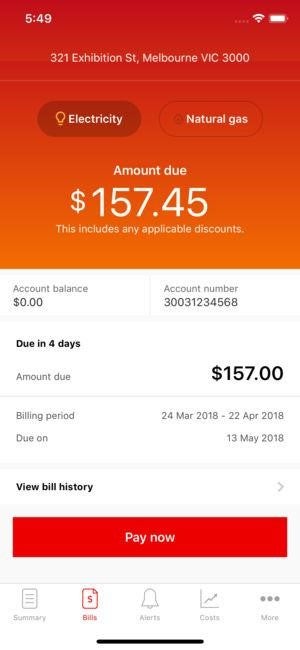 The Origin Energy app is available to download on the App Store and Google Play Store. If you do not have a smart meter, you won't be able to view your daily energy usage data, but you'll still have access to historical data from previous billing periods.
Key features:
Monitor electricity and gas usage
Pay bills securely with debit or credit card
Manage account information
Set reminders for bill due dates
AGL Energy App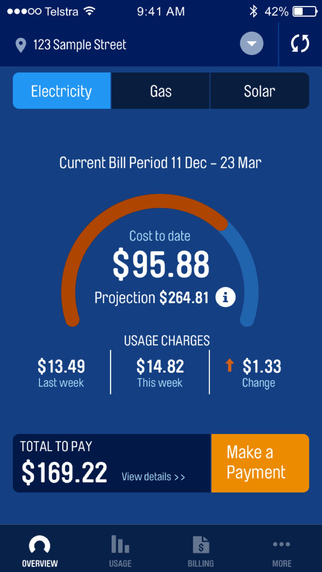 The AGL Energy app is packed with a lot of tools for customers who have either an Apple or Android smartphone. Again, you'll unlock more features of the app if your property has a smart meter installed.
Key features:
Download and pay bills via credit card or PayPal
Manage multiple property accounts
Review periodic energy usage if you have a smart meter
Update account details, including payment methods
EnergyAustralia App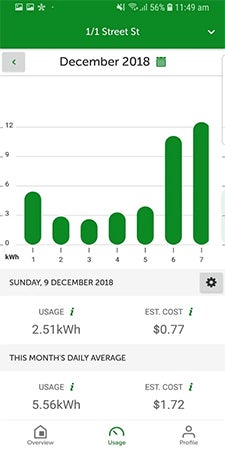 The EnergyAustralia app is free to download on the App Store and Google Play Store. You will need to register your details via the My Account portal on the EnergyAustralia website before using the app. A smart meter will be needed to view real-time usage in the app.
Key features:
Make secure bill payments by credit or debit card
View previous bills and payment history
Analyse up-to-date usage data
Receive high energy usage alerts
Powershop App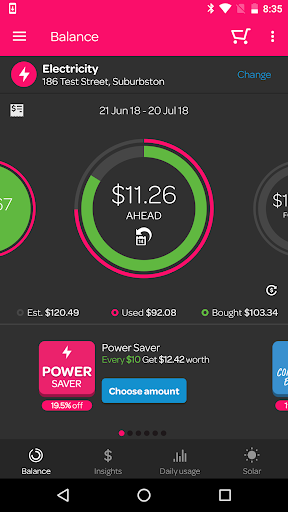 The Powershop app includes a range of insights and tools to please even the most tech-savvy customer. Like the other energy apps, you'll need to a smart meter to access live usage data, but still has plenty of useful features if you have a traditional meter.
Key features:
Purchase suitable 'Powerpacks' in advance when rates are low
Enter a meter reading and refer friends to switch
View account history and rates
Monitor electricity usage per kilowatt hour
Simply Energy App

Last but not least, the Simply Energy app has a variety of functions for customers to navigate. It's free to download in the App Store or the Google Play Store. However, customers will need to have a smart meter to take advantage of all the real-time electricity insights.
Key features:
Pay and view bills safely and securely
Monitor energy consumption history
Update contact details and account information
Track live electricity usage and costs
What other tools can help monitor electricity usage?
Aside from apps provided by the energy retailers themselves, there are many other power saving apps and online tools that can help reduce household utility costs. Whether it's a home energy monitoring device or an electricity efficiency app, reducing your power bills doesn't have to be painful. In fact, one of the easiest ways to get started is by logging into your account online, whether it's through your retailer's app or on its website. This way you can keep on top of your usage habits and identify areas where you can save.

Image credits: panuwat phimpha/Shutterstock.com, Google Play, Apple, Origin Energy, Simply Energy