Fact Checked
Aussie families rate ALDI Mamia number 'yum' in baby food review
There's plenty to consider when it comes to bringing a new bundle of joy home from the hospital for the first time – whether you're a first-time parent, or you're bringing home a new brother or sister. There's the stroller, the baby monitor, the nappies, and to top it all off, there's the food. With each child having different preferences, it's no easy task to get a child to eat – and eat healthily – regardless of their age.
As a result, many parents turn to packaged baby foods at mealtimes, with plenty of brands offering a wide variety of flavours to help the little ones get the essential minerals and nutrients needed for their healthy development. But with so many options on supermarket shelves, narrowing down which brand to put in the shopping trolley can quickly become a task in itself, particularly if your child has allergies or they're fussy when it comes to food.
To help take some of the stress of being a parent off your shoulders, we've asked nearly 500 mums and dads for their feedback on the baby food products they purchased from a supermarket in the last six months. They rated brands on child enjoyment, packaging design, ease of opening and dispensing, different packaging options available, variety of flavours and options, value for money and overall satisfaction. Brands that received the minimum sample of 30 responses are featured in our report.
Our latest baby food ratings revealed families are going 'goo goo ga ga' over ALDI's Mamia range, with the supermarket whipping up five-star reviews in six out of seven categories ─ including overall satisfaction!
Best Baby Food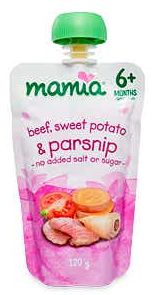 Here are the best baby food brands in Australia, as rated by consumers in Canstar Blue's 2021 review:
ALDI Mamia
Only Organic
Nestlé Cerelac
Rafferty's Garden
Heinz
Annabel Karmel
Baby Mum-Mum
Families are coo-ing over ALDI's Mamia baby food range, giving the supermarket five-star reviews for overall satisfaction and most other factors. Former winner Only Organic scored four stars overall, alongside Nestlé Cerelac and Rafferty's Garden. Meanwhile, Heinz, Annabel Karmel and Baby Mum-Mum crawled behind on three stars.
Nestlé Cerelac, Rafferty's Garden, and Heinz were the only brands that got a 'baby-proofed' edge over ALDI Mamia, achieving full marks for the variety of packaging types available. Heinz also earned five stars for flavour variety, as did Only Organic, Nestlé Cerelac and Rafferty's Garden. Only Organic also got full marks for child enjoyment, while Nestlé Cerelac scored top grades for packaging design and Rafferty's Garden for ease of opening and dispensing.
Top Baby Foods
ALDI Mamia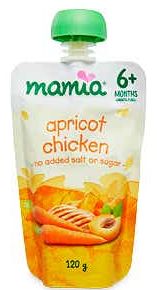 ALDI Mamia has bounced back to the top of our baby food ratings with its own brand of baby care products, offering disposable nappies, wipes as well as food. For baby food, ALDI offers a wide variety of options for four months and older, including formula for toddlers, as well as fruit snacks and bars.
ALDI's baby food pouches supposedly contain no added salt or sugars, and are free from added preservatives, colours and flavours. The products also stated to have the added benefit of inulin for healthy development. These pouches cover all meals, with breakfast and dessert flavours also available, in addition to more traditional dinner flavours, giving mums and bubs plenty of options to choose from. Most pouches retail for 99c each, making them one of the more affordable ranges available.
ALDI also offers fruit and cereal bars for toddlers who are at least one year old. These usually come with six or eight bars, depending on the flavour, and generally sell for under $3 per box.  There are additionally rice cakes for children who are at least seven months old, plus dessert and fruit options for babies aged from four or six months. Some flavours include Chocolate Custard, Apple & Oatmeal and Tuna, Rice & Veggies.
ALDI Mamia rated five stars for range variety, child enjoyment, packaging design, ease of opening and dispensing, value for money and overall satisfaction. It got four stars for types of packaging options available.
Only Organic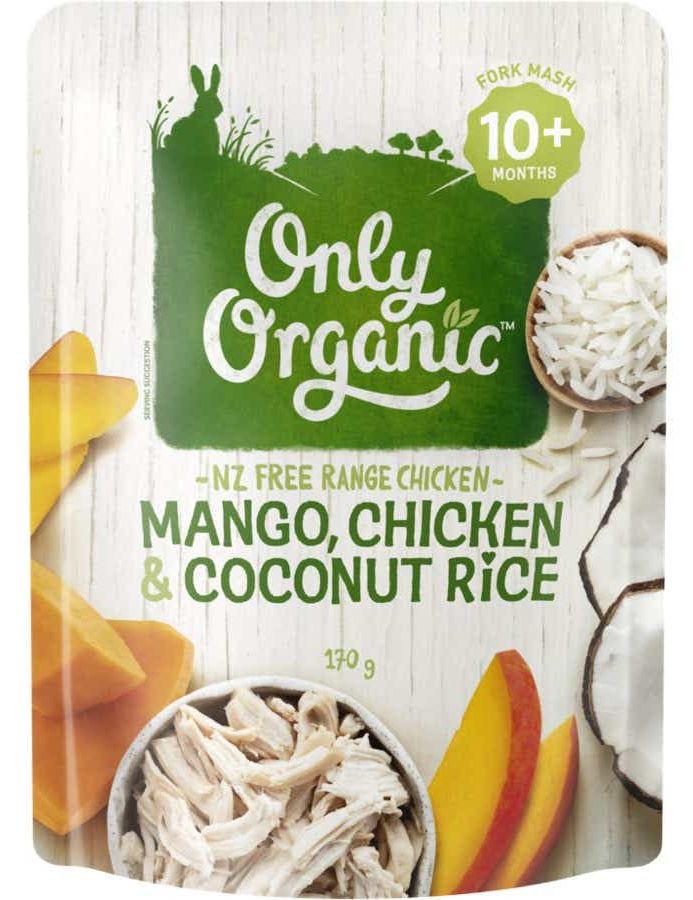 Promising to only use ingredients grown on certified organic farms, Only Organic offers a range of natural baby foods for 4+ months and upwards, including a range of pouches, finger foods and meals for all times of the day. Foods include certified organic ingredients, with no added preservatives, artificial colours or flavours used, in addition to using non-BPA packaging.
The First Foods range, made for 4+ months, are smooth cereals and pouches for easy eating. Split into fruit and veggie pouches, parents and babies are spoilt for choice, with flavours including Banana Kumara & Quinoa, Sweet Potato & Apple and Pear & Mango. While slightly more expensive than some of its competitors, Only Organic 120g pouches will typically set you back around $3 per pouch, depending on which supermarket or retailer you visit, but may be worth the price increase if you're set on going organic.
Only Organic's 'Second Foods' range – made for 6+ months – includes cereals, teething rusks, as well as pouches for breakfast, savoury meals and desserts. Savoury meals include flavours such as Wild Risotto & Spring Lamb and Cauliflower, Broccoli & Cheddar, while kids will no doubt look forward to the tasty dessert flavours of Mango Custard and Vanilla Bean Custard. The brand also offers a range of foods for 8+ and 10+ months, plus for kindy ages, which includes rice cakes and other snacks. Only Organic also outlines its ingredients and allergens on its website.
Only Organic impressed in terms of child enjoyment and variety of flavours & options, whipping up five-star reviews in both research categories. It achieved four stars everywhere else, including for value for money and overall satisfaction.
Nestlé Cerelac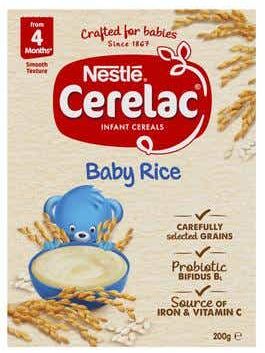 Being one of the world's largest food and beverage companies, it's no surprise that Nestle also offers a baby food range. Nestlé Cerelac includes a line of infant cereals, snacks and food pouches, with a list of nutritional information and ingredients readily available via its website.
The pouches come in a wide variety of apple combinations, including Oats & Wheat With Prune, Multigrain With Banana & Apple. These 200g pouches are usually available for $4.60 at the supermarket. For toddlers, there are also 'NutriPuffs' which feature a star-shaped design to make mealtime more interesting. Plus, the 50g packaging is designed to be resealable to make it convenient when on-the-go. For a savoury option, you can find a Tomato & Onion flavour, but for something a little sweeter, the Banana & Strawberry variety might be the way to go.
The Nestlé Cerelac pouches and cereals are generally said to be suitable for children who are at least four months old.
Nestlé Cerelac was among the favourites for variety of flavours and options, packaging design and packaging types. It landed four stars for overall satisfaction and everywhere else.
Rafferty's Garden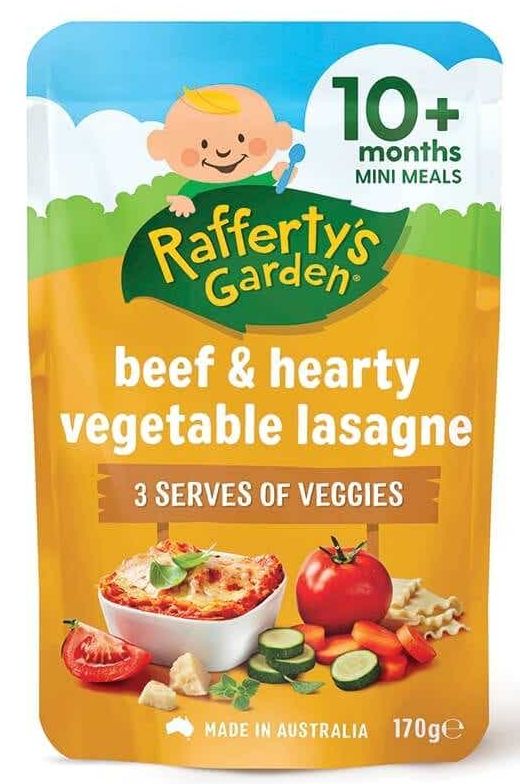 Born in Australia back in 2007, Rafferty's Garden has grown to become a global baby brand. With a range of food products including breakfasts, custards, purees and snacks, Rafferty's Garden has all mealtimes sorted. The nutritional information and ingredients of each product are also listed on its website, so it's easy for busy parents to decide which products to stock up on before heading down to the shops.
Rafferty's Garden's range begins with baby food pouches for those aged four months and older, with Spinach, Apple, Broccoli & Pea and Pumpkin, Apple & Sweetcorn being some of the flavours available. Coming in 120g packets, each packet will cost $1.65 at local supermarkets and shops, with natural ingredients used. Other food pouch lines include those for 6+ months, 8+ months, and 10+ months. The entire range additionally offers cereals, snacks and yoghurt. There's a variety of both sweet and savoury flavours on offer.
Food pouches from Rafferty's Garden are stated to have a 13-month shelf life and don't need to be stored in the fridge. The brand also claims there are no additives in its products.
Rafferty's Garden dug up five stars for variety of flavours and options, ease of opening and dispensing and different packaging options. It ended on four stars for overall satisfaction and in the remaining factors.
Heinz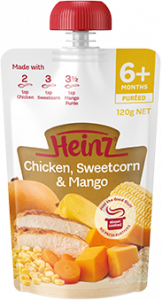 While better-known for soup and baked beans, Heinz has a diversified range, including food groups such as sauces, condiments and baby foods, all available on a global scale. Heinz offers recipes on its website, with options for 4+, 6+ and 8+ months, providing a useful tool for those looking to make their own baby food. Heinz also offers articles to help you with ideas and what to expect as your child develops.
Heinz's range of baby foods runs from infant to toddler, with a number of pouches, jars, bars, mini ready-to-heat meals, teething rusks, custards and corn cakes. Competitively priced within the market, Heinz won't break the bank account either, so it could be a worthwhile option if you're overwhelmed in the supermarket aisle.
For ages 4+ months, Heinz has a range of pureed fruits and veggies, including flavours such as Golden Sweetcorn & Chicken, Pear & Banana and Apple, Sweet Potato & Zucchini. Each pouch is 120g, while the jar varieties offer 110g. You can also find the list of ingredients and nutritional information online, making it useful for parents to make a wise decision on which products to go with.
Heinz achieved full marks for variety of flavours and options as well as the different types of packaging options available. It also got four stars for child enjoyment and value for money, plus three stars for overall satisfaction and everywhere else.
Annabel Karmel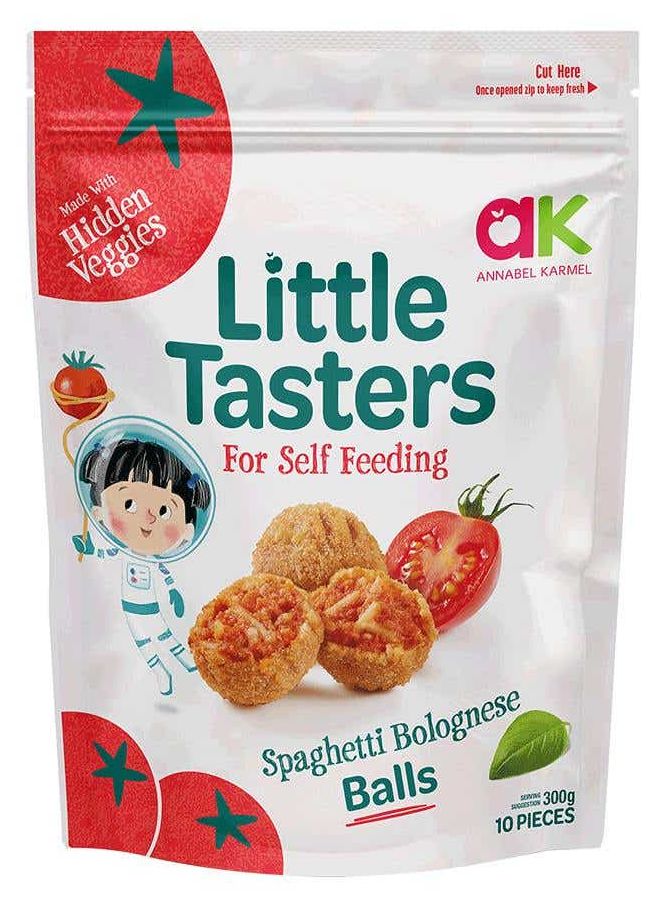 Annabel Karmel provides more than just pouches of pureed baby food and looks at offering bite-sized versions of classic meals to encourage self-feeding. Unlike many other brands, Annabel Karmel creates a line-up of frozen ready meals for babies and toddlers. These are claimed to be nutritionally balanced, low in salt and sugar, and free from artificial colours or flavours. Some options include Scrumptious Spaghetti & Meatballs, Delicious Mild Butter Chicken & Rice and Tasty Veggie Pasta Bake. Otherwise, Annabel Karmel has several alternatives in its Little Tasters range. These include 'finger foods' in flavours including Pumpkin & Carrot Fingers, Macaroni Cheese & Broccoli Balls and Cottage Pie Bites.
Annabel Karmel baby food products are sold exclusively at Coles. Prices start from $4 for the snap-frozen meals and go up to $5 for the finger foods.
Annabel Karmel scored four stars for variety of flavours and options, packaging options and value for money. It ended on three stars for the remaining areas, including overall satisfaction.
Baby Mum-Mum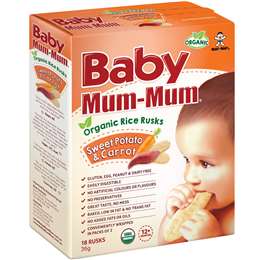 While it may not have the same range of products as some other brands, Baby Mum-Mum offers rice rusks snacks, offering a number of different flavours for ages 8+ months to five years. Each packet contains up to 18 rusks, with a packet usually retailing for $3 at most supermarkets.
Some flavours include Strawberry & Beet, Blueberry & Carrot and Banana. There are also plant-based pea snacks for children aged 12 months and older. These are stated to contain added probiotic and 2g of protein per serving. Flavours include Apple & Cinnamon, Blueberry, Cheese and Mixed Berries.
Baby Mum-Mum products are claimed to be free of common allergens, such as milk, peanuts, wheat, soy, tree nuts, soy, shellfish, fish, sesame and eggs. You can check out the nutritional information from the Baby Mum-Mum website.
Baby Mum-Mum earned four stars for child enjoyment, before ending on three stars in all other categories, such as value for money and overall satisfaction.
Other baby food brands
While we only featured seven brands in this year's report, there are still plenty of other tasty baby food brands worth considering. Here are a couple.
Coles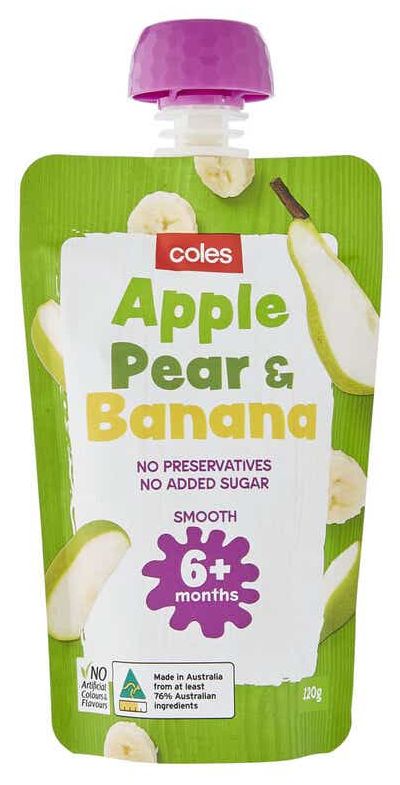 Supermarket giant Coles provides a number of options for parents as they cruise down the baby aisle. It offers several affordable pouches in flavours such as Chicken With Vegetables, Banana Porridge, Veggies, Vanilla Custard and Apple, Pear & Banana.
Each pouch weighs in at 120g, and will cost $1 at the checkout, making it competitively priced on the supermarket shelf. The supermarket range is said to contain no added preservatives and no added sugar. Coles also lists the ingredients and nutritional information of its baby products on its website, with the benefit of allowing parents to purchase and sort out delivery options online, making grocery shopping easier for busy parents.
Bellamy's Organic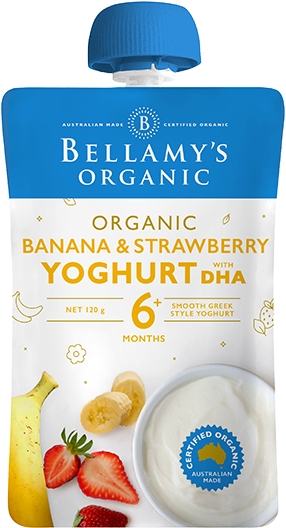 Australian company Bellamy's Organic offers a range of organic foods for infants and children aged 4+ months. All of its organic foods are said to be made in Australia and are free from artificial colours, flavours and preservatives, as well as GMO ingredients and synthetic pesticides. Available at supermarkets, chemists and retailers such as Big W, Bellamy's Organic products can also be purchased online.
For infant food, Bellamy's Organic provides formulas, cereals and pouches, with a number of flavours available. There are also various alternatives available to suit different dietary needs, including products made without soy, gluten, dairy or meat. Bellamy's Organic infant formulas retail for $30 per 900g tin on its website, with the formula stated to contain added vitamins and minerals for development, coming in a BPA-free tin. Bellamy's Organic pouches start from $2 each for a 120g pack, with rusks costing just over the $4 mark.

Which baby food brand should I buy?
With so many options of baby food in the supermarket aisles, it becomes a little overwhelming knowing what to pick. This year, it seems that getting the nod from the family's smallest critic is no longer more important than price (compared to last year). Value for money was seen as the biggest driver of customer satisfaction for most parents (22%), which is fortunate considering most brands achieved a respectable four stars for the category (or five stars in the case of ALDI Mamia). ALDI Mamia and Only Organic similarly passed the taste test with flying colours. The variety of flavours and food options also didn't seem to be an issue for the majority of brands, with five out of seven labels scooping up full marks.
Here are some of the other standout results from our latest survey:
The final spoon on baby food
Mealtime can certainly be a stressful time for households, particularly if you're rushed, or have more than one child to look after. And it doesn't help when the bub is a fussy eater, which 22% of respondents said was the case.
Our 2021 survey revealed that almost one in three (28%) parents originally intended to make all of their baby's food from scratch themselves, while a similar amount (30%) admitted feeling guilty for feeding their child packaged baby food.
All parents want the best for their child, but even if you can't prepare every single meal from scratch at home, you should be able to find some perfectly good and healthy alternatives on supermarket shelves. Despite nutritional information being widely available, 20% of survey respondents said they worry about their child not getting enough nutrients from baby foods. Although 36% said they're satisfied that the quality of packaged baby food is generally good. Finding the right brand for your child's taste buds – and your budget – is the major challenge you face. With that in mind, we hope our customer ratings provide some helpful guidance.
About the author of this page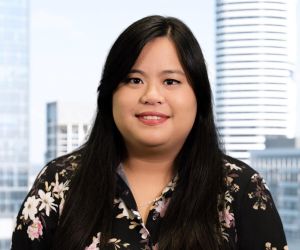 This report was written by Canstar Blue's home & lifestyle journalist, Tahnee-Jae Lopez-Vito. She's an expert on household appliances, grooming products and all things grocery and shopping. In addition to translating our expert research into consumer-friendly ratings reports, Tahnee spends her time helping consumers make better-informed purchase decisions on all manner of consumer goods and services, while highlighting the best deals and anything you need to be aware of.
Picture credits: Natee K Jindakum/Shutterstock.com, AquaSketches/Shutterstock.com.