ALDI Mamia scoops top place for baby food
There's plenty to consider when it comes to bringing a new bundle of joy home from the hospital, whether you're a first-time parent or you're bringing home a new brother or sister. There's the stroller, the baby monitor, the nappies, and to top it all off, there's the food. With each child having different preferences for food, it can be no easy task to get a child to eat – and eat healthily – regardless of their age.
As a result, many parents turn to packaged baby food at meal times, with plenty of brands offering a wide variety of flavours to help the little ones get the essential minerals and nutrients needed for their healthy development. But with so many options on supermarket shelves, narrowing down which brand to put in the shopping trolley can quickly become a task in itself, particularly if your child has allergies or they're fussy when it comes to food.
To help take some of the stress of being a parent off your shoulders, Canstar Blue has again surveyed hundreds of mums and dad to find out which baby food brands are cleaning up at dinner time – before the parents do the actual cleaning up!
The seven baby food brands in our 2018 review were ranked in the following order for overall customer satisfaction:
1st ALDI Mamia
2nd Rafferty's Garden
3rd Heinz
4th Only Organic
5th Baby Mum-Mum
6th Coles
7th Bellamy's
Child enjoyment was the greatest driver of parent satisfaction identified from the research, followed by value for money, variety of flavours, opening & dispensing and packaging options. So, for most parents, it seems that price is less important than whether or not their little one actually likes the food a brand serves up! Here are some of the other standout results from our latest survey:
Top Baby Foods
ALDI Mamia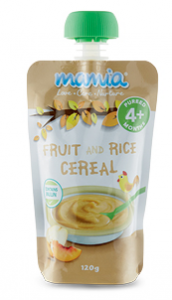 Taking out top spot, 'Mamia' is ALDI's own brand of baby care products, including disposable nappies, wipes and food. For baby food, ALDI offers a wide variety of options for 4 months and older, including formula for toddlers as well as fruit snacks and bars.
ALDI's baby food pouches contain no added salt or sugars, and are also free from added preservatives, colours and flavours, with the added benefit of inulin for healthy development. These pouches cover all meals, with breakfast and dessert flavours also available, in addition to more traditional dinner flavours, giving mums and bubs plenty of options to choose from. Pouches will cost around $1 each, making them one of the more affordable ranges available.
Additionally, ALDI also offers fruit and cereal bars, with each packet containing six bars, and costing less than $2.50 at the checkout. Flavours include classics such as apple, banana, strawberry and apricot, with each flavour containing no artificial colours or preservatives. The ALDI Mamia range also includes mini rice cakes for those after a choice of snacks, with apple and blueberry flavours both available for around $2 per packet.
With the only five-star rating for value for money, ALDI Mamia also scored five stars for opening & dispensing and overall satisfaction, while scoring three stars for variety and packaging options
Rafferty's Garden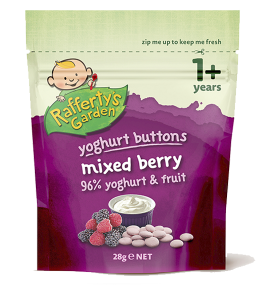 Born in Australia back in 2007, Rafferty's Garden has grown to become a global baby brand, with a range of food products including breakfasts, custards, purees and snacks, Rafferty's Garden has all meal times sorted, and the nutritional information and ingredients of each product are also listed on its website, so it's easy for busy parents to decide which products to stock up on.
Rafferty's Garden's range begins with smooth foods for 4+ months, with pear, peach and apple some of the flavours available. Coming in 120g packets, each packet will cost around $1.50 at local supermarkets and shops, with natural ingredients used. The range continues with cereals, snacks bars and custards, with smooth food products for ages up to 12+ months, with a variety of both sweet and savoury flavours on offer.
Rafferty's Garden also diversifies its range to include nutrient-focussed products, such as the Calci-fruits to help with bones, and the Happy Tummies range, which includes prebiotic fibre for healthy digestion. Rafferty's Garden is available for purchase at local supermarkets, as well as some chemists, baby stores and retailers such as Big W.
Rated four stars for overall satisfaction, Rafferty's scored the only five-star rating for variety of flavours, with the brand also scoring five stars for opening and dispensing
Heinz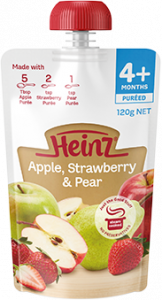 While better-known for soup and baked beans, Heinz has a diversified range, including food groups such as sauces, condiments and baby foods, all available on a global scale. Heinz offers recipes on its website, with options for 4+, 6+ and 8+ months, making it a handy tool for those looking to make their own baby food. Heinz also offers articles to help you with ideas and what to expect as your child develops, making it a handy tool for parents.
Heinz's range of baby foods runs from infant to toddler, with a number of formulas, pouches and bars all available. Competitively-priced within the market, Heinz won't break the bank account either, making it a worthwhile option if you're overwhelmed in the supermarket aisle.
For 4+ months, Heinz has a range of pouches, including flavours such as sweet potato & spinach, along with more traditional flavours such as apple & banana. Each pouch is 120g, with Heinz also outlining the ingredients and nutritional information online, making it handy for parents to make a decision on which product to go with. For 6+ months, Heinz offers Teething Rusks in addition to pouches, with jars, meals and snacks also available for older ages.
Rated five stars for packaging options, Heinz was rated four stars for overall satisfaction, as well as value for money, variety of flavours and opening and dispensing
Only Organic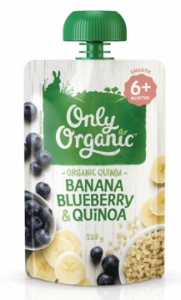 Using ingredients grown on certified organic farms, Only Organic offers a range of natural baby foods for 4+ months and upwards, including a range of pouches, finger foods and meals for all times of the day. Foods include certified organic ingredients, with no added preservatives, artificial colours or flavours used, in addition to using non-BPA packaging.
The 'First Foods' range, made for 4+ months, are smooth cereals and pouches for easy eating. Split into fruit and savoury pouches, parents and babies are spoilt for choice, with flavours including apple, pear and mango, along with carrot, sweet potato and quinoa. While slightly more expensive than some of its competitors, Only Organic 120g pouches will typically set you back around $2 per pouch, depending on which supermarket you visit, but may be worth the price increase if you're set on going organic.
Only Organic's 'Second Foods' range – made for 6+ months – includes cereals, teething rusks, as well as pouches for breakfast, savoury meals and desserts. Savoury meals include flavours such as cauliflower & broccoli, along with rice risotto and spring lamb, while some kids will no doubt look forward to the tasty dessert flavours of apple or mango custard.
Only Organic also offers a range of foods for 8+ and 10+ months, with a line also available for Kindy ages, which includes rice cakes and other snacks. Savoury meals for the older age groups will cost you closer to $3 for a 170g packet, with the brand available in most major supermarkets. Only Organic also outlines its ingredients and allergens on its website.
Scoring four stars for overall satisfaction, Only Organic rated five stars for child enjoyment, with four stars for variety of flavours and opening and dispensing
Baby Mum-Mum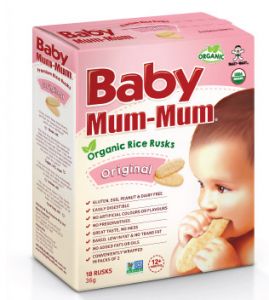 While it may not have the same range of products as some other brands, Baby Mum-Mum focusses on rice rusks snacks, offering a number of different flavours for 8+ months to five years. Each packet contains up to 18 rusks, with a packet usually retailing for $3 at most supermarkets. Flavours include vegetable, apple and pumpkin, banana and mixed berry, giving kids and parents plenty of options to choose from.
Baby Mum-Mum products are free of common allergens, such as milk, peanuts, wheat, soy, sesame and fish, with no salt, sugar or tapioca added either. Baby Mum-Mum also offers the nutritional information of its products on its website, allowing parents to find the best fit for their kids.
One of only two brands to score five stars for child enjoyment, Baby Mum-Mum was rated four stars for overall satisfaction and variety of flavours, with three stars in the remaining categories
Coles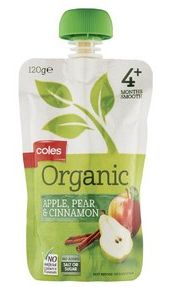 Offering pouches for both 4+ and 6+ months, Coles' Organic range has a variety of flavours for families to choose from, including pear, apple, blueberry, banana and savoury flavours like pasta and sweet potato. Each pouch is 120g, and will cost $1.50 at the checkout, making it competitively priced on the supermarket shelf. Coles also lists the ingredients and nutritional information of its products on the Coles website, with the benefit of allowing parents to purchase and sort out delivery options online, making grocery shopping easier for busy parents.
Rated three stars for overall satisfaction, Coles got four stars for variety of flavours and packaging options, with three stars in all remaining categories
Bellamy's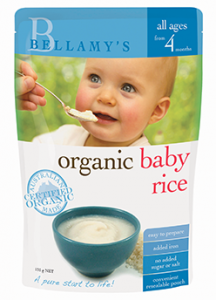 Founded back in 2004, Australian company Bellamy's offers a range of organic food products for infants and children aged 3+ years. All organic foods are made with ecological, economic and social sustainability, with products made and packed in Australia. Available at supermarkets, chemists and retailers such as Big W, Bellamy's products can also be purchased online, making it easy for busy parents.
For infant food, Bellamy's provides a range of food products, including formula, cereals and pouches, with a number of flavours available. Bellamy's infant formula retails for $29 per 900g tin on the website, with the formula stated to contain added vitamins and minerals for development, and comes in a BPA free tin. Bellamy's cereals and porridges are available for under $4, with the ready to serve pouches, which come in sweet and savoury varieties, retailing under $2.
For children aged between six and 12 months, Bellamy's offers formula, rusks, cereals, pouches and pasta. Bellamy's Toothiepegs teething rusks cost $4.50 a packet, helping to relieve teething pains through added nutrients such as iron. Bellamy's range of pasta includes pasta stars, macaroni and alphabets, costing less than $5 per 200g packet, with each packet containing no added salt or sugar.
Bellamy's also offers a number of snack options for hungry mouths, which include packets of dried apples and pears, along with Organic Pinkies bars, all of which retail for under $4 per packet. The dried fruit slices come in a handy resealable packet, making them a handy option for when you're out and about, with the Pinkies bar ideal for lunchboxes.
Rounding out the results, Bellamy's scored a four-star rating for its variety of flavours, with three stars for all remaining categories, including overall satisfaction
Which baby food should I buy?
Meal time can certainly be a stressful time for households, particularly if you're rushed or have more than one child to look after. All parents want the best for their child, but even if you can't prepare every single meal from scratch at home, you should be able to find some perfectly good and healthy alternatives on the supermarket shelf. Finding the right brand for your child's tastebuds – and your budget – is the major challenge you face. With that in mind, we hope our customer ratings provide some helpful guidance.