Brace yourself, Little Shop is making a comeback!
Coles is bringing back its widely popular mini collectables from Wednesday (July 17) with a 'Little Shop 2' edition.
Thirty miniatures will be available in a similar promotion that sent Aussies of all ages into a frenzy last July, and again in November with the Christmas edition.
Collectables include a range of popular groceries in miniature versions, including Arnott's Barbecue Shapes, Heinz Baked Beans, Maggi 2 Minute Noodles, Campbell's Tomato Soup, and the refreshing Eclipse Mints.
Among these is a special edition Vegemite vintage mini to celebrate the popular spread's long history on Aussie shopping lists. And more bizarrely, a Gillette razor…
Coles Little Shop 2 collectables will be offered at all Coles supermarkets, Coles Express and online for every $30 spent on groceries.
"5 Days to go! Get ready to start building your collection!" reads the Coles website.
"We have been inundated with requests to bring Little Shop back and we know customers will be very excited about this brand new collection," said Coles Chief Marketing Officer Lisa Ronson.
"We think customers will be excited to find out about additional surprises we have in store for them."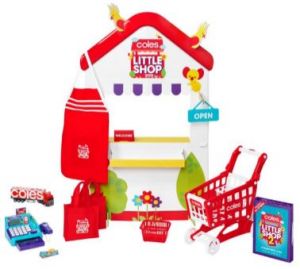 Shoppers have taken to social media to express their excitement about the latest round of Little Shop, on the same day that Woolworths released its own collectables promotion for the Lion King.
Also available for purchase are Coles mini trolleys ($10) and baskets ($2), and new additions including Little Shop 2 collector cases ($4), a Coles replica truck ($8) and toy cash register ($12).
List of Coles Little Shop 2 Minis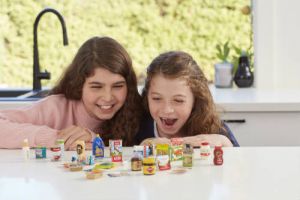 Heritage Mill Apple Crumble Clusters
Leggos Pizza Sauce
Arnotts Original Barbecue Shapes
Gillette Fusion 5 Razor
Bref Power Active Juicy Lemon Toilet Cleaner
Eclipse Spearmint Mints
Primo English Style Ham
Olay Complete Defence Moisturising Lotion
Chobani Greek Yoghurt Flip
My Dog Meaty Loaf
Coles Special Burger Sauce
Finish Dishwashing Cleaner
Coles Prepaid Gift Card
Messy Monkeys Snack Bars
Coles Ultimate Choc Chip Cookies
Maggi Chicken Wholemeal 2 minute noodles
Bulla Thickened Cream
Moccona Classic Medium Roast Coffee
Latina Fresh Beef Ravioli
Australian Field Fresh Garden Peas
Kleenex Value Pack Toilet Paper
Australia's Own Full Cream A2 Protein Milk
Mount Franklin Lightly Sparkling Water
Tip Top The One Bread
Dynamo Professional Washing Liquid
Vegemite
Heinz Baked Beans No Added Sugar
Edgell Black Beans
Campbells Condensed Tomato Soup
Coles Gift Card
Plus, a chance to win!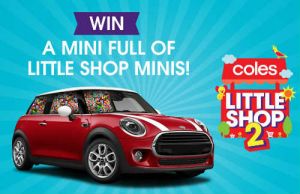 Alongside the Little Shop 2 Promotion, Coles is running a number of competitions. Similar to last time, there's a rare gold trolley mini to find, which allows shoppers to win a $100 Coles Gift Card.
Consumers also have a chance to win a Gold collector's case complete with a full set of minis, which includes a rare gold trolley mini. To win, collectors must purchase any participating product and scan their flybuys card. There are 100 sets to be won weekly. However, Coles notes that this prize does not include the $100 Coles gift card, despite also receiving a gold trolley in the pack.
Lastly, Coles has teamed up with Nova FM to give away a Mini Cooper. For a chance to win, consumers must guess the correct number of Little Shop 2 minis in the car and the closest guess wins the lot – a brand new Mini filled with minis. The car will be showcased in Brisbane, Sydney and Melbourne as well as online for fans to try their luck.
See also:
Original Author: Veronika Hleborodova