The Coles Little Shop promotion has received nationwide attention, sending fans into a frenzy in the hope of collecting all 30 miniature products before the end of August. And now complete sets are being sold online for as much as $1,000!
For every $30 spent at Coles, shoppers will receive one miniature collectable of big name brands including Weet-Bix, Tim-Tams, Milo, Nutella, Colgate and many more.
On eBay, you can find the full set being sold for $999.99. However, others are priced at less than $100.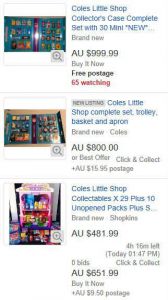 Individual items are going for as much as $50, while Coles' rare 'red hand' is priced as high as $400, plus postage.
According to Coles' T&Cs: "Collectables cannot be bought or sold for cash or consideration of any kind."
However, this has not stopped Aussies cashing in on one of the biggest collectable promotions Australia has ever seen.
Coles' official Swap Day is scheduled on Saturday 11 August to help "provide a forum for customers to trade the collectables".
There are limited locations across the country that will host the Swap Day and Coles will only have two full sets (60 collectables total) available to swap directly with customers, according to the T&Cs.
The supermarket giant has also warned shoppers not to misbehave at the swap events.
"Coles, in its sole discretion, may have attendees removed from its premises who act in a manner that is offensive, unlawful, obscene, threatening, harassing or otherwise any other inappropriate manner and reserves the right to withhold Collectables from that customer and/or prevent them from attending any other Swap Days," Coles says on its website.
Parents going wild over Coles' new collectible miniature toys https://t.co/EiCBIiEigj

— Daily Mail Australia (@DailyMailAU) July 20, 2018
Expensive Grocery Shop
The promotion runs from 18 July 2018 to 28 August 2018, totaling a 42-day period where shoppers need to collect all 30 unique 'minis'.
"Coles may decide at its absolute discretion to extend or otherwise amend the Campaign Period," the promotion T&Cs states.
Having to spend $30 to get one of 30 toys, means that to get the full set, shoppers are required to spend $900 exclusively at Coles within a six-week period.
In addition, mini collectable cases and other Little Shop merchandise for sale include Coles trolleys, baskets and aprons.
"Collectables are provided to customers entirely at random and cannot be exchanged by Coles staff members for another Collectable once opened," reads Coles' T&Cs and a "maximum limit of 20 minis per customer per transaction applies".
This has given rise to Facebook groups, aiming to help Aussies swap their mini products with others across the country.