Fact Checked
ALDI Market Fare still cool as #1 brand in frozen veg ratings
Getting your five serves of greens per day isn't always practical. That's where frozen veggies can 'green up' your plate. However, you don't always get what you hoped (or paid) for when you buy snap-frozen produce, especially if you get more air than greens in your packet, or if the peas outnumber the corn 10 to one (sigh). With so much variety in the freezers, it's hard to know which brands to trust and try.
To find out, Canstar Blue has surveyed more than 1,600 Australian consumers for their thoughts on the frozen vegetables they purchased and ate in the last six months. Brands were rated on taste, quality of produce, variety, packaging design, value for money and overall customer satisfaction. Those that received the minimum sample size (30 responses) are featured in our report. We want to make it easier for you to find the best frozen vegetables for your taste and budget on your next grocery shop. Sure, you might think all frozen vegetables are the same, but our results suggest Aussie consumers see a difference.
So, which brands of frozen vegetables do Aussie shoppers rate the highest? ALDI Market Fare was rated best for the third year in a row (2020, 2021 & 2022), achieving five-star reviews for overall satisfaction and in several other categories. The supermarket brand also previously ranked number one for frozen veggies in 2017 and 2018.
Best Frozen Vegetables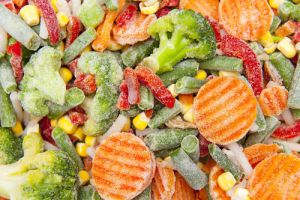 Here are the best brands for frozen vegetables in Australia, as rated by consumers in Canstar Blue's latest review:
ALDI Market Fare
Birds Eye
McCain
Coles
Woolworths
Bell Farms
Similar to last year's results, it seems Aussies are difficult to please when it comes to their frozen veggies. ALDI Market Fare, Birds Eye and McCain were the only three brands that achieved a five-star review in any category, with ALDI Market Fare earning full marks for taste, quality of produce, packaging, value for money, and overall satisfaction, while Birds Eye got five stars for packaging and variety, alongside McCain.
Aussies' attitudes towards frozen vegetables
Our survey results revealed that nearly a third of respondents (28%) always buy the same brand of frozen vegetables and that 36% have tried multiple brands. But a third (29%) said they prefer to buy fresh vegetables.
Frozen Vegetable Brands
ALDI Market Fare
Market Fare is ALDI's line of frozen vegetables and a favourite among the German discount supermarket's diehard shoppers. Their product range includes:
ALDI Market Fare Winter Vegetables
ALDI Market Fare Zucchini Noodles
ALDI Market Fare Stir Fry Vegetables
A pack of Market Fare frozen veggies can cost as little as $0.89 from selected ALDI stores.
ALDI Market Fare scooped up five-star reviews for taste, quality of produce, packaging, value for money, and overall satisfaction. It got four stars for variety.
Birds Eye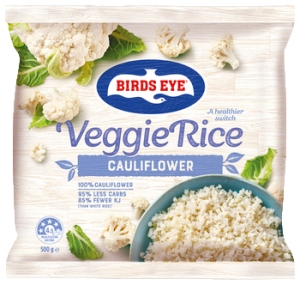 Birds Eye is one of the oldest frozen food producers in Australia (circa the 1930s) with the famous tagline 'Give 'Em Your Best'. The brand's Field Fresh and Country Harvest vegetables are all claimed to be sourced locally. The frozen food range also includes potato (chips and deli) and fish, but it's the Birds Eye frozen veggies range that is most extensive with over 50 products available. Some products include:
Birds Eye Veggie Rice Broccoli & Cauliflower
Birds Eye Country Harvest Peas, Corn & Capsicum
Birds Eye Veggie Cauliflower Rice
Prices for Birds Eye frozen veggies start from $2.60 for 500g.
Birds Eye earned five stars for variety and packaging, before landing on four stars for taste, quality of produce, and overall satisfaction. It got three stars for value for money.
McCain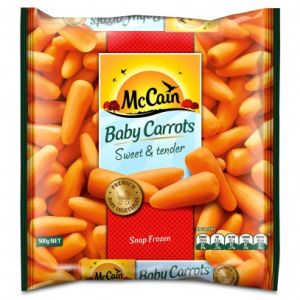 No doubt you've heard the catchphrase "Ah McCain… you've done it again!" This iconic brand is a leader in the frozen food industry and among the world's largest producers of frozen French fries. This is on top of its wider offering of frozen food products, including potato fries, vegetables, appetizers, pizza, desserts and prepared meals. The McCain frozen veggies range is said to be made from farm-grown produce and contains a variety of products, including:
McCain Sweet Baby Vegetables
McCain Oh My Veg
McCain Vegetable Mixes
A pack of McCain frozen veggies can cost as little as $2.30 for 500g.
McCain was rated five stars for variety, overall satisfaction, and in most other categories. It got three stars for value for money.
Coles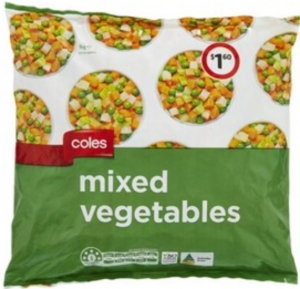 Coles' homebrand range supplies plenty of everyday value items across various product categories like food (fresh and packaged), paper and cleaning products, plus health and beauty products. Here are some options from the Coles frozen veggies range:
Coles Snap Frozen Corn Kernels
Coles Carrot Batons
Coles Frozen Broccoli Florets
Prices for Coles frozen veggies start at $1.90 per 1kg.
Coles scored four stars for the majority of categories, such as taste, value for money and overall satisfaction. The only exception was quality of produce, where it got three stars.
Woolworths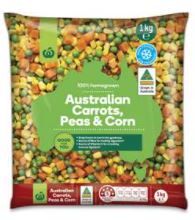 Woolworths also has its own generic brand of everyday essential home and kitchen items. It's marketed as affordably priced to help you buy all the 'must haves' and pantry staples on your shopping list. Here are some options from the Woolworths frozen veggies range:
Woolworths Carrots Peas & Corn
Woolworths Broccoli Florets
Woolworths Julienne Carrots
Prices for Woolworths Essentials frozen veggies start from $2.35 for 500g.
Woolworths earned a four-star review for taste, variety, value for money, and overall satisfaction. It got three stars for packaging and quality of produce.
Bell Farms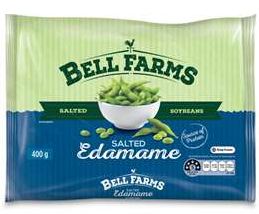 Bell Farms is also a Woolworths-owned brand supplying a range of everyday products at a discount price. Here are some popular products from the Bell Farms frozen veggies range:
Bell Farms Kale
Bell Farms Snap Frozen Winter Veggies
Bell Farms Salted Edamame
Prices for Bell Farms frozen vegetables start from $2.50 for 1kg.
Bell Farms rounded up the scores on four stars for value for money, packaging, and overall satisfaction. It got three stars everywhere else.
Other Frozen Vegetable Brands
The brands included in our latest ratings aren't the only options worth digging into. Here are a couple more popular products to check out:
Heinz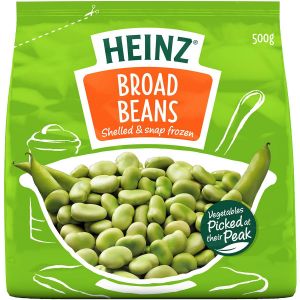 Heinz is one of the largest food and beverage companies globally, on a mission to provide 'high quality, great taste and nutrition for all eating occasions. Heinz frozen vegetables are claimed to be picked and snap frozen at their peak and then sealed in steamer bags. Here are some products from their range:
Heinz Mixed Vegetables
Heinz Steam Fresh Broccoli Carrot Snap Pea
Heinz Steam Fresh Beans Broccoli & Sugarsnap
Prices for Heinz frozen veggies are generally around the $3.30 mark.
Woolworths Essentials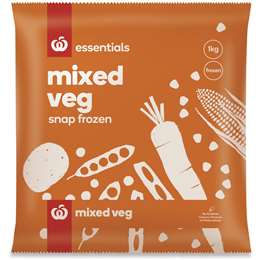 Woolworths Essentials is the supermarket's other homebrand for everyday essential home and kitchen items. The range is priced competitively compared to other products you can find in the frozen section of your supermarket. Here are some options from the Woolworths Essentials frozen veggies range.
Woolworths Essentials Frozen Mixed Vegetables
Woolworth Essentials Frozen Cut Green Beans
Woolworths Essentials Frozen Peas
Prices for Woolworths Essentials frozen veggies start from $1.59 for 1kg.
Which frozen vegetables should I buy?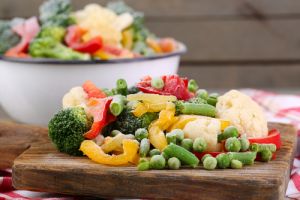 Almost a fifth of our survey respondents (16%) said they buy frozen veggies to save time when cooking. Besides convenience, there are other reasons to buy your veggies from the frozen section. Frozen veggies are harvested and snap frozen at the peak of ripeness. This means that flavours and essential nutrients are better retained and don't dissipate with time like with other fresh produce. That's particularly important if you're buying out-of-season fruits and veg. You can also store frozen vegetables for much longer than fresh greens, which tend to turn mushy pretty quickly. Lastly, frozen veggies tend to be cheaper to buy as there's less complexity to their supply chain and operation scale. So, buying frozen veggies can save you time, money and reduce food waste.
Whether you prefer a vegetable mix option or just greens, you should start by checking the nutritional information panel on the back of your frozen veggies packet. Look for products that are higher in fibre and protein and that are low in sodium, and check whether your frozen produce is non-GMO.
While frozen veggies are typically cheaper than the fresh alternative, you still want to get the best bang for your buck at the checkout. How? With unit pricing. It's a labelling system that compares the selling price of a product against a standard unit of measurement (i.e. per litre, kilogram, etc.). This allows you to compare prices more accurately, regardless of packaging size or brand.
About the author of this page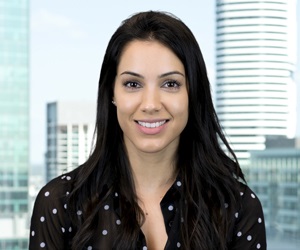 This report was written by Canstar Blue's Home & Lifestyle Content Lead, Megan Birot. She's an expert on household appliances, health & beauty products, as well as all things grocery and shopping. When she's not writing up our research-based ratings reports, Megan spends her time helping consumers make better purchase decisions, whether it's at the supermarket, other retailers, or online, highlighting the best deals and flagging anything you need to be aware of.