Top Baked Beans Brand – SPC & Heinz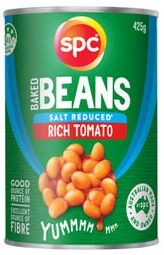 Heinz is a staple name in the canned goods industry having been around for over 135 years. They're best known for their baked beans but also have other popular products like canned spaghetti, sauces, canned soups, mayonnaise and meals.
SPC stands for the Shepparton Preserving Company, with iconic brands like Ardmona, Goulburn Valley, and Pomlife also under its management. The Aussie-owned company produces a varied range of canned foods including baked beans, spaghetti, fruits, tomatoes, purees, and cooking condiments. 
SPC and Heinz were both rated five stars for packaging convenience, variety & range, taste, texture & consistency and overall satisfaction, with four stars in the remaining category, value for money.
Get Your Woolies Worth!
Say goodbye to supermarket queues. Shop for groceries your way with Woolworths Online. Check out weekly specials & Everyday Rewards savings.

Shop Now