Fact Checked
Macro Wholefoods bottles up win as best-rated vinegar
Vinegar might be the most versatile product in the house. It's not only great for adding sharpness and balancing flavours when cooking ─ but it can also be used as a natural, eco-friendly way to clean dishwashers and other appliances and surfaces, removing the need for harsh chemicals often contained in cleaning products. That's what several Aussies do at least, with more than a third (37%) of respondents using vinegar for cleaning. A small number of people also said they consume vinegar for its perceived health benefits (7%). Either way, about a third (32%) make sure to pick up a bottle during their regular grocery shop.
---
How we rate vinegar
---
With over a third of shoppers (32%) buying vinegar on their regular shop, it's no surprise that it's high up on Australians' shopping lists. It's an unassuming product, but beneath the humble sour lies a powerful tool that can transform your dish or your drain in minutes. Cooking with vinegar can be a little daunting, which is why most people choose good ol' balsamic, and only 14% opt for apple cider vinegar. Similarly, it seems we are most comfortable cleaning with the stuff, which is why nearly half of respondents (41%) are happiest with white vinegar. If you are like the 35% of shoppers who switch amongst brands to find your favourite, then you'll enjoy our consumer review and guide which highlights the best vinegar brands to buy.
Find more detailed information on our ratings methodology.
---
Top Vinegar Brand ─ Macro Wholefoods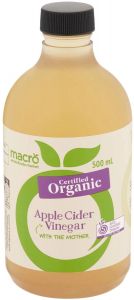 Macro Wholefoods is the Woolworths-owned brand producing a range of organic foods. The brand claims its products are made in a way that supports biodiversity and protects agricultural land by removing chemicals from the production process and incorporating sustainable farming practices. Macro Wholefoods currently makes two kinds of vinegar: balsamic and apple cider.
Prices usually range between $3.50 for a 500ml bottle of Macro Apple Cider vinegar and go up to $6 for the Macro Organic Vinegar Balsamic 250ml.
Macro Wholefoods was rated best with five stars for range variety and overall satisfaction. It got four stars for taste, texture, packaging, and value for money.
What is vinegar good for?
Vinegar is an amazing product that can be used for drinking, cooking, and even cleaning. It can be mixed into sauces (and even ice cream), to create salad dressing and used for marinating foods such as fish and vegetables.
Top uses for vinegar include:
Salad dressing
Quick pickling
Flaky pastry
Glazing fruits & vegetables
Drinking with warm water to supposedly aid weight loss and help digestion
Removing microwave splatters
Cleaning chopping boards
Refreshing countertops
Removing smells from the toilet, kitchen sink, and drains
Fabric softener
About the author of this page
This report was written by Canstar Blue's home & lifestyle journalist, Tahnee-Jae Lopez-Vito. She's an expert on household appliances, grooming products and all things grocery and shopping. In addition to translating our expert research into consumer-friendly ratings reports, Tahnee spends her time helping consumers make better-informed purchase decisions on all manner of consumer goods and services, while highlighting the best deals and anything you need to be aware of.