Fact Checked
Aussies delighted by Turkish Delight in chocolate bar ratings
Everyone has their own favourite type of chocolate bar they prefer to 'Crunchie' into. Whether you prefer something with texture with nuts and a wafer or soft with gooey caramel, we know that finding the perfect chocolate bar is no 'Picnic' in the park.
That's why we've surveyed more than 700 Australian consumers for their feedback on the chocolate bar(s) they've purchased and eaten in the last three months. Respondents scored brands on taste, range variety, packaging design, value for money and overall satisfaction. Those that received at least 30 responses are featured in our report. So, which chocolate bar got consumers Twirl-ing in satisfaction?
Supermarket confectionary aisles have stocked a few controversial flavours over the years, like Vegemite and chilli choc, but no chocolate type has divided sweet tooths quite like Turkish Delight. Well, we can now finally reveal that Aussies are in fact nuts about Turkish Delight, with consumers giving it five stars in all categories ─ including overall satisfaction!
Best Chocolate Bars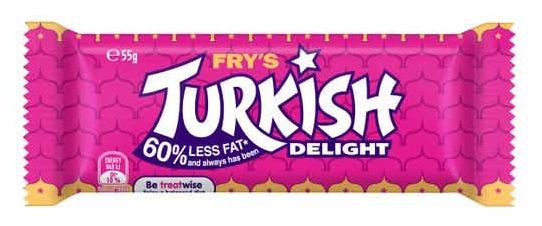 Here are the best brands of chocolate bars in Australia, as rated by consumers in Canstar Blue's 2021 review:
Turkish Delight
KitKat
Caramilk
Twirl
Cherry Ripe
Crunchie
Mars Bar
Snickers
Turkish Delight was rated best for chocolate bars after receiving five-star reviews for overall satisfaction. The majority of the other brands landed on four stars overall, except for Snickers which got three stars for overall satisfaction. The only other bar that received a sweet five-star victory was Caramilk, which whipped up full marks for value for money.
Chocolate Bars Compared
Turkish Delight

Cadbury's range of Fry's Turkish Delight is inspired by a Turkish treat called 'lokum', a sweet treat that boasts flavours of rosewater and lemon. Turkish Delight has a soft center, with a milk chocolate coating which, according to the brand, contains 60% less fat. A bar of Turkish Delight costs just $1.10 or up to $5 for a share pack.
Turkish Delight achieved a smooth five-star rating across the board, including for taste, range variety, packaging design, value for money and overall satisfaction.
KitKat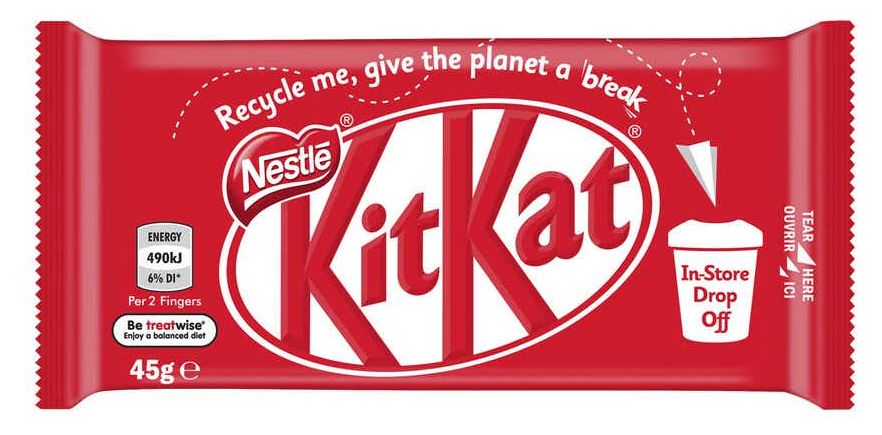 The team behind KitKat knows how to 'have a break', offering a sweet snappable snack in a variety of flavours such as Cookie Collision, Mint Cookie Fudge, Gooey Caramel, Gold White Chocolate with Caramelised Break, Orange Dark Chocolate, Honeycomb Smash, Caramel Crisp, Dark Chocolate and Milk chocolate. You can get your hands on a KitKat for anywhere between $2 and $5, or between $4.60 and $6 for the larger multipacks.
KitKat unwrapped a solid four stars in all research categories, such as taste, value for money and overall satisfaction.
Caramilk

Caramilk is a new cult-favourite that's got plenty of people melting, thanks to its 'golden blend of caramelised white chocolate'. It also offers Caramilk Twirl, which combines two Cadbury classics in one bar. Caramilk Twirl is also available in smaller bites, while the regular flavour is alternatively sold as a block. Other block flavours include Caramilk Marble, which features hazelnut praline, and Hokey Pokey which contains honeycomb pieces. You can snag yourself a Caramilk chocolate bar for $1.10 at most supermarkets.
Caramilk was the only other brand that whipped up a five-star review in the ratings, aside from Turkish Delight, achieving full marks for value for money. It ended on four stars everywhere else, including for taste, range variety and overall satisfaction.
Twirl

Another Cadbury creation featured in this year's ratings is Twirl, a chocolate bar with 'chocolate swirls and curls covered in Cadbury milk chocolate'. There are two pieces in each pack, which you can break apart once you unwrap. You can also opt for the Twirl Caramilk blend or the Twirl Breakaway which has a crispy wafer inside. A Twirl chocolate bar costs just $1.10 in most supermarkets.
Twirl scored four stars for taste, range variety and overall satisfaction. It also got three stars for value for money and packaging design.
Cherry Ripe

If you're craving a bit of fruit to go with that choccie, Cherry Ripe is an old-school favourite that smothers cherries and coconut with a coating of Old Gold dark chocolate. You can also enjoy the Double Dip version of the rich treat, which has double the amount of dark chocolate. Cherry Ripe usually sells for $1.10, similar to other Cadbury chocolate bars, although a twin pack will cost a little more at $2.50.
Cherry Ripe packed up with four stars in every research category, including taste, range variety, packaging design, value for money and overall satisfaction
Crunchie

A Crunchie is a sweet, sugary, staple for honeycomb fans. Each bite is filled with a golden hokey pokey honeycomb flavour, and coated in Cadbury milk chocolate. You can pick up a bar for $1.10 at supermarkets including Woolworths, Coles and IGA. A multipack is also available, which has 12 Crunchie bars in each bag for $5.
Crunchie got four stars for overall satisfaction, before landing on three stars for taste, value for money and everywhere else.
Mars Bar

One of the most common chocolate bars to feature in chocolate boxes and gift hampers, Mars Bars have been a go-to snack for decades. It's filled with a soft nougat that's smothered in caramel and covered in thick milk chocolate. An original Mars Bar will cost you $2 or $2.50 at most supermarkets.
Mars Bar received four-star reviews across all factors, including taste, value for money, range variety, packaging design and overall satisfaction.
Snickers

Finding a delicious chocolate bar is no laughing matter, especially for Snickers. After all, 'you're not you when you're hungry'. Each Snickers bar is covered in milk chocolate and packed full to the brim with peanuts, caramel and nougat. If milk chocolate isn't your jam, then you might want to try Snickers White which has white chocolate. A Snickers bar will typically checkout for $2, or up to $6 for a large bag of smaller fun-size Snickers.
Snickers rounded up the scores on four stars in the majority of research categories, such as taste and value for money, before settling on three stars for overall satisfaction.
You may also be interested in:
About the author of this page
This report was written by Canstar Blue's home & lifestyle journalist, Tahnee-Jae Lopez-Vito. She's an expert on household appliances, grooming products and all things grocery and shopping. In addition to translating our expert research into consumer-friendly ratings reports, Tahnee spends her time helping consumers make better-informed purchase decisions on all manner of consumer goods and services, while highlighting the best deals and anything you need to be aware of.