ghd has always been one for understanding women and their hair needs, especially in its hair straightener line. It has now brought in a new addition to its hairdryer range – the ghd Flight Travel Hairdryer – for light travelling. It's claimed to be ghd's most compact and lightweight hairdryer, while maintaining the power of a full size dryer. It was sold out within days of launch, with limited editions flying out just as quick, according to ghd. Read on for all the features that aim to blow you away.
ghd Flight Travel Hairdryer – Copper Luxe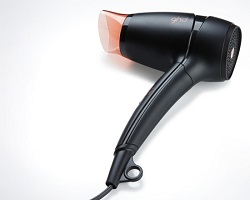 The key features of ghd's Flight Travel hairdryer are its foldable body and ghd hair safeguard technology. It provides 1200W of heating power, which is only a bit less compared to ghd's full size hair dryers that provide 1600W. It has an ergonomic design for handling with a removable nozzle for precision air flow. As it is solely designed for travel and leisure, there are just two speed and temperature settings to keep it as compact as possible.
ghd has certainly hit the mark with the copper design, with almost every small appliance being introduced in this trendy shade this year. It comes with a coordinating protective dust-bag, which you may find useful when packing the dryer into your suitcase. Besides it looking "Instagram-able", universal voltage is a must when travelling, so ghd has ensured to have this available for its Flight Travel hairdryer model. Its cord length is 6ft (or about 1.8m) and you probably wouldn't want anything much longer to ensure it fits easily into your suitcase no matter how many pairs of shoes you pack. It also comes with a two year manufacturer's guarantee for extra peace of mind.
Meet our new travel gift set ??✈️ Purchase ghd platinum and ghd flight together for less! Travel in style: https://t.co/DvfSlVuBE5 pic.twitter.com/pAizPkZngG

— ghd (@ghd) February 15, 2017
Limited Edition Range
ghd Flight Wanderlust Travel Hairdryer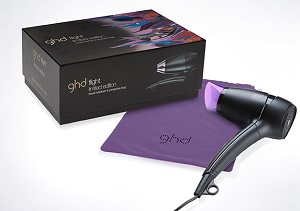 As ghd is well known for its limited edition releases, the current Flight Travel hairdryer is also available with purple accents. So if copper isn't your style, you may light to give this limited edition model a try. It is equipped with all the same features and ergonomic design as well as the same price tag.
Is the ghd Flight Travel Hairdryer worth it?
The ghd Flight Travel hairdryer tends to sit in the high end price range for compact hair dryers. It aims to be small enough to fit easily into your carry-on bag while still providing 1200W of power. Although some other competitors provide 2000W in their travel dryers, ghd ensures universal voltage to get maximum heating power wherever you are in the world. It has a modern design, which certainly catches your eye, and has a number of features to help get the job done while you're away from home. If you want your travel dryer to make you feel like you're flying first class with its sleek and ergonomic design, you may like to keep it in mind but don't forget this does come with a price.