'Tis the season of making s'mores for the family and relaxing with mates under the stars, but the winter chill can really be a buzz kill. That's where an outdoor portable fire pit is the perfect solution to keep you nice and cosy, whether you're in your own backyard, out camping or just ducking over to a friend's place for dinner. If you're considering investing in a fire pit, we've narrowed some cheap options from leading retailers for you to check out. But – a quick word of warning that the use of fire pits comes with various regulations depending on when you live, so check these out before heading to the store.
What is an outdoor fire pit?
A fire pit (also known as fire hole or bowl) is a versatile contraption designed to contain a small fire to heat any outdoor space like your backyard or patio, for example, and can also be used for grilling and barbecuing. Most outdoor fire pits are portable, but there are also built-in and in-ground options for those who have a dedicated entertainment area, or are connected to a natural gas line.
How much do outdoor fire pits cost?
Because fire pits come in all different styles, sizes, shapes and fuel types, prices vary widely depending on these factors, and if you need transport and installation as well. Fire pits can cost less than $200 for fuel drums or flat packs and can go up to $3,000 or more for cased and glass-covered models.

Cheap fire pits to buy for winter
Endless Summer Gas Firepit Brown Outdoor Fire Column: $119 RRP*
Mosaic Fire Pit Table Terracotta Ceramic Patio Fireplace: $189 RRP*
DrumGrill Large Charcoal Fuel Drum BBQ: $257 RRP*
Rust Phoenix Footed Fire Pit: $279 RRP*
Grillz Fire Pit Table Outdoor BBQ Charcoal Camping Garden Rustic Fireplace: $324.95 RRP*
The Picasso Fire Pit: $650 RRP*
Endless Summer Gas Firepit Brown Outdoor Fire Column ─ $119 RRP*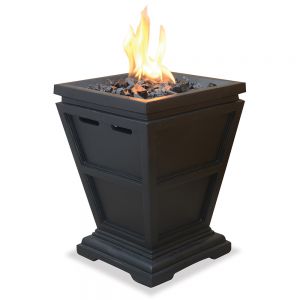 This Endless Summer fire pit from Amazon is perfect for small gatherings and outdoor areas. It comes fitted with an easy-to-access door panel for the gas tank, a turn on/off ignition and adjustable flame height function. It has a rust-proof stainless-steel burner with an integrated ignition and features a brown finish with faux stone construction and bronze fire glass.

Mosaic Fire Pit Table Terracotta Ceramic Patio Fireplace ─ $189 RRP*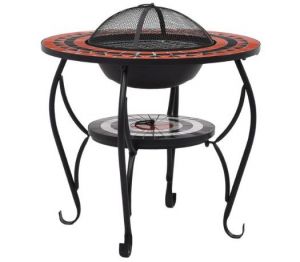 This terracotta and white mosaic table fire pit from Catch could make a great atmospheric addition to your garden or patio décor. It features a ceramic table top to rest drinks or food, a steel fire bowl which can be used to burn wood, logs or charcoal, a four-leg stand and safety mesh to control fire embers. It measures 68cm in diameter and also comes with a poker.

DrumGrill Large Charcoal Fuel Drum BBQ ─ $257 RRP*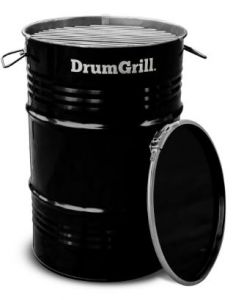 This DrumGrill model from Appliances Online isn't just the perfect vector to cook up a storm with the boys. It also doubles as a fire pit and side table. Measuring 57cm in diameter, it's the largest model in the series, for when you need to cook up a big feast for your tribe. It features a removable grill insert, a coal basket to use as a receptacle for a fire pit and a durable flat lid to put your beers on. Need we say more?

Rust Phoenix Footed Fire Pit ─ $279 RRP*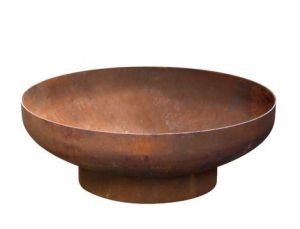 This rusted Phoenix firepit from Temple & Webster features a heavy duty 4cm extra thick steel bowl with a 70cm diameter opening, which is ideal if you're planning to spend long nights in front of the fire pit. It's fitted with a footed support to keep the fire bowl sturdy on flat surfaces. This model is claimed to be low maintenance and doesn't require to be assembled which is always a bonus.

Grillz Fire Pit Table Outdoor BBQ Charcoal Camping Garden Rustic Fireplace ─ $324.95 RRP*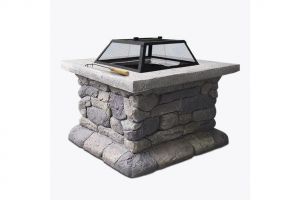 This Grillz fire pit table from Kogan offers the rustic charm of a fire place from times long past, thanks to its faux stone design. It can handle a large amount of coal or fire wood to keep the fire burning well through the night and is heat, frost and rust-resistant. It also has an upgraded safety mesh dome to prevent straying sparks and comes with a free poker. We're sold!

The Picasso Fire Pit ─ $650 RRP*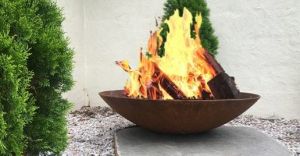 This fire pit from the Firepit Company is defined by its simple, elegant design, made of solid cast iron. It comes as a self-supporting bowl, with a thick base to protect surfaces from overheating when the fire is on. The Picasso bowl is the second largest model from the Firepit Company range. It measures 103cm in diameter and weighs 100kg.

Bunnings fire pits
Bunnings isn't just home to the best sausage sizzle in town, it's also a good place to stock up on all your DIY, hardware and outdoor living supplies. The retailer stocks a wide range of affordable braziers and fire pits suitable for small budgets, with prices starting from just $49 for the Jumbuck 55cm Rust Kellie Fire Pit and reaching up to $299 for the Jumbuck Fuoco Standing Grill And Fire Pit.
Here's our top pick for a Bunnings fire pit:
Glow Romada Fire Pit ─ $199 RRP*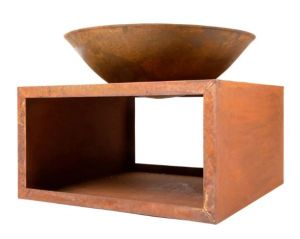 This Glow fire pit can make your outdoor moments feel a little more authentic, thanks to its rustic, robust design with a square-shape hole to store logs and a weathering steel exterior, designed to naturally oxidise in Australian conditions. This model would fit in a medium size area.
What are the different types of fire pits?
Outdoor fire pits come in all styles, shapes and sizes, but the main difference between fire pits usually comes down to which fuel type they burn.
Wood burning fire pit
This is the traditional fire pit which offers the warmth and smoky ambiance of a campfire. The majority of wood burning fire pits are made of steel, with different fire bowl sizes available. This option is the most popular because it gives off the most heat. The downside however, is that it dissipates a lot of smoke and fire embers. This is best used in large backyards and outdoor spaces.
Gel fuel fire pit
On the other hand, gel fuel fire pits are clean burning and don't give off any smoke or burnt wood smell. However, you won't get as much heat with this option as you would with other types. A gel fuel pit usually features some type of internal reservoir to pour gel fuel into and ignite or a gel canister holder. This is ideal for smaller gardens, courtyards or balconies.
Propane fire pit
This type of fire pit also burns clean, with no smoke and can create high flames. It's fuelled by a propane tank, connected via a gas line to a burner which you ignite to start the fire (like you would with a gas cooktop). Natural gas fire pits work much the same way but require a connection to a natural gas line, which means you can't move them around.

Are fire pits permitted in every state?
Having a fire pit at home is legal in most states, although laws and restrictions apply in different local council areas. Here's a quick state-by-state summary below:
Victoria: Campfires and fire pits (even in your own backyard) are mostly prohibited, unless weather conditions permit and even then, strict rules apply.
New South Wales: Small fires, including for cooking and recreational purposes which covers fire pits, braziers, pizza ovens and barbecues, are permitted.
Queensland: Fires for cooking and warmth (i.e. fire pits, braziers etc.) are permitted, providing adequate precautions are being taken to prevent the spread of fire.
Western Australia: Fire pits and outdoor fire places are permitted, so as long as they don't produce any smoke.
South Australia: Only charcoal-fuelled fire pits are allowed in metropolitan areas (i.e. Adelaide), while wood burning fire pits are permitted outside of those areas.
Australian Capital Territory: Fires for heating, as long as the fire is in a fireplace or container that will cover the fire are permitted.
Northern Territory: Fire pits are permitted, although a permit may be required if you live within a protection zone.
Tasmania: Fire pits are permitted, providing adequate precautions are being taken to prevent the spread of fire and smoke.
It's also worth remembering that using a fire pit during a fire ban or state of fire emergency is strictly prohibited.
Is a portable fire pit worth it?
If you like to entertain and spend time outside during the colder months, then a portable fire pit is probably one of the best ways to create a cosy atmosphere at home that benefits everyone. The main advantages of fire pits are that they're portable, require minimal maintenance and are relatively cheap to operate, although they do come with a higher upfront cost, compared to outdoor heaters. But can you really put a price on sitting by the fire with your loved ones and a glass of red in hand?
Picture credits: Mary Ann Tardif, Shutterstock.com/ Monkey Business Images, Shutterstock.com/ Renclif Media, Shutterstock.com.