Fact Checked
When the days get shorter and the weather starts getting crisp, an outdoor heater can be your perfect companion for a night under the stars. There are plenty of options to prevent you and your guests from catching a chill while enjoying some outdoor dining, ranging from gas, electric, and even wood fire. To avoid feeling a bit nippy the next time you go outdoors, read on for the specs and details on what types of patio heaters are available, and which might be the best fit for you.
Types of outdoor heaters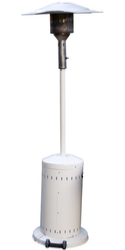 Patio heaters come in a range of sizes and fuel types to suit a variety of outdoor areas. Depending on what you're after, you can choose from:
Floor or freestanding: Typically found in bars and restaurants (pictured, right), these are designed with a base to prevent the heater from falling, as well as being easily portable. The most common fuel type for freestanding heaters is gas.
Tabletop: Can be used as a centerpiece for your outdoor dining area. These typically have a design similar to free-standing heaters, but with a smaller heating range. Their most common fuel type is electric.
Wall-mounted: Ideal for when you have limited space, or don't want a large unit to worry about. These are typically electric.
In addition to outdoor heater sizes, there are also three different fuel types:
Gas heaters
Electric heaters
Wood fire heaters
Read on to find out more about what to expect with each fuel type, as well as common brands and models.

Outdoor gas heaters
Gas heaters are portable and are commonly used for patios, decks and pool areas, as well as bars and restaurants. They use radiant heat to provide a steady stream of warmth that's easy to control, working more effectively when positioned in the centre of your entertaining space. The price you can expect to pay for a gas heater typically ranges between $150 and $3,000.
Gas heaters are claimed to be almost odourless and clean-burning, according to some manufacturers. They come in a variety of styles and sizes including table-top for smaller areas and freestanding patio heaters for large spaces. Portable gas heaters will require a propane gas bottle, while some other gas heaters can connect to your natural gas line. Keep in mind, if you live in a region where winters are quite cold, you might need more than one to provide enough warmth.
Look out for easy start or push-button ignitions, as you won't want to spend a lot of time in the cold trying to get your heater started! You might also like to think about the aesthetics of your heater, and if it will match your outdoor décor. In addition, you'll have to consider the height of the heater, as you may find it won't fit under your roof. Most manufacturers list the dimensions of products, allowing you to plan ahead when it comes to finding a space for your new heater.
Jumbuck Charcoal Gas Patio Outdoor Heater

Jumbuck offers a wide variety of outdoor heating products, plus BBQs and BBQ accessories. Within its heating line-up, it offers this charcoal gas patio heater (JDS06-PCC). With a 38.5 MJ/h heat output, it's claimed to heat an area up to 13m². The Jumbuck outdoor heater also has a push-button ignition system, with an adjustable temperature setting to ensure you get the right amount of toastiness, plus a safety valve that shuts off the unit if it were to fall over. It additionally comes with wheels for easy mobility and a powder-coated finish to fit in with the house aesthetic.
Dimensions (WxHxL): 700 x 2020 x 700mm
RRP: $179*
Gasmate Stellar Black Deluxe Area Heater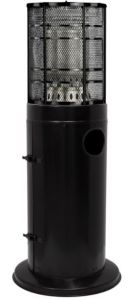 Gasmate is an established brand in the heating market and caters to a fairly wide range of heating needs. In terms of outdoor heating, its Deluxe Area Heater (AH2066) is an excellent choice for anyone looking to warm up a patio space to enjoy the best of winter nights. With a rotary ignition switch (similar to that on a BBQ), a burn time of nine hours and enhanced safety features including oxygen depletion system and safety tip over, the Deluxe Area Heater is easy to use, safe, and ensures you can keep your BBQ going long into the night.
Dimensions (WxHxL): 500 x 1350 x 500mm
RRP: $399*

Outdoor electric heaters
Electric heaters provide radiant heat for targeted warmth and usually feature a heat strip design that requires it to be mounted to the ceiling. Different brands describe this type of heater as a stylish and energy-efficient heating solution for outdoor areas, typically costing between $600 and $4,000.
There are a variety of electric heaters on the market, so make sure to do a deep search to find what best fits your home. For smaller areas, you might only need to install one heater, but for larger spaces, you may prefer to buy several units to keep your dinner guests cozy. Electric outdoor heaters are also said to be easy to use and don't require much maintenance, with running costs typically low ─ but you may also want to consider installing a timer controller to help save on energy.
Heatstrip Intense Portable Infrared Radiant Electric Heater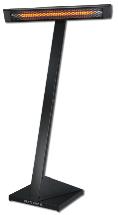 Heatstrip usually stocks a variety of outdoor gas and electric heaters for commercial use, although you can also snag yourself something designed for residential alfresco areas. Its Intense series includes multiple varieties of the Heatstrip Intense Portable Infrared Radiant Electric Heater, starting from the 2200W (THY2200) unit. This particular model can be mounted onto the wall or ceiling.
Featuring a hexagonal-shaped grille on a sleek stand, this electric heater offers 2200W of heating power with a carbon filament electric infrared element. This is said to provide spot heating for tables, lounges, entertaining areas and workstations, both indoors and outdoors. Expect a reach of 9m² in an enclosed outdoor area, 5m² in an exposed outdoor space and a larger reach of 14m² for indoor settings.
Dimensions (WxHxD): 1068 x 90 x 120mm
RRP: $499-$599*
Thermofilm 1800W Outdoor Electric Heater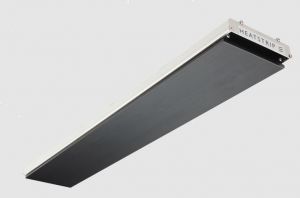 Thermofilm is an Australian company that specialises in heating, stocking a range of options for both indoor and outdoor. Included in this range is the Thermofilm 1800W Outdoor Electric Heater, a smaller unit ideal for those working with limited space who still need the warmth. This model puts out 1800W, can be mounted onto the wall and is designed to heat a 3-4sqm area. With its slim design and small frame, the Thermofilm 1800W can be tucked away in any number of verandahs, patios or garages.
Dimensions (WxHxL): 165 x 48 x 1104mm
RRP: $299*

Outdoor wood fire heaters
If you're after that cozy feeling of a fireplace, or you're keen to break out the marshmallows, perhaps a wood fire heater is one to consider. There are a number of options on offer, including:
Firepit: Designed for an open fire that you can build up with as much wood as the pit allows, with plenty of shapes and sizes available, depending on the manufacturer. With its design, it offers 360° heat that people can gather around, making it a great centerpiece. However, the fire is more vulnerable to the elements and may leave your clothes smelling a bit smoky.
Chiminea: A contained fire option, the design ensures that ashes or smoke doesn't get blown in your face, with the design coming in a range of styles and shapes. It retains heat and the wind doesn't trouble the flames, making it a handy option if you're looking for a portable fireplace.
Wood heater: Designed for contained, undercover outdoor areas as it's usually inbuilt, a wood heater is stated to be a safe option that retains heat well and can warm up large areas quickly. There are a number of different styles, offering reliable radiant heat with low emissions.
Brazier: A simple and cheap option, it typically has an upright metal bowl design with high-temperature resistant powder coating and fine mesh for resisting sparks.
Depending on the type, wood fire heaters can range anywhere from $50 to more than $500.
Mimosa Small Euro Fire Pit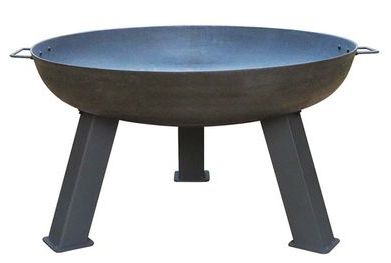 This outdoor 52cm Mimosa fire pit (LG561) features the basics, including a heavy duty cast iron bowl and a 360° view. The Euro Firepit alternatively comes in larger sizes (large and extra large), each of which still boasts the same grey and supposedly easy to assemble design.
Dimensions (WxHxD): 560 x 150 x 560mm
RRP: $79*
Glow Acheron Fire Pit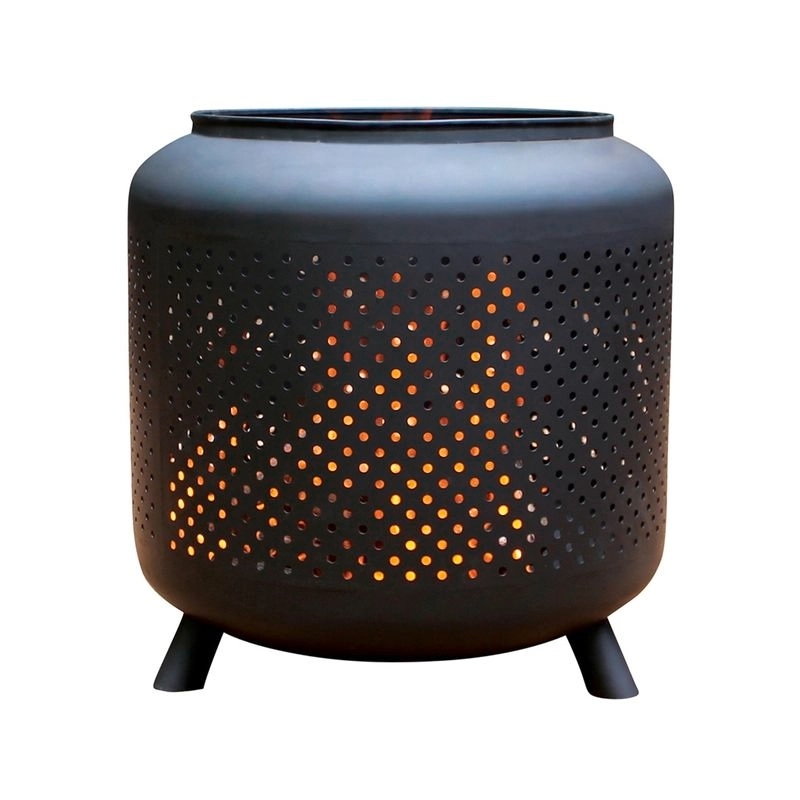 Northcote Pottery offers its 'Glow' outdoor heating range with a collection of fire pits and chimineas available. The Acheron Fire Pit (NPACHRN) is designed with high temperature-resistant powder-coated steel. Like others in the range, it's boasted to offer a stylish, modern industrial look to help you enjoy the outdoors in style no matter the time of year. It has perforated steel to encourage better heat flow and comes with a fire tool. There are plenty of other options in the Glow range, including modern corten steel fire pits, sleek GRC models and traditional clay chimeneas.
Dimensions (WxHxD): 520 x 600 x 520mm
RRP: $179*

What to consider when buying an outdoor heater
When considering an outdoor heater, there are a number of factors to consider to ensure you're kept warm without seeing your budget go up in flames. Major areas to consider when buying an outdoor heater include:
Location: The area you're trying to heat is the main factor as to what type of outdoor heater you purchase. Large patios may need a radiant-style heater to keep everyone warm at the same time, while smaller gatherings in smaller areas may simply need a firepit to create equal parts warmth and ambiance. You'll also have to consider factors such as how much wind the area gets, if it's undercover or not, and how much space you're trying to keep warm.
Portability: Most outdoor heaters are designed to be moved around, but whether you can do it by yourself is another question, as some models can prove to be quite heavy. If you're looking to either keep your heater stored during the warmer months, or you're looking to warm different areas depending on your needs, the portability of the heater may come into play.
Cost: While the cost of any product will impact which one you purchase, you'll also have to consider the running costs involved with outdoor heaters, including the costs to keep it turned on.
How much does a gas heater cost to use?
Fuel is a major consideration when it comes to outdoor heaters, as running costs can quickly add up. An outdoor freestanding 40,000 BTU gas heater that operates on liquid propane may cost around $3.33 per hour to operate, based on a 9kg propane cylinder which can cost around $50 to buy (i.e. the heater burns through 1kg per hour). However, costs differ depending on the heater's size and usage settings. It's also common to refill gas tanks rather than replace them, so costs could be lower in the long run.
Natural gas heaters are generally cheaper to operate than propane gas heaters as there are no upfront fuel costs involved. But while natural gas typically costs less per megajoule than LPG, customers must pay an additional 'supply charge' for having mains gas connected to their property, which will depend on the energy retailer and location.
How long do gas cylinders last?
A standard 9kg liquid propane cylinder typically lasts for between eight to nine hours on a high setting for a freestanding outdoor gas heater, with a 30MJ/h maximum heating output.
How much does an electric heater cost to use?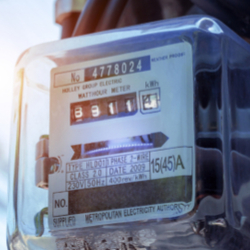 Electricity may be more expensive than gas, but you might still find an energy-efficient electric outdoor heater. However, this will depend on how much energy the heater uses. For example, a 2,200W electric heater would cost about $0.60 per hour to run, based on a hypothetical usage rate of 27.6246c/kWh. Keep in mind that usage rates vary depending on location.
How much does a wood fire heater cost to use?
If you decide on a wood fire heater, keep in mind that you'll also need plenty of fuel – a steady supply of firewood in this case. Plus, think about a place where you can store all the wood as it's recommended to keep wood out of the weather so it's dry and burns well.
Which outdoor heater should I buy?
No crisp weather can stop a backyard BBQ, but constantly shivering through the cold is no way to enjoy a classic snag or burger. To help you enjoy your time outside without rugging up, an outdoor heater is certainly something to consider if you're looking to entertain during the cooler months.
For those who have a large entertaining space, freestanding gas heaters could be the way to go. You can also connect some gas heaters to a natural gas line, so you won't have to worry about buying propane gas bottles.
For small decks, a table-top gas heater might suffice if placed on your outdoor table.
If you want the heater to be out of the way but still cover a large area, you might like to consider a mountable radiant style heater for targeted warmth. You can buy as many as required for your patio – the larger the area, the more you'll need – with running costs typically low.
If you have a flat, open area, a firepit is another option you might like to keep in mind. There are different sizes available and plenty of designs to help fit in with your outdoor aesthetic.
Once you've decided what size you need, where you're putting it, which outdoor heater you decide to take home with you will ultimately come down to your budget and preference. With plenty of brands and models available, you'll find something to warm up within no time.
Picture credits: Monkey Business Images/shutterstock.com, By Ints Vikmanis/shutterstock.com, N. Mitchell/shutterstock.com, MPH Photos/shutterstock.com, Logra/shutterstock.com, Sunshine Studio/shutterstock.com, Ints Vikmanis/shutterstock.com