Fact Checked
No one wants the luxury of outdoor entertainment to stop just because the temperature is starting to drop. You can keep the good times going by investing in an outdoor heater so you can enjoy your entertainment area and keep warm throughout winter. But where do you start to look for an outdoor heater? We've put together a handy guide to help you navigate outdoor heating and make the best purchase decision.
What is an outdoor heater?
An outdoor heater is a radiant heating appliance that helps warm the surrounding outdoor air using electricity, gas or fire. They come in a range of sizes and use different powering methods to suit the design of the appliance itself and the person using it. While some people find the more traditional method of heating via fire better suits them, electricity and gas offer simple and efficient solutions for outdoor heating.  
Types of outdoor heaters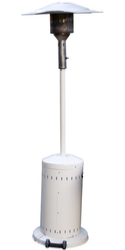 There are three overarching types of outdoor heaters, and within each type you can find sub-variants such as floor or freestanding heaters, tabletop and wall-mounted heaters to help suit your needs or space. 
Outdoor gas heater
Outdoor gas heaters will predominantly include free standing or floor designs. One of the most common designs are known as patio heaters, or mushroom heaters, for their tall mushroom shaped design. 
Outdoor electric heater
Electrical outdoor heaters come in a number of designs, and are considered to be more versatile and suit different outdoor entertaining spaces. Their most common designs are wall mounted electric heaters and tabletop heaters, which are best suited to smaller areas that don't offer lots of floor space.  
Outdoor fire pits
Fire pits are a more traditional style of outdoor heater but require more space away from structures for safety. They come in a range of sizes that can suit homes with smaller yards or yards with more built-up structures surrounding the fire pit space. There are four main types of wood fire heaters: fire pit, chiminea, wood heater and brazier.  

How much do outdoor heaters cost to buy?
Outdoor heater prices range depending on the type of heater, which heating element is used, their size and any additional features. As a simple guide:
Gas outdoor heaters cost

$70 to $350

Electric outdoor heaters cost

$60 to $900
Outdoor fire pits cost $50 to $550
Outdoor heater brands
There are plenty of brands that offer top quality outdoor fire pits, gas and electric heaters. We have listed some of the best-known brands and their popular models as a guide to get you started, including brands such as: 
Jumbuck

Gasmate

Heatstrip

Glow 
Jumbuck Outdoor Heaters

Jumbuck is a popular outdoor appliance brand known for its wide range of heaters, fire pits, braziers and barbecues. One of their popular models of gas heaters is the Jumbuck Charcoal Gas Patio Outdoor Heater, a freestanding heater that features a tall design for even heat distribution, wheels to easily move it around outdoor entertaining spaces and simple piezo gas ignition. 
Jumbuck also has a wide range of fire pits and braziers to suit the needs of any home or entertaining space. The Grey Cast Iron Fire Pit offers a simple design for larger yard spaces, with a deep, wok style design allowing for a reasonable sized fire to keep you and your family warm during winter.
Gasmate Outdoor Heaters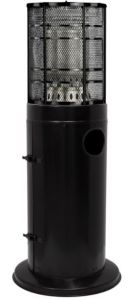 Gasmate is a popular gas appliance company that boasts a wide range of outdoor gas heaters, camping accessories and barbecues. Its range of gas outdoor heaters all feature modern designs for freestanding heaters, wall mounted heaters and strip heaters. Its heaters retail between $200 and $1,000. The premium products in the range is the Solaris Deluxe Ceramic wall mounted heater, which features electric wall switch ignition and a 5x ceramic tile heating unit, giving off a pleasant warmth that fills outdoor spaces. 
Middle of the range is the Stellar Deluxe Area Heater that offers up to 2.5m of heating, adjustable heat output and a durable and weather resistant body for longevity.  
Heatstrip Outdoor Heaters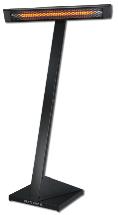 Heatstrip offer a range of sleek outdoor heaters that blend seamlessly into any outdoor entertaining space. Heaters start at $230 and can reach nearly $1,000 for premium models. Its range of Australian designed electric and gas heaters create a radiant heat and boast features including remote access via an app, LED control panel and multiple heat levels to suit your needs. 
Glow Fire Pits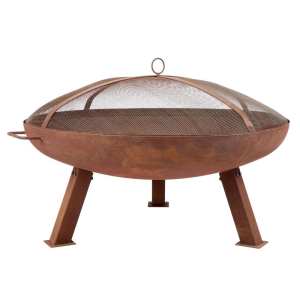 Glow's fire pits cater to the needs of just about any home with different designs, sizes and features available. Whether you're an on-the-go family who like to camp or looking to finalise that outdoor space, you can find a fire pit with prices ranging from $60 to $200. Some of the range include features like log storage, cooking grills and added cooking utensil accessories.   
How much do outdoor heaters cost to use?
As with all things for the home, you will pay an upfront price to purchase the item but then there are more costs associated with use and maintenance. The same can be said for outdoor heaters and fire pits. They all require additional components to help them run and for you to make the most out of their features. Costs may vary depending on the type of heater, model and general use. See Canstar's winter heater running costs to see how your energy bill may be affected by your outdoor heater this winter. 
---
---
Outdoor heater features to consider
When looking to buy an outdoor heater, there are a number of factors to consider to ensure you're kept warm without seeing your budget go up in flames. Major areas to consider when buying an outdoor heater include:
Location:

 The area you're trying to heat is the main factor as to what type of outdoor heater you purchase. Large patios may need a radiant-style heater to keep everyone warm at the same time, while smaller gatherings in smaller areas may simply need a firepit to create equal parts warmth and ambiance. You'll also have to consider factors such as how much wind the area gets, if it's undercover or not, and how much space you're trying to keep warm.

Portability:

Most outdoor heaters are designed to be moved around, but whether you can do it by yourself is another question, as some models can prove to be quite heavy. If you're looking to either keep your heater stored during the warmer months, or you're looking to warm different areas depending on your needs, the portability of the heater may come into play.

Cost: While the cost of any product will impact which one you purchase, you'll also have to consider the running costs involved with outdoor heaters, including the costs to keep it turned on.
Air pollution: While this may be only an area that you'll have to consider if you're looking at a fire pit or brazier, you will have the additional elements of smoke, soot and ashes to deal with as you enjoy the roaring fire. As a result, it's best to brush up on your knowledge in regards to what type of fires you can have on residential properties, as well as be mindful of those around you, as a change in wind could leave someone else's living room smelling like smoke, or cause those with respiratory issues some concern.  If you have close neighbours, it may be worth going for a heater that doesn't produce smoke.
Should I buy an outdoor heater?
Investing in outdoor heating can help you make the most out of your deck or patio even when the temperature drops into single digits. Once you've decided what size you need and where you're putting it, which outdoor heater you decide to take home with you will ultimately come down to your budget and preference. With plenty of brands and models available, you'll find something to warm up within no time.
Picture credits: Monkey Business Images/shutterstock.com, By Ints Vikmanis/shutterstock.com, N. Mitchell/shutterstock.com, MPH Photos/shutterstock.com, Logra/shutterstock.com, Sunshine Studio/shutterstock.com, Ints Vikmanis/shutterstock.com
Original Author: Tahnee-Jae Lopez-Vito