Tacos might have Tuesdays, but pizza wins every other night, especially if we're talking about homemade pizza. Not only do freshly made pizzas often taste better than takeaway or frozen varieties, but they can also be healthier than a loaded burrito. But to get the most out of those pizza nights it might be time to invest in a pizza oven. Whether it's a wood fire pizza oven for your outdoor area or a small convection oven for your kitchen, there are plenty of affordable models available in the market.
Types of pizza ovens
There are three main types of pizza ovens – wood fired, gas and electric. Each type of pizza oven has their own set of features that can warrant different results for your homemade pizza making. 
Wood fired pizza oven
Wood fired pizza ovens provide the most traditional flavour, typically used by chefs, pizzerias and those who love a traditionally cooked pizza. These work by stocking up a large wood fire with a refractory dome at the top of the oven to reflect and radiate the heat over an even cooking area. Wood fired pizza ovens are the most expensive to buy and may also require installation, but may be well worth the cost for those after a more traditional style.
Gas pizza oven
Gas pizza ovens use a gas-fuelled burner and a ceramic stone or refractory bricks to create heat and cook foods. Some gas ovens are sold with a smoker tray that you can put wood chips into to give your pizza that delicious smoky flavour. Gas ovens are fast to get up to temperature, normally in less than 10 minutes, which may suit those who need their pizza in a hurry.
Electric pizza oven
These use an electric element at the top and bottom of the oven to heat the chamber and a fan to distribute hot air and heat the thick ceramic pizza stone to a high temperature (300C+). This replicates the cooking environment of a brick oven. Convection pizza ovens are the cheapest option to buy.
How much do pizza ovens cost?
Pizza ovens can range in price from $160 to upwards of $900. The price will entirely depend on the type of pizza oven, the size and other factors like installation. Gas pizza ovens will generally cost from $200 to $400, wood fired ovens will cost around $500 to over $1,000 for larger installed models and electric ovens are cheaper at $150 to $250. 
Who sells pizza ovens?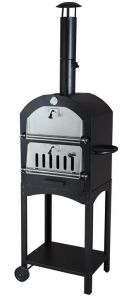 There are a number of brands that sell all three types of pizza oven including Breville and Jumbuck.
Jumbuck Pizza Oven 
Jumbuck offer a range of pizza ovens, both woodfired and gas, ranging from $200 to $400. Its pizza ovens are a freestanding oven (and portable) which means they can fit in smaller backyards, and can be moved between outdoor entertaining areas easily. Some of its pizza oven models come with a cooking rack, powder-coated cart handle, charcoal removable drawer and a ceramic stone plate.  
Breville Pizza Oven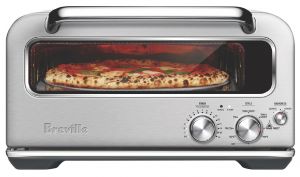 Breville offer a number of electric ovens, but  only one model of pizza oven, that retails for around $1,000. It's one of the few domestic bench ovens that can reach a temperature of 400°C to emulate a traditional wood-fired pizza oven. It's stated to use a patented Element IQ with a heat deflection design to create intense direct heat to achieve a perfectly cooked pizza with your preferred level of char from different kinds of bases. It also comes with seven pre-set functions and manual mode to customise heat settings and cooking functions to suit whatever meal you're making. 
Should I buy a pizza oven?
If you're a bit more of a culinary expert and love to have people round on the weekends to share your talents, then a pizza oven could be an ideal choice for you, provided you have the space in the yard! If you only have pizza as a special treat, then purchasing and installing a pizza oven may not be the most cost-effective option. If you're not sure about pizza ovens, check out the latest ratings on traditional oven brands via the link below to see what else is out there.