Like seeing your lawn well-manicured but don't want to put in the work to do so? It's understandable. Luckily robot lawn mowers are a thing. Yes, they're out there, so there's probably not much need for the 'pool boy' that takes care of your pool and lawn anymore. Robot lawn mowers mean there's yet another job lost to automation, but who's complaining with this one? Mowing the lawn can require patience and some physical fitness, and it can be itchy work. Robot lawn mowers may be able to put this pastime out to pasture. Below we'll review some of the best robotic lawn mowers on the market, explain how much you can expect to pay, and decide whether or not it would be worth the money.
What are the benefits and drawbacks of robotic lawn mowers?
The most glaringly obvious benefit to a robotic lawn mower is that you have to do very little, or no work yourself. With a robotic lawn mower, it could mean the end of waking up early on a Saturday morning to get your raggedy old trainers on to go mow the lawn. But maybe you actually enjoy it?
Many models are fully autonomous – you don't even need to return it to a charging station as it will do that itself.
Many feature robust chassis that can handle almost any lawn, navigate obstacles, tackle debris and small rocks and so on.
It's hard to be motivated to mow the lawn more than once a week, but a robotic lawn mower could be programmed to mow every day. This can result in a finer mow, and the less drastic cutting can be more beneficial for grass in the long term, and the finer clippings can be used as mulch.
Furthermore, many are a lot quieter than traditional petrol push mowers, with some models as quiet as 50dB during their peak operation. There are many benefits, but like robotic vacuum cleaners they share a few drawbacks, most obviously relating to power, price and battery life.
Robotic Lawn Mower Drawbacks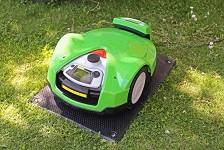 Arguably the main drawback with robotic lawn mowers is the sheer cost at the moment. You will likely struggle to find anything significantly under $2,000. At this high price it can be hard to stomach paying for a smallish device when a high-powered petrol mower can be found for well under $1,000.
Questions also linger over cutting ability as many are low profile with smallish wheels and may not be able to tackle bigger debris. Cutting widths are also relatively small, so bigger lawns may need several recharges before they are finished.
Battery life is also a problem; many run on hardy lithium ion batteries, but likely can't last the distance. Many also require significant charge times of an hour or more.
One of the less obvious drawbacks is the fact they can be attractive to thieves – or idiot passersby – to steal. It's such great fun to steal one from a stranger's lawn. However, many come with theft deterrents such as pin code operation, alarm systems and electronic boundaries, and simply will not work outside of these boundaries.
Brands available in Australia are also limited, and we are not afforded the same great range as found in the US or UK.
With robotic lawn mowers you are really paying for the convenience factor. If you can stomach the high cost, review some of the brands available in Australia below.
Robotic Lawn Mowers Brands & Prices
It may come as a surprise to many that robotic lawn mowers are widely available, but you will have to cast your eyes far wider than the mainstream brands – especially in Australia. Brands of robotic lawn mowers include well-known names such as Husqvarna, but also lesser known robotics brands such as Ambrogio and Tech Line.
Husqvarna Robotic Lawn Mowers
Husqvarna is perhaps the biggest and most well-known brand name in this list. Named the 'Automower', Husqvarna's robo lawn mower packs a punch. With easy installation and fully automatic with installation of electronic fences, the Automower can get the whole job done. It also boasts a theft protection system with a pin code required for intervention and an alarm sounds if the pin code prompt is ignored. It also comes with a unique charging port, making it unattractive to thieves.
It boasts a 58dB operation noise level, which is barely as loud as an alarm clock that would originally have woken you up in the morning to do the mowing.
Prices start at just under $2,000 and cost up to $5,000, with suitable lawns anywhere from 600m² up to 5000m² (an average suburban block up t0 half a hectare).
Battery power and additional features usually determine the price, and all are built with a robust chassis and functionality to tackle the tricky lawns and dodge obstacles. Automower models also auto-recharge themselves so operation is totally autonomous. Husqvarna is one of the only mainstream brands to offer robotic lawn mowers in Australia, and for convenience's sake it may be worth going with a well-reputed brand.
Ambrogio & Tech Line Robotic Lawn Mowers
As you may have gathered from the name, Ambrogio is an Italian brand, with its lawn mowers designed – and the engines made – in Italy. Tech Line is another brand, both made by Italian company Zucchetti, a company specialising in home products and outdoor appliances. There are generally three models in the line-up in the Australian market:
L60B: Just under $2,000 and suitable for lawns up to 200m²
L30: Just under $3,000 and suitable for lawns up to 1,100m²
L300R: Around $6,500 and suitable for lawns up to 6,000m²
Tech Line models may be slightly cheaper
All Ambrogio and Tech Line robo-mowers come with brushed motors, 4-tooth blades between 24cm and 36cm, plus grass sensors. The greater models can tackle slopes up to 45°. The lawn mowers come with a two-year warranty, but note this is a niche brand and may not be available at mainstream retailers.
You may also be interested in:
Do robotic lawn mowers make the cut?
Robotic lawn mowers are a relatively new phenomenon in Australia. As such, prices are high and the range on offer is low. But if you really 'CBB' with your lawn on the weekend, the convenience factor is probably worth it. With few models costing less than $2,000, consumers will have to weigh up whether they really hate mowing the lawn that much, when self-propelled petrol mowers can be found for less than half the price.
Battery life and cutting power are likely the second-biggest concerns, with larger lawns likely requiring multiple stints between charge times, and steep or irregular lawns likely benefiting more from a traditional mower.
In any case, without a lot of range out there at the moment, one of the main brands to offer robotic lawn mowers to Australia is Husqvarna. The next time you're looking out at your lawn and dreading getting out there, it may be worth looking into a robotic lawn mower.