Victa Lawn Mower Review & Guide
When it comes to lawncare and getting out in the garden, there's a few brands that we often associate with green thumbs. Victa, the Aussie lawn mower icon is one of those brands, with the name often directly associated with cutting the grass on a Sunday afternoon. But when it comes to the lawn mower market, does the brand still stand out amongst its competitors, and what exactly does it have on offer? Find out what Victa has to offer in this Canstar Blue guide.
Victa Lawn Mowers
Founded in 1952, Victa is an Australian brand that focuses on a number of lawncare and garden maintenance tools, including trimmers and edgers, alongside its flagship lawn mowers. Victa offers a number of push, ride-on, electric and even a robotic lawn mower within its line-up, which you can read more on below.
Victa Push Lawn Mowers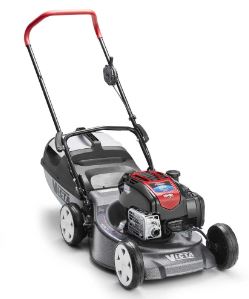 The meat of Victa's lawn mower range, the push mower is likely what many will be looking for to tackle the lawn. Victa's range of push mowers includes a number of line-ups, including the Corvette and Pace models, along with a number of limited editions models.
The entry level Classic Cut features an 18inch cutting width, along with an improved ignition system with RapidStart technology, in addition to soft-grip handles, 10 cutting heights as well as 8inch wheels. The Corvette 400 push mower is the middle-ground of the Corvette range, offering a mulching blade-disc design to help you make the most of your lawn trimmings, QPT Technology to cut down on noise, a quad-blade cutting system as well as a 19inch cutting width to help you make short work of the lawn.
The entry-level Pace model – the Pace 100 – also features an 18inch cutting width, alongside a 4-stroke engine, durable comfort grip handles, 0.75L fuel tank, foam air filter and pressed steel chassis for a sturdy yet lightweight design. You can also opt for limited edition Sonic or Tornado models, although they may not be around for long, but may be a suitable option for those with smaller yards.
Victa Ride-On Lawn Mowers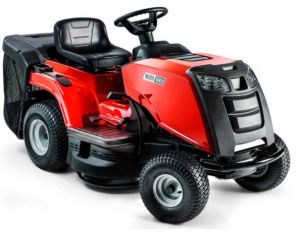 Victa offers a number of ride-on lawn mowers, from smaller units for those who have a property that's just a bit too large for a push mower, to larger units that will make quick work of unruly properties. The entry level model – the VRX15538GX – includes features such as a 38inch cutting width, 42cm turning radius, 6L fuel tank, adjustable seat, headlights and seven different cutting height positions.
The Victa SPX2342, arguably the middle ground of the ride-on line-up, includes a 42inch cutting width alongside a 35cm turning circle, ideal for when you have lots of twists and turns in your yard. With a 23HP, 2cylinder engine, it also features an electric key start, manual deck lift, headlights, cruise control and seven cutting height positions to help make your lawn looking good.
The top-of-the-line model, the ZTX2348F, has a 48inch cutting width and has a 0cm turning circle, ensuring that you don't miss a blade of grass. Coming with armrests, a 11.4L fuel tank, adjustable seat, dual transmission, electric starter and seven cutting heights, this model may be suitable for those who have plenty of lawn to get through, or simply take their lawncare very seriously.
Victa Electric Lawn Mowers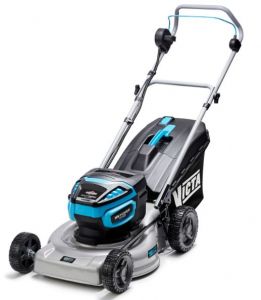 While the majority of Victa's range is petrol-powered, the brand also offers a number of electric lawn mowers for you to consider. All powered by an 18V battery, Victa's range includes a number of Corvette models, as well as dual-battery models. The base level electric mower, the 18V Single Battery Mower, features a 45min run time, 1.5kW brushless motor, soft-grip handles and a hard-top fabric catcher for comfort and ease of use. One the other end of the price spectrum is the 18inch Corvette Twin 1200W model, which features an 18inch cut width with two cutting blades, push button start, pressed steel chassis, 8inch wheels and soft grip handles to help you stay comfortable while on the job.
Victa Robotic Lawn Mower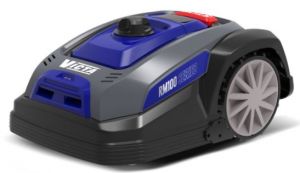 Victa also offers a small, robotic lawn mower for those who need help tackling the lawn, but potentially don't have the time to do so. Costing over $1,200, the Victa Robot Mower RM100 may not be the option for the budget-conscious, but does come packed with features, such as a bump sensor system, rain sensor, anti-theft alarm, as well as a range cover of up to 600 square metres of open yard. With a run time and charging time of 60 minutes, the RM100 features a 28V lithium-ion battery, and can tackle a 21-degree slope, with a fully-programmable system, allowing you to get the cut you want without stepping outside.
---
Read more: Cheap Lawn Mowers
---
Where can you buy a Victa lawn mower?
Victa lawn mowers are available to purchase at lawncare retailers and mower shops, in addition to hardware stores such as Bunnings, Mitre 10 and Home Timber & Hardware, with retailers listed on the Victa website.

How much do Victa lawn mowers cost?
Reasonably priced within the market, Victa's range of lawn mowers ranges from a few hundred to a few thousand dollars, depending on the model, type and retailer. Victa push mowers cost upwards of $400, while the ride-on mower range costs upwards of $2,500.
Are Victa lawn mowers worth the money?
In the last 60-odd years, Victa has planted itself in the hearts and minds of many Aussies. The humble lawn mower can credit its creation to Victa, with the brand still manufactured in Australia today, which may prove to be a winner in some people's books.
For those looking for a quality mower, Victa may be one of the first ports of call, although it may not be the first option for those shopping on a budget. However, with its sheer range of push and ride-on mowers, Victa is hard to go past, even in a crowded market. But despite the prestige that's attached to the name, it's important to look into all of your options, as you don't want to cut down your bank account on a mower that doesn't get the job done.
About the author of this page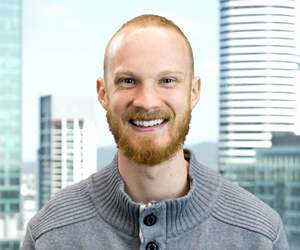 This report was written by Canstar Blue's Site Editor, Dean Heckscher. He's our resident expert on all things automotive, health & fitness, streaming and more. Dean is also one of Canstar Blue's customer research report producers, helping to turn complicated subjects into easily-digestible information for our readers. He's passionate about helping consumers make better-informed purchase decisions on all manner of consumer goods and services.