Victa lawn mowers: Cut grass with an Aussie icon
Victa Mowers are as fair-dinkum, true-blue and dinky-di as any other Australian staple. From Vegemite to the meat pie, Holden cars and Milton mangoes, Victa is "Aussie as anything". Victa revolutionised the lawn mower into how we know it today – a "pushcart" style that "turns grass into lawns" as the Victa slogan goes. A bit different to its initial models in the 1950s, Victa has expanded to offer a large range of lawn mowers that are known the world over for enduring quality and top-notch craftsmanship, designed and assembled in Australia. However, how does the Australian icon really stack up? Read the review on Victa lawn mowers by Canstar Blue.
What is the range of Victa lawn mowers?
Victa has developed a comprehensive range of lawn mowers in a variety of different categories and configurations. Read on to get the lowdown on just some of Victa's large range, and some of arguably the most exciting models below.
Victa Corvette Series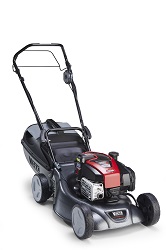 Like its eponymous car model, the Corvette series packs a punch in the performance stakes. Many of the mowers in the line-up are powered by revered Briggs and Stratton motors, who themselves make mowers and are well-reputed in the industry.
The standout mower in this line-up is the 850 SP model, which certainly delivers on all fronts when it comes to cutting that grass. As the name suggests it is self-propelled, which makes mowing a breeze with its 480mm chassis. It boasts a massive 11.5nM of torque out of a 190cc engine, which will help push through tough grass. It also has a 'ReadyStart' starting system, with no prime or choke.
Priced at $899 retail, it's a high-end unit for those serious about "turning grass into lawns". If $899 is a bit steep for you, then the Corvette series has a range of different price points to suit a lot of budgets; you'll be doing Corvette-worthy burnouts in no time. Compare the standout models in the Corvette line up below:
| Model | Corvette 500QPT | Corvette In Start |
| --- | --- | --- |
| Chassis Size | 480mm | 480mm |
| Engine Size | 163cc | 190cc |
| Torque | 9.8nM | 9.8nM |
| Blades | Four Swing-Back | Four Swing-Back |
| Mulching? | No | Yes |
| Cut Height | 15-72mm | 15-72mm |
| Price (RRP) | $649 | $749 |
| Other Features | Quiet power technology | Electric Start technology |
Victa Commando Series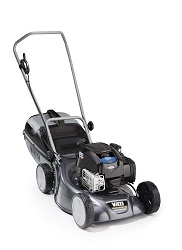 If you want to take command of your lawn and trim it into something presentable, then the Commando series may be for you. Coming in as the possibly the most interesting of what the Commando series has to offer, the 19" Mulch & Catch (model number: VCMS484) has the ability to – you guessed it – mulch as well as mow. It boasts a Briggs & Stratton 675EXi Series engine, which boasts 9.2nM of torque.
The 19" Mulch & Catch has four swing-back blades, which are claimed to offer superior cutting in thick, wet grass. Its cut height is adjustable from 15mm to 72mm, meaning you have great command over your lawn. Retailing at about $600 it's certainly not a 'cheap' lawn mower, but for those serious about mowing and mulching, then this one could be for you. Compare other models in the Commando line-up below:
| Model | InStart | Ultimate | Self-Propelled |
| --- | --- | --- | --- |
| Chassis Size | 480mm | 480mm | 480mm |
| Engine Size | 163cc | 161cc | 190cc |
| Torque | 9.8nM | 9.8nM | 9.2nM |
| Blades | Four swing back | Four swing back | Four swing back |
| Mulching? | Yes | Yes | Yes |
| Cut Height | 15-72mm | 15-72mm | 15-72mm |
| Approx Price | $749 | $999 | $769 |
| Other Features | Push button start | Push button start | Pull start, rear wheel drive |
Victa Mustang Series
As you might have guessed, Victa like to name their model series after American muscle cars; perhaps they evoke a sense of power and brute strength? The Mustang series, in combination with the Pace series provide for a range of mowers in the mid-high price range.
The premier model in these line-ups is the MMX488 Mustang (pictured). This bad boy will make mincemeat of grass and could have you inside the house sooner, enjoying an afternoon beverage or three. It sits on a 480mm chassis, with a 13-72mm cutting height range. It's powered by 9.5nM of torque from a 161cc engine. It features four swing back blades to make cutting through tougher grass easier.
Overall it's a robust unit, and for $799 retail it'll make itself at home in your shed and beg for you to pull it out on weekends. If $799 is a bit unsavoury, then check out the other models in the Pace and Mustang line-ups.
| Model | VMMX484 Mustang | MMX485 Mustang |
| --- | --- | --- |
| Chassis Size | 480mm | 480mm |
| Engine Size | 190cc | 160cc |
| Torque | 9.2nM | 9.4nM |
| Blades | Four swing back | Four swing-back |
| Mulching? | Yes | Yes |
| Cut Height | 13-72mm | 13-72mm |
| Price (RRP) | $769 | $849 |
Victa Ultimate Series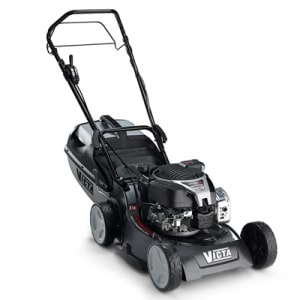 If you're in the hunt for a mower a little more refined and one that shouts sleek performance more than all-out muscle, then this mower may be for you. As the most expensive in all of Victa's models, the Ultimate ultimately packs a wallop. It sits on a 480mm chassis, boasts 9.5nM of torque coming from a 161cc engine. It also has a 13-72mm cutting range. While these figures alone aren't that impressive, its other features knock it out of the park. They are:
Push button starting system – no more dislocated shoulders from trying to yank-start the mower
Self-propelled, rear-wheel drive system to make mowing effortless
These two standout features mean that this is the king of Victa lawnmowers, and at $999 retail, you'd certainly hope you're getting value for money. With the Ultimate, making light work of that mangy lawn just became more feasible. To get a low-down of how Victa's In-Start technology works, watch this video:
Are Victa lawn mowers worth the money?
In the last 60-odd years, Victa has planted itself in the hearts and minds of many Aussies. The humble lawn mower can credit its creation to Victa, and it's a feat that we often love to boast about – we invented the lawn mower! Though what's to be said of Victa in the modern day?
Victa make quality, high-end mowers. Many of them feature parts and assemblies made in Australia, which is a rarity today. Their name is usually synonymous with craftsmanship and quality, and that subsequently commands a premium. Their most basic mowers are usually more powerful than the opposition, but more expensive too. There are no "budget" Victas per se. Its most expensive models are truly exciting and could make light work of your lawn, but be prepared to pay for it. Often over $700, it's a price not to sneeze at. We suspect if you're looking at Victa, you're not looking at price alone, you're looking at heritage, quality and power, and Victa has this in droves. Overall, Victa is a high-end mower brand, so it's up to you to decide if what they offer at the price they do is worth it.
About the author of this page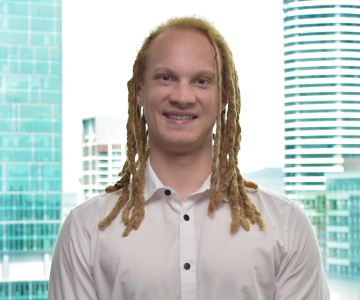 This report was written by Canstar Blue's Content Projects Lead, Dean Heckscher. He's our resident expert on all things automotive, health & fitness, streaming and more. Dean is also one of Canstar Blue's customer research report producers, helping to turn complicated subjects into easily-digestible information for our readers. He's passionate about helping consumers make better-informed purchase decisions on all manner of consumer goods and services.