If you're on the move a fair bit, or perhaps you just want something easy and convenient to access the internet with, have you considered an internet dongle or pocket Wi-Fi? Canstar Blue compares some of the top brands, including what's available with Telstra, Vodafone and Optus.
Dongles – or USB modems – and pocket Wi-Fi are becoming increasingly popular due to the cheaper and cheaper prices of mobile broadband. Usually you need a mobile broadband plan to make use of either a dongle or pocket Wi-Fi hub, and providers such as Telstra, Vodafone and Optus are all service providers that bundle in their mobile broadband plans with a device, making it an easy one-stop shop. So let's see what's available, how much it costs and some compatible mobile broadband plans to go with it. Below is a selection of some mobile broadband plans that may come with a dongle or pocket WiFi hotspot:
What is an internet dongle?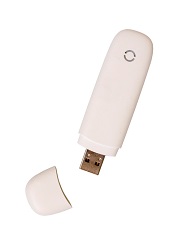 An internet dongle is usually a USB-sized gadget that plugs into the USB port on your laptop or computer for when you need easy mobile broadband access. A dongle is basically a tiny unpowered modem that uses your computer's power to access the internet. Dongles generally come prepackaged with mobile broadband plans from Telstra, Vodafone and Optus.
Just like with mobile phone plans, mobile broadband with these three providers is available as SIM-only or as a bundled product. If you're after a dongle from these three telcos, opt for the bundled product if you want convenience.

What is pocket Wi-Fi?
The main difference between pocket Wi-Fi and an internet dongle is the pocket version is self-powered, meaning you can get away with not plugging it into a device's USB port to power it up. They get their name because they're usually small enough to fit into a pocket, or in the palm of your hand, and can be easily transported – yet have the battery power to last for a few hours for wireless connectivity. They're also somewhat of a hybrid between a wireless router and an internet dongle. They use 4G internet from a mobile broadband SIM card, yet you can put it in the home – or just as easily take it with you.
Compare Home Wireless Broadband Plans
Telstra Mobile Internet Dongles & Pocket Wi-Fi
Telstra has several mobile dongles on offer, either on a plan or as a prepaid option. You will generally get better value with a postpaid plan as you're usually signed in for a year or more and get more data for your money. However, prepaid options can offer flexibility and you are free to recharge when you want – just like with normal mobile phone plans.
Postpaid: From $15 a month with no device repayment with which you get 1GB data per month on a 24-month term
Prepaid: From $20 for 2GB over 14 days
If you just want a 'stop gap' solution, the prepaid option may be the best bet, however if you want something more ongoing the postpaid options generally yield more data for your money. As for dongles and pocket Wi-Fi, Telstra has a few options.
Postpaid pocket Wi-Fi is available from $15 a month, while the Nighthawk will cost $24 a month. Dongles start at $15 a month.
Prepaid dongles from $39 upfront.
The NETGEAR Nighthawk claims to be the world's fastest Wi-Fi hotspot. Up to 20 devices are able to be connected to this device, and it boasts 16 hours of battery life. It also has a built-in usage LCD usage meter. You have the choice of a 1GB, 5GB, 15GB or 25GB plan, costing $15, $30, $45 or $70 per month respectively over 24 months.
The NETGEAR Nighthawk boasts speeds between 5-300Mbps in 4GX coverage areas
It can be also used as a battery pack to charge other devices
As for prepaid options, you have the choice of either a Pro or standard device. The Pro boasts 11 hours of battery life, with 10 devices able to be connected. It also has an LCD screen to monitor connection status and data usage. Dongles are available from $39 a month. As for compatible plans, see below for what's on offer with Telstra.
Vodafone Mobile Internet Dongles & Pocket Wi-Fi
Vodafone seems to have a few more options than Telstra does, and in the dongle range there are both prepaid and postpaid options available.
SIM Only: 2GB data from $15 a month.
24 Months with Device: Starting at $15 a month for a 4G pocket Wi-Fi hub, or $19 a month for a Huawei Gateway, with data choices of 3GB, 10GB, 20GB and 30GB per month over 24 months.
If you're an ongoing user, you may find better value in going for the contracted, bundled options as more data usually comes at a cheaper price. However, if you're just looking for something short term, or want flexibility the SIM only options may be the way to go.
As for pocket Wi-Fi, there are two of them. It seems that both are pretty evenly-spec'd, but the Huawei model can connect up to 32 Wi-Fi devices, and has multiple LAN ports for wired devices. It also has access, of course, to the Vodafone 4G Network. Some available plans are below:
Optus Mobile Internet Dongles & Pocket Wi-Fi
Optus is a little different from the other two major providers in that it offers three dongles, and that's on a postpaid, 24-month contract delivery. They start at $15 a month and all are pocket Wi-Fi modems:
4G Wireless Modem Router, Cat 6, supports up to 64 connections from $20 per month.
4G Plus Wi-Fi modem AC800s, Cat 9 supports up to 15 devices, from $18 per month.
4G Wi-Fi E5573 modem, Cat 4 supports up to 10 Wi-Fi devices, from $15 a month.
Some plans carry a $0 upfront device payment, and the monthly fee usually gets you some modicum of data – namely, 2GB to start with. $25 a month gets you 5GB data, $35 a month gets yo u10GB, $50 for 25GB and $70 for 100GB data. Optus Sport is also often included on many plans, making for a compelling overall product. Some plans available include:
Unlocked Dongles and Pocket Wi-Fi
Perhaps the most notable pocket Wi-Fi device is the NETGEAR Nighthawk M1, and currently the only way to get it is through Telstra.
It boasts dual-band frequency – 2.4 and 5.0Ghz for traffic prioritisation
4Gx Gigabit LTE speeds – the fastest currently available
If you're serious about mobile broadband, you can bundle it with Telstra from $24 a month over 24 months
However good the M1 is, many people may desire to not be tied into one particular provider for two years, and may instead to go the unlocked route.
Huawei is perhaps the leader in mobile broadband modem technology, and while its products are pretty hard to find in-store and unlocked, you can always shop online. Most of its products are even used by Telstra, Vodafone and Optus themselves to deliver their locked dongles and pocket Wi-Fi. Several dongle and pocket Wi-Fi models under the Huawei umbrella are:
Dongle Product Codes
Pocket Wifi Product Codes

E3276

E3372

E3531

E8372

E8231

E5771

E5577

E5787

E5770

E5373
Source: Huawei website
Many of Huawei's pocket Wi-Fi modems are available for around $50-$80, while its dongles are available – for the most part – for less than $50 or so. While this upfront cost may be a slight turn-off, if you want ultimate flexibility with your own mobile broadband plan then it may work out cheaper in the long run than one on a plan.
Below is a snippet of what you can expect if you decide to go your own route with mobile broadband, with prepaid providers such as Lebara, Amaysim, Yomojo and OVO Mobile all offering fairly competitive prices.
Should I get a dongle or pocket Wi-Fi modem?
Dongle or pocket Wi-Fi modems are convenient ways to get mobile broadband, especially if your device does not support a SIM card by itself. They make it easy to connect to the internet, in some cases getting full-flight 4Gx gigabit speed capacities. However, in Australia at present you are pretty much presented with three options – Telstra, Vodafone and Optus. To get an unlocked dongle or pocket Wi-Fi modem, you'll have to purchase online in a lot of cases, and this can be expensive.
If you're looking for just a quick solution with no commitments, a prepaid option is probably the best, while if you're going to be using it regularly a postpaid plan is probably best.
Then there remains the big question – should I get a dongle or pocket Wi-Fi modem? A dongle is not powered on its own, but pocket Wi-Fi usually is. If you're connected to multiple peoples' devices, pocket Wi-Fi might be the better option. However, if you're doing work, say, on the train, or on a bus, then a dongle may work best for ultimately portability.
In any case, if you can find an unlocked dongle or pocket Wi-Fi modem, and a compatible mobile broadband plan, you're onto a winner, but for convenience, going with a locked option is also viable. Mobile broadband is dearer than most other kinds of internet, and these portable modems are convenient, but can add up over time.