NOTE: Amaysim has purchased OVO mobile as of June 2020. Exisiting OVO mobile broadband customers will be transitioned to a data-only plan with Amaysim. New customers will not be able to sign up to a mobile broadband plan with OVO.
If you need to stay online when you're out and about, if you're stuck at home with a bad internet connection, it might be time to start thinking about some alternatives to the NBN. And at a time when more people are relying on their NBN or ADSL connection, you may notice slower speeds and longer load times, especially with your family home with you soaking up the bandwidth. This is internet strain, and there's some easy fixes to it – one of those fixes is mobile broadband.
OVO is a challenger telco that provides mobile broadband to customers through its wide-ranging data plans. OVO takes advantage of the Optus 4G Plus mobile network for both its mobile broadband and mobile phone plans, offering some great value options with large data allowances.
Today, we'll be going through OVO's catalogue of mobile broadband plans to help you decide if this is the right provider, with the right deals, for you.
What is mobile broadband?
Mobile broadband is a form of internet that runs on mobile, or cellular, data networks, which in Australia are operated by Telstra, Optus and Vodafone, with varying degrees of speed and effectiveness depending on the location. Users can connect through a telco-supplied modem, SIM card or through a portable hotspotting device or a USB dongle.
4G mobile broadband speeds typically stick to around the same speeds that normal phone internet speeds would be – simply because of the shared networks. Speeds tend to be higher than the 12Mbps threshold of basic NBN 12 speeds, however this will vary depending on your location, device, and the network you're using. But if you're unhappy with your current home connection, mobile broadband is a useful alternative.
Generally, mobile broadband plans don't include unlimited data, but telco providers do offer some big data allowances. OVO provides some of the biggest mobile broadband data inclusions on the market, and offers customers the choice of a SIM card only plan, or purchase of a compatible modem.
How much does OVO mobile broadband cost?
OVO's 'Boom' prepaid mobile broadband plans start at $49.95 per month for a 50GB data plan, and go all the way to $79.95 for 250GB. All of OVO's plans include an optional modem, with two to choose from (more on that below).
Bundled in with OVO's plans is access to unlimited sports and radio content on OVOPlay – two streaming services to make sure you're getting the content you need, without the worries of capping off your data.
All OVO Boom plans are prepaid, which means you'll never need to worry about data overages or surprise bills, and you do have the option of adding data top-ups if you don't want to recharge early – prices begin at $3 for an extra 500MB. Plans automatically recharge every 30 days, but you can turn off this feature via the OVOPlay app.
You can switch between plans each month, as all plans options are contract-free. Keep in mind that unused data doesn't roll over, so you won't be able to carry unused gigabytes over to the following month.
OVO mobile broadband modems
OVO offers two great modems that you can buy at the checkout when you sign up for a plan. First off there's the Huawei E5577F-932 WiFi Modem, and then there's the Huawei B525s-65a Mobile Router.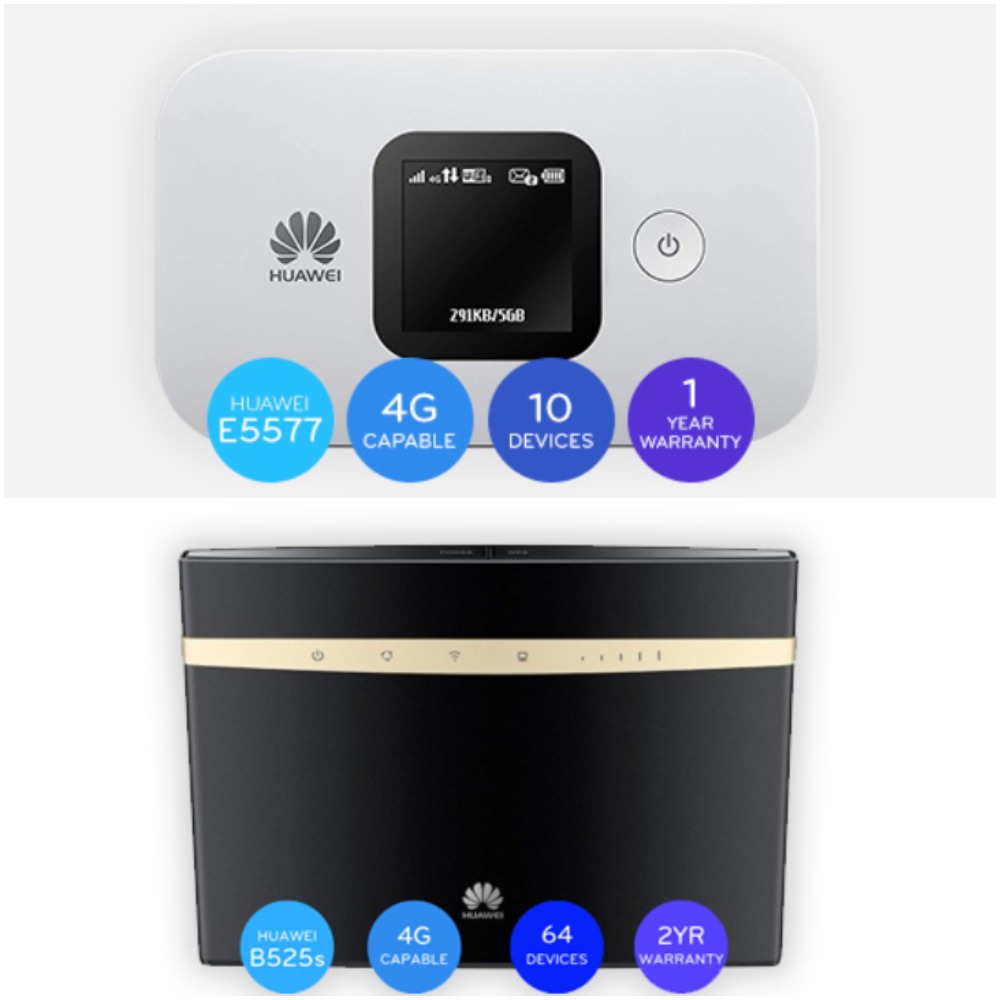 The E5577F-932 WiFi Modem is great if you're on the go and need to use your internet in a portable capacity. With a six-hour battery on board, as well as the ability to have up to 16 devices registered on it concurrently, this is a great pick if you need reliable internet anywhere you go. You can get this for $99.
The B525S-65A Mobile Router on the other hand is a set down modem, one that you'd expect to see at home, and that doesn't work in a portable capacity. It's great if you move from one workspace to the next, and don't need to use fast internet in public, but it doesn't have the portability of its alternative. It can connect up to 64 devices at any given time, and includes two LAN ports and one WAN port for local connections. You can get this for $199.
How fast is OVO mobile broadband?
OVO uses the Optus network, so speeds between 20Mbps and 100Mbps are possible on a 4G connection. However, there are speed differences between devices and networks. We've done a great article on this here.
Why should I switch to OVO mobile broadband?
There's a bunch of great reasons to give OVO a go. Firstly, OVO Boom mobile broadband plans are all heavy on included data, and if you're using them for work purposes, there's a very low chance you'll run through them month-to-month. They're also quite affordable, and like other mobile broadband speeds they're quite fast.
If your internet is congested at home because of your family using it, or if you're noticing some bandwidth issues on your ADSL or NBN connection, it could be time to give mobile broadband a go. Things like online gaming, high definition streaming and video calling can cause laggy internet, so maybe a dedicated mobile connection could be good for you.
Also, if the NBN isn't in your area yet, it might be worth considering just to get that advantage over ADSL speeds. Even the Basic NBN 12 speed is faster!

Image: ESB Professional / Shutterstock