Top Oven Brands
Miele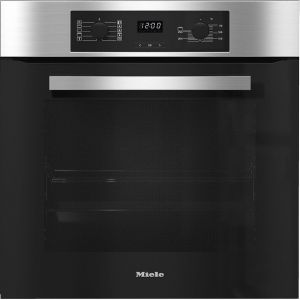 Miele is perhaps the epitome of high-end kitchen appliances, with many of its products manufactured in Germany and made with a strong focus on durability and timeless designs. The brand's oven range is jam-packed with features you might not see from other manufacturers, such as an integrated camera inside the oven so that you can always keep an eye on your food. There's also a TasteControl function, which automatically starts cooling the oven down to prevent the dish from continuing to cook or bake once the timer is done. It can also be used to keep food warm. Miele additionally offers a wireless food probe in some ovens to see when your food will be ready. Other common features include self-cleaning or easy-clean enamel finishes, cool-touch doors, multiple programs, and functions, as well as the 'Flexiclip' runners which allow you to baste and turn meat without the risk of burning yourself.
Miele has proved a hugely popular brand in Canstar Blue's research over the years, but be prepared to pay premium prices. The brand's 60cm ovens retail between $2,099 and $9,099, while its wide 90cm models can reach up to $17,299!
Miele's oven range includes these models:
Miele 60cm PureLine CleanSteel Oven (H 2267-1 B): $2,099 RRP*
Miele 90cm PureLine CleanSteel Oven (H 2 890 B): $8,899 RRP*
Miele PureLine CleanSteel Speed Oven (H 7440 BM): $5,299 RRP*
Miele scored an impressive five-star streak in the majority of the categories surveyed, namely cooking performance and reliability, design, ease of use and cleaning, features, and overall satisfaction. It got four stars for value for money.
Bosch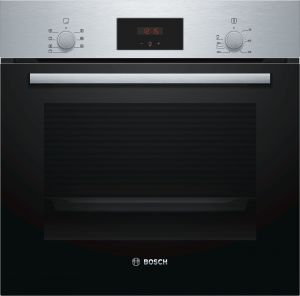 Bosch is a well-renowned name in the home appliance world, with the German manufacturer generally synonymous with quality and technology. Bosch offers Australian consumers a wide selection of ovens, both electric and gas. Some features to expect include AddedSteam, PerfectBake (baking sensor), PerfectRoast (roast thermometer), 4D Hot Air, AutoPilot and pyrolytic cleaning, Eco Clean. Of course, the availability of these functions varies between models.
Bosch ovens generally come in at the premium end of the price spectrum, with the majority of models above the $2,000 mark. However, there's still a decent-sized range of Bosch ovens available for cheaper such as the Bosch Serie 2 60cm Built-in Oven (HBF134EB0A), which retails for $799.
Bosch's oven range includes these models:
Bosch 60cm Serie 2 Electric Built-In Oven (HBF133BS0A): $899 RRP*
Bosch 60cm Serie 8 Pyrolytic Built-in Oven (HBG675BB2A): $2,299 RRP*
Bosch Serie 8 Built-in Oven With Steam Function (HSG656XB6A): $5,199 RRP*
Bosch earned five-star reviews for cooking performance and reliability and ease of cleaning, plus four stars for value for money, overall satisfaction, and everywhere else.
Electrolux
Electrolux remains one of the global leaders for home appliances. It caters to a wide range of tastes, serving up a variety of single and double steam ovens, pyrolytic ovens and compact ovens. The brand mainly offers 60cm models, although there are 90cm ovens and a smaller 44L built-in combination microwave oven ($2,249 RRP*). In terms of features, many Electrolux ovens have a Bake +Steam function, Smart Food probes, and Intuitive Oven Interface (IOI) to remove the need for an instruction manual, FullFlex telescopic runners, fold-down grill elements, a removable door and control knobs. The brand additionally usually packs in cooking programs such as Pastry, Fan Bake, Fan Grill, Bake/ Pizza, Grill, and Rapid Heat.
Electrolux ovens can cost anywhere from $1,100 for a single 60cm oven and reach up to just under $6,500 for a 90cm cooker.
A few Electrolux ovens include:
Electrolux 60cm Multifunction Oven – Dark Stainless (EVE614DSE): $1,099 RRP*
Electrolux 60cm Pyrolytic Steam Oven – Dark Stainless (EVEP619DSE): $3,699 RRP*
Electrolux 90cm Freestanding Induction Cook (EFEP956DSE): $6,499 RRP*
Electrolux maintained four stars across the board, such as for performance, ease of use, value for money, and overall satisfaction.
Westinghouse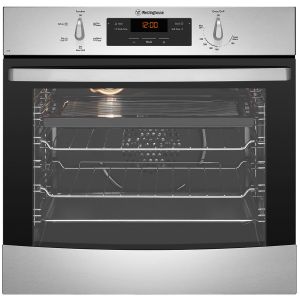 Another successful sibling from the Electrolux family, Westinghouse is a big player in the world of home appliances and its long list of electric and gas ovens is an example as to why. Its range caters to a wide selection of needs, offering a mix of single and double combination steam ovens, steam ovens and pyrolytic ovens, plus several options that have either a separate or integrated electric gill. Westinghouse ovens also provide capacities ranging between 80L and 126L, to accommodate two-person households requiring a standard size oven as well as larger families with plenty of mouths to feed.
Westinghouse ovens usually start to retail from $899 for a 60cm electric built-oven and can cost up to $4,199 for a 90cm pyrolytic oven or $2,699 for a gas oven with a separate grill. Some common features include FamilySafe doors with multi-layer glazing to ensure the oven door remains fairly cool to touch, fingerprint-resistant stainless steel, timer functions, and programs such as Pizza, Roast, Quick Cook, Fan Assist, and Defrost. Certain models additionally come with Pyro Clean, Maxi Grill, Fan & Grill, and Split Grill.
Westinghouse's oven range includes:
Westinghouse 60cm Electric Built-In Oven (WVE614SC): $899 RRP*
Westinghouse 60cm Stainless Steel Electric Oven (WVE616SC): $1,199 RRP*
Westinghouse 90cm Pyrolytic Electric Built-In Oven (WVEP917DSC): $4,199 RRP*
Westinghouse cleaned up with five stars for ease of use and cooking performance and reliability, and got four stars for features, ease of cleaning, design, value for money and overall satisfaction.
Chef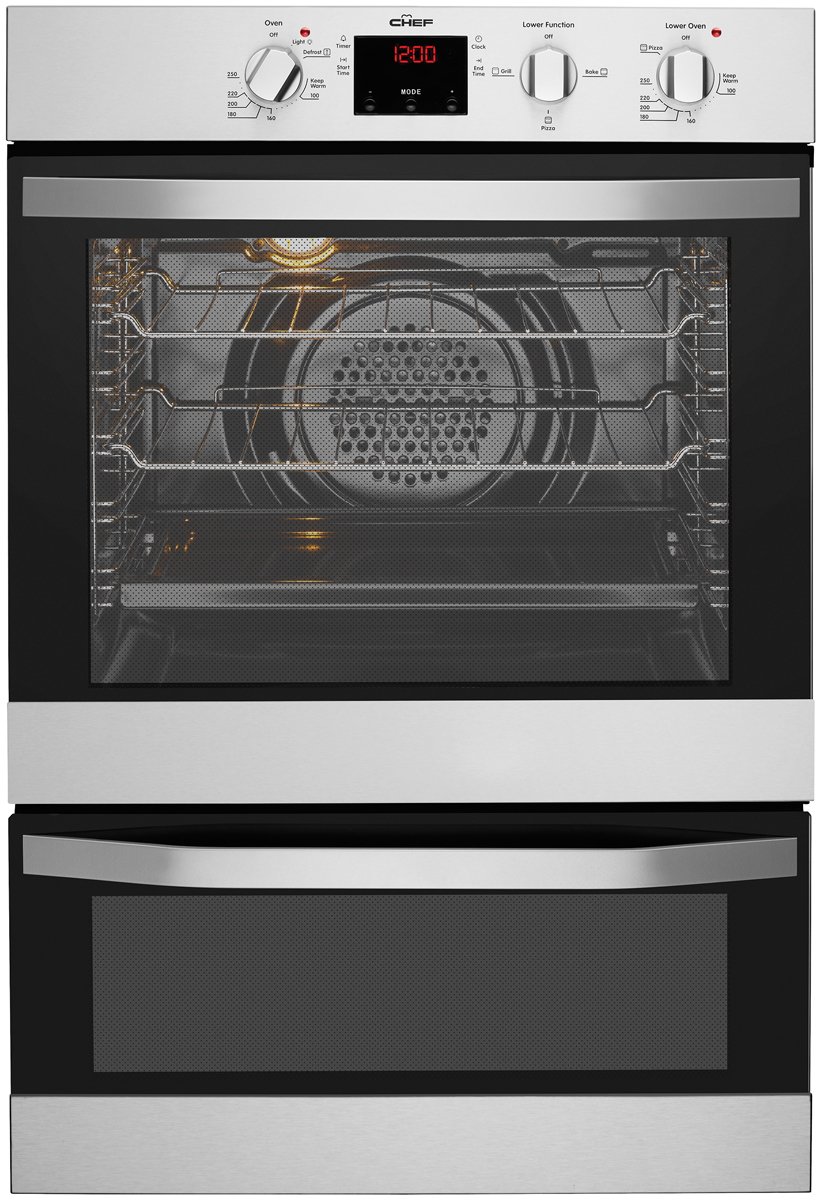 Fittingly named Chef, the kitchen appliances manufacturer is part of the Electrolux family and produces a modest selection of mid-range electric ovens. The line-up generally features standard sizes and capacities, including 60cm stainless steel single ovens with an 80L capacity. Many Chef ovens are said to be made in Australia. Features to expect (depending on the model) include dial controls, moulded shelf supports, 24-hour timers, integrated electric grills, pyrolytic cleaning and air-cooled doors.
Chef's currently sells just built-in electric ovens, with both single and double oven options available. Prices usually range between just under $800 and $1,450. You can also head to The Good Guys for some exclusive Chef oven models.
Here are several Chef ovens currently available:
Chef 60cm Electric Built-In Oven (CVE612SB): $749 RRP*
Chef 60cm Electric Multi-Function Built-in Oven With Quick Cook (CVE614DB): $999 RRP*
Chef 60cm Electric Built-In Oven With Separate Grill (CVE662SB): $1,449 RRP*
Chef was rated best for value for money, achieving full marks, before ending on four stars for performance, ease of use and cleaning, and design. It got three stars for features and overall satisfaction.
Fisher & Paykel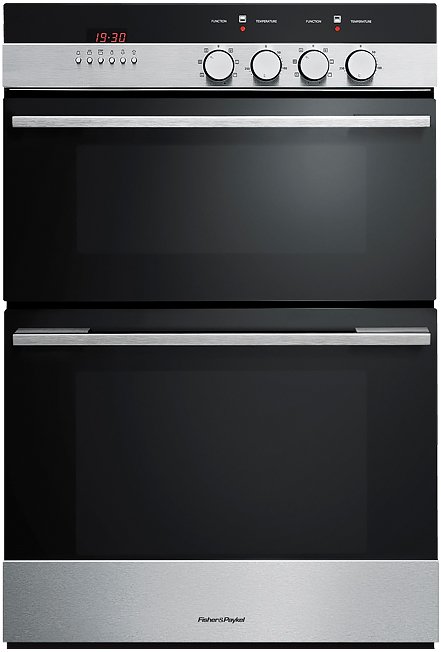 Fisher & Paykel has grown into a serious Aussie household name since it was founded in New Zealand more than 80 years ago. The brand caters to a variety of tastes, offering minimal and contemporary designs in various models including built-in and freestanding ovens, as well as single and double ovens. For built-in fans, you can pick either steam, convection or microwave ovens. Meanwhile, shoppers opting for a freestanding cooker can score a 90cm Fisher & Paykel oven and cooker with five zones, SmartZone and Self-Cleaning programs. Alternatively, built-in Fisher & Paykel ovens come with features like a food probe, CoolTouch doors, a catalytic venting system and non-tip full extension shelves. Some models also have about 20 different programs such as Pastry Bake, Slow Cook, Rapid Proof and pyrolytic self-cleaning. Retail prices usually start from $895 and go up to the $9,000 mark.
Fisher & Paykel's oven range includes:
Fisher & Paykel 60cm Contemporary Style Built-In Oven (OB60SC5CEX2): $949 RRP*
Fisher & Paykel 60cm Electric Built-In Double Oven (OB60B77CEX3): $2,499 RRP*
Fisher & Paykel 45cm Compact Built-In Combi-Microwave Oven (OM60NDBB1): $3,390 RRP*
Fisher & Paykel achieved four stars for cooking performance and reliability, ease of use and cleaning, and design. It got three stars everywhere else, including overall satisfaction.
Smeg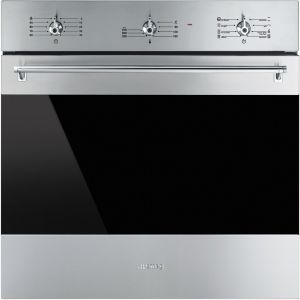 Italian appliance manufacturer Smeg provides 'elegant contemporary living solutions' for Aussie kitchens. Smeg ovens are rather chic in appearance, with touch displays and sleek silver finishes. Its range features different types of cooking methods, including combi-microwave, combi-steam, microwave with grill and Thermoseal. You can also expect each model to have either a pyrolytic or vapour clean cleaning system.
Smeg ovens are available in sizes 60cm, 70cm and 90cm as well as in a compact 45cm model or 90cm oven with reduced height. Many models feature 'smart sense' cooking programs, as well as advanced safety features such as cool-touch door technology to prevent accidental burns. Oven capacities generally hover around the 80L mark, with prices typically ranging between $1,690 and $6,500. However, expect to pay more for pyrolytic varieties.
Here's a selection of several Smeg ovens:
Smeg 60cm Classic Aesthetic Electric Built-in Oven (SFA6304X2): $1,690 RRP*
Smeg 45cm Linear Aesthetic Compact Combi-Steam Oven (SFA4140VC): $4,850 RRP*
Smeg 76cm Classic Aesthetic Pyrolytic Built-in Oven (SOA330X1): $6,490 RRP*
Smeg was rated four stars for design, performance and reliability, and ease of cleaning. It got three stars for overall satisfaction and in the remaining areas.
Whirlpool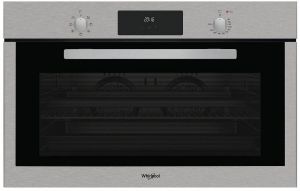 For relatively affordable appliances, Whirlpool is an increasingly popular brand that's worth keeping an eye on. Its built-in oven line-up usually starts from $700 for a 60cm electric model and reaches just under $2,000 for its top-of-the-range 90cm multifunction unit. One of the standout features to expect in certain Whirlpool ovens is Ready2Cook, which suggests ideal settings and removes the need for preheating. Other features include a Favourites menu, a meat probe, and multiple variations of its 6th Sense technology, which offers tailored settings to better cook particular foods such as meat, vegetables, bread, and desserts.
Several Whirlpool ovens include:
Whirlpool 60cm Electric Built-In Oven (AKP3534HIXAUS): $699 RRP*
Whirlpool 60cm Electric Built-In Pyrolytic Oven (AKZ9635IXAUS): $1,499 RRP*
Whirlpool 90cm Multifunction Built-In Oven (MXAK8FIXAUS): $1,999 RRP*
Whirlpool scored a four-star review for ease of use and three stars for value for money, overall satisfaction, and everywhere else.
Other oven brands
Aside from the major brands rated in this year's review, there are several others that you might like to consider when shopping for a new oven, including:
Blanco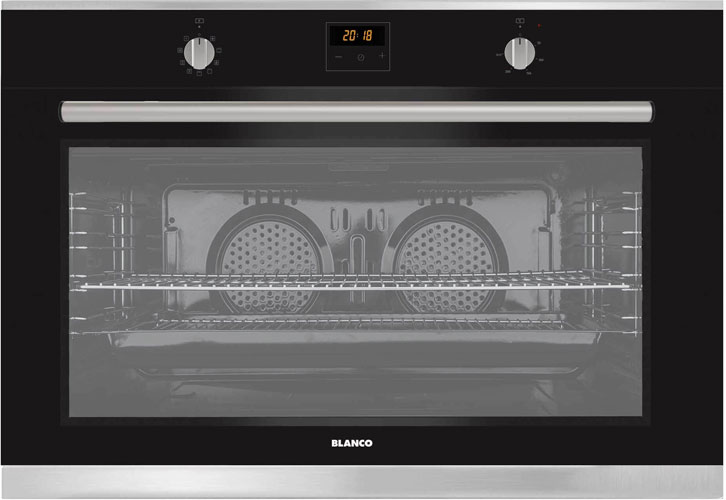 Blanco offers a variety of compact and built-in ovens, each boasting timeless European style and German craftsmanship. Its oven range is smaller than most other major brands, comprising mainly of single 60cm electric ovens, although there is also a 75cm option available as well as a 32L microwave oven. Blanco ovens are regarded as fairly budget-friendly, with most models priced under $1,000.
Some Blanco electric built-in ovens come with a Triple Glazed Thermo-Reflective door, which is claimed to provide a cool-to-touch surface as well as increase energy efficiency by retaining heat within the oven. The catalytic liners are another standout feature and supposedly make the oven easier to clean by absorbing oil and fat that splashes onto the interior wall during the cooking process.
Blanco's oven range includes these models:
Blanco 60cm Electric Built-In Oven (BOSE667X): $1,099 RRP
Euromaid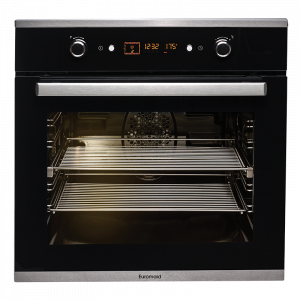 It can be pretty difficult to find a freestanding oven since many brands tend to offer a greater variety of built-in options, but Euromaid will have you covered in that department. The brand has several 50cm, 54cm, 60cm and 90cm freestanding cookers, with both electric and gas fuel types available. This range can certainly fit more than the standard, with its larger units offering a capacity of around 113L to 115L. Some features include twin oven fans, catalytic self-cleaning liners, extended zones to fit larger cookware, programmable timers, multiple cooking functions and a lower storage compartment.
Otherwise, you can pick any of the 60cm, 75cm and 90cm single built-in or double built-in ovens also available from Euromaid. These also have a slightly more generous oven capacity than some other brands, with most models designed with a 94L gross capacity. Retail prices start from just under $1,000 and can go up to $2,900. There are also cheaper alternatives, including a Euromaid benchtop oven.
Euromaid's oven range includes:
Euromaid 50cm Electric Upright Cooker (EW50): $699 RRP*
Euromaid 60cm Electric Upright Cooker (EW60): $1,399 RRP*
Euromaid 90cm Freestanding Dual Fuel Oven/Stove (GE90S): $2,899 RRP*
Beko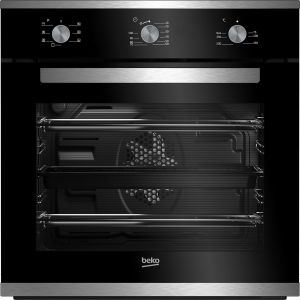 Turkish domestic appliance and consumer electronics brand Beko offers a modest range of built-in ovens and freestanding ovens, with both electric and dual options available for the stove and oven models. The range mainly includes 60cm models, but you can find a 90cm option.
A standout feature from the brand is its Aeroperfect Technology in certain models, which is claimed to distribute hot air inside the oven evenly to minimise temperature fluctuations, making it useful for achieving consistent results when baking, roasting and grilling. Other features include CleanZone with an oleophobic coating to reduce dirt and grease build-up on the door, telescopic shelves, integrated electric grills and control knobs. Beko ovens can cost anywhere between $849 and $1,799.
Here are a few Beko ovens you can find:
Beko 60cm Built-In Oven (BBO6850MDX): $849 RRP*
Beko 60cm Multifunction Built-In Double Oven (BBO6811DDX): $1,599 RRP*
Beko 90cm Twin Fan Multifunction Built-In Oven (BBO91271MDX): $1,799 RRP*
ILVE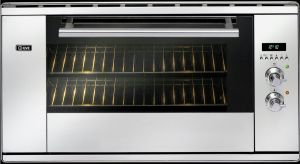 Italian brand ILVE caters for both home and professional cooks. Specialising in high-end ovens for more than 60 years, the manufacturer offers a fairly large selection of full-size built-in ovens, compact ovens and combination microwave ovens. The single and double ovens are available as either a gas or electric unit, while the cooktop ovens are sold as either a dual fuel or gas-only model.
Expect to fork out premium prices, similar to that of Miele, with models starting from $1,599 for a 60cm electric built-in oven and reaching just over $6,300 for a 76cm pyrolytic model (or up to $11,499 for ILVE's Professional Plus range). Expect features such as Quickstart pre-heat functions, TouchControl, a climate sensor, a rotisserie spit, food probes and the ability to create and save up to 24 of your favourite cooking programs. ILVE additionally provides consumers a fairly generous warranty period of five years (compared to the standard two years).
ILVE's oven range includes:
ILVE 60cm Electric Built-In Oven (600SKMI): $1,599 RRP*
ILVE 75cm Electric Built-In Oven (750SKMPI): $3,029 RRP*
ILVE 76cm Pyrolytic Electric Built-In Oven (760SPYTCI): $6,312 RRP*
V-Zug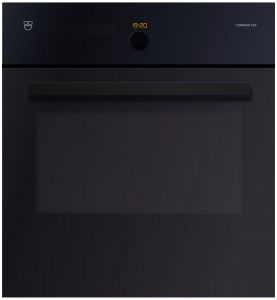 If you're looking for a new oven and don't mind splashing the cash, then perhaps Swiss manufacturer V-Zug might be a brand to consider. Its range of ovens features a variety of functions from soft roasting and plate warming to humid hot air and fast preheat options. In addition, expect modern designs with touch controls, plus a 'gourmet guide' that gives you access to automatic programs that can carry out even the most difficult cooking tasks with one touch of a button, according to V-Zug. Expect most of its ovens to cost at least $3,000, unless on sale.
V-Zug's oven range includes these models:
V-Zug Combair Black Glass Oven (V2000): $2,999 RRP*
V-Zug 45cm Compact Combair Pyrolytic Built-In Oven (BCXSLPZ60): $5,899 RRP*
V-Zug CombairSteam Platinum Glass AutoDoor Oven (V6000): $10,4999 RRP*