With the explosion of music streaming services, such as Spotify, Apple Music, Google Play Music and more, it can be a trying time for meagre data allowances. Phone plans with lots of data are becoming cheaper, but our need for data is growing.
Music streaming can easily chew through more than 100mb per hour, which means if you're a music lover your data plan could be eaten up very quickly.
This has given rise to phone plans that don't count music streaming against your data allowance. Review your best options below.
Phone Plans with Data-Free Music Streaming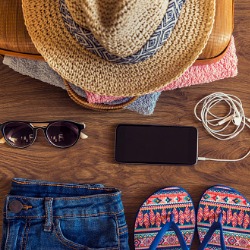 The leading providers in this space include Telstra, Boost Mobile, Optus and Virgin Mobile. The services on offer differ slightly with each telco, and consist of:
Telstra – Apple Music
Boost Mobile – Apple Music
Optus – Google Play Music, iHeart Radio, Spotify
Virgin Mobile – Google Play, iHeart Radio, Spotify
It's important to note the company allegiances here. Boost Mobile uses the Telstra network, hence the similarities, while Virgin Mobile is a subsidiary of Optus and uses the Optus network.
Telstra Data-Free Music Streaming
Telstra has partnered up with Apple, and Apple Music is the only streaming service it offers data-free. However, the range of plans Telstra offers with the perk is noteworthy.
From a cheap $30 Prepaid Extra phone plan to the top-of-the-line iPhone plans, Telstra has you covered.
The plans on offer with Apple Music streaming exceeds 20, meaning nearly every customer can get access. A number of phones on a plan also get free subscriptions to Apple Music, ordinarily worth $11.99 a month, or $5.99 a month if you're a student.
Boost Mobile Data-Free Music Streaming
Boost Mobile deals exclusively in prepaid mobile phone plans with five plans in total on offer and all active recharges get access to data-free Apple Music.
Plans range from $10 to $50, from 1GB to a massive 20GB.
The latter three plans also get access to 100 minutes of international calls, plus data rollover. No matter if you're just after a 'quick fix' $10, 7-day plan or a more permanent solution, Boost Mobile provides data-free Apple Music streaming to all plans. Boost is also the only Telstra network reseller that gets access to the full network – others only use parts of it.
Optus Data-Free Music Streaming
Optus branches out and offers data free music streaming on three of arguably the next-biggest streaming services next to Apple Music – Spotify, iHeartRadio, and Google Play Music.
Currently, 12-month SIM only plans get access to data-free music streaming on the three services.
No lock-in contract plans accrue a $5 fee to get the same perk.
Many plans also get access to Optus Sport, and some plans even get data-free TV streaming. Prepaid plans also get access to an extra data bank for select streaming services.
Virgin Mobile Data-Free Music Streaming
Optus subsidiary Virgin Mobile offers much the same type of deal as its bigger brother. Many postpaid SIM-only plans $30 or over come with data-free music streaming, as well as phones on a plan. Month-to-month and 12-month contracts also get access to the perk.
Plans start at $30, which comes with 2.5GB standard data.
Virgin also has a 'Fair Data' policy, which allows data gifting and data rollover.
Virgin Mobile has done away with prepaid plans, and now solely offers postpaid plans – both SIM only and with a phone repayment attached.
An honourable mention – OVO Mobile
OVO Mobile is a smaller provider using the Optus network and deals in prepaid plans. One of the biggest perks – aside from its competitive plans – is the fact that OVO comes with unlimited, data-free 'OVO Time'.
OVO Time provides data-free streaming of the Hit Network and Triple M radio shows throughout the country.
It also provides data-free access to Supercars, World Superbikes, Gymnastics, E-Sports and more.
OVO offers five prepaid plans, from about $10 up to about $50. Data allowances go up to 19GB, but if you're into radio streaming, it's data-free.
Is a plan with data-free music streaming worth giving a hoot about?
Data-free music streaming is certainly a nice perk to have, and it's available on a wide variety of phone plans already, so the world is your oyster. However, you are still required to maintain a music stream – this isn't free subscriptions, just unmetered content. Subscriptions can cost upwards of $10 if you aren't a student on student rates.
Moreover, if you're comfortably within your data limit every month, it makes little sense to switch. While there are a bunch of providers with data free music streaming, there are over 30 providers in the broader market, so why limit yourself? However, if you're regularly exceeding your data cap and it's thanks to your music addiction, a data-free streaming plan may be right for you.