Note: The OPPO Reno 10x Zoom is no longer available on Woolworths Mobile plans. For information on OPPO phones available from Woolworths, head to our guide to OPPO phone plans. 
The newly-announced OPPO Reno 10x Zoom is now available in Australia – and if you're planning to pick up the device from Woolworths Mobile, you'll get plenty of extras to sweeten the deal.
The Reno 10x Zoom will be offered on both 24-month and 36-month payment plans at Woolworths Mobile, with prices beginning from just $53.30 per month for your plan and phone. As a limited-time bonus, new or re-contracting Woolworths Mobile customers who sign up for an OPPO Reno 10x plan will receive a free pair of Bose SoundSport Wireless earphones, valued at $299.95, plus a free four-month YouTube Music premium subscription (valued at $11.99 per month).
The deal is available to customers who buy between now and 14 July, 2019, or for as long as stocks last. In addition to free earphones and YouTube, Woolworths Mobile customers will also receive a free Family Zone Protect subscription to help manage screen time and social media use.
NOTE: Woolworths Mobile no longer has stock available of the OPPO Reno 10x Zoom. To purchase this device, you'll need to either buy the device outright from a retailer, or find another telco with stock available. You can use our comparison tool to find a range of other devices and providers.
OPPO Reno 10x Zoom: 24-month plans
While Woolworths Mobile no longer has stock of the OPPO Reno 10x Zoom, there are a range of other devices from both OPPO and Samsung that are available to buy on a phone plan from Woolworths. Your device is bundled with a month-to-month postpaid phone plan over 24 or 36 months. To get an idea of the price and inclusions on a phone plan from Woolworths Mobile, the below table features the four postpaid SIM-only plans available from the telco.
Postpaid plans bundled with a device are the same as the SIM-only options, with the exception of the Extra Small plan at $25 when bundled with a phone. This table includes links to a referral partner.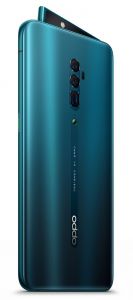 OPPO Reno 10x Zoom: features and specs
Although the Reno 10x Zoom shared its launch with the much-hyped OPPO Reno 5G, the former device doesn't feature 5G connectivity. While you'll be able to use it on Telstra's 3G and 4G networks – as Woolworths Mobile is a Telstra reseller – you won't have access to to the very limited 5G coverage available to Reno 5G owners.
Other than 5G readiness, the Reno 10X Zoom is almost identical to the Reno 5G, and both handsets share OPPO's new, pop-up 'rising' camera. This feature allows a hidden camera lens to extend from the top of the phone, meaning there's no in-screen notch taking up display space. The camera itself includes super-HD 48-megapixel, 8-megapixel, and 14-megapixel lenses, combining to offer 10x hybrid zoom and wide-angle and portrait photography.
You'll also get a 6.6-inch panoramic AMOLED screen, plus a 16-megapixel front-facing camera. The Reno 10X Zoom offers 256GB of memory (with a microSD slot for an additional 256GB), and features a large 4,065mAh battery for all-day use.
Running on ColorOS V6.0 – OPPO's customised operating system, based on Android 9 Pie – the Reno 10x Zoom will be available in Jet Black and Ocean Green, and retails for $1,199 full price.
If you're interested in the OPPO Reno 5G, Telstra's plans and prices for the device are available here.