Belong Mobile Phone Plans Review
If your telco priorities are nationwide coverage, flexibility, and affordable prices, Belong Mobile could tick your boxes. An offshoot of Belong Broadband
(and owned by Telstra)
, Belong Mobile is a postpaid service offering streamlined, contract-free phone plans on Telstra's 3G, 4G and 5G networks.
With four data tiers available, Belong Mobile caters for everyday use for the light, moderate and heavier phone user. The company's mobile plans also include data banking – a huge selling point that means you can keep and stash away your leftover data at the end of each month.
All of Belong Mobile's plans are SIM-only postpaid (not prepaid), which means you'll need to bring your own unlocked phone to the network. If you're looking for a reliable provider with plans that won't break the bank or lock you in long-term, in this Belong mobile review, we've conveniently broken down Belong Mobile's pros, cons and plans below.
On this page:
Belong expert guide
Belong is known for being a cheaper alternative to some of the bigger telcos, but it is important to weigh up the pros and cons before signing up to a Belong mobile plan.
Pros:
Unlimited data banking
No lock-in contracts or cancellation fees
Products are certified as Climate Active Carbon Neutral
Second-hand phones available for purchase
International call and text packages available as add-ons
5G available on all plans
Cons:
SIM-only plans (which means you have to supply the phone yourself)
No entertainment bonuses
No data-free video or music streaming
Speeds capped at 100Mbps or 250Mbps for the largest plan
Services offered
Unlike bigger-name providers, such as Telstra and Optus, Belong Mobile keeps it simple: offering three standard, postpaid, bring-your-own-phone plans. Each plan includes unlimited standard talk and text in Australia, plus data, with the option to add international calls to selected countries. You'll also have access to data banking on all plans. If you'd prefer a prepaid plan, you'll need to look elsewhere as Belong does not offer prepaid phone plans.
Belong's mobile plans come with a data safety net to prevent unexpected overages: once your allocated full-speed data has run out, your speeds will be slowed to 1Mbps for the rest of the month. This isn't exactly fast, so you can opt to add additional high-speed gigabytes to your plan if needed — $10 will buy you an extra 5GB.
All of Belong's plans are SIM-only and offered on a month-to-month basis. This means that, while you'll need to supply the phone yourself, you're free to change plans or cancel at any time. Belong SIM cards can be bought online, or in person from stores including Coles, Officeworks and JB Hi-Fi.
Belong mobile network and coverage
Belong Mobile uses the Telstra 5G, 4G and 3G networks to deliver its phone and data services (which also plays host to the likes of LycaMobile, ALDI Mobile, Boost Mobile, TeleChoice and Woolworths Mobile). This means that Belong customers will have access to most of Telstra's impressive nationwide coverage. Customers in rural areas may need to double-check Belong's website to ensure they'll be completely covered.
It's worth pointing out that Belong Mobile is actually owned by Telstra, so it would appear that the smaller brand is something of a strategy to capture the more budget-conscious Aussie phone users out there. This also means you get access to Telstra's 5G network on all of its phone plans, however speeds are capped at 100Mbps for $29, $35 and $45 plans, and at 250Mbps for the $55 plan.
Below is a screenshot of Belong's current coverage map. 5G areas are in purple, 4G areas are represented in green, while 3G coverage is in teal.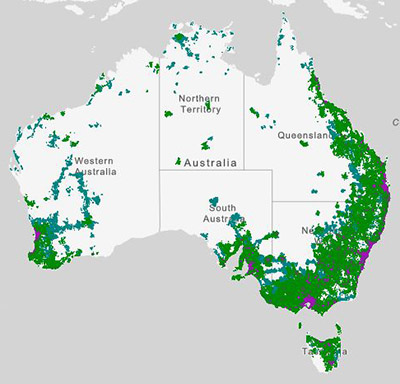 Special features and bonuses
All of Belong Mobile's plans include unlimited standard national calls and SMS. When it comes to data, you can get 25GB for $29 a month, going up to 160GB for $55 a month. While these aren't the biggest data inclusions out there, Belong Mobile does offer some solid value for money, particularly with its larger 160GB plan.
International calls and SMS: Unlimited standard international calls and SMS to 30 selected countries (including China, New Zealand, the UK and USA) can be added to the $29, $35 and $45 plans for an extra $5 per month. If you're on Belong's biggest $55 plan, standard calls and texts to 30 countries are included in your plan fee.
No excess data charges: While most telcos will charge you for excess data from the moment you go over your inclusion, Belong Mobile simply puts a cap on the speed at 1Mbps. This is quite a slow speed, however if you're right at the end of your monthly billing period, it could be enough to get by until the new billing cycle starts. You can choose to add on an additional 5GB of the standard speed data for an additional $10.
Data banking and gifting: Perhaps the most interesting inclusion on Belong Mobile's plans is the data banking and gifting. While data banking isn't new, the gifting option is certainly a rarity. You have access to unlimited data banking, so if you have 20GB to use each month, and only end up using 15GB each month, you'll constantly roll over those 5GB of unused data each month. You then have the option to gift any of your data to another active Belong Mobile customer in 1GB increments (which can be added to their own data bank). To use data banking, you'll need to make sure you have at least 1.3GB of data.
How do consumers rate Belong phone plans?
Customer Satisfaction Postpaid Mobile SIM Only — Belong
In 2022, Belong was ranked third for Canstar Blue's Most Satisfied Customers award for Postpaid Mobile SIM-only Plans & Providers, scoring four stars across all categories except customer service, where it scored three stars.
Overall satisfaction — ★★★★
Customer service — ★★★
Value for money — ★★★★
Network coverage — ★★★★
Plan flexibility — ★★★★
Billing — ★★★★
Sign up and activation — ★★★★
Belong phone plans
All of Belong Mobile's plans are postpaid mobile plans only and bring-your-own-phone, but none require you to sign a lock-in contract. Plans are offered on a month-to-month basis, and you can cancel at any time without any early exit fees. Plans start at $29 per month for 25GB of data and go up to $55 per month with 160GB of data. All plans include 5G network access, but speeds are capped to 100Mbps (250Mbps on the $55 plan).
The following table shows all published Belong postpaid plans on Canstar Blue's database, listed in order of cost from lowest to highest. Use our comparison tool to see plans from a range of other providers. This is a selection of products with links to a referral partner.
Other comparable phone brands worth considering:
Belong company information
Contact details
Need some help with your Belong Mobile plan or service? The telco offers several contact and support options, including:
Contact via the website
The Belong Facebook page
The Belong app on the Apple App Store or on Google Play
Outages
If you are currently experiencing issues with your Belong Mobile plan, there may be a network outage. Usually, your telco will inform you of any planned maintenance if it is expected to interfere with your service. If you haven't received a notice of this but are experiencing network outages where normally you would have service, you should get in touch with Belong Mobile for assistance.
FAQs about Belong phone plans
Belong's broadband and mobile services are certified as Climate Active Carbon Neutral. Belong Mobile does this by offsetting the carbon emissions produced as a result of operating its mobile and broadband services with investments into Australian and United Nations certified projects. These projects remove an equivalent amount of carbon from the atmosphere and include existing projects such as Telstra's own Murra Warra Wind Farm in Victoria and Emerald Solar Park in Queensland. So, Belong's carbon neutral status means that it is actively investing in projects that offset the carbon emissions it creates, and that meet the Climate Active Carbon Neutral Standard's offset eligibility criteria.
Yes. Belong is owned by Telstra, offering cheaper SIM-only plans. It is a Mobile Virtual Network Operator (MVNO) which means that Belong uses the Telstra wholesale mobile network, offering 98.8% coverage.
Belong works on a recurring payment agreement, wherein you will be charged on the same day each month. You can find out what your recurring payment date is by checking your service dashboard. The telco currently accepts Mastercard, Visa or PayPal (prepaid cards are not accepted) and you can change the way you pay at any time by logging into your Belong account.
About the author of this page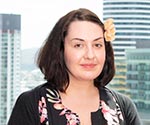 This page was written and is regularly updated by Canstar Blue's Telco Editor, Tara Donnelly. Having spent over seven years writing for and editing telco comparison websites, she's an expert in all things phone & internet, including NBN plans, wireless technology, the latest mobile devices and how to find the best deal for your family. She loves to highlight the next best deals, while also flagging the things you need to be aware of.
Is Belong Mobile a good deal?
If you have your own phone, want to save money on your monthly mobile bill, and don't require entertainment extras or global roaming, Belong Mobile is well worth considering. While it offers a simple selection of phone plans, you'll get everything you need from a plan – unlimited talk and text and a range of data options – without paying for inclusions that you'll probably never use. If you do want to make international calls to any of the eligible countries listed on the Belong site, you definitely can't go wrong with access to unlimited calls and SMS for just $5 extra.
However, if you're looking to pick up a phone on a plan, or want prepaid plans, Belong isn't quite right for you. You may be better off with Telstra itself, or if you like the Telstra network but want something simpler and on the cheaper end of the spectrum, there are plenty of other smaller telcos to choose from. As always, it's best to do your own phone plan comparison before you lock anything in.
Belong Mobile Postpaid Plans
Canstar Blue
Award:
Overall Satisfaction