Is there a "right" age to give your child a mobile phone? How young is too young?
In an increasingly connected world of selfies and snapchat, it's a question that parents are being faced with even earlier; a 2014 survey by Trend Micro found that nearly 50% of Australian children begin using mobile devices at the age of three, and own their own device by the time they're eight.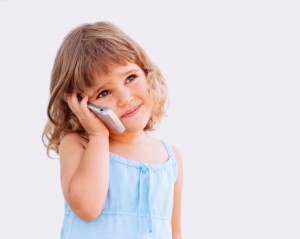 There's a difference, of course, between having a basic phone for emergency calls and having a latest and greatest smartphone with access to everything. That said, recent Roy Morgan research found that 82% of Australian teenagers aged 14 to 17 see the internet as at least very important in their lives, so chances are many of these kids have an internet connected mobile.
So back to the question: what's the right age to give kids a mobile phone?
It's really one of those: "how long is a piece of string" questions, as psychologist and author of 'Real Wired Child' Michael Carr-Gregg stresses that age doesn't define maturity. He advises parents to ask themselves three questions when deciding whether their child is mature enough to have a mobile phone.
Firstly, past behaviour
According to Dr Carr-Gregg, the greatest predictor of future behaviour is past behaviour, so parents should ask themselves whether their child has a good track record of making good decisions and behaving responsibly.
All kids will act up sometimes, of course, but – a bit like global warming- it's not about occasional catastrophes here and there as much as the regular trend over time.
Secondly, their peers
What sort of kids do your kids hang out with? Are they responsible, good-hearted kids? Do you know them? Our own kids will tend to be influenced by the behaviour of their peers (among other things), so the more responsible their peers, the more responsible they will (hopefully) be.
Thirdly, their appetite for risk
All kids like plenty of attention from their parents, peers and teaches – but how far will your kids go to get that attention? Are they risk takers – happy to do something silly for the sensation?
"If the answers to those questions are no, no and yes respectively, then the child does not have the cognitive maturity to handle this technology in a responsible way," says Dr Carr-Gregg.
If your kids are keen for a mobile phone, and you're inclined to get one for them, ensure that you give them some advice on staying safe online. The chances are they'll take it with them everywhere (even the dinner table), so you shouldn't be reluctant to discuss with them issues such as cyberbullying, sexting, stranger-danger and cyber safety in general.
Plus, of course, a lecture on the importance of keeping their phone safe from theft or loss, password protection for both phone and internet – and the parental consequences of running up a huge phone bill!
The government, via its Stay Smart Online campaign, has a wealth of excellent learning tools and tips for kids and teens, both primary and secondary-school age. Visit Stay Smart Online for more information.
Other articles you might like:
Rise and shine of Gen Yawn
How to recycle e-waste