The much anticipated Tesla Powerwall will soon be available for Australian homes, with three local energy retailers confirming their intentions to sell what has been one of the world's most talked about energy storage technologies.
The Tesla Powerwall, a residential battery unit that allows solar power to be stored for later use, has already been made available by Origin Energy, with installations expected to begin in February 2016.
Simply Energy and Sydney-based solar installer Natural Solar have also been announced as the first "authorised resellers" of the 7kWh Tesla Powerwall, but that number is anticipated to grow in the coming months.
Origin CEO Energy Markets Frank Calabria said: "By offering rooftop solar with home batteries, Origin is able to provide households with greater control over their energy use than ever before.
"Customers can now also make their investment in solar work harder, as excess electricity produced during the day can be stored for use at a later time when the solar panels do not produce electricity."
How much does the Tesla Powerwall cost?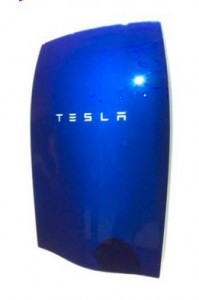 The Origin-Tesla Powerwall offer includes solar PV panels from Trina Solar, a SolarEdge inverter and the Powerwall at prices beginning from $16,500.
Natural Solar plans to begin installing the Tesla batteries in January as part of its latest 5 and 6kW rooftop solar packages.
Natural Solar Managing Director Chris Williams said he is expecting to be able to offer customers 5kW solar systems with the 7kWh Powerwall integrated using a Fronius hybrid inverter for around $13,990 or $14,990 for a 6kW solar system, with added meter costs. Coupling the Powerwall with a 5kW SolarEdge system would cost slightly more, at $15,390.
Simply Energy has begun taking submissions of interest and will contact its customers when its Tesla Powerwall Solutions become available. No official price ranges have been provided by Simply Energy, but it is expected it will be similarly priced to its competitors.
At the present time, the Tesla Powerwall cannot be purchased as an individual product, though Origin Energy has hinted to this intention in the future. The wholesale price of Powerwalls in the US is currently around $3,000 (USD), so it is anticipated Australian retailers will resell for around $5,000 (AUD), not including installation.
The price of the Powerwall and other storage batteries is expected to fall as more competition enters the market, so if price is an issue, it's probably best to wait it out a little while. Keep in mind prices vary considerably depending on where you live.
What is the Tesla Powerwall?
The Tesla Powerwall is an innovative solar battery, widely considered one of the best on the market. Traditionally, solar panels have only been able to provide electricity during daylight hours. If the electricity was not used, it would be fed into the grid to be used by another household (usually in return for a feed-in-tariff). Solar batteries allow you to store this excess solar electricity so you can use it at a later time. The Powerwall has sufficient capacity to meet the majority of an average home's peak evening electricity needs, potentially drastically reducing your electricity bill.
Tesla has a growing reputation for producing groundbreaking technologies. The Powerwall separates itself from the competition with its sleek design, thermal control and impressive 92% efficiency rating. Tesla has also announced its systems may soon be compatible with multiple batteries, meaning you could potentially eliminate the need for grid energy.
Other articles you might like