Fact Checked
Time's up! Samsung sprints into 1st place in smartwatch & fitness tracker review
Going digital isn't just about tracking how many kilometres you clock up during a run. You can pay for groceries, check your daily schedule, do guided workouts, make video calls and send quick texts ─ all without having to reach into your back pocket or dig through your bag. But with so many wrist gadgets now available on the market, how do you know which would be the perfect fit for your needs and lifestyle?
To find out, we asked nearly 600 Australian consumers for their feedback on the new wearable device(s) they have purchased and used in the last two years. Brands were rated on ease of use, compatibility, battery life, appearance and style, value for money and overall satisfaction. Those which received at least 30 responses are included in our report.
Best Smartwatches & Fitness Trackers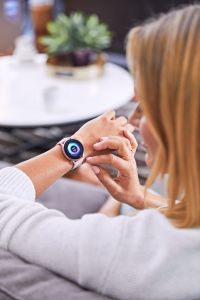 Here are the best brands of smartwatches and fitness trackers in Australia, as rated by consumers in Canstar Blue's inaugural review:
Samsung
Apple
Fitbit
Garmin
Samsung placed first at the finish line in Canstar Blue's first-ever smartwatch and fitness tracker ratings, after receiving the only five-star review for overall customer satisfaction, as well as full marks for ease of use, compatibility and appearance & style. The rest of the brands trailed behind on four stars overall.
It's worth mentioning that Garmin clearly put up a tough fight. It knocked out Samsung when it came to battery life and value for money, achieving five stars in both categories. Garmin also scored full marks for appearance and style.
Read on for a quick overview of the brands in our report, including the products, prices and specs they have on offer.
Smartwatches & Fitness Trackers
Samsung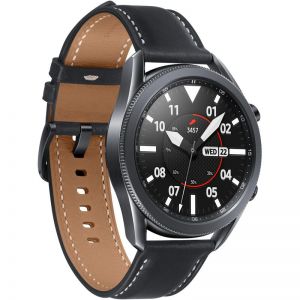 Samsung aims to create a range of Galaxy smartwatches that are 'of this world', especially if you're looking for health and wellness tech packed in a traditional watch design. It's even fitted with a rotating bezel on the new Galaxy Watch3.
One major feature in Samsung's smartwatches is its fall detection function, which is said to automatically detect hard falls and sends an SOS to your emergency with your location. Depending on the model, some other built-in apps include a language translator and a blood oxygen measurement function. There are also apparently more than 120 home workout programs available on Samsung Health, any of which you can cast to your TV.
Most Samsung smartwatches come in 41mm and 45mm sizes, although some models are available in 40mm, 42mm, 44mm and 46mm. These are available as either a Bluetooth or cellular option, although cellular models are typically pricier. Size may also add extra dollars to the price tag. Prices usually range between the $350 and $1,000 mark. A few Samsung smartwatches to expect include:
Galaxy Watch Active: $349 RRP*
Samsung Galaxy Watch3 ─ Bluetooth (41mm): $499 RRP*
Samsung Galaxy Watch Cellular ─ (42mm): $599 RRP*
Samsung was rated best for overall satisfaction and ease of use, plus earned five-star reviews for compatibility and appearance & style. It also scored four stars for battery life and value for money.
Apple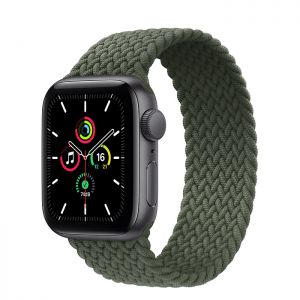 Tech giant Apple launched its popular smartwatch line in 2014 and has since grown to produce several generations, plus exclusive collaborations with Nike and Hermès.
The latest models, the Apple Watch Series 6 and Apple Watch SE share many of the same features. You can also find a couple pieces of tech in the older Apple Watch Series 3. These models are made with a retina display and are claimed to be water-resistant and swim-proof up to 50m deep. The Series 3 smartwatches contain built-in apps like heart rate tracking, but features like fall detection, emergency SOS and international emergency SOS won't be available on the Series 3.
Prices usually start from $599 for the latest Apple Watch Series 6, or $1,119 for models with the stainless-steel case with either a leather link or Milanese loop band. The previous Apple Watch Series 3 begins from a more affordable price tag of $299, but the variety is limited to a silver or space grey aluminium case. The new Apple Watch SE meets in the middle with a starting price of $429 and provides a long list of designs similar to the Apple Watch Series 6.
The cost also varies between sizes. Both the Series 6 and SE come in 40mm and 44m, while the Series 3 is available in either 38mm or 42mm. Some models to expect include:
Apple Watch Series 3 Space Grey Aluminium Case with Black Sports Band (38mm): from $299 RRP*
Apple Watch SE Gold Aluminium Case with Braided Solo Loop (40mm): from 499 RRP*
Apple Watch Series 6 Silver Aluminium Case with Solo Loop (40mm): from $599 RRP*
Apple was rated four stars in most categories, including overall satisfaction. It got three stars for battery life and value for money.
Fitbit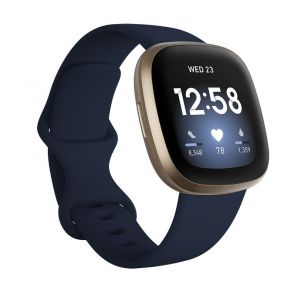 Synonymous with everything health and fitness since 2007, Fitbit's wearable tech is stated to be designed to help you reach your goals by tracking 'every part of your day'. This includes activity, exercise, food, weight and sleep.
While measuring heart rate is common in many smartwatches and fitness trackers, Fitbit claims to be the inventor of the world's first 'automatic, continuous heart rate tracking technology on your wrist' ─ PurePulse.
Fitbit's new smartwatches, including the Sense, Versa 3 and Inspire 2, come with many of the same features. Some include 24/7 heart rate tracking, guided breathing sessions, stress management tools, all-day tracking activity, sleep tracking, SmartTrack Auto Exercise Recognition, Pace & Distance with phone GPS and more than 20 goal-based exercise modes.
Fitbit smartwatches usually start from $179 for the Inspire 2, $399 for the Versa 3 and $499 for the Sense model. A kid-friendly Fitbit is also available for $129 with Fitbit's Ace 2.
Several fitness trackers from Fitbit include:
Fitbit Ace 2: $129.95 RRP*
Fitbit Charge 4: $249.95 RRP*
Fitbit Sense: $499.95 RRP*
Fitbit achieved four-star reviews for ease of use, value for money and overall satisfaction. It scored three stars everywhere else.
Garmin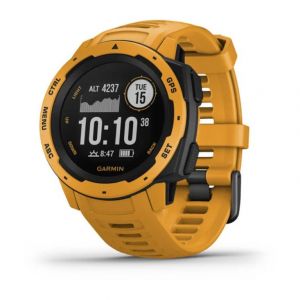 If you want to be spoilt for choice, Garmin has a huge variety of wearables and smartwatches. Many of the models can be sorted based on activity, such as swimming, hiking, running, boating & sailing and tactical training. There are also a number of solar-powered GPS smartwatches, including the Fenix 6 which is claimed to provide up to 14 days worth of battery life!
Children also have a few fun smartwatches to choose from, especially with the Vivofit jr. 3 offering Marvel and Disney princess designs in addition to Garmin's own collection. The Marvel line even comes with a Marvel app which gets them exercising, increasing their activity minutes and doing their chores, among other things. There's also an emergency SOS function.
The cost of Garmin's solar-powered GPS outdoor watches will usually set you back $799 for different editions of the Instinct watch, although the original Instinct model retails for half the price ($399 RRP*).
A few Garmin smartwatches currently available include:
Garmin Vivofit jr. 3 Marvel Black Panther: $149 RRP*
Garmin Vivoactive 4: $579 RRP*
Garmin Instinct Solar: $699 RRP*
Garmin scored five stars for value for money, battery life and appearance and style. It achieved four stars for ease of use and overall satisfaction, and three stars for compatibility.
Should you buy a smartwatch or fitness tracker?
From tracking sleep patterns to enjoying guided workouts and video calling, there are plenty of reasons why many people are ticking over to wearable devices. In fact, one in three respondents (32%) to our survey wore a traditional analogue or digital watch before switching to a smartwatch or fitness tracker. More than half bought a smartwatch (55%), with a handful similarly opting for a hybrid smartwatch (8%). A third (34%) of respondents alternatively bought a fitness tracker. The move isn't cheap though, with Australians spending an average of $311 on a new wrist gadget!
Why should you buy a smartwatch?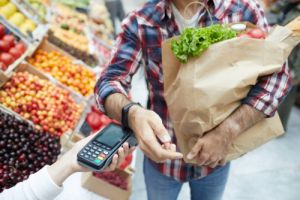 Smartwatches can make everyday tasks a little easier, such as calling and messaging, checking your calendar and playing music at the flick of a wrist. You can also use the pay technology on your smartwatch to make transactions at the shops, just like a number of our survey respondents (16%). Although fitness trackers and smartwatches now typically share many of the same functions and apps.
Why should you buy a fitness tracker?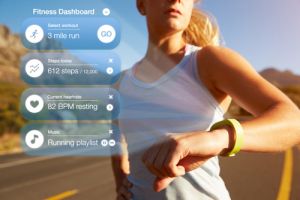 Fitness trackers are a useful way to make the most out of your workouts and health goals. This is mainly thanks to functions which track information such as heart rate, calories burned, pace and distance, step count, sleep, menstrual cycle and time spent being active. Nearly a third (29%) of Australians even said their fitness tracker helped improve their training sessions. Plus, there are usually guided exercises for breathing and workouts to help improve wellness.
New fitness trackers like the Fitbit Versa and Samsung Galaxy Watch3 also measure blood oxygen levels. Samsung describes this addition as a way to check if you're breathing correctly, based on how effectively your blood is carrying oxygen throughout your body. But keep in mind that fitness trackers are not designed for medical use.
Here are the most common ways Australians use their fitness tracker, according to our survey:
Track general health: 50%
Track the time, GPS and calories burned during a workout: 39%
Track sleep: 7%
A small number of people also purchased a fitness tracker to look more athletic (9%).
What are some disadvantages to using a smartwatch or fitness tracker?
A major downside is that you will need to check if your smartphone is compatible with the wearable device you plan to buy. To stay on the safe side, or as a matter of brand loyalty, two in five consumers (41%) who took part in our survey, purchased the same brand of smartwatch as their phone.
There are many models that can work with any phone, however some smartwatches can only pair with phones of the same brand and its latest operating system (OS). Keep in mind also that some older smartwatches are only capable of updating up to a certain OS version, so you might not be able to experience new software updates. The Apple Watch Series 1 for example, only works with watchOS 6.2, the manufacturer's previous version of the software.
Another risk is that certain smartwatches might not support specific apps or functionalities. This may include not being able to send texts to certain devices or not having access to particular apps.
The bottom line on smartwatches and fitness trackers
According to our survey, which type of wearable device you buy largely depends on how you want it to complement your lifestyle. Almost one in four (24%) used a fitness tracker to keep track of their fitness or health, before purchasing a smartwatch. Alternatively, 11% switched to a smartwatch after owning a fitness tracker for the same reasons.
About the author of this page
This report was written by Canstar Blue's home & lifestyle journalist, Tahnee-Jae Lopez-Vito. She's an expert on household appliances, grooming products and all things grocery and shopping. In addition to translating our expert research into consumer-friendly ratings reports, Tahnee spends her time helping consumers make better-informed purchase decisions on all manner of consumer goods and services, while highlighting the best deals and anything you need to be aware of.
Picture credits: SeventyFour/ Shutterstock.com, Money Business Images/ Shutterstock.com.
*Prices taken from retailers, correct as of December 2020.