Review of Samsung washing machines
Samsung is a world leader in consumer technology, but what you might not know is that it also manufactures a large range of household appliances, including refrigerators, air conditioners and washing machines. When it comes to the latter, Samsung makes both kinds – front loaders and top loaders – but with twists and tweaks to make them inherently 'Samsung' – tech-forward featuring innovative developments. Between the two types of washing machine, Samsung is likely to have something up your alley. Let's see what the Korean tech giant has to show for itself in Australia.
What washing machines does Samsung offer?
Samsung has two different kinds of washing machines:
'AddWash' front loader machines that allow you to add clothes to your wash, which is a relatively rare thing among front loaders
'XL Capacity' front loaders that have a larger capacity than usual. A common gripe among front loader owners is that the drum and capacity is not big enough
Generally there is a crossover between the two categories where some models will have both features. In the XL Capacity range is also a few top loader models. Samsung really has thought this one through.
Samsung AddWash Washers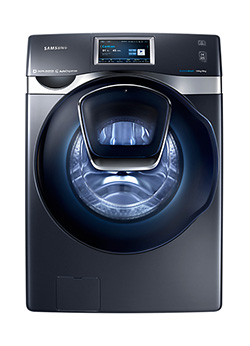 These washers come with the much-desired ability to add clothes mid-wash to your front loader. This AddWash function won Canstar Blue's innovation award in 2016 because we were excited by just how handy it was, and that it's a relatively rare feature on front loader washing machines.
These washing machines come with a pause function. You can then add any forgotten clothes using the 'Add Door', which is effectively a small hatch that allows you to slip clothes into the washer easily. Other features of these machines include:
Auto detergent: The compartment is only required to be filled up every few weeks and Samsung takes care of the rest.
Smart Wi-Fi control: Download the smartphone app, which allows you to control and monitor your wash cycle while out and about. This is especially useful for if you'd like to come home to a freshly-washed set of clothes or to get home in time so your clothes aren't sitting damp for too long.
Quick washes: There is the option for a 15 minute wash cycle that allows you to wash a few garments. This is perfect for if you need THAT shirt, like, RIGHT NOW before your hot date or dinner out meeting his/her parents.
Beyond that there is also a large crossover with the Samsung XL Capacity series. Some of the bigger models include capacities around 11-16kg, which is simply massive for front loaders are frequently under 10kg.
These washers also won't break the bank. The smallest capacity models can be found for less than $1,000, and you'll nary find a model over about $1,800. This ensures you get handy tech features at reasonable prices, accessible to many.
Samsung XL Capacity Washers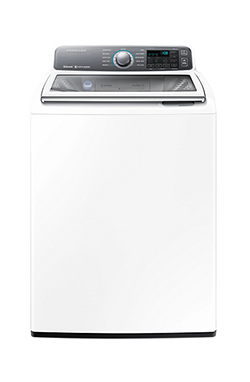 There is a wide range of both front loaders and top loaders in this category. Most feature "larger than usual" capacities, with the average being around 10kg, while the biggest tend to be a whopping 16kg. Imagine the amount of clothes you could put in there!
Samsung's top loaders are much the same story – expect large capacities, which Samsung states "less loads – more life". Simply stockpile your clothes for the week then go nuts. Beyond that some features include:
"Bubble Wash" that generates foam from the start of the cycle, which gives the washer a better chance to get rid of dirt and stains
"VRT" technology that helps to reduce noise and vibrations
An automatic drum cleaner. Who washes the washer? The drum cleaner heats up to 70°C and boosts the RPM of the machine and this helps get rid of residue and dirt that forms from your clothes.
All these features make for a great washing machine, but what makes it even better is that it won't exactly make you bankrupt. Again, expect these washers to come in at under $2,000, and some can be found for under $1,000. Seeing as some washing machines can cost over $4,000, Samsung represents a relatively cost-effective yet feature-packed option here.
Is a Samsung washing machine a smart move?
Samsung makes a variety of appliances and tech devices so it's only natural for its washing machines to have a lot of techy features. However, that does not mean Samsung is an 'expensive' brand – rather most of its washing machines are fairly priced, especially against certain competition from Germany.
It's also noteworthy that that Samsung still makes top load washing machines. Many manufacturers these days do not, but it's a positive sign that Samsung does, as there is still merit in using a top loader. However, the main benefits of top loaders are taken away when the Samsung 'AddWash' feature was introduced.
The main selling point of a top loader was that you could add clothes mid-wash. Now with 'AddWash' this feature is accessible on front loaders.
Another gripe with front loaders is that their capacities often pale in comparison to top loaders. However, with Samsung's 'XL' washers, 16kg capacities are fitted on front loaders.
These two factors may be the two biggest 'nails in the coffin' for top loaders, but for many households, they simply like what they know.
Samsung makes some quality, good-value washing machines with features that are helpful and not gimmicky. However, it still can't hurt to compare Samsung against its competition.