It's rare to find someone who enjoys washing the dishes by hand. Using a dishwasher not only takes the dirty work out of your evening but aims to save money and time. If you don't have the space to install a full-sized dishwasher or are looking for a more portable option, then a benchtop dishwasher is an ideal option to consider. Read on for our guide to benchtop dishwashers and brands available in Australia.
What is a benchtop dishwasher?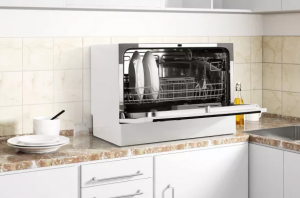 A benchtop dishwasher is designed for households that want the convenience of a full-sized dishwasher, but don't have the option – or space – to install one. It's considered ideal for rental properties or granny flats as it can be easily disconnected and relocated into a new home whenever you move.
If you're tight on space, benchtop dishwashers are small enough to fit in kitchens while also being big enough to wash dishes for up to six place settings. In terms of benchtop dishwasher installation, the appliance is stated to easily connect to a tap or directly to the mains for an in-built solution.
Do you need a plumber to install a benchtop dishwasher?
Unlike full-size dishwashers, benchtop dishwashers can usually be installed without the help of tradespeople because it typically only requires a water connection and a suitable power outlet.
But keep in mind that dishwashers often need to be earthed as a way to minimise the risk of electric shock, in the event of a malfunction or breakdown. This partly involves plugging an earthing plug into a power outlet that is already installed and earthed. If in doubt, make sure to check with a licensed electrician to see if the appliance is correctly earthed.
You will also need a licensed plumber if the hose that comes with your new dishwasher doesn't fit your tap.
Are countertop dishwashers efficient?
While benchtop dishwashers usually have a three-star water efficiency rating and a two-star energy efficiency rating, which is considered fairly poor, the compact size means it requires less water and electricity to run compared to a full-size model. Many brands also offer an eco mode to help save water and energy.
However, the smaller size might also mean sacrificing the number of place settings, which might require you to run multiple loads. Most benchtop dishwashers have six, each plate measuring a diameter of around 23-25cm. So, if you're concerned about finding an efficient appliance, a countertop dishwasher would be better suited for smaller kitchens and modest dishwashing needs. Otherwise, you might be better of checking out built-in models.
Are countertop dishwashers good?
Benchtop dishwashers may be worth purchasing if you live in a household short on space and want to stick to a budget. But is it the best option for your kitchen and washing needs? We've listed five pros and cons to help you make up your mind.
| | |
| --- | --- |
| Benchtop dishwasher pros | Benchtop dishwasher cons |
| Don't need as much water as full-sized models | Often have limited place setting |
| More compact than built-in dishwashers | Can't fit larger plates and cookware, or awkwardly shaped items |
| No plumber or electrician needed to install | Not ideal if you're short on bench space |
| Portable enough to use in a caravan or bring with you if you move house | Might contain fewer features than full-sized dishwashers |
| Cheaper to buy than full-sized dishwashers | Brands have smaller ranges of benchtop dishwashers |
You may also be interested in:
Who sells benchtop dishwashers?
While there aren't as many options available compared to full-size dishwashers, there are still some names you can rely on to have a unit available. Some brands include Omega, ILVE, Kogan, Esatto and Artusi. In terms of cost, prices generally start from $560 and reach up to $900.
Kogan benchtop dishwashers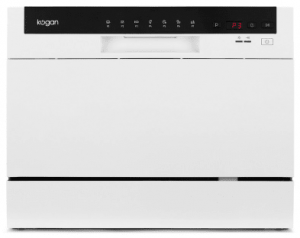 You can find more affordable options from Kogan. The online marketplace generally sells dishwashers for anywhere between $499 and $899, although prices are often reduced for Kogan First members. The Kogan Benchtop Dishwasher is currently the sole option available and has slightly more features compared to models from some major brands. These include:
Six place settings
3.5-star water efficiency rating
2.5-star energy efficiency rating
Measurements (HxWxD): 440mm x 553mm x 498mm
Two-year parts and labour warranty.
The Kogan dishwasher has seven wash programs, delay start function, quiet mode and can fit plates with a diameter of up to 25.4cm.
Price: $309 RRP*
Esatto benchtop dishwashers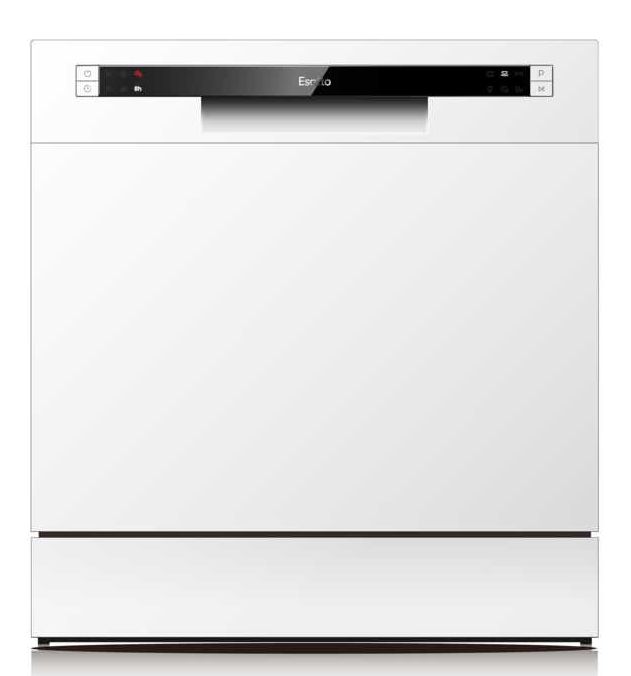 Esatto has been a popular brand for budget-friendly appliances, and this benchtop dishwasher is no exception. This model (EBTDW2D) comes with the usual features you would expect from a countertop unit, but has a removable cutlery basket to help fit large and awkwardly-shaped pots and pans.
Aside from six wash programs and a delay start option, this is what you can expect:
Six place settings
3.5-star water efficiency rating
2.5-star energy efficiency rating
Measurements (HxWxD): 590mm x 440mm x 500mm
Two-year parts and labour warranty.
Price: $599 RRP*
Omega benchtop dishwashers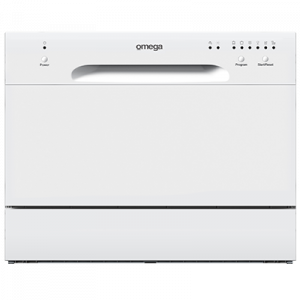 Omega is a well-known name in many Aussie households, offering a "complete kitchen solution". It offers an extensive range of ovens as well as washing machines and a couple of options for benchtop dishwashers. However, the brand is limited when it comes to benchtop dishwashers, with only one model currently available ─ the Omega 55cm Freestanding Dishwasher (ODW101W). Specs include:
Six place settings
3.5-star water efficiency rating
2-star energy efficiency rating
Variable wash temperature setting
Maximum plate size: 25cm
Measurements (HxWxD): 438mm x 550mm x 500mm
Plumbed installation
Two-year parts and labour warranty.
The Omega benchtop dishwasher is equipped with six wash programs – intensive, normal, rinse, rapid, heavy and soak – but doesn't feature a delayed start or adjustable top basket like some other brands.
Price: $696 RRP*
Artusi benchtop dishwashers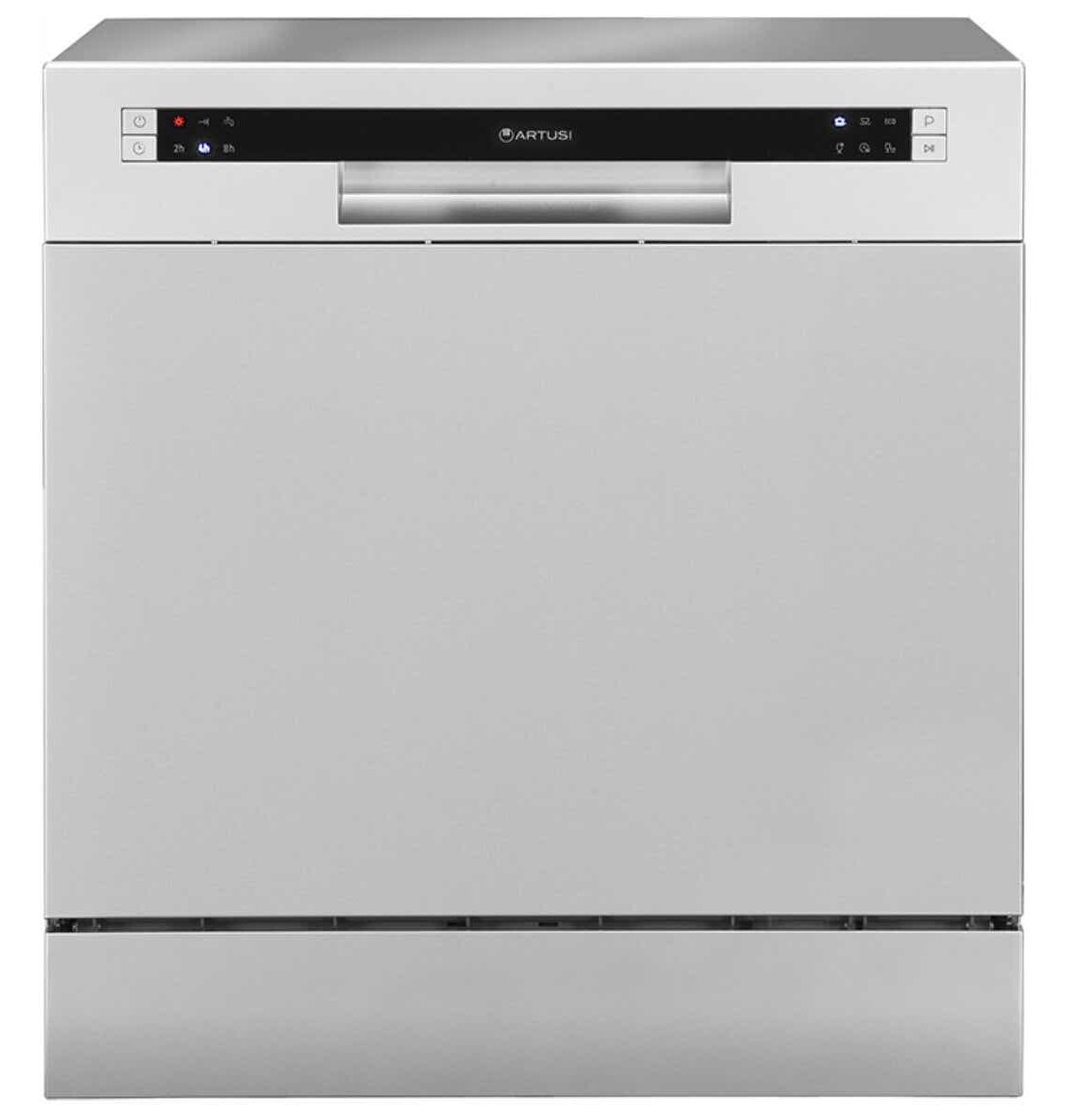 For a benchtop dishwasher with a larger capacity and versatility, this Artusi model is designed with eight place settings. It also boasts 304 stainless steel, which is claimed to improve the durability, performance and lifespan of the appliance.
The Artusi Benchtop Dishwasher (ADW8TTX) additionally contains a cutlery basket, plus the following specs:
Six wash programs
3.5-star water efficiency rating
2.5-star energy efficiency rating
Measurements (HxWxD): 670mm x 605mm x 555
Two-year parts and labour warranty.
Price: $899 RRP*
ILVE benchtop dishwashers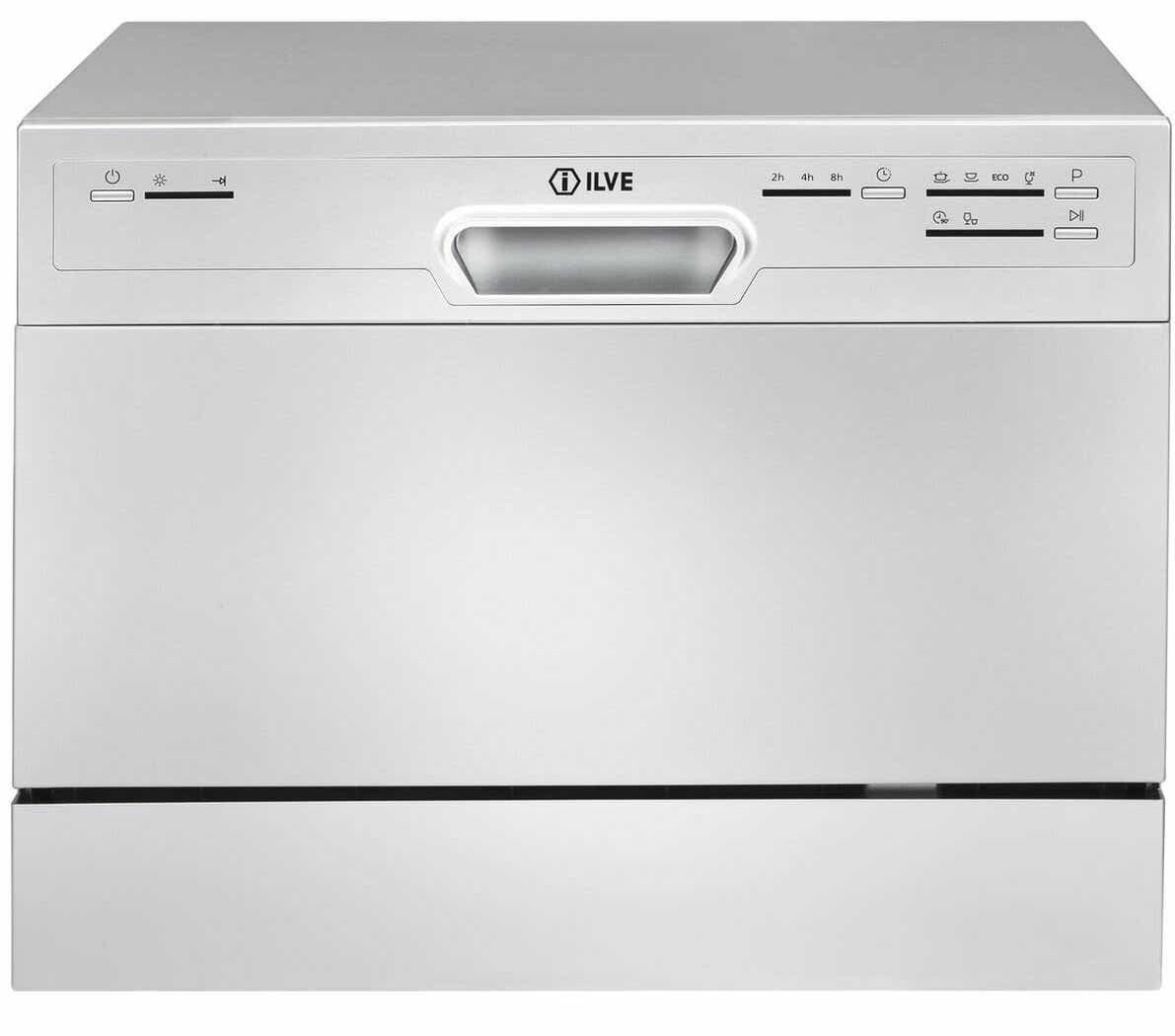 ILVE promises to bring a taste of Italian hand-made craftsmanship into the Aussie home, with this freestanding benchtop dishwasher being one of them. The IVDFS55 offers six programs, including heavy, 90-minute wash, glass & rapid, ECO and intensive & strong. It also provides delay start options up to eight hours.
Here's a breakdown of the basics:
Six place settings
3.5-star water efficiency rating
2.5-star energy efficiency rating
Measurements (HxWxD): 438mm x 550mm x 500mm
Two-year parts and labour warranty.
To make use of off-peak hours, this benchtop dishwasher features a delayed start option, which can be set up either two, four, or eight hours in advance.
Price: $946 RRP*
Should I buy a benchtop dishwasher?
For single and couple households that don't want to wash dishes by hand, this might be an option to consider. The countertop dishwasher is typically compact and portable, being suitable for apartment living where space is at a premium. However, most benchtop dishwashers are not very energy efficient, with three stars typically the best you will find. That's something to keep in mind if you're concerned about power costs.
Furthermore, not all can fit large dinner plates, so you'll have to compromise on size. Nevertheless, these appliances still offer a number of place settings and are generally all priced under $700. If you're renting a home, or don't have much under bench space available for a standard dishwasher, then a benchtop dishwasher might be for you.
*Prices are taken from respective retailers and Appliances Online, correct as of January 2022.
Original Author: Tahnee-Jae Lopez-Vito