For a more hygienic way of cleaning dishes that's just as quick as licking your plate clean, there are loads of freestanding dishwashers to get your hands on. To help you find the best dishwasher for your kitchen, we did some of the dirty work and listed the types of prices and features that you can expect from major brands like Westinghouse, Bosch, LG and Fisher & Paykel. Find out all you need to know about freestanding dishwashers with Canstar Blue.
What is a freestanding dishwasher?
A freestanding dishwasher is a standalone dishwasher unit that can be fitted into any space with access to water and drainage. It eliminates the need for any major kitchen renovations as it can fit in any space or under a bench if necessary, keeping your options very flexible. 
How much does a freestanding dishwasher cost?
Freestanding dishwashers typically retail between $800 and $2,200, with factors like brand, features and energy efficiency all having an impact on costs. Here is a quick guide to the cheapest and most expensive freestanding dishwashers from the brands compared in this review.
Who sells freestanding dishwashers?
These brands currently sell freestanding dishwashers:
How much does a Westinghouse freestanding dishwasher cost?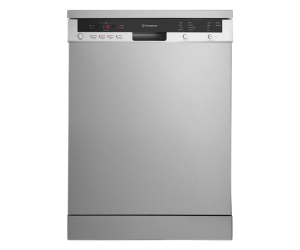 The majority of Westinghouse dishwashers are said to have a 4.5-star water efficiency rating and three-star energy efficiency rating. Most models provide 15 place settings, except the cheaper Westinghouse WSF6602WA and Westinghouse WSF6602XA, which both contain 13 place settings. Some features include a Fast Wash program, Time Save program, Half Load option, a height adjustable upper basket and bottom basket with fold down racks. Westinghouse freestanding dishwashers generally retail between $800 and $2,000.
How much does a Bosch freestanding dishwasher cost?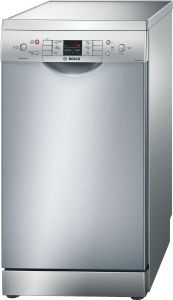 Bosch has racked up a variety of dishwashers to cater to different size households, offering several freestanding models, underbench (or 'built-in') dishwashers and modular dishwashers. The brand's range of freestanding models are mostly 60cm wide, although a smaller alternative is available. Bosch's basic freestanding dishwashers offer features like speed wash, load sensing and aqua sensor, while higher end models will offer additional features like dosage assist for optimised dish washing, extra dry and EcoSilence Drive. Bosch freestanding dishwashers usually sell from $1,000 and can reach up to $2,200. 
How much does an LG freestanding dishwasher cost?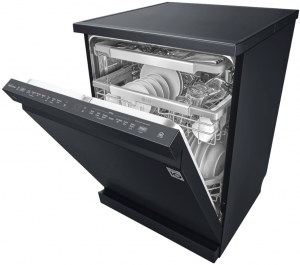 LG's stack of freestanding dishwashers is claimed to both look good and clean just as well. The QuadWash series is hyped up for its ability to apparently clean from different angles, and leave fewer water spots with the TrueSteam feature. The product range is also said to be efficient, producing at least a five-star water efficiency rating and four-star energy rating for most models.
For comfort and flexibility, LG's dishwashers contain EasyRack Plus which offers height adjustable racks and folding tines. The brand similarly looks to cut some of the noise that comes with dishwashing with the Inverter Direct Drive Motor. LG freestanding dishwashers usually cost between $1,000 and $1,800.
How much does a Fisher & Paykel freestanding dishwasher cost?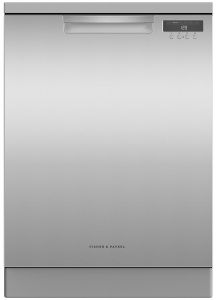 Fisher & Paykel offer a number of appliances for the home as well as a range of freestanding dishwashers. According to the brand, its dishwashers "offer a quiet, effective performance, with intuitive controls, simple operation and efficient use of energy and water".
Fisher & Paykel says it has a variety of dishwashers to suit different kitchens and household needs, with many models given a five-star water efficiency rating and 3.5-star energy rating. Fisher & Paykel might also be worth considering if you're searching for a dishwasher with a bit more space, especially as most models have either 14 or 15 place settings. Fisher & Paykel freestanding dishwashers usually retail between $900 and $1,000.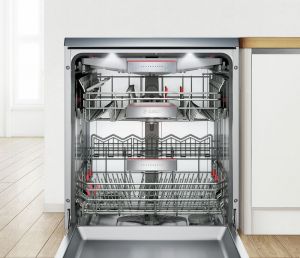 Which freestanding dishwasher should I choose?
With a huge load of freestanding options to choose from, it can be difficult to pick the right one. But which dishwasher you should get ultimately depends on your individual needs. When it comes to efficiency, many dishwashers generally have a five-star water efficiency rating and at least 3.5-stars for energy, so choosing how you want to impact the environment – and your energy bill – will be a huge decider. Alternatively, you may only have a certain amount of space for a freestanding dishwasher, so dimensions and capacity may play a factor, as does the price tag. Regardless, make sure you're getting the best dishwasher for your home by checking out our ratings and reviews to compare what's out there.
Picture credit: Grzegorz Czapski/Shutterstock.com
Original Author: Tahnee-Jae Lopez-Vito