Bosch Clothes Dryers Review
German manufacturing company Bosch is one of the biggest names in the appliance space. It claims to offer technologically advanced products with the hope of improving everyday tasks, from cooking right through to cleaning. In the Bosch range you can find home appliances such as front loaders, dishwashers and ovens. Additionally, Bosch provides a number of clothes dryers with a focus on technical details. We review the specs and features of each model to help you decide if a Bosch clothes dryer is right for you.
When it comes to clothes dryers, Bosch has condenser tumble dryers, heat pump dryers, vented dryers, plus one washer dryer combo. Read on for details.
Bosch Condenser Dryers
A condenser clothes dryer collects moisture from wet clothes as condensed water, rather than venting it as steam. In turn, you could set up a condenser dryer in an enclosed space, without turning your laundry room into a humid jungle.
Bosch Serie 6 WTG86400AU 8kg Condenser Dryer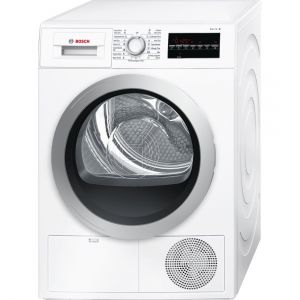 The Bosch Serie 6 dryer, with an 8kg capacity, offers a wide variety of settings and control options to suit different laundry loads. It's designed with an LED display and electronic controls, plus the drum interior light and load recommendation indicator. The key features this condenser dryer is boasted for include:
AutoDry: automatically stops the drying process once it's complete to help save time and energy
Sensitive Drying System: the gentle drum structure design is claimed to provide softer and even drying of clothes
AntiVibration design: to reduce vibration so noise is minimised and provides greater stability
Sensor drying: monitors the temperature and moisture content to ensure garments are dried to the desired setting
The 8kg condenser dryer from Bosch is equipped with 15 programs, including a quick 40 minute cycle, a 15 minutes shirts cycle and a certified AllergyPlus cycle for those users with sensitive skin. There are also additional options such as 'Easy Iron' and 'Low Heat', giving you the ability to adjust settings to suit the material you're drying, as well as a 120 minute anti-crease option that can be added on to the end of a program.
To help make use to of the off peak energy tariffs, this clothes dryer has a 24 hour end time delay option and end of cycle buzzer that can be turned off to not disturb you during the night. Its downfall, however, is its energy efficiency rating, with just two stars.
Dimensions (HxWxD): 2 x 59.8 x 59.9 cm
RRP: $1,749*
---
---
Bosch Heat Pump Dryers
A heat pump dryer is designed with a fully integrated system, allowing it to earn higher energy efficiency ratings. As a result, this type of clothes dryer is typically more expensive, but you should save in the long run through cheaper energy bills. Several key features to expect from Bosch heat pump dryers include:
ActiveAir Technology: re-uses heat throughout the drying cycle to help save energy
AntiVibration design: claimed to provide more stability and reduce vibration to minimise noise
Sensor drying: monitors the temperature and moisture content to ensure garments are dried to the desired setting, claimed to prevent laundry from shrinking
Sensitive Drying System: combines warm air currents and a gentle drum structure for drying clothes
Bosch Serie 4 WTH85200AU 8kg Heat Pump Dryer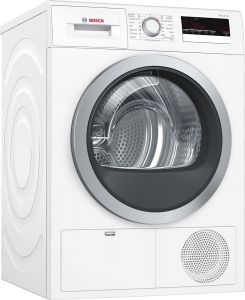 On the lower end of the price spectrum for heat pump dryers, you'll find the Bosch 8kg capacity model. It's boasted for a 7-star energy rating, with an energy consumption of 150kWh per year on the Cottons Extra Dry cycle.
The 8kg model features a fully electronic operation with an easy-to-use program selector for standard, timed and special programs including – Mixed Load, Sportswear, Super40, Wool and Delicates. It also offers an anti-crease cycle that runs for 120 minutes at the end of a program. The LED-Display shows the remaining time and it features a 24 hour end time delay option. The AutoDry system allows the machine to save time and energy by using its sensors to gauge the moisture level in the drum and automatically stop the drying cycle once it's complete. For safety, it's equipped with a child lock and automatic drum stop when the door is opened.
Dimensions (HxWxD): 2 x 59.8 x 59.9 cm (65.2 cm with door frame)
RRP: $1,899*
Bosch Serie 8 WTW87565AU 9kg Heat Pump Dryer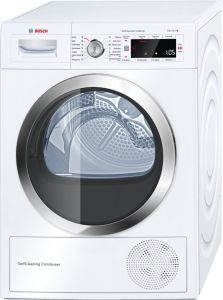 For additional drying volume, you might like to consider the Serie 8 heat pump dryer, with a total of 9kg capacity. It's boasted for a low noise level of 64 decibels and a 7 star energy efficiency rating, similarly to the model above. Programs you can expect with this machine include Cotton, Delicates, Anti-crease and Quick Dry. Bosch claims this 9kg heat pump model dries laundry faster than others in the range.
In terms of design features, it's equipped with an Automatic Self-Cleaning System to keep the condenser lint-free, ensuring the same energy performance throughout. It also has an illuminated control dial with an integrated On-/Off mode, as well as the Bosch 'ComfortControl' panel stated to provide an intuitive user interface. You can also expect an LED drum interior light and a glass door with a 170° opening angle for convenience.
Dimensions (HxWxD): 2 x 59.8 x 59.9 cm
RRP: $2,629*
Bosch WTY877W0AU 9kg HomeProfessional Heat Pump Dryer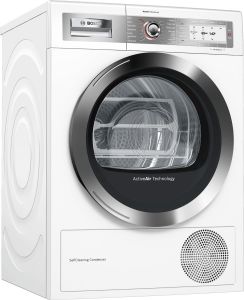 This is another 9kg capacity model with similar technology, but with a few additions. It's equipped with 14 programs including Cotton, Delicate, Anti-Crease, Quick Dry and a 'Wool in basket' option for drying woollen fabric or shoes without the tumble action. It also has a self-cleaning system, so you won't have to clean the condenser, while the 'AntiVibration' system is designed to provide stability and quietness, boasting a noise level of 62 decibels.
This 'HomeProfessional' heat pump dryer is equipped with a ComfortControl Plus interface along with a lockable control panel and child lock for safety. It has an illuminated control dial with integrated On-/Off mode and a time delay option. For the price, you can expect an 8-star energy efficiency rating.
Dimensions (HxWxD): 2 x 59.8 x 59.9 cm
RRP: $2,829*
Bosch Washer Dryer Combos
If you're tight on space, a washer dryer combo might be an option to consider. As the name implies, it combines two appliances into one. Probably the main benefit of owning a washer/dryer is that they're roughly the same size as standard washing machines, so it can save a significant amount of space in the laundry room. While they might be expensive to buy, they should cost less than buying two separate appliances. Currently Bosch offers one Washer Dryer model:
Bosch 8kg/4kg Serie 6 WVH28490AU Washer Dryer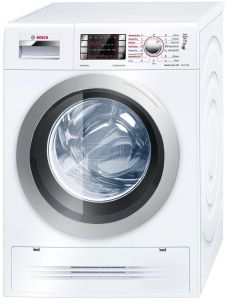 The Bosch washer-dryer has 8kg washing capacity and 4kg drying capacity. It features similar technology to what you will find with the dryers mentioned above, such as the automatic self-cleaning system and anti-vibration design. It's equipped with 15 programs and a time delay option.
In terms of energy efficiency for the washer, it provides a four star energy rating, while for the dryer it's rated at three stars. For water consumption, it's rated 4.5 stars on the WELD water efficiency rating.
Dimensions (HxWxD): 8 x 59.8 x 59 cm
RRP: $2,099*
Are Bosch clothes dryers worth the money?
Bosch clothes dryers are equipped with a number of advanced systems. However, these features have an impact on prices as you won't find a Bosch clothes dryer for under $1,000 – most cost much closer to $2,000 or more. Nevertheless, you can expect higher than average energy efficiency ratings such as with the Bosch WTY877W0AU 9kg HomeProfessional Heat Pump Dryer that has 8 stars for energy efficiency, so you could make some of the initial purchase price back in the form of reduced energy bills over time.
When it comes to home appliances, you'll generally get what you pay for, with Bosch usually one of the highest rated brands in our annual reviews of washing machines, ovens and, indeed, clothes dryers. Just hit the link below to see how it currently stack up on customer satisfaction compared with various other leading brands such as LG, Samsung and Fisher & Paykel.
Clothes Dryers Review & Ratings
*Prices taken from Appliances Online and respective retailers, correct as of May 2018
About the author of this page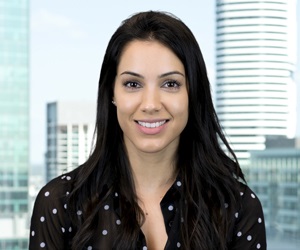 This report was written by Canstar Blue's Home & Lifestyle Content Lead, Megan Birot. She's an expert on household appliances, health & beauty products, as well as all things grocery and shopping. When she's not writing up our research-based ratings reports, Megan spends her time helping consumers make better purchase decisions, whether it's at the supermarket, other retailers, or online, highlighting the best deals and flagging anything you need to be aware of.
What do customers think about Bosch Clothes Dryers?
In 2019, Australian customers gave Bosch 4 out of 5 stars for overall customer satisfaction for clothes dryers
Bosch Clothes Dryers
Canstar Blue
Award:
Overall Satisfaction