Haier refrigerators review & buying tips
A Chinese appliance brand, Haier claims to design stylish and innovative fridges at affordable prices. Whether you're looking for a simple and compact design, or a fridge to suit a large household, Haier could have an option for you. Read on for the specs and features of Haier fridges in this Canstar Blue review.
What fridges does Haier offer?
Haier has an extensive range in a variety of shapes and sizes. Its fridges are divided into five different types including:
Bottom Mount Refrigerator
French Door Refrigerator
Side by Side Refrigerator
Top Mount Refrigerator
Vertical Refrigerator
What you will find across a number of Haier fridges is a reversible door, allowing you to change the way the door swings open and full width clear plastic spill proof shelves. In Australia and New Zealand, Haier fridges are backed by a two year warranty.
Haier Bottom Mount Refrigerator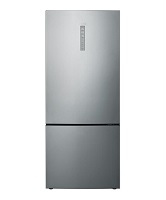 Bottom mount fridges tend to be a popular choice by having the fridge at the top and freezer at the bottom. These are generally found to also be most energy-efficient. There are three size options that Haier offers – 342L, 450L and 517L. One such model is the 450L Haier (HBM450SA1) fridge. It has a 123L freezer capacity and 327L fridge capacity. Its key features include:
External LED display with electronic controls
My Zone, which is an adjustable temperature drawer
Multi directional air flow system, claimed to provide even cooling for optimum food storage
Quick response cooling with Super Freeze function
Humidity controlled Vege bin
It boasts four-star energy efficiency and consumes 335 kWh annually, which could result in electricity costs of around $97 a year, according to the energy rating calculator. Its recommended retail price is $1,049, so it may be a worth investment to consider, giving its high star rating.
Haier French Door Refrigerator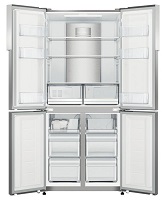 One of the Haier French door models is the 514L Haier (HRF516YS) fridge. It has a 179L freezer capacity and 335L fridge capacity, suited for 2 to 4 people. Several key features include:
Smart Lock door system
Humidity controlled Vege bin
Antibacteria system
External LED display with electronic controls
It's equipped with 6 door shelves and 2 adjustable glass shelves as well as an egg tray, easy access shallow top freezer drawer, double twist ice tray with storage tray and frost free freezer. This model has a 3 star energy rating with an energy use of 477 Kwh, amounting to about $138 of energy per year.
If you're after additional functionality, you may like to consider Haier's 440L (HMD440X) fridge. It features an automatic ice maker and LED display with a child lock feature. It also has a Fuzzy Logic program that is claimed to determine optimum temperature and a multi-directional air flow system to ensure even cooling. It has an additional holiday mode for when you go away and is claimed to be an Eco Friendly R600a Refrigerant. With all these extras, you can expect to pay over $2,000 for this model.
Haier Side-By-Side Refrigerator
For large fridge capacity, Haier's side by side range includes a 604L (HSBS610IS) model. Its key features are:
External LED display with electronic controls
Ice & water dispenser
Crushed and cubed ice
Frost free freezer
This model is claimed to be Eco Friendly R600a refrigerator, similarly to the above French door fridge. It is equipped with a humidity controlled Vege bin, easy slide out fruit and vegetable bin and door alarm. Unfortunately it has a fairly low energy star rating of 2 stars, which could use about $121 of energy per year. However, it certainly does provide a large amount of space, being stated as the true family fridge.
Haier Top Mount Refrigerator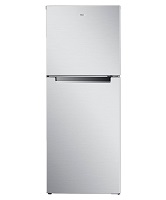 With top mount fridges, there are several models to choose from. The HRF220TW and the HRF220TS fridge, which are the same in size providing 221L capacity but are in two different finish looks – white and Satina – respectively. Both models feature:
Removable fresh food crisper
Slide out chilled storage compartment for easy access
2 Spill-proof safety glass shelves
These two fridges are equipped with reversible doors and come with a 3 star energy rating.
For a top mount fridge with a few extra features, Haier produces the 442L (HRF422TW1) model with 281 fridge capacity and 141 freezer capacity. It features a frost free freezer, multi directional air flow system, humidity controlled crisper and door shelves with a dairy cover. Similarly to the model above, it has a 3 star energy rating and uses 419 Kwh, which can cost about $121 a year in electricity costs.
Haier Vertical Refrigerator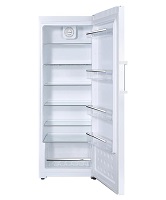 This is a vertical fridge that gives you maximum fridge capacity while minimising on floor space. The Haier 328L (HRF328W2) provides 328L capacity, suitable for 1 – 2 people and comes in a white colour. You can find the following features with this model:
External controlled LCD display with child lock
Antibacteria system
Reversible door
It is claimed to be an Eco Friendly R600a Refrigerator with a 3.5 energy star rating. It uses 204Kwh, which could cost around $59 a year in electricity bills.
You may also be interested in:
Haier Bar Refrigerator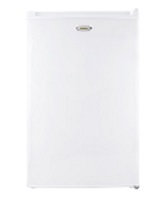 If you are after an additional fridge to entertain, you may opt for the Haier Bar fridge range. The HRZ-60 is 69L capacity fridge that has a 1.5 star energy rating. With 234 Kwh of energy consumption, it could cost you about $67 a year to run. It features an adjustable thermostat as well as a reversible door. Without any extra features, you can expect to pay just over $200 for this compact fridge.
Is a Haier Fridge worth the money?
Haier has a large range of fridges in the mid-price category with the French door style fridges coming in on the highest side of the spectrum. You can expect to pay around $2,000 for those beauties. The top mount and bottom mount fridges sit around $500 to $800, giving a number of options to suit your home and budget.
With a low-end price tag you shouldn't expect too much additional functionality but you may find a number of Haier fridges that rate high on the energy star ratings such as the HBM450SA1 450L bottom mount fridge receiving 4 stars.
While it boasts a new series 'James' named after the fridge pioneer, James Harrison, overall Haier doesn't jam-pack its fridges with a lot of features as it has a large focus on price. If you're after a simple design that gets the job done by keeping your beverages cool during summer, then Haier may have a fridge for you. To see how other Aussies compared a number of fridge brands, check out our online ratings via the link below.
About the author of this page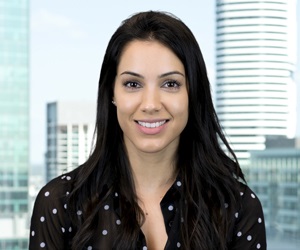 This report was written by Canstar Blue's Home & Lifestyle Content Lead, Megan Birot. She's an expert on household appliances, health & beauty products, as well as all things grocery and shopping. When she's not writing up our research-based ratings reports, Megan spends her time helping consumers make better purchase decisions, whether it's at the supermarket, other retailers, or online, highlighting the best deals and flagging anything you need to be aware of.
What do customers think about Haier Refrigerators?
In 2019, Australian customers gave Haier 3 out of 5 stars for overall customer satisfaction for refrigerators.