Samsung Refrigerators Review
Is your fridge stuffed? Don't let a jam-packed fridge spoil a week's worth of meals, or allow the strong smell of leftover onions from yesterday's barbecue transfer onto everything else. Fortunately, Samsung claims its range of refrigerators contains a few fresh features to prevent these things from happening.
The brand has been a solid performer in our annual customer reviews for fridges, suggesting the company's focus on combining state-of-the-art technology with usability is always well received by consumers. Samsung offers a variety of top mount fridges, bottom mount fridges, side-by-side fridges, and French door fridges.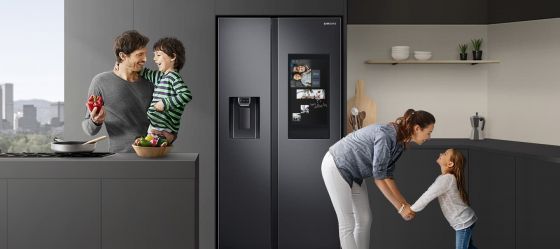 Types of Samsung Refrigerators
Samsung has a wide selection of fridges across a range of different price points, so it might be worth checking out the brand to see if there's a model that's right for you. Fridge styles available from the brand include:
Top mount fridges
Bottom mount fridges
Side-by-side fridges
French door fridges
What makes Samsung fridges different?
If there's one way to describe Samsung's refrigerators, it might be fair to say that each model is seemingly bigger on the inside than it is on the outside. Features like the SpaceMax technology available in some models suggest there's a lot of flexibility when it comes to Samsung fridges.
Here are some things to look out for:
Twin Cooling Plus: apparently prevents odours and airs mixing. This feature is also said to let you independently control each compartment, and switch certain sections on and off when you want.
Convertible smart door: a refrigerator with a convertible smart door usually contains four main compartments. The convertible smart door allows users to adjust the section to four different temperatures, including 'freezer', 'soft freezing', 'chill' and 'cool'.
Family Hub: available on smart fridges like the Samsung (SRF671BFH2), this feature allows you to order groceries, peek inside the fridge without opening the doors and play entertainment.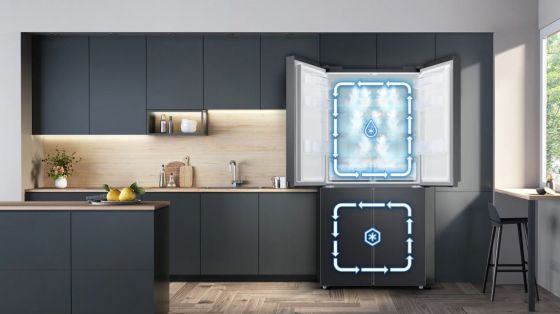 Samsung Top Mount Fridges
If you're not fussed about all the bells and whistles found in many modern refrigerators, consider sticking with the top mount fridge. Unlike side-by-side refrigerators, this type of design is likely to fit in most spaces without much worry. It's also more affordable compared to the rest, with prices under $1,600. This is a fairly low-cost option, especially considering many standard side-by-side fridges cost upwards of $3,000.
A number of available models from Samsung include:
Samsung 270L Top Mount Fridge (SR270MLS): $899 RRP*
Samsung 471L Top Mount Fridge With Twin Cooling Plus (SR471LSTC): $949 RRP*
Samsung 400L Top Mount Fridge With Twin Cooling Plus (SR400LSTC): $1,049 RRP*
Samsung 628L Top Mount Fridge (SR625BLSTC): $1,549 RRP*
Samsung 400L Top Mount Refrigerator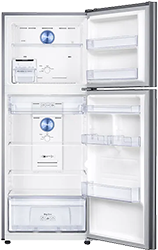 Not keen to splurge on an expensive appliance, but don't want to settle for the cheapest fridge either? Then consider the Samsung 400L Top Mount Refrigerator (SR400LSTC) as a middle ground. It contains a number of features including a stainless steel finish, smart convertible freezer, and separate cooling systems with Twin Cooling. Plus, there's separate storage for meat and seafood to ensure any surf-and-turf is served fresh on your plate.
Some specifications you might want to know:
3.5 star energy rating
285L fridge capacity
115L freezer capacity
If you need more space, the Samsung 525L Top Mount Refrigerator (SR520BLSTC) has similar features but with a larger capacity for $400 more.
Samsung 628L Top Mount Refrigerator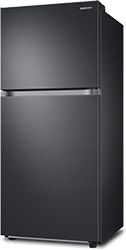 Talk about sleek city, this Samsung 628L Top Mount Refrigerator is stated to seamlessly slide into any modern kitchen with its minimalist black stainless steel finish and flat front. If you want to show the cool appliance off, there's a whopping 628L of capacity to be filled with food and drinks to entertain a crowd. For a little something extra, the Samsung (SR625BLSTC) fridge also has a movable ice maker which can be installed and removed, depending on how much freezer space you need as well as whether you want to make or store ice.
Other features include:
Three refrigerator shelves and one freezer shelf
Twin cooling system
Door alarm
Five modes
This Samsung refrigerator is the most expensive top mount unit by the brand. One of the next pricey items is the Samsung 525L Top Mount Fridge (SR520BLST), which retails for $100 less at $1,449.
Samsung Bottom Mount Fridges
Having trouble reaching your frozen microwave meals at the back of the freezer, even when standing on the tip of your toes? Then consider getting a bottom mount fridge like the Samsung 458L Bottom Mount Fridge (SRL456LS).
These types of fridges are designed to have a freezer on the bottom and a fridge up top. The style might be worth considering if you tend to have trouble accessing the freezer compartment or have little use for the freezer. However, this also means that the size of the freezer may be smaller than in other types of refrigerators such as French door fridges or side-by-side fridges.
When it comes to power, Samsung describes many of its bottom mount refrigerators as energy efficient. But keep in mind the size of the fridge can affect how much energy the appliance consumes. If you have a smaller household containing no more than two people, models with a lower size capacity of up to 380L might be better suited for you. But if you have a family with more than five members, you might want to shop for a true size fridge with at least 500L of capacity.
Some of the models currently available from Samsung include:
Samsung 336L Bottom Mount Refrigerator (SRL334NMB): $1,049 RRP*
Samsung 458L Bottom Mount Refrigerator (SRL456LS): $1,249 RRP*
Samsung 455L Bottom Mount Refrigerator (SRL447DMB): $1,449 RRP*
Samsung 458L Bottom Mount Refrigerator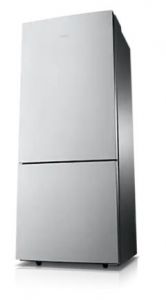 For Samsung, its range of energy-efficient refrigerators tends to come in the form of bottom mount fridges. The Samsung 458L (SRL456LS) unit seems to be a fairly efficient model, boasting a four-star energy efficiency rating. It features a Smart Sensor system to monitor the temperature and humidity level inside the fridge, and even your usage patterns to adjust cooling settings accordingly. This model also comes with corner-to-corner cooling with a multi-flow system, easy slide-out drawers for easy accessibility, four individually adjustable door guards that can conveniently store your eggs, cheese, etc, and a triple foldable shelf.
However, keep in mind that unlike other types of Samsung refrigerators, the brand's collection of bottom mount units is limited in capacity with only 336L, 455L or 458L fridges available.
Samsung 455L Bottom Mount Refrigerator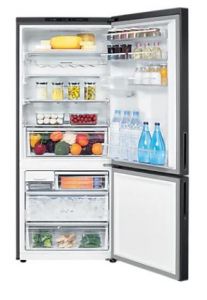 The Smart Sensor system in fridges like the Samsung 455L Bottom Mount is stated to provide a fresh new way of ensuring 'optimal performance'. The technology apparently uses five sensors to monitor the temperature in your kitchen, the humidity level inside the fridge, as well as usage patterns in order to make any adjustments needed to keep your food cool.
The Samsung (SRL447DMB) also has a triple foldable shelf which is designed to give you greater flexibility when storing bulky items. Just fold the shelf back when refrigerating a cake, or fold the shelf in half to fit tall and narrow items like cartons of orange juice. This model also comes with a non-plumbed water dispenser, giving you the convenience to install your fridge anywhere in the kitchen without the hassle of plumbing!
Samsung Side-by-Side Fridges
If your motto in the kitchen is 'go big or go home', consider getting a side-by-side fridge. These are generally designed to have a larger capacity than other types of refrigerators and are recommended for households with at least four people. However, their size can make it difficult to squeeze them into smaller kitchens. Depending on the design of the different compartments, certain models might also have trouble accommodating wider items like platters and pizzas.
However, generous storage capacity comes with huge power consumption, which is probably why these types of refrigerators are said to be better suited for larger households rather than single or two-person households. The cost for a Samsung side-by-side refrigerator is also usually on the higher end of the scale.
Here are a few of the models currently available:
Samsung 696L Side-by-Side Refrigerator (SRS692NMB): $1,549 RRP*
Samsung 676L Side-by-Side Refrigerator (SRS675DLS): $2,099 RRP*
Samsung 621L Side-by-Side Refrigerator (SRS620MDMB): $2,229 RRP*
Samsung 696L Side-by-Side Refrigerator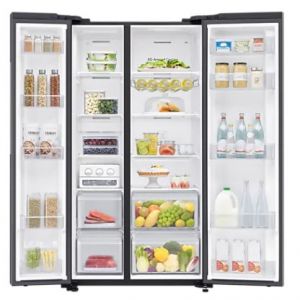 Recommended for large households, the Samsung 696L side-by-side model (SRS692NMB) contains SpaceMax technology to create seemingly more storage space without having to actually expand the external dimensions of the appliance. It achieves this by using a 'minimal amount of high-efficiency insulation' to apparently allow interior walls to be thinner than in other Samsung models without this SpaceMax system.
The Samsung refrigerator also includes all-around cooling technology to help keep your food fresh. Multiple air vents are located on every shelf to spread cool air evenly, claimed to reduce temperature fluctuations and maintain freshness for longer. Other functions include:
Power Cool: blows intensely cold air to quickly cool contents
Power Freeze: provides a fast blast of cold air into the freezer to freeze or firm up frozen foods or make ice
Deodorizing filter: apparently keeps the air clean and preserves the original flavour and aroma of foods. Air is said to continually pass through an activated carbon filter, which is designed to eliminate the need for any other 'odour fighting solutions'.
The Samsung 696L Side-by-Side Refrigerator contains a 431L fridge capacity and 265L freezer capacity.
Samsung 621L Side-by-Side Fridge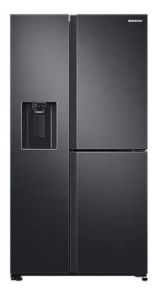 This Samsung fridge (SRS620MDMB) features FlexZone technology which allows you to customise temperature settings in certain parts of the fridge, with four pre-set settings for preserving meats, fruits, and veggies and cooling drinks. It also has all-around cooling to keep your food properly cooled no matter where it's stored in the fridge and a plumbed ice and water dispenser. 
Plus, this model also has SpaceMax technology that uses 'minimal high-efficiency insulation' to keep internal walls thin and give you more fridge space without making the appliance bigger on the outside. You can also expect other standard features like all-around cooling, a plumbed ice and water dispenser, plus more
Samsung French Door Fridges
Looking for a new refrigerator that can store a variety of items and provide an even greater range of features? Consider saying "oui" to Samsung's collection of French door fridges. French door fridges are generally a bit wider than other styles, making them especially helpful when storing platters and cakes.
These units typically have two doors that open outwards, with a separate freezer compartment that pulls out below. The brand similarly has a number of four-door models which contain a convertible 'smart door' that allows the compartment to be used as either a fridge or freezer. This type of design uses three independent cooling systems to apparently ensure 'optimal control' of the temperature and humidity in each compartment.
A few models currently available from Samsung include:
Samsung 495L French Door Refrigerator (SRF5300SD): $1,649 RRP*
Samsung 488L French Door Refrigerator (SRF5700SD): $2,049 RRP*
Samsung 649L French Door Fridge (SRF7100S): $3,049 RRP*
Samsung 648L French Door Fridge (SRF7500SB): $3,899 RRP*
Samsung's French door range also includes a few smart fridges from the brand's Family Hub series. These models allow you to shop, schedule, entertain and plan the day straight from the fridge door.
Samsung 671L Family Hub Refrigerator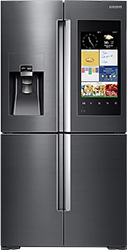 It's not always easy to get kids to willingly eat anything other than lollies and chicken nuggets. But this fridge might be a clever way to get them excited about a variety of dishes, especially since there are more than 180,000 different recipes available on its Recipe App which you can access straight from the fridge door. The Family Hub feature on the Samsung 671L Family Hub Refrigerator (SRF671BFH2) also allows you to order groceries from Woolworths, check what's inside the fridge without opening its doors, leave messages for other family members and organise to-do lists and schedules. You can even play music, movies and show photos.
Some functions include:
Foldable and flip-up shelves
Compatible with SmartThings App
Wi-Fi connectivity
Bluetooth connectivity
To keep things fresh, the large capacity Samsung (SRF671BFH2) features triple cooling technology to apparently maintain temperature and humidity. It's also said to reduce the number of odours being shared inside the fridge. This Samsung French door fridge also contains a metal cooling plate to maintain cool air and freshness.
Samsung 488L French Door Fridge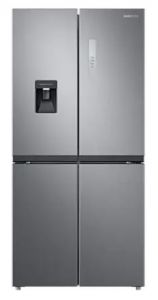 Having trouble reaching for the tub of ice cream behind all the awkwardly stocked frozen vegetables and meats? The French Door design like this Samsung 488L French Door Fridge (SRF5700SD) is said to help you quickly access the contents of your fridge, especially your most reached for items. Larger pots and pans might also be less of a problem due to the dual handle doors, which the brand claims can help you easily access such cookware.
Other useful details about this fridge to keep in mind:
Three-star energy rating
Adjustable shelves
In-built water dispenser (non-plumbed)
Vegetable crisper
Twin Cooling Plus system
The Samsung (SRF5700SD) has a 329L fridge capacity and 159L freezer capacity.
Samsung 649L French Door Refrigerator
This Samsung 649L French Door Refrigerator (SRF7100S) is designed to impress. It has a flat door design, accentuated by recessed handles for the ultimate high-tech look. The recessed handles have an antimicrobial coating, to keep germs and bacteria at bay. The fridge's exterior surfaces also have an anti-fingerprint finish.
This model also has bigger and deeper door bins to easily store big milk and soft drink bottles (2-3L) without crowding out the internal fridge space and a bigger capacity vegetable crisper. Plus, a movable twist ice maker which you can detach and remove at your convenience.
Does Samsung have the best fridge for me?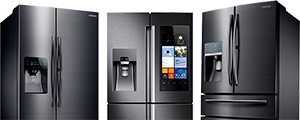 Samsung has a variety of refrigerators to suit a range of taste buds. For those on a tight budget, top mount refrigerators are typically the most affordable and low-cost option. If you're looking for long-term savings, the most energy-efficient type of model is a bottom mount fridge. But keep in mind the size of the fridge plays a major part in how much energy your fridge uses.
Samsung also has you covered in the side-by-side fridge range. Not only are these fridges claimed to be ultra-convenient with larger freezer volumes, but the range is also generally feature-packed and bigger in size. But French door fridges might take the cake when it comes to functionality as these are often stated to be filled with innovative features, as well as offer large capacities.
Overall, Samsung offers a number of different fridges to suit a range of budgets. But if you want the latest technology and features the brand is known for, you might have to cough up a fair bit of money and potentially compromise on energy efficiency. To help you in your search, you may like to check out our consumer reviews and ratings on a variety of fridge brands via the link below.
*Prices taken from Samsung, correct as of July 2021. 
About the author of this page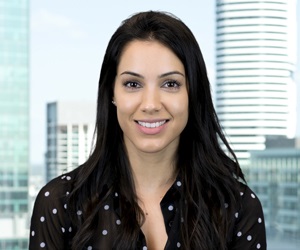 This report was written by Canstar Blue's Home & Lifestyle Content Lead, Megan Birot. She's an expert on household appliances, health & beauty products, as well as all things grocery and shopping. When she's not writing up our research-based ratings reports, Megan spends her time helping consumers make better purchase decisions, whether it's at the supermarket, other retailers, or online, highlighting the best deals and flagging anything you need to be aware of.
What do customers think about Samsung Refrigerators?
In 2020, Australian customers gave Samsung 4 out of 5 stars for overall customer satisfaction for refrigerators.
Samsung Refrigerators
Canstar Blue
Award:
Overall Satisfaction