Fact Checked
Any new, large appliance is going to set you back a bit, but you don't have to spend absolutely all of your hard earned cash when finding the right fridge. Below we break down each fridge type and how much each costs to get you started on your fridge buying journey. 
Types of fridges
There are plenty of fridges to choose from which can make narrowing down the options tough. The different types of fridges include:
Top-mount fridges

Bottom-mount fridges

Side-by-side fridges

French door fridges

Upright fridges

Bar fridges
Top-mount fridges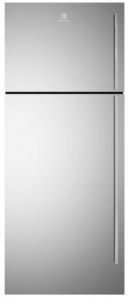 Most top-mount fridges that offer around 400L of capacity can be had for under $1,000, however, larger-sized units are priced $1,000 and up. Some of the cheapest top-mount models cost about $500, while some of the most expensive fridges within this model type cost around $2,000. Nevertheless, size is not the only factor that influences price, with retro top-mount fridges, for example, priced at around $4,000 despite being small in capacity at around 460L.
Top-mount fridge features
Classic top-mount fridges offer plenty of fridge space with generous shelf spacing and have the freezer on top to save your back from bending down into the freezer. They're one of the more basic fridges and don't come with too many added features and tend to be more energy efficient. 
Bottom-mount fridges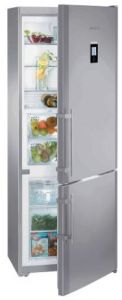 Bottom-mount fridges can cost anything from $500 way up to $10,000. The more expensive models are generally the 'integrated' units that are designed to 'blend in' with your kitchen cupboards. They share many of the same features as a top-mount fridge, simply being the opposite in design with the freezer on the bottom as opposed to the top.
Bottom-mount fridge features
Bottom-mount fridges can be ideal for smaller kitchen space and offer generous freezer space, so if you're a fan of meal prepping this could be the fridge for you. Some models of bottom-mount fridge come with a drink dispenser and some with an ice-maker in the freezer. 
Side-by-side fridges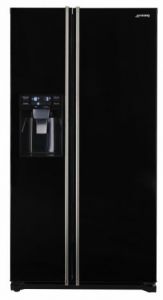 Side-by-side fridges are generally larger than top or bottom mount fridges. These offer 600L and up in terms of their capacity, and in turn you should expect prices from $1,000 and up. Some brands of side-by-side fridges cost more than $10,000 but tend to have more added features, however most side-by-side fridges will only go up to around $5,000.
Sidey-by-side fridge features
Side-by-side fridges make it easy to access both the fridge and freezer offering similar storage space for both. They can be an ideal fridge for larger families looking for that extra freezer room. Some models come with added features like ice-maker and filtered water dispenser. 
French door fridges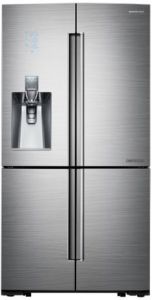 Again, similarly to side by side models, French door fridges offer large capacities. Generally, the smallest you can find is about 500L, so in terms of price, expect $1,000 and up, with the more advanced models can go up to $10,000. These generally offer more than 700L of capacity and include additional features such as Wi-Fi connectivity. 
French door fridge features
Some French door fridges come with added features including an in door viewing window with added storage for drinks and other items. Some models also come with the option for plumbed and non-plumbed filtered water, an ice-maker and are generally fairly energy efficient for their size.  
Upright fridges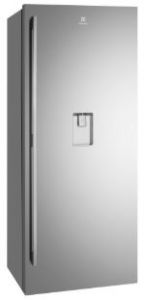 Upright fridges don't have any freezer space and are generally paired with separate upright freezers to offer consumers large capacity. In terms of price, upright fridges cost around $500 to $5,000, depending on the brand and size.
Upright fridge features
Upright fridges are one of the more basic models of fridge and offer few added features. Some models will come with a filtered water tap on the front and they tend to have significantly more storage space than other types of fridge. 
Bar fridges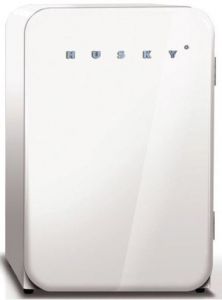 Bar fridges are generally small and portable, and in turn you shouldn't expect to pay the same price as a fully-sized fridge for these. While you can buy a bar fridge for around $200, there are bar fridges that are feature packed and you could be paying more than $1,000 for these. 
Bar fridge features
Bar fridges are a handy companion for entertaining when you need a little extra space to store drinks or even food. They will generally be very compact but still offer generous storage considering their size. 
Purchasing a fridge
When you're looking to purchase a fridge, price plays an important role in how you approach the decision making process. There's plenty to choose from price wise fortunately, meaning you can find a fridge that offers the features you need without breaking the bank. If you're still tossing up fridge types, get started by comparing fridge brands below.
Original Author: Veronika Hleborodova