When it comes to buying a vacuum cleaner, there are many aspects to consider. Whether you're looking at latest features, the noise output, or your budget, there's one other key consideration to keep in mind with vacuums – filtration. 'HEPA' filters in a vacuum cleaner are a necessity if your allergies and asthma are triggered by dust and cleaning. To find out where you can get your hands on a HEPA filter vacuum, read on as Canstar Blue brings you the following guide to HEPA filter vacuum cleaners and how they work.
What is a HEPA vacuum?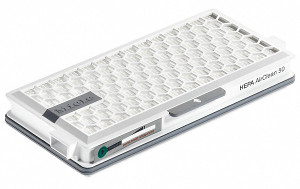 HEPA stands for both 'High-Efficiency Particulate Air' and 'High-Efficiency Particulate Arrestor'. A 'HEPA vacuum' is defined as a vacuum cleaner that's equipped with a HEPA filter for its filtration system.
Why do I need a HEPA air filter?
Filtration in a vacuum is important for hygiene and there a many types of filters available, with HEPA filters being most common. Generally, a filter is used to filter the exhaust air in a vacuum cleaner. It's important you choose a filter that is up to your health standards and requirements, keeping in mind that some entry level vacuums don't feature filtration at all.
HEPA filtration ensures that micro particles are extracted from the exhausted air, meaning you will have cleaner air coming from the vacuum than the air you breathe. If you suffer from asthma and allergies, a HEPA filter might provide some relief.
How do HEPA air filters work?
HEPA filters trap fine particles including pollen, mould spores, pet dander and dust mite faeces, which trigger asthmas and allergy symptoms. A HEPA filter works by forcing air through a fine mesh that helps to trap these pollutants. The vacuum cleaner must have a fully sealed air system for the HEPA filter to be effective.
How often should I replace a HEPA filter?
A number of retailers sell replacement filters for a variety of brands. How often to replace the filter will depend on how often the vacuum cleaner is used. It's suggested that a HEPA filter may last two to three years before it needs changing. Some models such as in the Dyson and Miele ranges boast lifetime filters that won't need replacing.
Where to buy HEPA filter vacuums in Australia?
For a vacuum to be classified as a HEPA vacuum, it must trap particles as small as 0.3 microns in size, 99.97% of the time. Generally this means the vacuum is more costly. You'll also need to consider how often the HEPA filter will require replacements, so check the manufacturer's instructions before you purchase. We list a few brands that offer vacuums with HEPA filters below.
Dyson 164526-01 V8 Animal Handstick Vacuum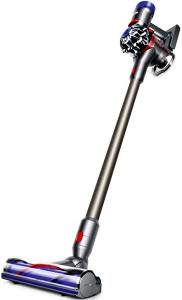 The Dyson HEPA filter is said to provide an extra safeguard for allergy sufferers, trapping microscopic particles down to 1/5,000 of a pinhead. In other words, Dyson claims its vacuum will capture particles smaller than human skin cells, dust mites, and even dust mite excrement… Dyson barrel, upright and compact vacuum cleaners have been approved by the National Asthma Council Australia's Sensitive Choice program – developed to help asthma and allergy sufferers find products ideal for their lifestyle.
The Dyson V8 is boasted for deep carpet cleaning, capturing allergens and expelling cleaner air. It's also designed for all floor types with up to 40 minutes of suction power. It has a total weight of 2.55kg and its direct-drive cleaner head is stated to drive bristles deep into the carpet to extract any ground-in dirt. In addition, you'll find extra tools for homes with pets.
Miele 10502200 CX1 Blizzard Excellence PowerLine Vacuum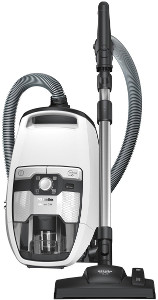 While it seems all Miele vacuums are designed with the HEPA AirClean exhaust filter, the CX1 Blizzard Excellence PowerLine Vacuum in particular is boasted for a few additional features to help keep the air clean. Miele's Vortex technology is stated to provide air flow of more than 100 km/h, ensuring coarse and fine dust is collected "perfectly". It also provides a 10m operating radius.
The model is boasted for hygienic emptying with an innovative dust separation system that allows to empty coarse soiling and fine dust separately without unsettling the dust. In addition, the dust container can be removed with a simple motion – pull the dust container upwards and press the release button to empty the contents from the bottom into the waste bin. Emptying is particularly hygienic as no direct contact is made with the dust, according to Miele. You'll find an integrated three-piece accessory set included for a variety of cleaning tasks.
Electrolux ZPF2310T PowerForce Animal All Floors Vacuum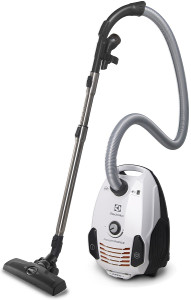 Designed for both hard floors and carpet, the Electrolux 2000W Animal vacuum comes with two 3.5L dust bags. While bagless vacuums are now dominating the market, a benefit of dust bags is that they're generally less messy when it comes to emptying – all you need to do is pop the whole bag in the bin. The ZPF2310T model is equipped with a washable HEPA filtration system, so you won't have to replace it as often. When changing the dust bag or filter, the complete top cover of the PowerForce can be opened to 180° for easy access.
Other features include a Power Pro System boasted for a combination of an efficient motor and DustPro nozzle to help deliver efficient results. The DustPro nozzle is stated to ensure the vacuum has a quiet operation without compromising on performance. It comes with three tools in total – brush, crevice nozzle and upholstery tool – and has a lightweight design for moveability with a total weight of 4.46kg.
Vax VX54 Dynamo Power Total Home Barrel Vacuum Cleaner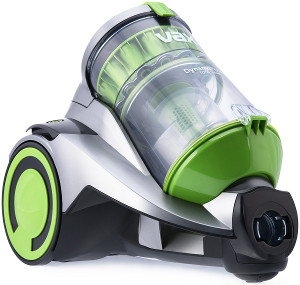 Along with Vax HEPA Filter upright vacuums, the brand's barrel options are also equipped with the same filtration. The Vax VX54 Dynamo model (pictured) features a 6m cord, Cyclonic Technology and 1600W of power. It weighs 8.2kg but is equipped with wheels for easy movability.
As another option, you might also like to consider Vax VX72 Power 7 Pet Barrel vacuum ($249RRP). It's equipped with an antibacterial HEPA filter stated to reduce the growth of bacteria and the presence of allergens and pet-related odours. You'll also find a turbo brush for picking up pet hair from all kinds of surfaces, including stairs, upholstery and car seats. It's slightly lighter than the VX54, coming in at 5.9kg and boasts an 8m cord length with 2400W of power.
Volta UVE4120FL Sierra Bagless Pet PLUS Vacuum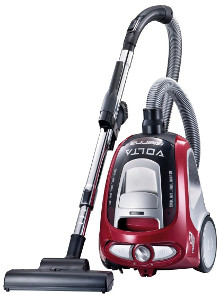 Volta has a fairly concise range of vacuum cleaners and some come equipped with HEPA filtration. The Volta UVE4120FL Sierra model has a bagless design and features three tools – pet turbo nozzle, combination nozzle and hard floor nozzle. It's boasted for cyclonic action and pet hair removal.
It's quite common for pet hair vacuums to feature HEPA filtration, including with this Volta model. It's recommended the HEPA filter is inspected every two months and cleaned when visibly dirty or replaced if damaged. In terms or weight, the UVE4120FL model sits in the middle ground at about 6.5kg. You'll find a two year warranty on the Volta Sierra vacuum for peace of mind.
Should I buy a vacuum with a HEPA filter?
Having asthma provides a great excuse not to do the dirty work! But if you want to do the vacuuming and avoid any nasty reactions, a HEPA filter vacuum should help by reducing the number of microscopic allergens emitted during vacuuming. Finding one that fits within the budget might be a consideration as some of these models come at a high price. While standard filtration is naturally less expensive, it might not be suitable for those who are sensitive to dust.
There are other long-term solutions you might consider such as having carpets professionally cleaned on a regular basis or having a carpet-free home. To see how Australian consumers rated some of the brands mentioned in this guide, follow the link below to our vacuum cleaner ratings.