If you're ahem, vertically challenged, or have burnt yourself more times than you can count hunching over your pulldown oven door (we've all been there), it may be worth investing in a side-opening oven. Many appliance brands now offer this concept, which is also particularly beneficial if you're in a wheelchair or suffer from back pain.
So, what are the main benefits of side-opening ovens? What are the recommended models? And, should you consider getting one? Canstar Blue has the lowdown.
What is a side-opening oven?
As the name suggests, a side-opening oven is just that – a unit featuring a swinging door (left or right) – as opposed to a pulldown door typical of a standard oven. They work exactly the same way and have the same features and functions as any normal gas oven or electric oven, with the main advantage being that they offer easier access directly into your oven, with doors that open to 180 degrees.
Side-opening ovens − pros & cons
| | |
| --- | --- |
| Pros | Cons |
| Oven door handle at waist level (as opposed to chest level) | Not suitable for all kitchen layouts (depending on door position) |
| No leaning over the oven door (can reduce risk of accidentally burning yourself) | Not recommended for households with small children (oven door more accessible) |
| More accessible for people in wheelchairs and under a certain height | Can let more heat escape when door is open compared to a traditional oven |
| Easier to transfer hot dishes from oven to bench | Not as readily available as ovens with pulldown doors |
General guide only
What are the best side-opening ovens?
Not all oven manufacturers offer side-opening ovens, which makes them somewhat of a rare find, alongside French door ovens (with double side-opening doors). With that being said, there are a couple of leading brands such as Bosch, Westinghouse and others, that offer some affordable models. Here's a round-up of some recommended models available.
Everdure 60cm Side-Opening Built-In Oven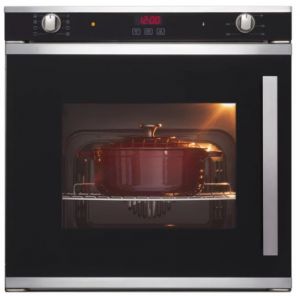 This spacious 73L Everdure oven (OBES678) from Bunnings has a side-opening door, which can be reversed to suit your specific needs and a triple glazed construction to keep it cool to touch, even when cooking up a storm. It also comes with a knob control and LCD display, and five shelf positions. This side-opening electric oven, is one of the cheapest around, retailing under $1,000, which is not too shabby for such a large model.
Other specs include:
Auto-off timer
Fan forced function
Glass and stainless-steel finish
One oven light
RRP: $829*

Omega 60cm Electric Built-In Oven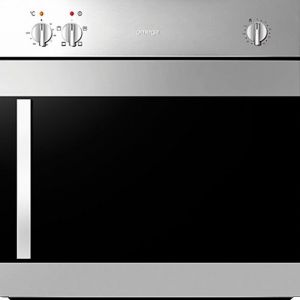 This Omega oven (OO65SXR) comes with a reversible side-opening door, to suit your specific kitchen layout. It's equipped with five cooking functions, including a grill mode, an easy set-and-forget timer that will automatically turn off your oven when your food is ready, and a large viewing window with a double glazed door.
Other specs include:
58L capacity
Five shelf heights with wire racks
120-min manual timer
Forced airflow door cooling
RRP: $999*

Artusi 60cm Maximus Series Electric Built-In Oven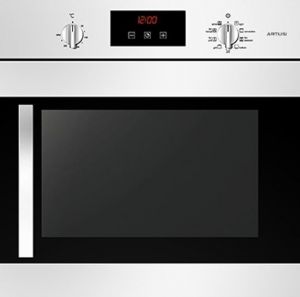 This Artusi built-in oven (AOS652X) with reversible side-opening door (defaulted right-hinged door) is another budget-friendly option, retailing at just $1,319. This model features nine cooking functions, including top and bottom heating, as well as half grill, a digital timer with touch controls, chrome wire shelves and an 'EVER-Clean' enamel interior stated to minimise grease stains.
Other features include:
Five shelf positions
Temperature controls from 0°C – 250°C
Built-in, under-bench or wall installation
Tangential fan ventilation
RRP: $1,319*

Westinghouse 60cm Electric Built-In Oven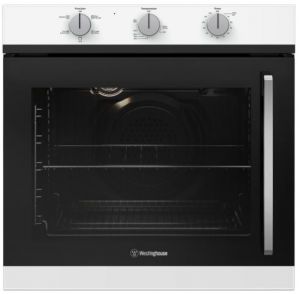 This 80L Westinghouse oven (WVES613WC-L) with a multi-glazed left hinge side-opening door, comes with all your standard oven functions, including control dials at the top for setting your oven temperature and the timer, and multiple cooking modes including fan grill, fan forced and defrost. The multi-layered glazing of the door is also stated to help lock heat within the oven more efficiently and has a cool-to-touch surface for added safety.
Other specs include:
Five 'easy glide' side racks
Fingerprint resistant stainless-steel finish
Two-hour auto-off timer
Control knobs
RRP: $1,449*

Bosch Single Wall Oven 30-inch Door Hinge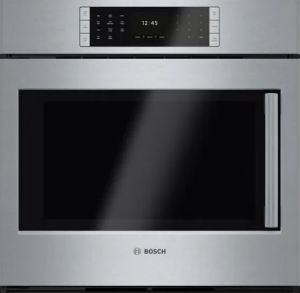 This Bosch convection wall oven (HBLP451LUC) features a left side-opening door and full-extension telescopic rack for a smooth glide and better access to the oven cavity. It comes with a high-res TFT user interface, with SteelTouch buttons for easier operation, 14 specialised cooking modes, custom cooking programs like no-preheat frozen food mode or pizza mode, a two-hour self-clean cycle, plus more.
Other features include:
Timer with cook time and delay start function
European convection for even baking results on multiple racks
Fast pre-heat time
AutoProbe function
RRP: $3,199*

You may also be interested in:
Is a side-opening oven worth it?
A side-opening oven is worthwhile for households who have a family member with a disability or for short people. The biggest advantage of this type of oven is that it removes the need to hunch over the oven door when you need to check on your roast or rotate a tray, because the door opens sideways like a microwave. A side-opening oven also makes removing your food a tad safer, as you don't have to lift heavy dishes over a hot oven door.
*Prices taken from respective retailers, correct as of January 2021.
Picture credits: Monkey Business Images/Shutterstock.com.