Microwaves are a staple in the modern day kitchen, allowing families to quickly cook or heat up meals in minutes, keeping everyone happy around meal times. But with the variety now available on the market, finding one that will suit your family, your budget, and your kitchen, can become quite a task.
With design being a big influence on which products consumers buy, more households are turning to stainless steel products for their kitchen aesthetic. With the sleek looks and its ability to complement any colour scheme, stainless steel has been a popular option for appliances.
But with popularity comes options, as more and more brands look to venture into the stainless steel segment, making the task of choosing an appliance that much more difficult. Despite this, with a bit of research, you should be able to find a model that will suit your needs. Here is a guide to stainless steel microwaves available to buy in Australia.
Stainless Steel Microwaves
Breville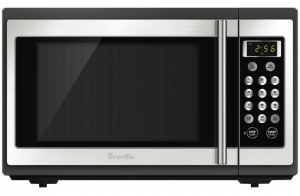 Creator of the classic sandwich toaster, Australian brand Breville has been a household name for kitchen appliances since the 1930s, helping families fit out their kitchens with the latest goods. Nowadays, the company still offers a wide range of kitchen appliances, including coffee makers, waffle makers and of course, microwave ovens.
Offering a wide range of models, including a variety of capacities and functions, Breville will likely have a model for you regardless of how much you plan on using your microwave. If you're after a stainless steel model however, the options become a bit limited, with the glossy finish not available on all models.
The most popular stainless steel model – the BMO300 – contains a 34L capacity as well as an 1100W output, ensuring your meals are heated in no time. Additional features include a child safety lock, as well as up to nine auto cook menus.
Breville microwaves also come with a 12 month warranty
Samsung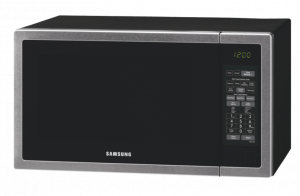 A company big on electronics, Samsung has made a name for itself within the home appliance market, helping consumers fit out every room in the house. The Korean company offers a wide variety of kitchen appliances, including a number of stainless microwave models.
Reasonably priced, a Samsung microwave will set you back a few hundred dollars, depending on which model and capacity you decide on. Capacities range from 28L to 40L, suiting those after big meal sizes.
Most models will include functions such as the Soften/Melt, which can allow you to soften butter or chocolate for that culinary touch. Other functions include a power defrost, for defrosting frozen food quicker, as well automatic humidity sensors and adjustments.
All Samsung stainless steel models come with a ceramic enamel interior to protect from bacteria
Sharp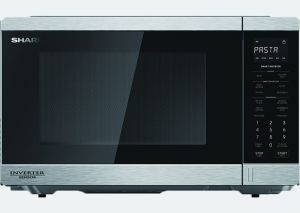 Another company big on home appliances, Sharp has been a recognised kitchen brand for years, offering all types of goods for consumers to use. Sharp's range of microwave ovens will certainly give you plenty of choice, although its stainless steel range isn't as expansive.
Similar to its traditional microwaves, Sharp offers over twenty auto menu options for different meals, as well as a child lock feature to ensure your family stays safe. Other additional features include the Smart Inverter Technology, which allows for a more controlled cooking temperature, as well as a humidity sensor, which ensures that food isn't under or overcooked.
All Sharp microwaves come with a 12 month warranty
Panasonic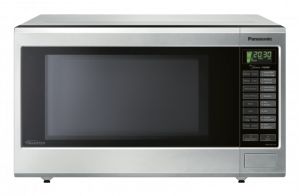 Another home appliance giant, Panasonic provides a large assortment of microwaves, from traditional models to microwave ovens. Included in the range is the stainless steel variety, with consumers having plenty to choose from.
Priced around $200-$300, the stainless steel Panasonic models offer a variety of functions, including a flatbed design for larger meals, as well as Turbo Defrosting for when you're in a rush. Most models have over 1000W power, which will suit most households for all their cooking needs.
Stainless steel models include the SD38, SF5 and ST67, all of which come with a 12 month warranty
LG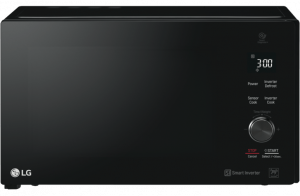 Another giant of the appliance market, LG offers multiple stainless steel microwaves to suit all budgets and usage, with small 20L microwaves all the way up to 42L for all household types. With the cheapest model available on its website for only $159, LG is a viable option for those with a tight budget, or those after a quick and easy replacement.
LG's stainless steel range also includes the NeoChef model, which includes convection and oven options for those after something a bit more. While a tad more expensive than other brands, LG appears to have what consumers want, with the variety allowing you to find the best fit for your household.
LG's most expensive stainless steel model, the 42L NeoChef model, will set you back around $350
Is a stainless steel microwave worth the money?
With the kitchen often a hub of household activity, it's important to have appliances that are both easy on the eye, as well as tough enough to handle the meal time rush. Kitchens are also one of the biggest selling points when it comes to putting your house on the market, so aesthetics is also important to consider when it comes to which appliances you fill your kitchen with.
When it comes to aesthetics, stainless steel appliances are many people's go-to option, with the sleek and shiny look slotting in nicely with any colour scheme or design. From a functionality perspective, stainless steel products generally offer a longer lifespan, saving you money in the long run, despite a larger upfront cost. As the name suggests, stainless steel models are also easier to clean and don't stain like traditional ceramic models.
Ultimately, which products you fill your kitchen with will be a personal choice, with space, lighting and design all influencing what you buy. With a wide range of microwaves on offer, it is easy to be overwhelmed, so it's best to do your research before stepping into a store to ensure you get the best deal, as well as the best product.