Fact Checked
Microwaves are a staple in the modern-day kitchen, allowing families to quickly cook or heat up meals in minutes, keeping everyone happy around meal times. But with the variety now available on the market, finding one that will suit your family, your budget and your kitchen can become quite a task. With design being a big influence on which products consumers buy, more households are turning to stainless steel products to improve their kitchen aesthetic. Learn all you need to know about stainless steel microwaves with this Canstar Blue guide.

What is a stainless steel microwave?
Stainless steel microwaves feature an exterior made of – you guessed it – stainless steel. These appliances will do the same job as a regular microwave, with some minor bonuses. From a functionality perspective, stainless steel products generally offer a longer lifespan, saving you money in the long run, despite a larger upfront cost. Stainless steel models are also easier to clean and don't stain like traditional ceramic microwaves. When it comes to kitchen aesthetics, stainless steel appliances are many people's go-to option, with the sleek and shiny look slotting in nicely with any colour scheme or design.
Stainless steel microwaves
A number of brands offer stainless steel microwaves in Australia. This includes Breville, Samsung, Sharp, Panasonic and LG.
Breville stainless steel microwaves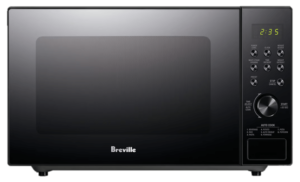 Creator of the classic sandwich toaster, Australian brand Breville has been a household name for kitchen appliances since the 1930s, helping families fit out their kitchens with the latest goods. Nowadays, the company still offers a wide range of kitchen appliances, including coffee makers, waffle makers and of course, microwaves.
The Breville Silhouette Flatbed Compact Microwave features a classic stainless steel finish. This model hosts a smart flatbed design to fit large dishes, eight auto cook menu options, a capacity of 20L and six power levels. This microwave will cost you around $200.
Samsung stainless steel microwaves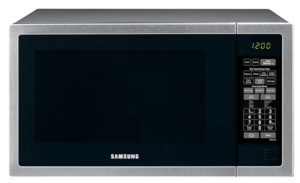 A company big on electronics, Samsung has made a name for itself within the home appliance market, helping consumers fit out every room in the house. The Korean company offers a wide variety of kitchen appliances, including a number of stainless steel microwave models.
The Samsung 40L Microwave features a stainless steel design that'll make your kitchen pop. This model also hosts an easy to clean ceramic inside, a power defrost mode, up to 16 pre-programmed recipes and a keep warm function. This model will set you back around $330.
Sharp stainless steel microwaves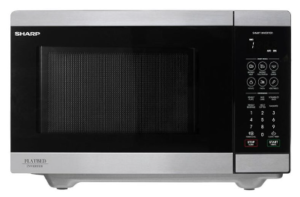 Another company big on home appliances, Sharp has been a recognised kitchen brand for years, offering all types of goods for consumers to use. Sharp's range of microwave ovens will certainly give you plenty of choice, with multiple stainless steel options on offer.
The Sharp 26L Flatbed Inverter Microwave hosts a sleek stainless steel exterior. This model is equipped with an LED display, 11 power levels that automatically adjust to optimise the heating process, 23 auto menus and a child lock. This model will cost you around $340.
Panasonic stainless steel microwaves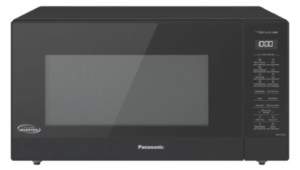 Another home appliance giant, Panasonic provides a large assortment of microwaves, from traditional models to microwave ovens. Included in the range is the stainless steel variety, with consumers having plenty to choose from.
The Panasonic 44L Inverter Microwave is designed with a stylish stainless steel finish to improve the aesthetics of your kitchen. This model hosts 18 auto menu options, precise power control, a simple add time button and sensor operation. This model will cost you around $450.
LG stainless steel microwaves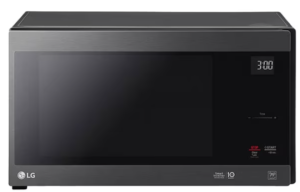 Another giant of the appliance market, LG offers multiple stainless steel microwaves to suit all budgets and usage, with small 20L microwaves all the way up to 42L for all household types.
LG's 42L NeoChef Smart Inverter Microwave features a sleek black stainless steel design. This microwave is also equipped with easy touch controls, a tempered glass door, an LED display, easy clean coating and a child lock. This model will cost you around $370.
How much does a stainless steel microwave cost?
The price of a stainless steel microwave depends heavily on design, size, brand, and any additional features. Cheaper models will cost you around $90, while more expensive options may cost more than $1,600.
Purchasing a stainless steel microwave
With the kitchen often a hub of household activity, it's important to have appliances that are both easy on the eye, as well as tough enough to handle the meal time rush. A stainless steel microwave may be just the appliance to tick all these boxes. Ultimately, which products you fill your kitchen with will be a personal choice, with space, lighting and design all influencing what you buy. With a wide range of microwaves on offer, it is easy to be overwhelmed, so it's best to do your research before stepping into a store to ensure you get the best deal, as well as the best product. Check out Canstar Blue's best-rated microwaves to help you decide which model is the best fit for your kitchen.