Fact Checked
Electrolux still sweeping Aussies off their feet in stick vacuum review
Getting tangled in a never-ending fight between long strands of hair and a weak vacuum with about five minutes of power? Or maybe your four-legged friend can't help but constantly bring the outdoors, indoors. We know a barrel vacuum isn't always the lightest and most convenient solution to cleaning the house, while a handheld option isn't always up for the fight. That's where stick vacuum cleaners come in handy. They're cordless, lightweight and can powerful enough for most tasks. But which handstick sucks the most, in the best way possible?
To get the dirt, we asked more than 1,100 Aussies for their feedback on the stick vacuum cleaner they've bought and used in the last three years. Respondents rated brands on their effectiveness of clean, quietness, battery life, ease of use, ease of emptying, ease of storage, value for money and overall satisfaction. Manufacturers that received the minimum survey sample size of 30 responses are rated and compared in this year's ratings.
Electrolux dusted off the spring-cleaning season as the best-rated brand in Canstar Blue's stick vacuum review for the second year in a row. It achieved five stars for most areas, including overall satisfaction!
Best Stick Vacuums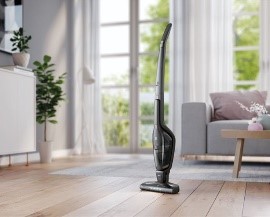 Here are the best stick vacuum cleaners in Australia, as rated by consumers in Canstar Blue's 2021 review:
Electrolux
LG
Bosch
Black & Decker
Dyson
Hoover
Kogan
Vax
Kmart
Electrolux mopped up the competition after rating best in six out of eight categories, namely, battery life, ease of use and empty, ease of storage, value for money and overall satisfaction. The majority of brands landed on a solid four stars for overall customer satisfaction, while Kogan, Vax and Kmart each ended on three stars overall.
But it was LG that shined when it came to effectiveness, rating best with the only five-star review for the category. Bosch similarly took the lead for quietness and achieved extra full marks for battery life.
What is a stick vacuum cleaner?
A stick vacuum is an upright vacuum that can operate either cordless or corded. Unlike corded models, cordless vacuums can only run for a certain amount of time before it needs to recharge. It comes with a variety of removable attachments, which you can switch between depending on the type of surface you need to clean. 
A handstick is a sleeker, lighter and more convenient alternative to the traditional barrel vacuum. It's also the more powerful and technologically 'advanced' sibling to the small, handheld vacuum cleaner. What makes stick vacuums popular is their multifunctionality. These can be easily converted from a full-size upright cordless vacuum to a compact handheld model, by switching out the main floor head for any of the accessories. Some brands now also offer stick vacuums with mopping functionality, adding even more versatility.
Handstick vacuums usually weigh just under the 4kg mark, and typically provide between 30 to 60 minutes' worth of runtime. If you have a small house, you might be able to get away with doing a full clean on a single charge (including any upholstery). Otherwise, stick vacuums can be especially handy for dealing with pet hair and hard-to-reach areas. The cordless, bagless and lightweight build also means stick vacs don't need much storage space and are very easy to move around between rooms.
How much do stick vacuum cleaners cost?
Handstick vacuum cleaners can cost anywhere between $100 and $1,400, depending on the model and brand. Since most handstick vacuum cleaners are less powerful than traditional barrel or upright vacuum cleaners, it's no surprise that they're cheaper in most cases.
Our research shows Aussies spend an average of $503 on a new stick vacuum cleaner, typically after having kept their previous model for around six years. How does this compare to what's on the shelves? To help you decide which stick vac may be best suited to your home and budget, here is a look at the best-rated brands included in our ratings.
Best Cordless Vacuum Cleaners
Electrolux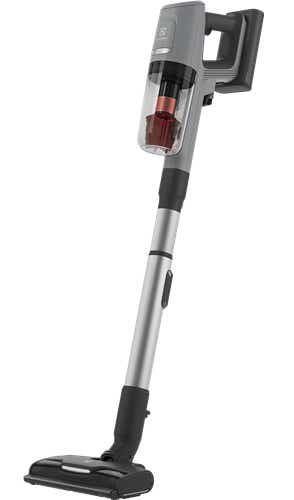 From refrigerators to washing machines, Electrolux is a high-profile appliance brand with an eye-catching range of gadgets to fill the home. Its list of cordless vacuum cleaners is no exception, especially with the brand's handsticks typically selling for around $440 to $700 in Australia. Although some of its vacuums are heavier compared to other options on the market, including the Electrolux Pure F9 Animal Vacuum Cleaner that weighs 8.4kg.
Some Electrolux stick vacuums include:
Electrolux Well Q7 Cordless Vacuum Cleaner (WQ71-PSOIB): $439
Electrolux Well Q7 Animal Cordless Vacuum Cleaner (WQ71-ANIMA): $499 RRP*
Electrolux Pure Q9 Cordless Vacuum (PQ92-3PGF): $749 RRP*
Electrolux's stick vacuum range is packed with plenty of nifty features, such as a self-standing design, a FlexLift sliding mechanism to help clean under low furniture, floor nozzle lights to light up dark hard-to-reach areas, five-step filtration and a washable filter. You can also expect accessories like the three-in-one nozzle that's designed to pick up hair, dust and dirt from upholstery, as well as the PowerPro fluffy nozzle that's made for hard floors and contains plush edges to ensure gentle cleaning and supposedly even provides a polishing effect. Keep in mind that the availability of these features and attachments varies between different models.
Certain Electrolux stick vacuums are also tailored to suit specific household needs, such as cleaning pet hair and dealing with allergy triggers. The brand's cordless vacuum range is generally suitable for tiles, carpets and hard floors.
Electrolux came out best with five-star reviews for ease of use, ease of emptying, ease of storage, battery life, value for money and overall satisfaction. It achieved four stars for effectiveness of clean and quietness.
LG

'Life's good' with a clean house, which is why South Korean tech and home appliances giant LG has a few cordless handsticks up its sleeve. Prices for LG stick vacuums usually start from $569 for a standard model and reach up to $1,299 for handsticks with a mopping functionality, dual PowerPack to get double the runtime (two hours), and thumb-touch control. Some models add extra versatility with attachments like the Power Drive Mop to vacuum and mop simultaneously, Multi Surface Nozzle, Bedding Power Punch for bedding and soft surfaces, Power Drive Mini to clean pet hair and a Slim Power Drive Nozzle for tricky areas. Cordless vacuums with a Power Drive Nozzle also usually contain a direct drive motor, which apparently rotates the roller as it vacuums to better pick up particles.
LG's stick vacuum range includes:
LG Powerful Cordless Handstick with AEROSCIENCE Technology (A9N-PRIME): $799 RRP*
LG CordZero A9 Handstick Vacuum with All-In-One Tower (A9T-ULTRA): $1,919 RRP*
LG Powerful Cordless Handstick with Power Drive Mop and Kompressor Technology (A9K-PRO): $1,199 RRP*
If you're searching for a cordless stick vacuum cleaner with convenient features, there are a few tempting functions. The adjustable telescopic pipe is one of them, allowing you to choose between four different lengths, for a more comfortable experience. Other useful things to look out for include removable and washable filters, and LG's five-step filtration system that captures and deposits particles differently based on the size.
LG sucked in consumers when it came to effectiveness, cleaning up with the most effective stick vacuum range after earning five stars for the category. It also achieved a respectable four stars for value for money, battery life, overall satisfaction and everywhere else.
Bosch

Drilling into the world of household appliances, Bosch extends its popular power tool range to offer a wide variety of household appliances. The brand has a handful of cordless vacuum cleaners costing between $239 and $549, catering towards those on a budget, as well as shoppers looking for a higher-end model. What makes Bosch stand out is the extra-long runtime it provides in some of its cordless vacuum cleaners.
Some of the Bosch stick vacuums currently available include:
Bosch Serie 2 Readyy'y 2-in-1 Rechargeable Stick Vacuum Cleaner (BCHF220GAU): $289 RRP*
Bosch Serie 6 Rechargeable Stick Cordless Vacuum Cleaner (BCS61113AU): $479 RRP*
Bosch Athlet ProAnimal Vacuum Cleaner (BCH6ZOOAU): $529 RRP*
The Bosch Athlet Rechargeable Vacuum Cleaner is stated to give 75 minutes' worth of cleaning time, which is a few handy minutes more than what most stick vacuum cleaners offer. Other unique features include the SmartSensor Control function, and EasyClean System which apparently makes cleaning tangled hair from the brush roll easier. You can also find a shoulder strap and suction hose with certain models to make vacuuming a little less uncomfortable when working on upholstery and reaching into corners and tight spaces.
Bosch was rated best for quietness and achieved an additional five-star review for battery life. It also achieved four stars in the remaining categories, including overall satisfaction and value for money.
Black & Decker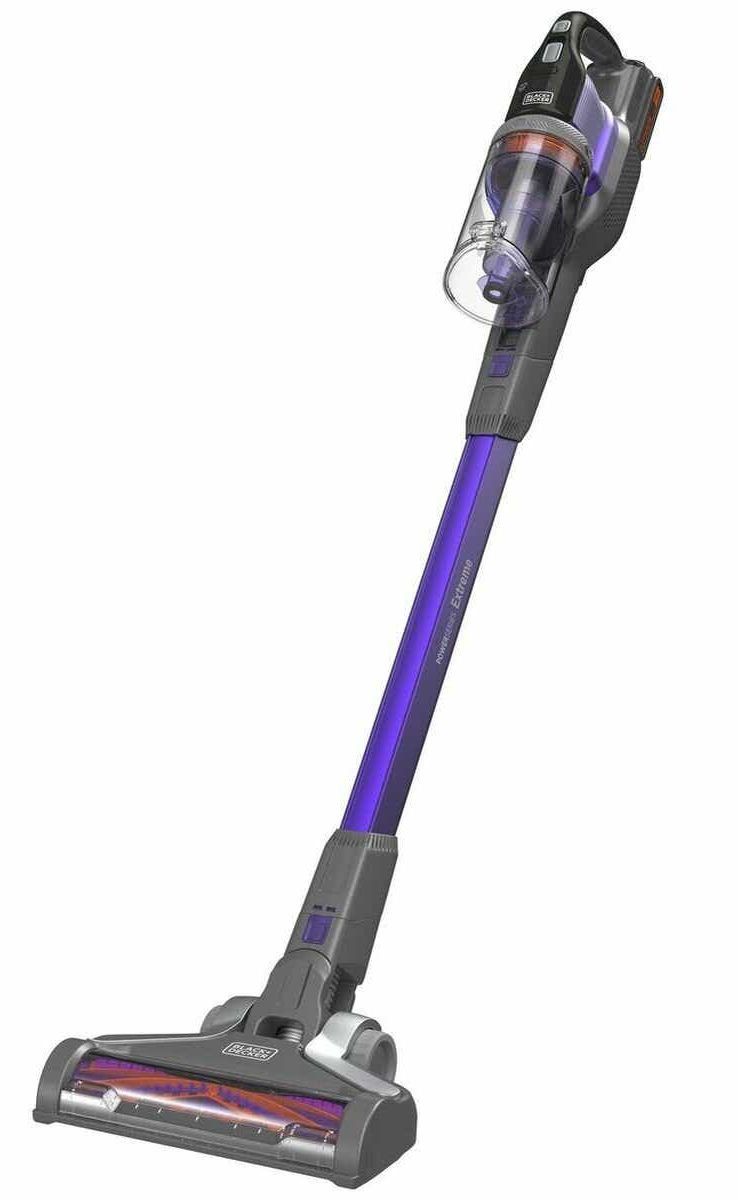 Black & Decker may be a giant in the world of power tools, but it's also a popular pick for vacuums. For allergy and hayfever sufferers, as well as anyone with pets, the brand offers stick vacs containing dual HEPA filtration which supposedly traps 99.92% of fine particles. There are additionally other cordless vacuums that have removable and washable filters. Plus, if you have a larger house or need a long-lasting vacuum, most Black & Decker stick vacs have a 60-minute runtime.
Here's a sample selection of the cordless vacuum cleaners you can get from Black & Decker:
Black & Decker 18V 3-in-1 Cordless Stick Vacuum (BHFE520J-XE): $149 RRP*
Black & Decker 2-in-1 Pet Stick Vacuum Cleaner (BHFEV182CP-XE): $180 RRP*
Black & Decker 18V 4-in-1 Cordless PowerSeries Extreme Pet Vacuum Cleaner (BHFEV182CP-XE): $230 RRP*
Black & Decker also puts a slight twist on the stick vac by allowing users to remove a smaller, lightweight handheld vacuum from certain cordless vacs.  This is a pretty unique alternative to the usual option of detaching and re-attaching different accessories to the main unit.
Black & Decker achieved a slick four-star review across the board, including effectiveness of clean, battery life, value for money and overall satisfaction.
Dyson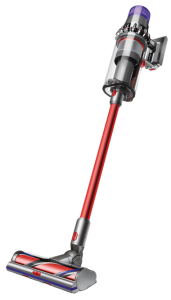 Dyson is another major household name when it comes to appliances, and is often a popular pick for vacuum cleaners. The Dyson V15 Detect particularly stands out with its laser feature that detects and illuminates particles to show you where to clean. For everything else, the brand's entire cordless stick vacuum range shares many of the same features, such as powerful suction and a hygienic bin emptying system. Other functions like whole-machine filtration and a large dustbin capacity are also common.
Here are a few cordless stick vacuums currently available from Dyson:
Dyson V8 Animal Vacuum: $799 RRP*
Dyson V11 Dyson Animal Vacuum: $1,199 RRP*
Dyson V12 Detected Slim Absolute Extra: $1,349 RRP*
But be prepared to pay top dollar for Dyson's handstick vacuums. The cheapest Dyson cordless stick vac is $799 for the Dyson V8 Animal Vacuum and goes up to $1,499 for the V15 Detect Total Clean. Its Omni-glide and Light Ball Multi Floor+ models additionally retail around $400 to $650.
Dyson picked up four stars for most research areas, such as effectiveness, ease of use and overall satisfaction. It scored three stars for battery life, quietness and value for money.
Hoover

Hoover is one of the few names synonymous with vacuum cleaners. But compared to other heavyweight brands, the American manufacturer sells its popular range of stick vacs at budget-friendly prices. Hoover's cordless vacuums generally cost anywhere between the $200 mark and reach up to just under $600. This makes it one of the most affordable stick vacuum brands on the market.
Some of the cordless vacuum cleaners currently available from Hoover include:
Hoover Heritage Stick Vacuum Cleaner: $199 RRP*
Hoover Zenith Stick Vacuum Cleaner: $399 RRP*
Hoover Vortex Pro Stick Vacuum Cleaner: $599 RRP*
If you suffer from allergies, Hoover offers a few vacuum cleaners approved by the Sensitive Choice program. But none of these are currently cordless vacuums. Instead, you can opt for anti-allergy models like the Hoover Ultra Power Sick Vacuum ($299 RRP*) which contains HEPA filtration.
Hoover maintained four stars for most factors, such as battery life, ease of storage, ease of emptying and overall satisfaction. It got three stars for quietness and effectiveness.
Kogan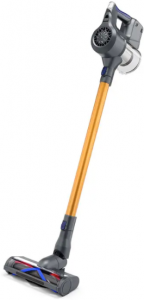 Online retailer Kogan sells pretty much anything and everything under the sun, including its own cheaper versions of various appliances. Prices for Kogan's cordless and corded vacuum cleaners typically start from just under $100 for a 600W corded model and can go towards $300 for some of the brand's more 'advanced' models, or $599.99 for the Kogan Z11 Pro Cordless Stick Vacuum Cleaner. But it's worth keeping in mind that Kogan is usually offering plenty of sales on its own branded range of vacuums, with free shipping also available for some products or Kogan First members.
A few Kogan stick vacuum cleaners currently available include:
Kogan MX8 Pet Cordless Stick Vaccum Cleaner: $169 RRP*
Kogan T10 Total Pro Cordless Stick Vacuum Cleaner: $499.99 RRP*
Kogan Mx11 Total Pro Cordless Stick Vacuum Cleaner: $819.99 RRP*
Kogan stick vacuums come with the usual features you would expect from a handstick, such as a HEPA filter, dual suction modes, 60-minute runtime capacity and a dustbin capacity of just under 1L. Some models also include additional accessories.
Kogan scored four stars for value for money and three stars everywhere else, such as effectiveness of clean, battery life, ease of use and overall satisfaction.
Vax

Plenty of brands claim to provide a list of vacuum cleaners that can help easily tackle animal hair. But Vax is one of the few brands to cater a large chunk of its range to cleaning up after your four-legged friends, with most of its cordless vacuums designed for pets. One of the standout features is the Smart Control, which is said to give you a more efficient way of cleaning by displaying exactly how much power you have left. Another key function in some models is the Helix Technology, which the brand claims use a horizontal cyclone design to make sure the stick vacuum is still performing at its best whenever you're cleaning in high or low places.
Here are a few handsticks you can get from Vax:
Vax Reach Cordless Stick Vacuum Cleaner (VX92): $169 RRP*
Vax Blade Cordless Handstick Vacuum Cleaner (VX60): $259 RRP*
Vax Blade Pet Pro Cordless Handstick Vacuum Cleaner (VX63): $309 RRP*
Vax's stick vacuum cleaners usually cost around the $200-$300 mark, making its range among the cheapest cordless vacuums on the market.
Vax was rated a solid three stars across all research categories, including effectiveness, battery life, ease of use and emptying, ease of storage, quietness, value for money and overall satisfaction.
Kmart

The cheap and cheerful department store specialising in homewares has a couple of budget-friendly cordless vacuum cleaners to pick from. But, as with many inexpensive appliances, don't expect Kmart's cheaper vacuums to provide the same power, runtime or accessories as higher-end models. The cheapest Kmart cordless stick vacuum comes just under $70 and packs up to 40 minutes' of runtime, and contains a 0.5L bin capacity and 75W worth of power. But what makes it stand out from other stick vacuums is its foldable handle, which can be handy if you're short on space. The Kmart 2-in-1 Cordless Stick Vacuum is suitable for carpets, hard floors, stairs and upholstery.
Other cordless stick vacuums currently available from Kmart include:
Kmart Cordless Stick Cleaner (Black): $99 RRP*
Kmart 2-in-1 Vacuum & Steam Cleaner: $119 RRP*
Kmart Cordless Stick Cleaner: $149 RRP*
For a few extra bucks, the Kmart Cordless Stick Cleaner features a 200W brushless motor, motorised floor head with LED lights and packs a little more stamina with a 50-minute maximum runtime. It also provides two speed settings as well as a HEPA filter and metal mesh filter.
Kmart polished off the scores with three stars in all areas, such as effectiveness, battery life, ease of use, quietness and overall satisfaction.
Other stick vacuum cleaners
The brands mentioned above aren't the only manufacturers worth considering. Here are a couple more popular options you might want to check out.
Samsung

Samsung is another South Korean heavyweight dominating the tech world. Its high-end stick vacuum range is currently made up of several 'Jet' models, retailing between $450 and $1,300. One of the main features that are hard to ignore is the HEPA filtration system claimed to capture up to 99.99% of micro dust particles. The Jet Cyclone technology is also boasted for its ability to work at full power throughout the whole clean, while the Digital Inverter Motor is said to offer 200W of suction power on a variety of surfaces.
The cheapest Samsung stick vacuum is stated to provide a 40-minute runtime, while the more expensive models can last up to one hour, according to the brand.
Here are a few Samsung stick vacuums currently available:
Samsung Jet Stick Vac Turbo (VS70): $699 RRP*
Samsung Jet Stick Vac Turbo with Spinning Sweeper Tool (VS90): $999 RRP*
Samsung Bespoke Jet Pro Extra Stick Vacuum Cleaner (VS20A95973B): $1,299 RRP*
Bissell

For another budget-friendly stick vacuum range, Bissell sells a few low to mid-range options to choose from. If you're a pet owner, the Pet Eraser Slim ($399 RRP*) is a fairly affordable cordless vac with a 30-minute maximum runtime. It features an Easy Empty Dirt Tank with CleanSlide Technology, which is claimed to help control dust and dander when you empty the dustbin (so you don't need to re-clean everything you've just vacuumed up!). It also comes with accessories to vacuum upholstery, stairs and other soft surfaces.
A few Bissell stick vacs to expect include:
Bissell AirRam Cordless Upright Bagless Vacuum (2167): $449 RRP*
Bissell ICON EDGE Cordless Vacuum (2953F): $649 RRP*
Bissell CrossWave Cordless (2588F): $659 RRP*
ALDI

While not available all year round, ALDI's stick vacuums do make an appearance from time to time in the supermarket's Special Buys. The previous ALDI 2-in-1 builds its major functions into the detachable handheld unit, so you can either use it as a small handheld vacuum or locked into the stick frame to cover more ground. It offers up to 28 minutes of runtime and requires five hours to fully recharge.
The handle can be folded to help reach underneath furniture, using a rolling hinge so it's not as awkward to vacuum up the dust bunnies underneath the couch. It's also equipped with a headlight to illuminate the path so you can see if you've missed anything under the couch and can swivel 180⁰ to get in around the chair legs. Activating the turbo function provides an additional power boost for when you've got some difficult tasks at hand.
Aussies' vacuuming habits
Tidying up the house might not be the most fun activity, but how are Aussie households maintaining their home?
Interestingly, it turns out that nearly half (44%) of our survey respondents own more than one vacuum cleaner at home. Our research also reveals that the majority of people vacuum every few days (39%) or weekly (29%), with more households making it a daily habit compared to last year (23%, up from 16%). Plus, a whopping 58% make sure to regularly clean the filter of their vacuum. Check out our graph for other interesting facts!
Stick vacuum cleaners – what's in the box?

Example of Anko Cordless Stick Vacuum from Kmart.
A stick vacuum is convenient and easy to use, but you'll have to put it together first! The specific parts and accessories you get will depend on the brand and product you buy. But as a general guide, here are the bits and bobs you can expect in the box:
Motorised floor head
The motorised floor head, sometimes also referred to as the 'power nozzle', is the main tool that picks up particles from the floor. It generally features a rotating roller brush, which can be removed for easy cleaning.
Accessories
To help keep the accessories all in one place, some brands include a tool holder or a storage compartment that can be attached to the vacuum. This makes it easier to make sure you don't lose your tools.
Tool holder
To help keep the accessories all in one place, some brands include a tool holder or a storage compartment that can be attached to the vacuum. This makes it easier to make sure you don't lose your tools.
Extension tube
The extension tube is what connects the floor head with the vacuum body and dust bin. Some brands feature extendable extension tubes, to offer greater flexibility and reach.
Wall mount
For easy storage, most brands will include a wall mount or docking station. For wall mounts, you're typically supplied with screws, allowing you to install the mount on the wall at a height most suitable for you. You can then hang the vacuum cleaner when not in use.
Battery charger
When the battery runs flat, you'll need to use the battery charger to plug in the vacuum. It generally plugs into the body of the vacuum where the battery pack is situated. Some brands might also refer to this as the 'docking station' or 'charging station'.
Vacuum body
This is where the motor is situated, providing you with the power to vacuum your house. According to various brands, the more advanced the motor, the better the vacuum.
Dust bin
Depending on the model, dust bins come in a variety of sizes and designs. This part of the vacuum might also feature various filters.
Battery pack
The battery pack typically slides into the bottom of the vacuum body. Some battery packs will feature an indicator light to show when the battery is fully charged. Some brands offer two battery packs with their vacuums allowing you to charge one while vacuuming with the other.
6 things to consider when choosing a stick vacuum cleaner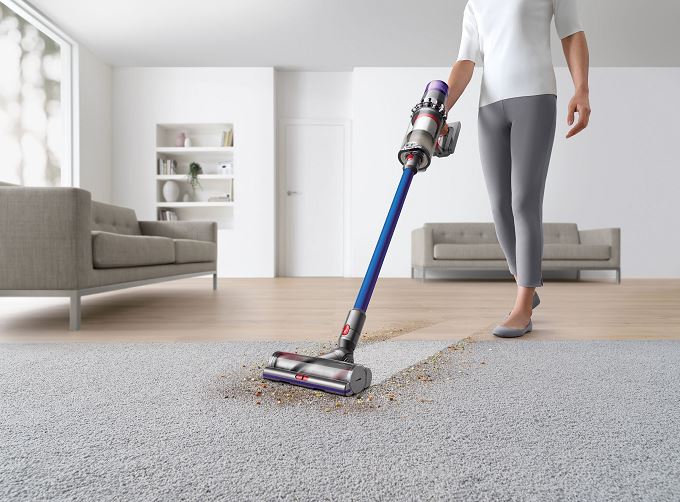 Before settling on a stick vacuum cleaner, there are a few factors to take into account. Here's what you should consider:
Budget
Type of floor surface
Weight
Battery
Noise
Ratings and reviews
Budget
Ideally, it may be worthwhile to invest in a higher-end model rather than a cheap fix. Lower-priced stick vacs typically don't last as long as traditional vacuum cleaners, whether it's runtime or the actual longevity of the appliance. So, you could end up having to replace the stick vac every couple of years or so.
Type of floor surface
Not all cordless vacuum cleaners are made equal. Some models are made specifically for carpets, while others are only suitable for stairs and hardwood floors. Although plenty of new cordless vacuums are designed to cover all bases. If the stick vac isn't compatible on a particular surface, it won't perform as well and will result in dirt and debris being left behind. For the best results, ensure that the model you buy is fit for your home.
Weight
Since these are handheld appliances, you need to keep in mind that you'll be carrying your stick vacuum around the house instead of dragging it along the floor like a barrel vacuum. That's why it's important to check the weight of the handstick, preferably by trying it on at the store or comparing it with an item of similar weight. Some of the lightest models can weigh as little as 2kg or slightly less. Although, getting a heavier vac could be a good workout!
Battery
For the sake of convenience, most handstick vacuums are cordless. This means you'll want to keep the vacuum battery life in mind. Batteries should last for a few years of average use, unless you plan on vacuuming a lot. But eventually, they will lose their ability to hold a charge. Once the battery dies, it's sometimes cheaper to just replace the vacuum itself. So, make sure you check the warranty on the battery before you purchase. Also, consider how long the battery will last for every use – this tends to be up to around 30 to 50 minutes at a time.
Noise
Being smaller and less powerful than upright vacuums doesn't mean that handstick vacuums are that much quieter. If noise bothers you when you're vacuuming, then you should look for a model with a lower decibel rating.
Ratings & Reviews
This goes without saying, but you'll generally have to take what brands say about their stick vacuums with a grain (or more) of salt. Checking reviews online, and even asking friends and family about the brands and handsticks they use, can be a good way to gauge whether or not a product performs up to standard and suits your needs.
6 special features to look for in a stick vacuum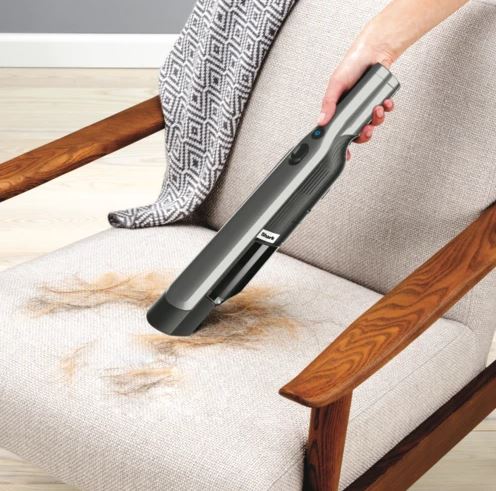 In addition to the considerations listed above, there are plenty of different features that some of the more advanced stick vacuum cleaners come with. Depending on your needs, you might want to consider some of the following common features.
On/off switch: This might seem fairly obvious, but a lot of models require you to hold a trigger to keep sucking, which can be a bit of a strain on the old fingers. An on/off switch makes continuous operation considerably easier, especially if you're a regular cleaner.
Wall mountable charging dock: While the stick part of the vacuum requires a battery, the handheld part is often chargeable. A docking station will keep the vacuum fully charged for when you need it, and some mounted bases can even keep all of your other accessories in one place as well.
Pet hair functions: Standard tools that come with a handstick are crevice and dusting brush tools, but there are other attachable parts built for specific cleaning purposes. The most commonly used is a pet hairbrush. Pet hair is particularly difficult to get out, and you can never really be rid of it entirely, but a pet hair attachment will do a fine job in cleaning up after your furry housemate.
Fallout flap: A fallout flap prevents dirt from falling out of the back of the vacuum when you carry it with the nozzle facing downwards.
Filters: Most vacuum cleaner models come with a filter to sort through dust particles. These filters should be easy to remove, replace and clean when necessary. Some models also come with HEPA filtration, which is ideal if you're sensitive to allergy triggers like dust or pollen.
Wet and dry capabilities: Not all models are suited to sucking up liquids. But the ones that do can typically store a relatively small amount (150ml), which makes them better suited for cleaning up small spills. But make sure to clean the built-in bin and filter after the handstick finishes drinking up the liquid, and don't fill it past the indicated level.
Are stick vacuums worth it?
Stick vacuums are worth buying if you have spaces that are hard to reach, or you just don't like to lug a big vacuum cleaner around. Although the cordless version might be the more useful alternative. After all, cordless stick vacs are largely popular due to the fact they can be used around the home without having to drag a heavy cable and don't need to be used near a power outlet.
Some cordless vacuums also come with a mopping function, making them even more convenient. However, if you need particularly strong suction power, one in three (30%) people surveyed said their stick vacuum doesn't pick up everything or need to make multiple attempts to get all the dirt. If you have a large home, you will also need to opt for a stick vac with a longer runtime. Luckily, most stick vacuums now usually offer 60 minutes' worth of cleaning time (as long as you're not using the highest suction setting).
If you're in the market for a new vacuum cleaner, whether it's a stick vacuum or not, consider checking out our ratings for guidance.
About the author of this page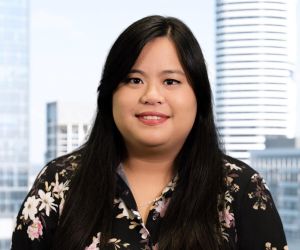 This report was written by Canstar Blue's home & lifestyle journalist, Tahnee-Jae Lopez-Vito. She's an expert on household appliances, grooming products and all things grocery and shopping. In addition to translating our expert research into consumer-friendly ratings reports, Tahnee spends her time helping consumers make better-informed purchase decisions on all manner of consumer goods and services, while highlighting the best deals and anything you need to be aware of.
Prices are taken from respective retailers, Godfreys, Appliances Online, correct as of January 2022. 
Picture credit: Lazy_Bear / Shutterstock.com