AGL Electric Vehicle Subscription wins Canstar Blue Innovation Award
The electric vehicle (EV) market is gaining serious attention as more and more motorists ditch fuel for electricity. And it's easy to see why. Instead of filling up at the petrol station, EV owners can recharge by simply plugging in at home, reducing their carbon footprint, while also having a car that's potentially cheaper to run and maintain. Yet, owning an electric car does seem to come at a higher upfront cost than its petrol-powered counterpart, which may indicate why many are still a little hesitant to plug in. But like all problems, a solution is only around the corner, which is exactly what AGL Energy is offering prospective customers.
AGL's Electric Vehicle Subscription has driven away with this year's Canstar Blue Innovation Excellence Award, an accolade it claimed last year for its electric vehicle plan. This award uses our sophisticated rating methodology where winners have been scored based on a range of factors, including how unique the product or service is, and how disruptive it is. Other factors considered are affordability, ease of use and what impact the product has on the average Australian consumer.
What is the AGL Electric Vehicle Subscription?
The AGL Electric Vehicle Subscription claims to be the first electric vehicle with a subscription model available in the Australian market. With this product, AGL provides a full service offering allowing customers to drive away with an EV for a fixed weekly cost. The price of subscription covers the car, charger, insurance, roadside assist and maintenance.
By offering a subscription-based product, AGL states it facilitates the benefits of owning an electric vehicle without the high upfront costs. The subscription only has a one-month commitment, with the ability to switch vehicles every six months. The target market for this product could be early adopters of EVs who are environmentally conscious of greener technology that's capable of powering their car. AGL's EV Subscription could suit working professionals who are looking to get behind an EV but aren't committed to paying a premium price for one.
The full terms and conditions of this product can be viewed on the AGL website.
AGL Electric Vehicle Subscription Prices
AGL currently offers six different electric cars to choose, prices of which are listed below:
| Electric Vehicle | Month to month weekly cost | 3 month weekly cost | 6 month weekly cost | 12 month weekly cost |
| --- | --- | --- | --- | --- |
| Ioniq, Leaf and MG eZS | $289 | $275 | $260 | $235 |
| Outlander PHEV | $319 | $305 | $290 | $270 |
| Kona | $349 | $335 | $320 | $300 |
| Tesla Model 3 | $489 | $470 | $450 | $420 |
Accurate as of May 2021.
Why do we like the AGL Electric Vehicle Subscription?
This product is the first electric vehicle plan with a subscription model to market in Australia. It facilitates the benefits of an EV without the high upfront cost. Customers are also not locked into earlier generations of EV technology, with the ability to switch vehicles every six months. It gives the target market a way to contribute to a greener transport future with a simple weekly subscription and minimum hassle.
According to AGL, customers will see a price reduction every 12 months. In comparison to other novated lease plans in market, AGL's EV Subscription includes an exhaustive list of built-in features, including the car, comprehensive car insurance, 24/7 roadside assistance, standard maintenance, installation of the charger, an option to change EVs every six months and carbon offset energy at no extra charge.
In terms of its impact, the AGL EV Subscription is the first model to give consumers flexibility around no being locked into a contract or lease. This plan also has no cancellation fees if the product has been held for more than six months. This full-service proposition from AGL is only offered in Brisbane, Melbourne and Sydney.
Does AGL offer energy plans for EV owners?
In addition to offering customers an electric vehicle subscription, AGL also provides specific energy plans for EV owners, with $60 in credits up for grabs each time a quarterly bill rolls around. These bill credits are ongoing for one or two years, depending on the state, with rates fixed during these benefit periods. The AGL Electric Vehicle plan is only available in New South Wales, Victoria, Queensland and South Australia. Check out prices below.
Here is AGL's Electric Vehicle Plan on our database that includes a link to the retailer's website for further details. This is a product from a referral partner†. These costs are based on the Citipower network in Melbourne but prices may vary depending on your circumstances. This comparison assumes general energy usage of 4000kWh/year for a residential customer on a single rate tariff. Please use our comparison tool for a specific comparison in your area. Our database may not cover all deals in your area. As always, check all details of any plan directly with the retailer before making a purchase decision.
What are our Innovation Excellence Awards?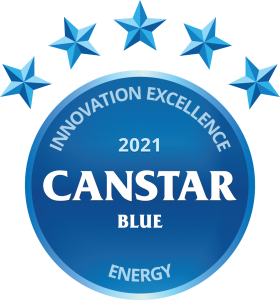 Canstar Blue's Innovation Excellence Awards involve our expert rating methodology, unique to Canstar, which compares submissions we receive from energy providers throughout Australia. Canstar Blue's Innovation Excellence Award winners represent a selected group of innovative products within the Energy industry over the most recent year which have all been reviewed, assessed and ranked based on the degree of innovation and impact it could have on consumers.
Innovation Awards Methodology available on request.