AGL Electric Vehicle Plan: Canstar Blue Innovation Award Winner
One day in the near future, the electric car will simply be… the car. The transition from fuel to electric gathers pace every year and consumers have some serious adjustments to make. Along this road they will require support and innovative products from service providers, including energy retailers. That's why Canstar Blue's Innovation Excellence Awards judging panel was so impressed with AGL's Electric Vehicle (EV) plan.
What is the AGL Electric Vehicle plan?
The AGL Electric Vehicle plan is an electricity product exclusively available to residential customers who own an electric vehicle (EV). Available in New South Wales, Victoria, south east Queensland and South Australia, the plan provides market-leading, low electricity usage rates that deliver some of the biggest savings compared to the Reference Price in each state.
The low usage rates apply throughout the day, rather than at off-peak times only, meaning customers can benefit from cheap rates for all electricity consumption at home, not just for their electric vehicle. Crucially, this means households have the flexibility and convenience of being able to charge their car with the lowest rates the plan provides at any time of day, not just overnight.
The plan is packed with additional benefits, including fixed rates and up to $480 in bonus credit over two years, plus there's no lock-in contract. Customers can also collect flybuys points when they pay their bills on time, while AGL will also pay for participation in its Future Forests program, whereby customers can offset 100% of their household's electricity carbon emissions.
It comes with flexible, monthly billing options, 24/7 customer support and is available to households with any meter type, not just smart meters. No dedicated EV charger is required.
To access the plan, customers need to supply their electric vehicle model and registration number.
Why do we like the AGL Electric Vehicle plan?
The AGL Electric Vehicle plan is incredibly price-competitive, but it's the flexibility and convenience the plan provides that truly makes it stand out. Being able to charge your car at the lowest rates available at any time of the day is a huge bonus to EV owners, as is the fact that the low rates apply to all household energy usage. Other electric vehicle plans have only provided a dedicated tariff with low overnight rates for charging, also requiring the household to have a smart metre installed.
"This is not the first electric vehicle plan to launch to market, but it's reasonable to suggest it is the most widely available and convenient in that the only prerequisite is owning an electric car," said Canstar Blue Editor-in-Chief, Simon Downes.
"It's the type of power plan that allows electric vehicle owners to make the most out of their investment while taking the pressure off EV running costs. Given it promotes the use of electric vehicles and customers can offset 100% of their carbon emissions through the Future Forests program, this could reasonably be considered as green an energy plan as you can get.
"With very competitive, fixed rates and bonus credit, the AGL Electric Vehicle plan is not just a gimmick, it's a serious energy product that will be hard to beat. AGL has set the bar high in competing with other retailers to attract the growing number of EV owners, which bodes well for consumers."
AGL Electric Vehicle Plan Prices
Here is AGL's Electric Vehicle Plan on our database that includes a link to the retailer's website for further details. This is a product from a referral partner†. These costs are based on the Citipower network in Melbourne but prices may vary depending on your circumstances. This comparison assumes general energy usage of 4000kWh/year for a residential customer on a single rate tariff. Please use our comparison tool for a specific comparison in your area. Our database may not cover all deals in your area. As always, check all details of any plan directly with the retailer before making a purchase decision.
What are our Innovation Excellence Awards?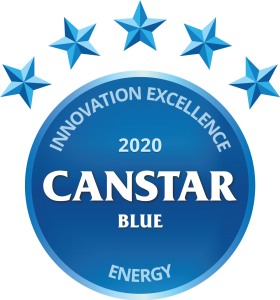 Canstar Blue's Innovation Excellence Awards involve a sophisticated rating methodology, unique to Canstar, which compares submissions we receive from Telecommunications and Energy institutions throughout Australia. Canstar Blue's Innovation Excellence Award winners represent a selected group of innovative products within the Energy and Telecommunications industries over the most recent year which have all been reviewed, assessed and ranked based on the degree of innovation and impact it could have on consumers.
See here for our Innovation Awards Methodology.