Fact Checked
Everyone loves chocolate but there are some ways to enjoy it that are a little more fun, like using a chocolate fondue machine! It's not only a good excuse to scoff down melted chocolate by the spoonful, but it also allows for adding other ingredients like fruits and nuts into the mix, for something good in your naughty treat. If you're sold on snapping up a cheeky chocolate fondue set, but don't want to break the bank, we've rounded up some of the best budget-friendly options for you below.
What is a chocolate fondue set?
Chocolate fondue is a way of enjoying melted chocolate with a number of additional foods like fruit, nuts, biscuits and more. You either melt the chocolate beforehand and place it in the machine, or put it straight into the machine, then using skewers, dip foods into the melted chocolate to enjoy.
How much do chocolate fondue sets cost?
Chocolate fondue sets range in price from around $20 to upwards of $100 depending on the brand and what type of machine it is. Cheaper brands will use a tea light candle to keep the chocolate warm but require you to have melted it beforehand, while other brands have internal heating elements to keep it melted. 
Who sells chocolate fondue stes?
Brands that sell chocolate fondue sets include Kmart, Swissmar and Kogan. You can buy the sets direct from the brand or from retailers like The Good Guys. 
Kmart Chocolate Fondue Set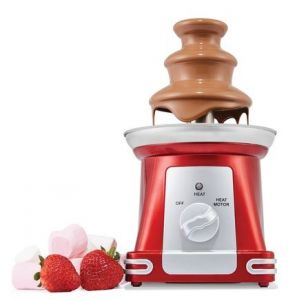 Like Cadbury Caramilk and cherry Coke, this Kmart Anko chocolate fountain can be hard to find. While only available seasonally at the department store or online, this three-tier model is easy to use featuring only an off and 'heat' switch to create a cascade of melting chocolate to impress all your guests. It looks ideal for dipping strawberries, marshmallows, and anything else you could want dipped in chocolate. This model features a heat motor to keep your mixture at optimal temperature, and was previously sold at Kmart for around $25.
Swissmar Chocolate Fondue Set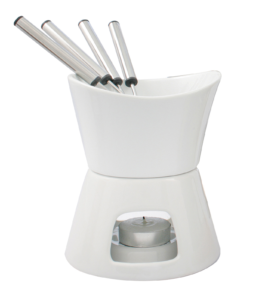 Swissmar offers a number of chocolate fondue sets ranging in price from around $20 to $60. It's ideal for making chocolate dipping sauce. Just put some chopped chocolate in a bowl over boiling water, then pour your chocolate into the fondue bowl to keep it warm and melted all throughout dessert with the low heat flame of the lighted candle. Some models also have a small tealight candle to keep the chocolate at a heated temperature to dip food into. 
Kogan Chocolate Fondue Set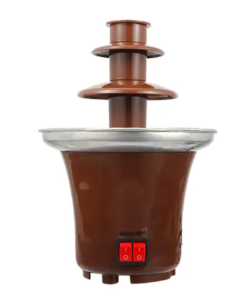 If you want delicious chocolate that's ready in minutes and that stays hot and gooey, this three-tier tower features a heated base to keep chocolate at the perfect flow temperature. It can be used to dip strawberries, bananas, pineapple, marshmallows – the list goes on. It also comes with a dishwasher-safe plastic tower top shelf for easy cleaning. It retails for around $40 and is available on the Kogan website.
Purchasing a chocolate fondue set
There are plenty of chocolate fondue sets to choose from all with very similar functions. Whether you want something that will electronically keep the chocolate melted or after something that can be used quickly to dip some fruit into, you're sure to find something. If you're still not sold on a chocolate fondue set but sold on the chocolate, compare chocolate brands below.