San Remo rated numero uno in fresh pasta ratings
Fresh pasta is 'pastably' one of the best dinnertime meals out there! Whether you prefer a spinach ravioli, farfalle or beef lasagne, it's never too hard to find a recipe that will please the whole family. This is perhaps the reason half of our survey respondents (49%) dish up a pasta at least once a week. But, with so many different varieties of the fresh stuff available, how do you find a type of pasta and brand that will tick all your boxes?
For our inaugural fresh pasta review, we asked more than 300 Aussie consumers to rate different packaged pastas they've purchased from a supermarket or grocer and consumed in the last three months. Brands which met the minimum required survey sample size (of 30 responses) were included in the final results, compared on their taste, texture, variety, value for money and overall satisfaction.
So, what did we find? Our 2020 fresh pasta review featured three brands, but only one was rated numero uno – San Remo! The brand scored five-star ratings in all five research categories.
Best Fresh Pasta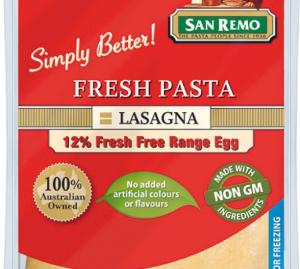 Here are the best fresh pasta brands in Australia, as rated by consumers in Canstar Blue's latest review:
San Remo
Latina Fresh
Coles
San Remo was rated best for fresh pasta, achieving five stars in a clean sweep across the board for taste, texture, variety, value for money and overall satisfaction. Notably, Coles also notched up a five-star win in the value for money category, but only received three stars for its taste and overall satisfaction. On the other hand, Latina Fresh fared relatively well in the taste stakes with four stars and earned top marks for texture.
Fresh Pasta Brands
San Remo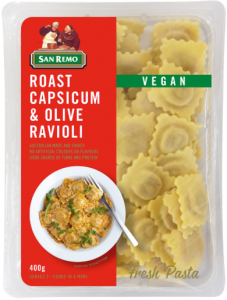 San Remo is one of the leading pasta brands in Australia. Its fresh pasta products are made from 100% Australian durum wheat and contain free-range eggs, with no artificial flavours or colours. The brand offers a wide assortment of fresh pastas, including gnocchi, fettuccini and ravioli, as well as some vegan options. Here is a product selection from San Remo's fresh pasta range:
San Remo Fresh Fettuccine
San Remo Fresh Gnocchi
San Remo Fresh Vegan Roast Capsicum & Olive Ravioli
San Remo Fresh Pappardelle
Prices for San Remo fresh pasta start from $4.50 for 500g in most supermarkets.
San Remo 'pasta the test' as Aussie consumers' favourite brand of fresh pasta, scoring five stars across the board and claiming the top spot for overall satisfaction.
Latina Fresh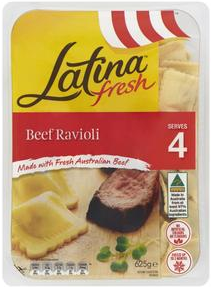 Latina Fresh is said to have started in Melbourne in the 1980s from humble beginnings and quickly grew to become one of Australia's most renowned producers of chilled pasta products, sauces and ready-to-eat meals. The brand's mission is to share simple, fresh inspiration, starting with what's on the table. Here are a few products in the Latina Fresh pasta range:
Latina Fresh Veal Tortellini
Latina Fresh Egg Fettuccine
Latina Fresh Agnolotti Spinach & Ricotta
Latina Fresh Ravioli Roast Chicken & Garlic Ratings
Latina Fresh Kids Cheese & Vegetable Mini Ravioli
Prices for Latina Fresh pasta products start from $4 for 625g in most supermarkets.
Latina Fresh scored five stars in the texture stakes and four stars in the remaining categories, including value for money and overall satisfaction.
Coles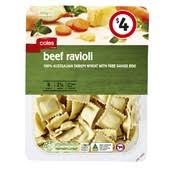 Coles own brand is the supermarket's line of 'essentials' for your home and kitchen. The private label offers a modest variety of fresh pasta products, including some organic options at affordable prices, compared to big-name brands. Here is a sample selection from the range:
Coles Beef Ravioli Pasta
Coles Ricotta & Spinach Agnolotti Pasta
Coles Lasagne Sheets
Coles Potato Gnocchi
Coles Veal Tortellini Pasta
Prices for Coles' fresh pasta products start from $4 for 600g.
Coles brand was rated five stars in the bang for your buck category, but scored only three stars for taste and overall satisfaction.
Which fresh pasta should I buy?
There are dozens of fresh pasta varieties to choose from, but ultimately your choice will depend on what you plan to dish up. Fresh pasta is made from a dough of eggs and flour which gets kneaded and rolled until it's as thin or thick as desired. It then gets cut into strands of different widths to make different pastas like fettuccine or lasagne, or gets stuffed into tortellini and ravioli. So, choose your recipe and move forth.
In terms of pasta constituency, our survey found the majority of shoppers (76%) favour traditional wheat pasta over wholemeal or gluten-free alternatives. Texture is also important, which was the second biggest driver of satisfaction among consumers surveyed, while value for money seemed to be the number one consideration for most.
About the author of this page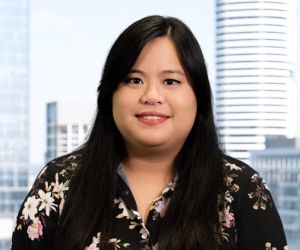 This report was written by Canstar Blue's home & lifestyle journalist, Tahnee-Jae Lopez-Vito. She's an expert on household appliances, grooming products and all things grocery and shopping. In addition to translating our expert research into consumer-friendly ratings reports, Tahnee spends her time helping consumers make better-informed purchase decisions on all manner of consumer goods and services, while highlighting the best deals and anything you need to be aware of.