Nothing compares to fresh pasta. No, we're not talking about instant pasta that your roommate always makes, we're talking about the real stuff. But going out to Italian restaurants or buying fresh pasta from the supermarket can get pretty pricey. It's much more convenient to keep instant pasta in the cupboard. Unless you have a pasta maker.
Making pasta may seem intimidating, messy, and a lot of work, but with a pasta maker it can be a lot easier than you may think. With just a couple of simple ingredients and an hour of your time, you can enjoy fresh restaurant-quality pasta at home. But what should you be looking out for in a pasta maker, and how much do they cost? Find out all you need to know about pasta makers in this Canstar Blue guide.
What are pasta makers?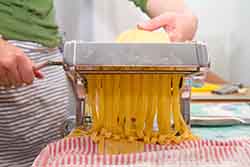 Pasta makers are machines that do what you'd expect them to: they help you make pasta. Split into two types, pasta makers are either available as a manual hand-cranked roller, or as an electric or automatic model. Manual hand-cranked rollers make it easy to roll out the dough and turn it into perfect pasta ribbons, shapes, and sheets, while electric pasta makers can also do the mixing and kneading, so all you have to do is add the right ingredients and press the right buttons.
How do pasta makers work?
Good pasta is all about the texture, with pasta makers working the dough to get it to the right texture, then flatten and cut it into the desired shape. Electric pasta makers can mix and knead the dough as well, before turning it out into fresh ready-to-cook pasta.
Once the pasta dough is made, it's fed through the rollers a number of times, starting off with the widest setting to work the dough, then through progressively smaller settings until it reaches the desired thickness. Next, the dough is fed through the cutting rollers where it's sliced up into thin spaghetti strands or wide pappardelle, or turned out into whatever shapes the particular model can produce. Additional tools can be used to turn pasta sheets into more shapes such as ravioli, with the processes varying slightly for fully automated pasta appliances.
You may also be interested in:
What to consider when buying a pasta maker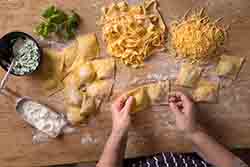 While they'll generally all aim to have the same end result, not all pasta makers are the same, with a few major areas to consider before purchasing. Here are a few areas to consider when buying a pasta maker:
Type: While an electric pasta maker may be more convenient and more forgiving for novices, they'll generally be more expensive than manual models. However, most hand-cranked pasta makers will be required to be clamped to the countertop or table, meaning a manual model may not suit every kitchen or household.
Attachments & Settings: While you'll want your model to do the basics, if you're craving a specific type of pasta, you'll want your machine to keep pace. Different models will have different settings and attachments that will allow you to make different pasta types, or even just opt for a thicker or thinner pasta, meaning if you're really looking to whip up a storm in the kitchen, it's important to look at the range of attachments and settings available with each model.
Size: It can get busy in the kitchen, so you'll have to consider how much space you have to play with. While not the biggest utensil in the kitchen, you'll still have to consider the physical size of your pasta maker to ensure you have enough counter space to get the job done.
Cleaning & Construction: Some pasta makers can be disassembled for easier storage and cleaning, with some brands even making some parts machine-washable. As making fresh pasta can also make quite a mess, having machine-washable parts can help take some of the sting out of the clean up process.
Price: As with any purchase, you'll have to consider the price tag attached. More expensive doesn't always mean better quality, but if you plan on using your pasta maker on a regular basis, you may want to fork out a bit extra for a quality product.
Pasta Maker brands
There are a number of pasta maker brands in Australia, with the major brands listed below.
Philips Pasta Maker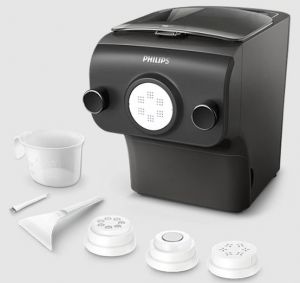 While only offering one model, electronics brand Philips' Avance Pasta Maker is a fully automatic machine, with automatic kneading and up to four pasta shapes available. Capable of making up to 500g of pasta in one go, the Avance Pasta Maker can make pasta in as little as 10 minutes, with multiple accessories available, allowing you to create macaroni, rigatoni, ramen, angel hair, udon, shells, and Chinese noodle to suit whatever you and your household are craving.

Baccarat Pasta Maker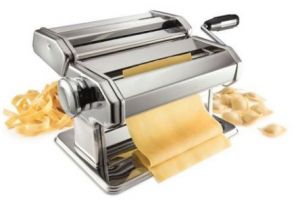 Offering two types of manual pasta makers, Aussie brand Baccarat offers a wide variety of kitchen appliances and utensils to help you create at dinnertime. Its pasta maker range includes 150mm and 180mm pasta machine models, with both models featuring stainless steel constructions, non-slip feet, easy winding handle, as well as multiple cutting blades and settings for different pasta types. The 180mm model can also be equipped with an optional bench vice mechanism to ensure it stays in place while you work, with each model available in a number of colours to help suit your kitchen aesthetic.

Marcato Pasta Maker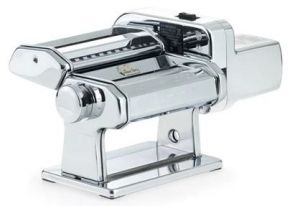 An Italian brand, Marcato offers a number of pasta makers in its Atlas range, with motorised and manual models available. The manual pasta makers include multiple rollers for different pasta types, along with a table clamp for additional stability, up to nine thickness adjustments as well as multiple colours available. The motorised Atlas pasta maker includes similar features, with a manual crank handle built-in, although you can opt for the motorised feature to save you slaving away too much in the kitchen.

How much do pasta makers cost?
Pasta makers can cost anywhere from around $80 to upwards of $400 depending on the type, model and brand. Manual pasta makers are generally more affordable, with most costing under $150, while electric models are traditionally more expensive due to the wider range of functions and features.
Where can I buy a pasta maker?
You can purchase pasta makers directly through the brands themselves, or through third-party kitchen utensil retailers.
Should I buy a pasta maker?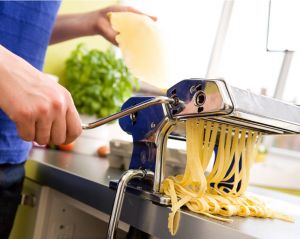 Fresh pasta arguably tastes better than the dried kind, and will no doubt impress family and guests once they learn that you've whipped it all up from scratch. But whether it's worth forking over for a pasta maker in the first place will come down to your personal situation, as those who enjoy cooking (or just really love pasta) may find investing in a pasta maker worthwhile, while those who don't know their spatulas from their can openers can probably get away with not having one. Regardless of which camp you fall into, if you plan on buying a pasta maker, make sure you look into all of your options, as a bit of research can help you find the best option for your needs without putting your money through the roller.
Original Author: April Broadbent