Fact Checked
Pasta is the much-loved food in Italy and across the world. Whether you're a ravioli fan or a traditional Bolognese kind of person there's no arguing that it's a favourite dish. But what if you could make it a weekly special on the home menu? Pasta makers are bringing the fun and ease to pasta making at home, so if you're in the market for a new kitchen accessory why not make it a pasta maker? Read on to find out more about pasta makers in this Canstar Blue buying guide.  
How does a pasta maker work?
Once the pasta dough is made, it's fed through the rollers a number of times, starting off with the widest setting to work the dough, then through progressively smaller settings until it reaches the desired thickness. Next, the dough is fed through the cutting rollers where it's sliced up into thin spaghetti strands or wide pappardelle, or turned out into whatever shapes the particular model can produce. Electric pasta makers can mix and knead the dough as well, before turning it out into fresh ready-to-cook pasta all on its own.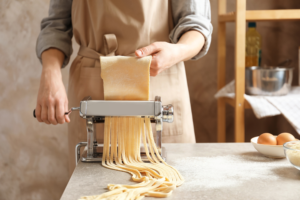 ---
You may also be interested in:
---
How much do pasta makers cost?
Pasta makers will generally cost from $150 to upwards of $400 depending on the model, capabilities and added attachments available. Some brands sell only attachments to add to existing appliances in your kitchen whereas more expensive models will be the entire unit sold including attachmen
Who sells pasta makers
There are a number of brands that sell pasta makers including Philips, Kitchenaid, Baccarat and Marcato. Kitchenaid predominantly sell accessories that attach to their mixer whereas the other three brands sell individual pasta making appliances as well as accessories. 
Philips Pasta Maker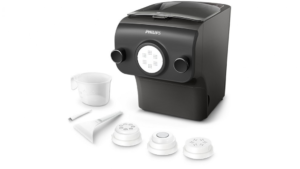 Philips sell a singular model of electric pasta maker that retails for around $350. Although it may be considered pricier than other brands, being an electric pasta maker means that it does most of the heavy lifting for you, making it potentially worth the price tag depending on how much of a home chef you are. With this pasta maker you add the necessary ingredients to the mixing chamber and it mixes the ingredients for you, then using the shaping discs it cuts the pasta how you want it. It includes a collection of pasta recipes, four shaping discs and customisable ingredient capabilities to suit your diet.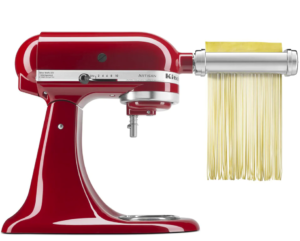 Kitchenaid Pasta Maker
Kitchenaid offer a number of pasta making accessories that attach to its classic stand mixer that cost from $150 to $400. This one could be ideal for the already avid cooks who regularly use their mixer and want to add pasta to their repertoire. You can choose the roller or pasta press attachments that also include cutting tools that creates the exact type of pasta you want.     
Marcato Pasta Maker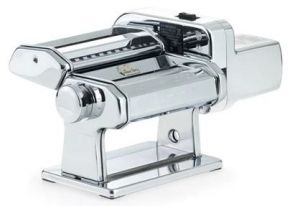 Marcato offers possibly one of the widest ranges of pasta makers, with each retailing from $200 to $600. Many of its pasta makers come in packs with additional attachments not just for spaghetti but also other pastas like ravioli and macaroni. Their design offers the flexibility to choose how you want to make your pasta with a manual handle to turn the press or you can attach the Pasta Drive that does it for you and speeds up the process. 
Baccarat Pasta Maker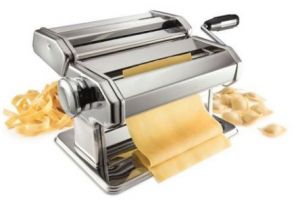 Baccarat is a well-known kitchen appliance and accessory brand that offer affordable appliances like  pasta makers. Its range of pasta makers retail from $100 to $150 making them a more entry level appliance which might be a great choice for a beginner. They're designed with stainless steel for easy cleaning and a bench vice so you can secure your machine while you're making your favourite pasta.  
Things to consider when buying a pasta maker
While they'll generally all aim to have the same end result, not all pasta makers are the same, with a few major areas to consider before purchasing. Here are a few areas to consider when buying a pasta maker:
Type:

 While an electric pasta maker may be more convenient and more forgiving for novices, they'll generally be more expensive than manual models. However, most hand-cranked pasta makers will be required to be clamped to the countertop or table, meaning a manual model may not suit every kitchen or household.

Attachments and settings:

 While you'll want your model to do the basics, if you're craving a specific type of pasta, you'll want your machine to keep pace. Different models will have different settings and attachments that will allow you to make different pasta types, or even just opt for a thicker or thinner pasta, meaning if you're really looking to whip up a storm in the kitchen, it's important to look at the range of attachments and settings available with each model.

Size:

 It can get busy in the kitchen, so you'll have to consider how much space you have to use and store your pasta maker.

Cleaning and construction:

 Some pasta makers can be disassembled for easier storage and cleaning, with some brands even making some parts machine-washable. As making fresh pasta can also make quite a mess, having machine-washable parts can help take some of the sting out of the clean-up process.

Price:

 As with any purchase, you'll have to consider the price tag attached. If you're someone who will use your pasta maker regularly, forking out a little more cash could be better in the long run. 
Should I buy a pasta maker?
Whether or not you should buy a pasta maker will come down to how often you'll use the machine, the price and also storage and space in the kitchen. If you're wanting to level up your cooking skills and regularly cook pasta meals then it could be a great investment. But if you're more of a once in a blue moon pasta maker then a cheaper model could be ideal. If you're not sure a pasta maker is the right kitchen accessory for you, then consider another appliance like an air fryer. 
Original Author: April Broadbent