Fact Checked
Sargents raises the 'steaks' as #1 frozen pie brand
Is it really a celebration if there isn't a plate of party pies on the table? Probably not. Plus, who can say no to a delicious flaky pie crust and a mouth-watering meaty filling that's soaked in gravy and encased in a pastry base? A generous slice of Australians apparently can't, with half (52%) usually picking up frozen foods during their regular grocery shop.
To help you decide which brand serves up the best pies for your belly (and budget), Canstar Blue has again surveyed more than 250 consumers about the frozen pie(s) they've purchased and consumed in the last six months. In this review, we're taking a pretty high-level look at the food products you could reasonably include within the frozen pies category, including both sweet and savoury pies, as well as some of the near neighbours to your traditional frozen meat pies, such as cottage pie and shepherd's pie. It's all yummy to us!
Respondents rated frozen pie brands on taste and quality of ingredients, meal variety, ease of preparation, packaging, value for money, and overall satisfaction. Brands that received at least 30 responses are rated and compared in our report. So, which brand offers the frozen pies Aussies want to stick a fork in?
Sargents marched to the number one spot in our latest ratings, scoring five-star reviews for overall satisfaction and in most other categories!
Best Frozen Pies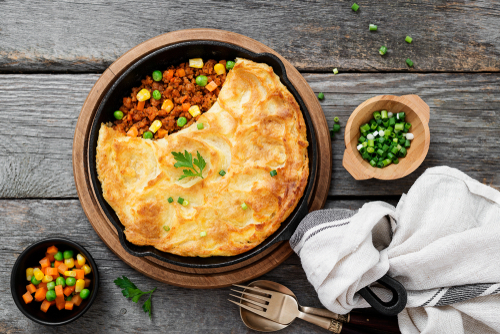 Here are the best brands of frozen pies in Australia, as rated by consumers in Canstar Blue's latest review:
Sargents
Four'n Twenty
Mrs Mac's
Coles
Sargents took the lead with five-star reviews for range variety, packaging design, ease of preparation and overall satisfaction.
Four'n Twenty got the edge when it came to taste and quality of ingredients, before scoring another set of full marks for ease of preparation as did Coles; which also rated best bang for buck.
Now, let's 'meat' the different brands compared in our latest ratings of frozen pies and dig into how their frozen pies stack up.
Frozen Pies Compared
Sargents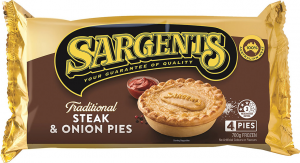 With a name that's claimed to be synonymous with 'quality and service in Australia since 1893', it's no wonder why Sargents transformed a small family-owned bakery in Sydney to what the brand describes as one of the country's largest pie manufacturers. Its products now include a Premium Range, Traditional Range, Party Range and a selection of Aussie Angus pies.
Most Sargents Traditional pies are sold in a four-pack, in flavours such as steak & onion, Italian style meat & cheese and curry. Meanwhile, its Premium pies are sold in two-packs while its Aussie Angus Beef Family pie comes in a 550g family-size serving. Otherwise, there's the all-time favourite Red Party Pack, which offers 18 sausage rolls and 18 party pies. Sargents also purchased the Scott's brand in 1978, and continues to serve customers the Scott's 'quality pie at a very reasonable price'. Sargents and Scott's pies typically cost around $6.
Sargents was rated best for variety, ease of preparing and overall satisfaction. It got four stars everywhere else.
Four'n Twenty

What's a footy game without a meat pie? Supposedly not much, according to the makers of 'Australia's original fan food' – Four'n Twenty. Its standard 'meat' flavour is one of the classics and available as either a single-pack, or in packs of two, four or six. Other options include chicken & vegetable, beef & cheese and beef, cheese & bacon. Otherwise, you can check out the Premium and Party range for something extra special. And, for those looking for a plant-based alternative, a meat-free option is available. Prices usually range between $3.20 and $10.
Four'n Twenty got the top score for taste and quality, plus extra five stars for ease of preparation. It landed four-star reviews for value for money, overall satisfaction and in the remaining research areas.
Mrs Mac's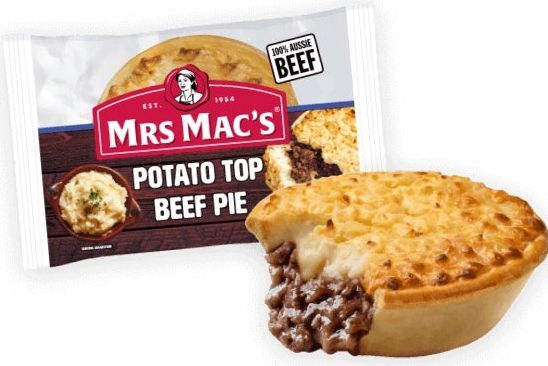 Since opening its oven doors in 1954, Mrs Mac's has turned the family-owned business into one of the most recognisable pie manufacturers in Australia. The brand has several ranges to satisfy different cravings, such as Special Batch for those looking for a premium fill. There's also the Lite'n Up range for some healthier alternatives to your traditional pies. Mrs Mac's also has sweet pies, as well as sausage rolls and pastries. You can expect these products to checkout for anywhere between $2.50 and $8.
Mrs Mac's earned four stars for ease of preparation, packaging design and overall satisfaction. It got three stars in the remaining categories.
Coles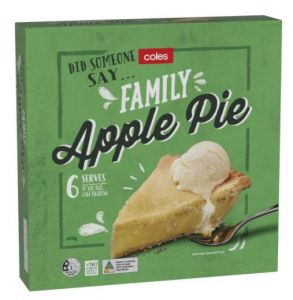 Coles is one of several supermarket giants to roll out a selection of frozen pies, offering both savoury and sweet options. Compared to some other brands, Coles' range tends to cater to families looking for a bigger set of party pies or sausage rolls, rather than single pies. Most products come in a four-pack, 12-pack or 24-pack. Other large varieties are similarly available, including the Coles Party Pack (30 pies) and Coles Premium Party Pack (18 pies). Some flavours include beef & tomato sauce, beef & onion, cheeseburger, spicy burrito, vegan mushroom & lentils and plant-based cheesy cauliflower pies. There's also a classic apple pie. Prices for Coles' frozen pies range between $3.60 and $10.
Coles rated best for value for money and received an additional five-star review for ease of preparation. It ended on four stars for variety and overall satisfaction, and three stars for taste and quality and packaging design.
Other Frozen Pie Brands
The brands included in our latest ratings aren't the only options worth digging into. Here are a couple more popular products to check out:
McCain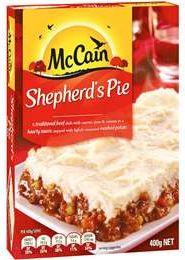 McCain is one of the leading brands for supermarket frozen meals in Australia, offering everything from frozen veggies and fries to frozen pizzas and ready-made meals under its Hearty Meal, Healthy Choice and Man Size ranges. All things considered, the brand's frozen pie selection remains modest, with the famous McCain's Shepherd's Pie the only product sold in most supermarkets (at the time of writing), in addition to the occasional frozen dessert pie. Availability may also depend on supermarket location and size.
Woolworths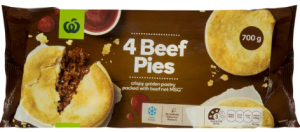 Woolworths may be the 'fresh food people', but that doesn't mean it can't enjoy a cheeky pre-made frozen pie once in a while. You'll be able to spot options like chicken & vegetable and regular meat pies, plus sausage rolls and party packs. These usually sell for $3.60 to $9.80.
Which frozen pie should I buy?
The continued success of Sargents and Four'n Twenty in our frozen pie ratings prove both brands strike the right balance between quality and value for money. Whether you're fuelling up with a bacon, egg and cheese brekky pie, or rushing to the supermarket for a 24-pack of party pies for your child's birthday party, frozen pies are a convenient and quick way to ease those hunger cravings. But while frozen pies may be convenient, it's not always the most affordable choice in the long run, so it's important to shop around to ensure you're getting the best deal.
About the author of this page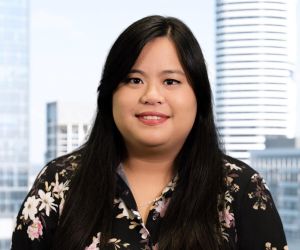 This report was written by Canstar Blue's home & lifestyle journalist, Tahnee-Jae Lopez-Vito. She's an expert on household appliances, grooming products and all things grocery and shopping. In addition to translating our expert research into consumer-friendly ratings reports, Tahnee spends her time helping consumers make better-informed purchase decisions on all manner of consumer goods and services, while highlighting the best deals and anything you need to be aware of.