Four'n Twenty & Sargents share a winning slice in frozen pie ratings
Is it really a celebration if there isn't a plate of party pies on the table? Probably not. Plus, who can say no to a delicious flaky pie crust and a mouth-watering meaty filling that's soaked in gravy and encased in a pastry base? Apparently about one in three (31%) Aussies can't, with our survey results showing many respondents usually pick up a frozen pie during their regular grocery shop.
To help you decide which brand serves up the best pies for your belly, Canstar Blue surveyed more than 300 adults about the frozen pie they purchased and consumed in the last six months. Respondents were asked to rate the brand they'd purchased on various factors, including variety, ease of preparation, taste & quality of ingredients, value for money and overall satisfaction. So, which brand offers the frozen pie Aussies want to stick a fork in?
Four'n Twenty and Sargents were joint winners in Canstar Blue's first ever frozen pie ratings, with both brands serving up five stars for overall satisfaction, taste & quality of ingredients and value for money. Four'n Twenty also rated best on ease of preparing and achieved four stars on variety. Sargents similarly scored top marks on variety and four stars on ease of preparation.

Best Frozen Pies
In Canstar Blue's first year of frozen pie ratings, five brands have been rated in the following order for overall customer satisfaction.
1st Four'n Twenty / Sargents
3rd Mrs Mac's
4th Woolworths
5th Coles
Aussies have been happy eating up frozen pies from Four'n Twenty and Sargents, two iconic pie brands which earned hot five-star ratings for overall customer satisfaction. Mrs Mac's followed closely behind on four stars, just ahead of Woolworths and Coles on three.
However, the joint winners weren't the only brands to achieve five stars in the Canstar Blue's inaugural frozen pie ratings. Mrs Mac's similarly impressed Australians when it came to value for money, earning five stars alongside Four'n Twenty and Sargents.
Now, let's 'meat' the different brands compared in the 2020 frozen pie ratings and dig into how their frozen pies stack up.
Frozen Pies
Four'n Twenty

What's a footy game without a meat pie? Apparently not much, according to the makers of "Australia's original fan food" – Four'n Twenty. Aside from the standard 'meat' flavour, which is available in either a four-pack or six-pack, the brand's 'Classic' selection also offers the Beef & Cheese Pie and Chicken & Vegetable Pie in packs of four. For something smaller, the Beef Traveller Pie and the Beef, Cheese & Bacon Traveler Pie is sold in a two-pack.
Four'n Twenty additionally has a 'Hot' range selling a variety of flavours, like the Real Chunky Steak & Mushroom Pie and Hungry Man Sausage Roll. The Party range also has other go-to favourites, including the 12-pack Party Pies, while the 'Lighter' selection contains the Aussie Lite Sausage Roll.
For something fancy, the Premium range has options like Angus Beef and Beef and Pepper. Otherwise, you can find more creative flavours such as the Nacho Chili Beef and Bean Pie, or Classic Beef Pie with Golden Ale from the Limited Edition selection. Prices usually range between $6 and $9.50.
Shoppers are clearly eating up what Four'n Twenty has to offer, with the brand achieving five stars for overall customer satisfaction as well as taste & quality, value for money and ease of preparing. It also scored four stars on variety.
Sargents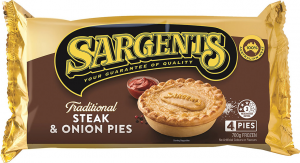 With a name that's claimed to be synonymous with "quality and service in Australia since 1893", it's no wonder why Sargents transformed a small family owned bakery in Sydney to what is said to be one of the country's largest pie manufacturers. Its products now include a Premium Range, Traditional Range, Party Range and a selection of Aussie Angus pies.
Most Sargents pies are sold in a four-pack, although there are smaller two-pack options such as the Premium Sous Vide Slow Cooked Beef Pies and the Premium Sous Vide Slow Cooked Massaman Beef. Plus, there's the "all-time favourite" Red Party Pack, which offers 18 sausage rolls and 18 party pies.
Sargents also purchased the Scott's brand in 1978, claiming to continue serving customers the Scott's "quality pie at a very reasonable price". Prices range between $5.50 and $13.50, while Scotts Pies tend to cost $6.99.
Aussies are marching towards the freezer section for a bite of Sargents' frozen pies, with the joint winner earning a five-star rating for overall satisfaction, taste & quality, value for money and variety of meals. It scored a respectable four stars on ease of preparation.
Mrs Mac's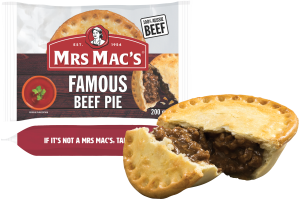 Since opening its oven doors in 1954, Mrs Mac's has turned the family-owned business into one of the most recognisable pie manufacturers in Australia. Fancy yourself a sweet tooth? Or do you prefer your pies to be savoury? Either way, the brand has five ranges to suit a variety of cravings. These include Mrs Mac's, Mrs Mac's Microwave, Mrs Mac's Lite'n Up, Mrs Mac's Special Batch and Naked Pies.
While the brand gets cheeky with its selection of 'topless' Naked Pies, a selection of cakes in a pastry casing, it keeps things traditional with its regular Mrs Mac's variety. Some of these include the classic 'pie', sausage roll, 'cruizer', sweet pie as well as a halal-friendly range. If you don't have enough time to wait for the bun (or should we say, pie) in the oven, a few of the same flavours are available in the Mrs Mac's Microwave collection.
Supposedly 'healthier' versions of the pies, including the Beef Pie and Sausage Roll, are alternatively sold as part of the Mrs Mac's Lite'n Up range. Otherwise you could try the brand's more unique flavours such as the Beef Rendang Pie and Butter Chicken Pie with Mrs Mac's Special Batch. Prices vary between $1.25 and $7.
Mrs Mac's finished with a four-star rating for overall satisfaction, achieving the same score for taste & quality and ease of preparation. It achieved five stars on value for money and three for variety.
Woolworths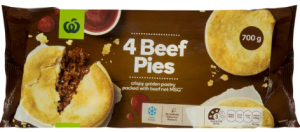 Woolworths may be the "fresh food people", but that doesn't mean it can't enjoy a cheeky pre-made frozen pie once in a while. You'll be able to spot its Woolworths Frozen Meat Pies. The Beef Pies are available in four-pack and usually sells for $4.
Woolworths rated four stars on value for money and ease of preparing, although scored three stars on taste & quality, variety and overall satisfaction.
Coles

Coles is another supermarket giant that's rolling out its own selection of frozen pies, offering both savoury and sweet options. Compared to some other brands, the range has more options for families looking for a bigger set of party pies or sausage rolls. Most products provide a four-pack, 12-pack and 24-pack. Other large varieties are similarly available, including the Coles Chunky Beef Party Pies And Beef & Onion Sausage Rolls 18 Pack.
Although you can still get smaller portions, such as the Coles Frozen Bacon & Egg Pies 4 Pack and the gluten-free Coles Beef Pies 2 Pack. There's also the single Coles Frozen Meat Pie and the Coles Frozen Family Apple Pie. Prices for Coles' Frozen Pies range between $0.75 and $10.
Coles maintained three-star ratings across all categories, including overall satisfaction.
Which frozen pie should I buy?
Whether you're fueling up with a bacon, egg and cheese brekky pie, or rushing to the supermarket for a 24-pack of party pies for your child's birthday party, frozen pies are a convenient and quick way to ease those hunger cravings.
But if our survey results are anything to go by, it looks like Aussies don't want to settle for a quick fix. Analysis of our research revealed that taste & quality of ingredients is the biggest driver of customer satisfaction, followed by value for money. More than a third of survey respondents (37%) agreed that premium brands of frozen pies taste better than cheaper brands. So, it makes sense why the joint winners, along with Mrs Mac's, achieved a five-star rating for value for money in addition to overall satisfaction. Keep in mind that these two brands have a price range of $5.50-$13.50, while frozen pies from the two bottom brands usually cost between $0.75 and $10.
One frozen pie might not be enough for dinner, according to the 14% of people who said they usually need to eat more than one because portions are too small.
While frozen pies may be convenient, it's not always the most affordable choice in the long run, so it's important to shop around to ensure you're getting the best deal.
About the author of this page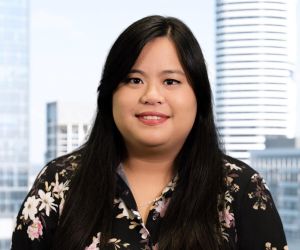 This report was written by Canstar Blue's home & lifestyle journalist, Tahnee-Jae Lopez-Vito. She's an expert on household appliances, grooming products and all things grocery and shopping. In addition to translating our expert research into consumer-friendly ratings reports, Tahnee spends her time helping consumers make better-informed purchase decisions on all manner of consumer goods and services, while highlighting the best deals and anything you need to be aware of.
Picture credits: Milleflore Images / Shutterstock.com,  From my point of view / Shutterstock.com