Norco moo-ves into top spot for full cream fresh milk
Do you want milk that tastes like real milk? While one in five (21%) respondents to our survey generally buy multiple milk containers on their regular grocery shop, dairy connoisseurs will tell you it's udder nonsense to believe that all milks and brands are created equal – especially when it comes to the creamy, full-bodied goodness that is fresh full cream milk.
To help you find out which brand you should be pouring your money into, we surveyed more than 1,100 Australian consumers on the fresh full cream milk they have bought and consumed from a supermarket or grocer within the last three months. Respondents rated brands on taste, value for money, packaging design and overall satisfaction. Those which met the minimum required sample size of 30 responses are featured in our results.
Norco proved to be this year's crème de la crème, as the only brand to achieve a five-star rating for overall satisfaction, but it also earned top marks in every category.
Best Full Cream Fresh Milk

Here are the best full cream fresh milk brands in Australia, as rated by consumers in Canstar Blue's 2020 review:
Norco
Farmers' Own
ALDI Farmdale
a2 Milk
Coles
Devondale
Dairy Farmers
Pauls
Woolworths
Pura
Norco has proved a clear winner overall, and while Farmers' Own had to settle for second place, it was the recipient of the only other five-star rating on value for money, as well as scoring a respectable four stars for overall satisfaction. ALDI's Farmdale, a2 Milk, Coles, Devondale, Dairy Farmers, Pauls and Woolworths also landed on four stars overall, with Pura rounding out the results on three stars.
Full Cream Fresh Milk
Norco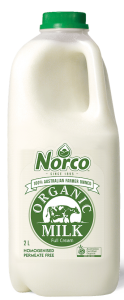 For milk that's 100% Australian farmer-owned, our 2020 review shows Norco is the crème de la crème. Expect each bottle to fill your glass with milk that's not just full-bodied and high in cream, protein and flavour, but also permeate free. The brand offers a few types of full cream milk options to choose from, including:
Norco Full Cream Milk
Norco Organic Milk
Norco Non-homogenised Full Cream Milk
Norco Pure Jersey Milk
A bottle of Norco's full cream milk will cost you anywhere between $1.50 and $4.50. These come in 500ml, 1L and 2L bottles.
Norco achieved a straight win across the board, earning five-star ratings in all categories.
Farmers' Own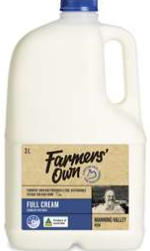 With a name like Farmers' Own, this brand sources its milk from Aussie dairy farmers around the country that have partnered with Woolworths to help you get your daily dose of calcium. Putting the fresh in fresh full cream milk, the supermarket chain says products from the Farmers' Own range are directly picked up from the various farms and immediately driven away to be processed. The options include:
Farmers' Own Full Cream Milk
Farmers' Own Full Cream Milk Unhomogenised
Farmers' Own full Cream Homogenised
Fresh full cream milk from Farmers' Own usually costs $3.40 for a 2L bottle or $4.90 for 3L.
Farmers' Own earned full marks for value for money and earned a respectable four stars in other categories, such as taste and overall satisfaction.
ALDI Farmdale

ALDI is the discount supermarket chain known for putting its own budget-friendly spin on a wide variety of products, including everything from face creams and mattresses. So, it's no surprise that it's joined Coles and Woolies in creating its own home brand range of milk products with Farmdale. Available in both bottled and powdered form, ALDI's short and sweet range of full cream milk includes the Farmdale Lactose Free Full Cream Milk available in 1L bottles which usually cost just $1.99, or the 1kg bags of milk powder will set you back $5.69.
ALDI's Farmdale received four stars across the board, including for value for money and overall satisfaction.
a2 Milk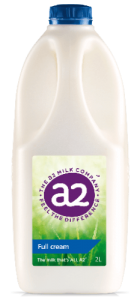 What separates a2 Milk from the rest of the cattle? The brand claims that unlike the milk that comes from conventional cows, which typically contains both A2 and A1 protein, a2's range of fresh milk is produced from cows that have been chosen to naturally produce only the A2 protein. This ensures the product comes straight from the udder and not a result of genetic engineering or technological processes. You can get fresh full cream in either bottled or powdered form. Products include:
a2 Milk Full Cream
a2 Milk Full Cream Milk Powder
A 1L bottle of a2 full cream milk typically costs $3.10, while double the amount will check out for $5.15. Instant milk powder is alternatively available in 1kg bags.
a2 Milk scored a consistent four stars in most categories, including taste and overall satisfaction, but slightly trickled down to three stars when it came to value for money.
Coles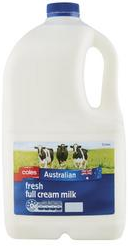 Along with other supermarket giants like ALDI and Woolies, Coles has its own line of milk. Compared to other options in the dairy aisle, Coles' range is noticeably more affordable. Prices start from just 90c for a 500ml bottle and reach up to $3.59 for a 3L bottle. Some full cream milk products include:
Coles Full Cream Milk
Coles Organic Full Cream Milk
Coles Lactose Free Full Cream
If you're shopping for 'lite' milk, non-full cream alternatives are also available.
Coles maintained the same score in all categories, receiving four stars on factors including taste and overall satisfaction.
Devondale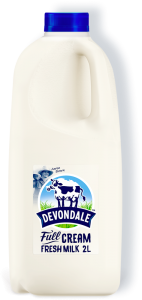 Devondale says it pours all its efforts into creating natural fresh milk 'just the way milk should be'. Each bottle is stated to contain 10 essential nutrients to keep bones strong, and is permeate free, homogenised and pasteurised. The range doesn't contain any preservatives. Available in Woolies and Coles, Devondale's list of full cream milk products include:
Devondale Fresh Full Cream Milk
Devondale Full Cream Long Life Milk
Devondale Full Cream Milk Powder
Devondale offers a larger variety of sizes compared to other brands. Products are available in either 2L or 3L bottles, with a 1kg powder alternative also available. If you're looking for long-life full cream milk, this is usually sold in 150ml, 1L and 2L cartons, as well as in six packs of 200ml cartons.
Devondale achieved a clean four-star sweep across the board, including for categories such as value for money and overall satisfaction.
Dairy Farmers

If anyone knows about milk, it's Dairy Farmers. Having been in the dairy game since 1900, the brand continues to be a household name and is often synonymous with the yoghurt and flavoured milk packed in our school lunch boxes, as well as the sweet treats created using Dairy Farmers' custard and cream products. When it comes to full cream milk, each bottle is said to be rich in calcium and a natural source of protein. There's also no additives or preservatives.
Dairy Farmers' full cream milk is usually available in 1.5L, 2L and 3L bottles. These usually check out at the counter for anywhere between $3.25 and $5.25.
Dairy Farmers landed on four stars on most factors, including taste and overall satisfaction, but ended on three stars for value for money.
Pauls

If you're go-to cup of coffee order includes a lactose-free milk substitute, then chances are you're ordering Zymil. Pauls' range of full cream milk is described as an ideal option for Aussies 'who love the traditional, rich taste of milk the way it used to be'.
Each bottle of 100% Australian milk is said to provide a good source of calcium and protein, and is permeate free. Available in 750ml and 1.5L bottles, products include:
Pauls Zymil Lactose Free Full Cream Milk
Pauls Farmhouse Gold Full Cream Milk Unhomogenised
Pauls' full cream milk typically costs between $2.35 and $5.40.
Pauls rated four stars for taste and overall satisfaction, although finished on three stars for value for money and packaging.
Woolworths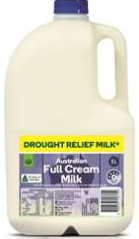 Woolworths offers Aussies another supermarket home brand option with its line of basic dairy products, including full cream milk. The options currently available are from the supermarket's Drought Relief Milk range, with a portion of the cost going to support dairy farmers in drought affected areas. Each bottle of full cream milk is permeate-free.
These come in 2L and 3L bottles, and typically cost $2.39 or $3.59 depending on which size you get.
Woolworths received a respectable four stars when it came to value for money and overall satisfaction, but fell short on taste and packaging design where it got three stars.
Pura

Pura's humble beginnings began as a single milk delivery cart, supplying just a few streets with their daily dose of dairy. As the company grew, it eventually joined other food brands to create National Foods Limited. A glass of Pura milk is claimed to contain eight essential nutrients, and is made from 100% Australian ingredients.
Pure was the only brand to receive a three-star rating for overall satisfaction and all other categories, including value for money.
The bottom line on full cream fresh milk
Our survey shows many shoppers want to keep Aussie farmers' glasses half full, with 45% buying a brand of milk they think supports the country's dairy farmers, while 39% are willing to pay extra for that. Plus, 59% of people believe supermarkets should be doing more to support their dairy farmers.
When it comes to buying habits, nearly a quarter (24%) of respondents opt for whatever is the cheapest option. This is unsurprising considering one in five (21%) pick up multiple contains during their regular shop, and a handful of people don't actually end up finishing what they've got before it goes off (16%).
Do you like to strip things down and enjoy the full-bodied taste of full cream milk on its own, just like one in three (37%) respondents? Or maybe you're particular about the ingredients and nutritional value, similar to a small portion of people we surveyed (8%)? Either way, there's plenty of options out there. But whatever you chose, we hope you find this review useful.
About the author of this page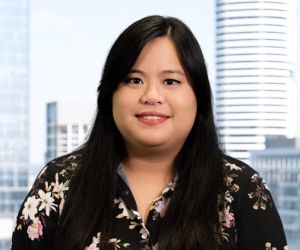 This report was written by Canstar Blue's home & lifestyle journalist, Tahnee-Jae Lopez-Vito. She's an expert on household appliances, grooming products and all things grocery and shopping. In addition to translating our expert research into consumer-friendly ratings reports, Tahnee spends her time helping consumers make better-informed purchase decisions on all manner of consumer goods and services, while highlighting the best deals and anything you need to be aware of.