When it comes to sprucing up your house or your weekly chores, chances are cleaning the exterior of your home isn't the first thing that comes to mind. But considering the outside of your home keeps the weather, dust and everything else, well, outside, it's an area that most of us could potentially show a bit more love to. But how exactly can you give your house exterior the look it deserves?
The answer is the humble pressure washer, a tool specifically designed to tackle grime, mould and dirt no matter how long it's been caked on for. But when it comes to choosing a pressure washer to help you clean up the outside of your house, deck or even car, what should you be looking for? Find out everything you need to know about pressure washers in this Canstar Blue guide.
What is a pressure washer?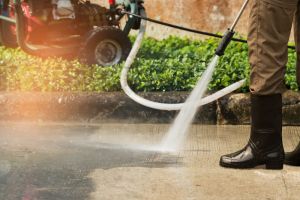 A pressure washer is a machine that uses highly pressurised water jets to eliminate hard-to-remove grime and dirt in situations where detergent just doesn't cut it. These jets are capable of producing pressures ranging from 750 to 10,000 PSI (Pounds per Square Inch) to take care of any blemish on the outside of your home, with commercial models additionally available with higher PSI output to help clean surfaces like machinery.
Pressure washers primarily work through two components – the pump and the motor. The motor – either an electrical or gas model – powers the pump, which in turn accelerates and pressurises the water, which then comes out of the jets at a higher output, allowing you to achieve a deeper clean, or to tackle those tough stains and marks. Depending on the model, you can simply attach your hose into the input of your pressure washer to feed it, with the pressure washer doing the rest.
Types of pressure washers
While you could be forgiven for thinking that all pressure washers do the same thing, there are actually a few key differences you should be aware of to ensure that you're getting the best clean possible and that you don't accidently strip away any paint. After all, pressure washers can pack a punch!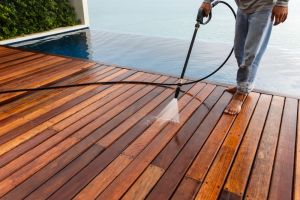 Cold Water Pressure Washers
Cold water pressure washers are the most popular among the pressure washers as their cost-effectiveness and easy-to-use qualities make them one of the best options for people looking for a cheap, compact model. The level of pressure translates to the effectiveness of cleaning, as the common output for cold water pressure washers ranges anywhere up to 3,000 PSI.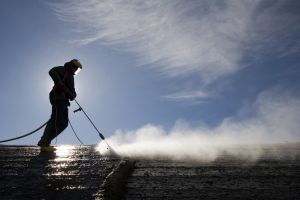 Hot Water Pressure Washers
Hot water pressure washers tend to be utilised more in commercial and farming environments, and are considered more effective than their cold water counterpart due to the addition of hot water to break down dirt and stains. This type of pressure washers has a coil that heats up the water to a certain temperature, with hot water pressure washers also generally more powerful in terms of PSI output, and are generally more expensive as a result.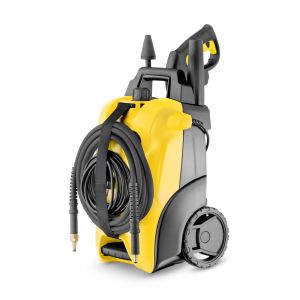 Electric Pressure Washers
Electric pressure washers are the most common type of pressure washer as you'll usually see cold water pressure washers using electronic power due to the convenience and accessibility. While an electric pressure washer may not pack as much power as a gas model, electric models are generally cheaper, and still generate enough pressure to help you clean those trouble spots around the house.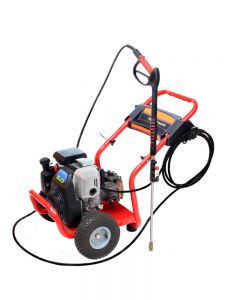 Gas-Powered Pressure Washers
Gas-powered pressure washers are best suited for when you've left the cleaning longer than you should have, as it is able to generate more PSI to help you cut through the dirt and grime around your house. Gas-powered models are also more portable than electric models, as you don't have to worry about tripping over cords or where the nearest power outlet is, allowing you to clean those hard to reach spots as well.
Pressure washer brands
Like many cleaning appliances and tools, there are plenty of brands looking to sweep the market, making it difficult to choose a brand that can do the job. To help you from being washed away, here is a brief overview of what pressure washer brand are available on the market.
Bosch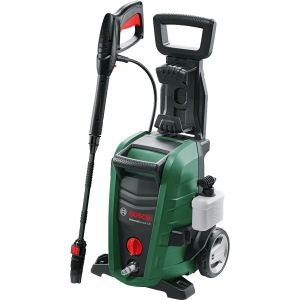 Bosch is a well-known name in the appliance and tech industry, covering everything from hot water systems to ovens, as well as power tools like pressure washers. Bosch offers the Aquatak range, with a variety of models and accessories available to help tackle any workload you have around the house, with a grading system to help you find the best option for your needs and expertise with a washer.
The EasyAquatak range is best suited for those new to pressure washers, with one-handed operation and 360-degree feature to help you get into those hard to reach areas. If you're looking to tackle the big jobs, the AdvancedAquatak range may be more your speed, coming equipped with a high-pressure metal nozzle for optimal output, as well as large wheels for easy manoeuvrability and a multitude of nozzles to help you get the job done.

Gerni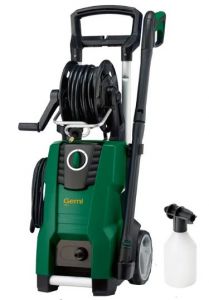 Gerni is an Australian brand which specialises in pressure washers, vacuum cleaners and accessories. Gerni offers a wide range of pressure washers available, with PSI output ranging from 1,600 to 2,300 to provide customers with a variety of options to suit your cleaning needs.
If you're looking for something simple to get you going, the Classic range may be the one for you, which includes a lightweight design, five metres of hose length to help you move around, along with variable spray and nozzle adjustments in the more expensive models. If you're looking to really make a dent in the cleaning, the Super range may be more your speed, with the Pro model also available for purchase, which includes features such as a 2400W brushless motor, a 15m steel braided hose and built in detergent dosage function for a deep clean.

Karcher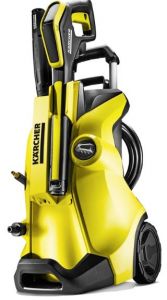 Karcher is a family-owned German company that is known globally for its cleaning products, including pressure washers, floor care equipment, parts cleaning systems and more. Karcher's range of pressure washers includes the Premium range, the Compact range and the K3 range to help with all types of cleaning, with some models even suited for cleaning your car.
The top of the line model – the Karcher Prem Full Control – is suitable for cleaning your home and car, allowing you to breeze through your weekend chores. While it may be one of the most expensive options available on the market, it features a nozzle handle with buttons to help you adjust detergent levels, along with a multi-jet spray nozzle to alter sprays and pressures for different levels of cleaning, with a maximum output of 2,600 PSI.

Stanley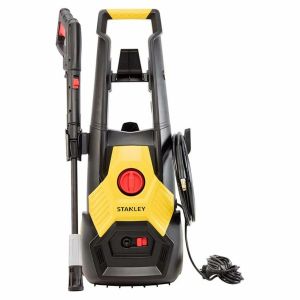 Offering a wide variety of power and outdoor tools, Stanley offer a number of petrol and gas powered pressure washers to tackle the tough stains. While the Stanley range may be on the more expensive side, it may be worth investigating if you're looking to clean regularly, or you have a big job ahead of you.
Those looking for a jack-of-all-trades model may prefer the Stanley 4HP Petrol pressure washer, capable of 2,500 PSI and comes equipped with multiple nozzles to help clean the driveway, house exterior, car and even windows. Also featuring a 10-metre heavy duty hose and a 3L detergent bottle, your weekend chores could become a bit more fun.

What to consider when buying a pressure washer
While pressure washers are all built to do the same thing, there are a few areas that you should consider before parting with your hard-earned dollars. Here is what you should consider before buying a pressure washer:
Power: Pressurised water is an easy way to clean surfaces, but can also be an easy way to ruin them as well if you aren't careful. As a result, it's best to look into how much PSI a pressure washer packs, and think about what type of surface you're cleaning. For example, concrete can take a higher PSI than paint, meaning if you're looking to lightly clean without ruining your paint job, a pressure washer with a lower PSI capability – or at least a different nozzle – will be your better option.
Type: Gas models are generally more powerful than electric models, meaning you can cut through dirt and grime quicker, but are also more expensive, and are generally noisier as a result. So if you're looking to clean the outside of the house of a Sunday morning, your neighbours might prefer you pick up an electric model.
Features: Some pressure washers come with a soap tank to you help give your exterior a good bath, with other models coming equipped with wheels for portability. Adjustable nozzles will also help you tackle stains and grime, meaning looking into what comes with your pressure washer can make the cleaning job that much easier.
Price: As with any purchase, the price tag can be a big factor in which brand and model you walk out the door with. But while you may get more power and more features with a larger price tag, that doesn't always mean you're getting good value for money, meaning thinking about what you're actually going to be using your pressure washer for, and how often you're going to be using it, will help you determine how much money you're willing to spend.
How much does a pressure washer cost?
Pressure washers can cost anywhere from $50 to $2,000, but with a larger price tag comes a larger PSI output, meaning if you're looking to clean off a light layer of dust, a cheaper, less powerful model may do the trick, but if you're looking to really give your house a face-lift, a more expensive model may be your best bet.
Where can I buy a pressure washer?
Pressure washers are available for purchase both online and in-store at hardware retailers such as Bunnings and online retailers such as Kogan, as well as through the brand directly, giving you plenty of options to choose from.
Do I need a pressure washer?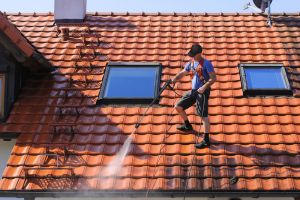 Pressure washers are a useful tool for when you're wanting to get rid of grime, mould, dirt and other nasty build-up around the house, allowing you to tackle the tough jobs and leave you to simply direct the waterflow. While you may not need to do it very often, cleaning the exterior of your house can make a huge difference in appearance, meaning if you're looking to give your house a bit of spit and polish, then a pressure washer may be a good investment, saving you from physically scrubbing away at stains and dirt. But with plenty of brands, models and types on the market, it's best to look into all of your options before buying, allowing you to clean up your house without cleaning out your bank account.

Photo credits: bubutu/shutterstock.com, sbw18/shutterstock.com, Piyawat Nandeenopparit/shutterstock.com, Mrak.hr/shutterstock.com, ApoGapo/shutterstock.com, SteveBower/shutterstock.com, Marina Lohrbach/shutterstock.com