Smartphones – where would we be without them? For many of us, they're almost an extension of our arm. But for others, they simply overcomplicate the traditional process of making calls.
From costly monthly plans, to handsets that cost over $1,000 to buy outright, owning a top of the range mobile phone is an expensive endeavour. But this is where the KISA phone steps in with an aim to offer Australia something simple and basic. Seriously.
KISA stands for 'Keeping It Simple Always', and its phone certainly reflects that. In many ways, it's a refreshing step away from the tech-forward Androids and iPhones of today, and it caters to a market frequently left out by technology – the elderly and those with disabilities. No matter how you look at it, mobile phones can be a life-saving and important device, so giving simple phones to the ones who need them most could be a surefire way to give them peace of mind. But what's in the KISA phone, and what makes it delightfully simple? Let's take a look.
What is a KISA phone?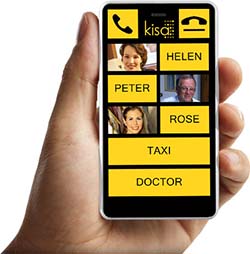 A KISA phone is one of the latest in a line of simple mobile phones designed for use by seniors and those with disabilities or eyesight problems. It looks just like a normal smartphone, but its interface is physical. It costs $139 using KISA's own phone plans, or $249 for the privilege to use a SIM-only plan from any provider.
Phone calls can be made with a single button press
It has a minimal-fuss design with up to 10 pre-programmed mechanical contact buttons
It's GPS locatable. This can be tracked by only nominated people and can be deactivated. It's like 'Find my iPhone'
It has an SOS Emergency button. Emergency services are immediately dialed if this is pressed four times. This also sounds off an alarm and the phone switches to hands-free mode for easy contact
Medical information can be stored easily in the phone
It has a charging cradle included, with a long battery life lasting over 7 days on standby and can make 4 hours of phone calls on a single charge
It is 3G and 4G capable
It weighs 110g and comes with a landyard so it can be worn around the neck
There are braille options for those that are blind or have low vision (pictured)
KISA Phone Plans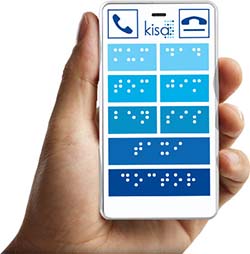 Beyond these key features, KISA also has a range of phone plans using either the Vodafone 4G Network or the Telstra 3G Network, nicknamed 'Red' and 'Blue' respectively. As it appears, these phone plans are on a postpaid basis so you'll be subject to excess charges should you go over your credit limit, as well as having to supply your credit/debit card details. As the phone has no texting function, these plans include calls only. Here are the details:
Red Plans
30 minutes – $15 a month, 50c a minute for excess calls
70 minutes – $20 a month, 29c a minute for excess calls
150 minutes – $30 a month, 20c a minute for excess calls
600 minutes – $45 a month, 20c a minute for excess calls
Blue Plans
75 minutes – $25 a month, 33c a minute for excess calls
175 minutes – $40 a month, 23c a minute for excess calls
Beyond these plans, you can also add on the optional GPS functionality. This is available at $15 a month. By going through KISA with this, you'll get all the data it uses included in the price. Otherwise, you can go the BYO route and purchase a third-party phone plan, but you'll still be slugged the $15 fee AND you'll have to supply your own data. However, considering GPS likely does not use much data and the phone does not have any apps or internet browsing that does use data, then there is merit in sticking with KISA for its GPS plans. Nevertheless it may be better value choosing a third-party phone plan that includes some call allowances and data.
What SIM-only phone plans are suited to the KISA phone?
You may find it to be better value to do the leg work on a phone plan for the KISA phone yourself. In general, keep an eye out for phone plans with long expiries for fuss-free recharging. Prepaid options tend to be ideal as you can't be charged for any excess use, which can be handy for those prone to accidentally calling or pocket-dialling. Seeing as you don't need texts or much data with a KISA phone, you can get away with using some very cheap phone plans.
ALDI Mobile
ALDI Mobile has a good cross-section of prepaid mobile phone plans that are easy to recharge and easy for a relative to administer to their loved ones. With ALDI, you can set-up to recharge automatically or manually, and buy SIMs in-store.
OVO Mobile
OVO Mobile is another low-cost provider similar to ALDI Mobile, but it offers no long-expiry plans, with plans recharging every 30 days instead. Nevertheless, these plans are still very favourable compared to KISA's own plans.
Telstra
Telstra also has a range of long-life prepaid phone plans at nominal values. Expect recharges lasting from 60 days to 12 months. You'll also get bonus minutes to other Telstra numbers; this is especially useful as Telstra is Australia's largest network.
Beyond these providers, keep an eye out for long expiries and cheap call rates. However, if the value provided seems to be a bit low, then consider the cheapest phone plans with unlimited calling. Keep an eye out for providers like Dodo, Vaya, Kogan and Yomojo – all some of the cheapest unlimited providers in Australia. Pay attention to the network these providers use, and data included even though you won't need much for GPS.
How do I buy a KISA phone?
By visiting the KISA website, buying a KISA phone is easy. It's all set up for you before you buy the phone so it's a matter of just taking it out of the box and turning it on. You'll have a phone ready to use straight away.
You choose how many contacts you want displayed on your screen
Then you choose a colour scheme
After that you enter the contact details of these contacts
Then add any medical conditions and extra information
This ensures all the necessary information is displayed immediately, and family members are available in one click, and so are emergency services. KISA has made it as easy as possible; however family members may still need to assist the user in this process. Beyond that, there's an online log-in page where you can administer all payment settings and other configuration. Failing that, there's the local call centre to call on in times of need.
Is a KISA phone worth the money?
KISA is a company with a refreshing approach to mobile phones. Rather than adding XYZ widget and increasing the resolution of the camera to 180000 megapixels, KISA has stripped the phone right back into a call-only device that still looks like a smartphone. This is especially useful for the elderly or those with a disability. While it's a unique proposition in the mobile phone world, is it good value?
The entry cost is $139, or $249 for a BYO-SIM configuration. If you opt for the $139 option then the phone will be tied to one of KISA's own phone plans. With these plans, better value can be found elsewhere. This is perhaps why the BYO version is $110 more. In any case, the phone itself is quite good value but its plans let it down.
However, you'll have to consider: Is having no phone at all better than a basic phone with a limited phone plan that comes with some upfront costs? We suspect the price you pay is worth it for the peace of mind you'll have knowing your relatives are safe and contactable in an emergency. The phone also affords the elderly and the disabled an increasing degree of independence. The KISA phone fulfills this need, and it will be interesting to see how this Australian company takes off.