Nokia is one of the latest phone manufacturers to step into the world of 5G with the release of its first ever 5G phone — the Nokia 8.3 5G. Not only is this device the first 5G phone for Nokia, but it's also one of the most premium devices offered by the manufacturer coming in at a RRP of $899 AUD.
In the overcrowded smartphone market it can be hard for a phone manufacturer to stick out, especially with Apple and Samsung dominating the premium device category. Nokia has definitely found more of its niche in the budget-friendly price range with devices such as the Nokia 5.3. So, how does its premium offering stack up? In this hands-on review, we'll take you through some of the features and specs that you can expect with the Nokia 8.3 5G.
Nokia 8.3 5G features and specs — quick summary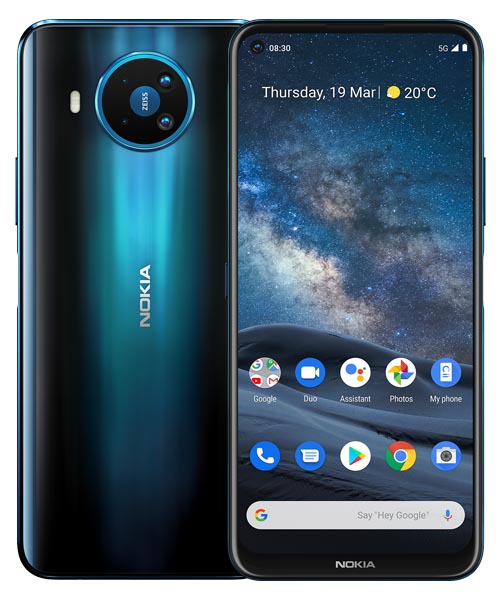 Before we get into the details, here is a quick look at some of the features and specs that come with the Nokia 8.3 5G:
$899 AUD RRP
6.81 inch FHD+ display with PureDisplay technology and HDR support
Qualcomm Snapdragon 765G Modular Platform processor
Includes Android 10
Quad rear-camera setup 64MP + 12MP + 2MP + 2MP
24MP front-facing camera
ZEISS Cinema Capture and Editor feature with ZEISS Cinematic effects
4,500mAh battery with Adaptive Battery technology
8GB RAM + 128GB internal storage
Micro SD expandable memory up to 512GB
5G connectivity
Power button includes fingerprint scanning for fast access
Available in Polar Night colourway
Nokia 8.3 5G Pros:
Lots of photo and video editing options to play with
Fingerprint reader conveniently placed and seamless
Long lasting battery
Really nice and vibrant screen
Nokia 8.3 5G Cons:
Device does feel heavier than others
Face unlock a bit temperamental
In built bottom speaker quality a bit disappointing
Camera quality not as sharp as you'd expect
Design and functionality
Few smartphone manufacturers have found a way to 'stand out' from the crowd when it comes to phone design, and Nokia is one of the few that seems to have found its style. The placement of the rear cameras is laid out in a circle and set in the middle at the top of the phone. It's certainly a different approach to a camera layout and it does work well with the overall look and feel.
Nokia draws on its Finnish roots when it comes to design. The Nokia 8.3 5G features a glass body and comes in a dark blue colour called 'Polar Night', which is inspired by the Northern Lights. The finish on the back is beautiful — it's shiny, holographic and when you move the phone in the light, the green lines 'move', reminiscent of the movement of the Northern Lights.
It is very noticeably large and heavy (227g) and while some other phones might be just as big and heavy, it's probably more noticeable as a lot of this weightiness is carried at the top of the phone. The size of the phone does make navigating the device one-handed virtually impossible for anyone with smaller hands, however the power button with fingerprint scanner is conveniently placed, so you won't have to stretch your finger to unlock it.
The fingerprint scanner is one of the better experiences out there. Fingerprint scanners are temperamental things at times, requiring several goes at repositioning your finger for it to actually scan and unlock. Never once did I find I had to reposition my finger because it was struggling to read, or hold my finger for a longer time, waiting for it to read and unlock. The face scanner however, was more temperamental with it struggling to 'recognise' my face on multiple occasions and you need to change angles a bit for it to eventually unlock. The fingerprint scanner is definitely the more seamless and easier way to unlock your device between the two.
As for other features, there's a headphone jack, Google Assistant button on the left side and volume control buttons on the right above the power button. Overall, it's a beautiful looking phone and there were no major issues with functionality that stood out. The shiny back is prone to fingerprint smudges, but there is a clear jelly case included to keep your phone's back smudge-free.
Performance
Of course the biggest draw card for the Nokia 8.3 5G is its 5G connectivity. Not only does it have 5G connectivity, but it also supports the most 5G New Radio bands, meaning that it will be compatible with more 5G networks both in Australia and around the world than other devices which don't support as many bands. This also means to access 5G, all you need to do is pair with a 5G-compatible SIM-only plan (available from Telstra, Optus, Vodafone or Spintel).
I was able to test its 5G connectivity on the Optus 5G network indoors and was able to reach a 75Mbps download speed. While that's on the slower side compared to what 5G is capable of getting, these speeds can be impacted by any number of factors and it was still faster than what my home internet was achieving.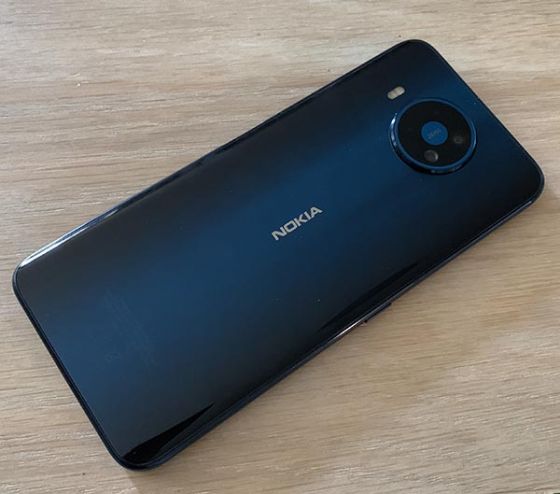 The Nokia 8.3 5G includes a Qualcomm Snapdragon 765G Modular Platform processor and was the first device to include this particular platform. The performance was powerful and fast — watching videos and scrolling through social media were a breeze.
The vibrant FHD+ display with PureDisplay technology and HDR support was made for watching videos. This was where the size of the device was worth it — once you fit your video to full size, it's certainly an immersive experience compared to what you get with smaller phones. The only let down was the built-in speaker, of which there is only one located at the bottom of the device.
If you tend to watch videos with speaker sound and not headphones, you might find the quality lacking a bit, especially with the bass. I found the audio did let down the overall video-watching experience, especially with live music videos, considering how top-notch the screen is.
When you think of Nokia, you'll most likely think of the early days of mobile phones and the trusty Nokia 3310's super-long battery life. Nokia certainly hasn't neglected this legacy with extra effort put into its phone batteries, thanks to its 4,500mAh battery and Adaptive Battery feature for 'two day battery life'. Watching around 20 minutes of HD YouTube videos used around 2% of the battery, so watching a full-length movie will certainly not drain your phone's power. In very low use, it lasts for more than two days on a single charge, however I found charging the phone wasn't as fast as you might experience with some other devices that include fast-charging technology.
One thing of note was the auto brightness — which is switched on by default — was a little bit too intuitive at times. For example, while watching a video, I found that the screen brightness would suddenly get a lot darker the moment your shadow briefly blocked the nearby light source. The obvious change in brightness was definitely noticeable when watching videos and a little frustrating at times, but you can simply switch the feature off if it bothers you. Also, gesture controls for navigating your web browser are turned on by default and I did find the feature to be a little clunky —  while other devices are a lot more fluid with the movement. However you can also turn off the gesture control function, which gives you the navigation buttons at the bottom of the device.
All in all, these were only minor annoyances and did not detract from an overall excellent performance from the Nokia 8.3 5G. Since the two 'issues' I experienced were easy to resolve simply by turning the feature off (or by getting used to it), it gives you the choice as to whether these are functions you want to use or not — nothing is forced on you.
Cameras
One of the biggest indicators for many when buying a smartphone are the cameras. On paper you get a quad rear-camera setup with 64MP, 12MP ultra-wide, 2MP depth and 2MP macro lenses. You'll also get a 24MP front-facing camera and ZEISS also provides a Cinema Capture and Editor feature with ZEISS Cinematic effects.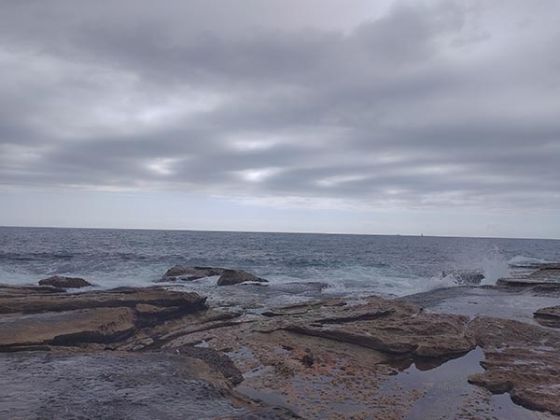 So, how do these cameras perform in real life? For a premium device at this price point, the cameras do everything you needed although I felt like I was expecting a slightly better performance than what I actually experienced. One feature I found particularly useful with the cameras was its intuitive suggestions for which lens or setting you should use. For example, if it recognised a face in the photo, it would suggest portrait mode, or when getting in close to detail, it would suggest macro mode. There are also tutorials on how to use the features when you first try out the different camera modes and lenses. I thought this was a really nice touch, especially the suggestions — if you're not particularly confident with your camera skills, this could help you improve your abilities.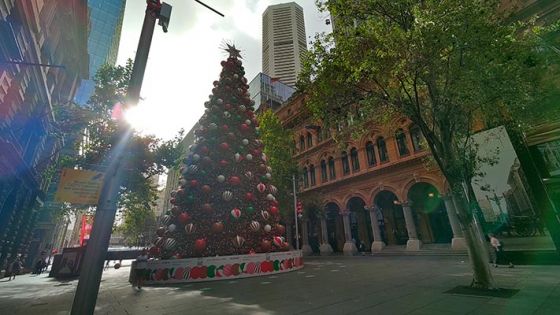 The standard 64MP lens does take some great photos, and is especially at its best outdoors and with landscapes. The ultra-wide function is also great as you can take in much more of the scene without needing to use the panorama function (although panorama is included, and produces a very fluid and nice result if you have a steady hand).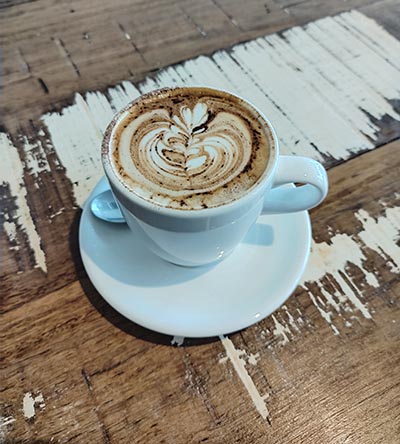 Low light and indoor photography is great. Low light and overcast photos outdoors tend to produce cooler results than some other phone's cameras (iPhone is typically warmer), but the colour details can be really vibrant even on overcast days. Even on an overcast day, taking photos indoors still provided detail, and photos were reasonably quick to capture. While you can still use the standard photo mode in very dark lighting, it might suggest a switch to night mode. Night mode does require a steady hand and takes a while to process, which is quite standard for any device's night mode function. However, the quality of these photos was a slight let down and did turn out a bit grainy — but, keep in mind that this experience is very common with most devices and it's rare to get an extra-sharp result in the dark with little lighting.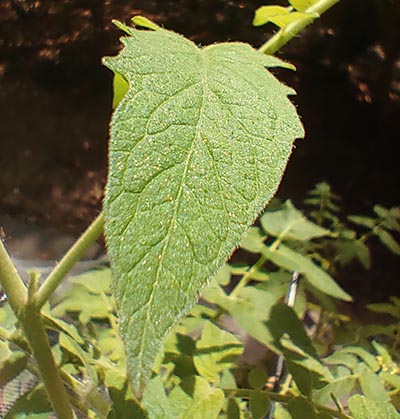 The macro lens was a let down for me. I felt it worked better in brighter outdoor lighting than indoors, and while a hint tells you to keep your camera 4cm from the subject, there is no indication when you are at the right distance. I found it particularly tricky to take a macro shot that was as clear as what I've achieved on some other devices, or indeed on a DSLR camera. As someone who loves taking macro photos, this was a bit disappointing, however if you find you rarely take macro photos, the performance is fine for casual use — it still picks up the details you want.
As for portrait photos, whether you use one of the rear cameras or front-facing camera for a selfie, you'll get a great result with portrait mode. It has the same background-blurring feature that most devices now offer and as an added plus, you can create effects on background lighting when using portrait mode — perfect for those family photos in front of Christmas lights. There is also the 'beauty' function allowing you to airbrush before you even take the picture. Sometimes these features can create some very 'otherworldly' results at times, but Nokia's version generates more natural-looking results.
Apart from 5G compatibility, one of the biggest features promoted for the Nokia 8.3 5G are the video capabilities. The device's tag line on the Nokia website is 'Elevate your creativity' and thanks to the cinematic video feature, budding filmmakers will have a lot of fun features to play around with. You can film in regular video mode or switch to cinematic with various effects such as blue flares and filters to give the right style to your video. There is an Action Cam for steadier videos, you can film in 4K and there is a 'split screen' video function that records with both the front and rear camera simultaneously, which is an interesting inclusion.
While I found some of the photo lenses to be slightly disappointing, the video capabilities made up for it. The cinematic recording made for some really stunning and moody videos, and there's a wind reduction feature. If you like getting creative with video, you'll have a lot of fun playing around with these features and effects.
All in all, the Nokia 8.3 5G does provide a great camera experience. For more casual to moderate photo enthusiasts, you'll definitely be set with your options and the quality of the cameras, and those video functions could help spark your creative side.
SIM-only plans for the Nokia 8.3 5G
The Nokia 8.3 5G is currently only available to buy outright from retailers including JB Hi Fi, Harvey Norman and Amazon, so you'll need to sign up to a SIM-only plan, whether that is prepaid or postpaid. If you want 5G network access, you'll need to sign up to plans from Telstra, Optus, Vodafone or the smaller telco, Spintel (which uses the Optus 5G network). However, if you're not too fussed about accessing 5G right now, or you live in an area with little to no 5G network coverage, there are plenty of phone plans to choose from.
Here is a selection of postpaid plans from Canstar Blue's database with a minimum of 10GB of data, listed in order of standard cost, lowest to highest, then by data allowance, largest to smallest. Try using our mobile phone plan comparison tool to see a wide range of plans from other providers. This table includes products with links to referral partners.
Here is a selection of prepaid plans from Canstar Blue's database with a minimum of 10GB of data each month, listed in order of standard cost, lowest to highest, then by data allowance, largest to smallest. If you want to compare a larger range of offers from other providers, use our phone plan comparison tool. This table includes products with links to referral partners.
Is the Nokia 8.3 5G the right phone for me?
If you're in the market for a 5G phone but don't want to spend over $1,000 for a device from manufacturers like Apple and Samsung, the Nokia 8.3 5G might be the way to go for you. While some might find the $899 price point a little bit too steep (you can easily get cheap smartphones with 5G connectivity), keep in mind this is meant to be a premium device from Nokia — a brand known for making great quality budget-friendly devices. The big difference is that you don't have to pay $1,000 to $2,000 to get the premium features.
While Nokia has hit the right notes with the cheaper and mid-range phones, as this is one of the more premium devices released by Nokia in 2020, this phone does have a more premium feel to it and certainly more features that are in-line with what you would expect from a premium model.
While I personally experienced a few missteps with the device's camera capabilities, and I found some features such as the built-in speakers to be slightly disappointing, these didn't detract from my overall experience with the phone. It's still a premium device for under $1,000 and has 5G network capabilities across a wide range of 5G bands.
The Nokia 8.3 5G performs how you would expect a premium device to perform and if you're a fan of Nokia's phones, it's certainly worth considering if you're looking to buy a new smartphone. While you can get cheaper 5G phones from other manufacturers, if you are looking for a premium device around that $700-$900 price point, you might want to keep the Nokia 8.3 5G in your considerations.
Related articles