When you think of TCL, you probably think about TVs, not phones. However, in 2020, the TV manufacturer took the leap into the smartphone world and integrated what the company knows best — great screen quality. The Chinese company has introduced two smartphones to the Australian market in 2020 at budget-friendly prices. The mid-range TCL 10L is the more basic of the two phones, and is available to buy outright for $449 AUD RRP, or if you want something more premium, you can pick up the TCL 10 Pro for $749 AUD RRP.
There has been some great successes when tech and TV manufacturers switch their attention to smartphones (hello Samsung!), so it's really not surprising that this is an area where TCL would decide to expand. If you're looking for a quality, premium smartphone but at a fraction of the price of other high-end devices, read on for a hands-on review of the TCL 10 Pro.
TCL 10 Pro features and specs: quick summary
Before we take a look at how the TCL 10 Pro really stacks up, here's a quick snapshot of some of the basic specs:
$749 AUD RRP
6.47 inch FHD+ curved AMOLED display
Qualcomm Snapdragon 675 Octa-core CPU
6GB RAM
128GB internal storage
Quad rear camera setup (64MP + 16MP + 5MP + 2MP)
24MP front-facing camera
In-display fingerprint scanner
4,500mAh battery
Ember Gray and Mist Green colours
TCL 10 Pro pros:
Lots of fun photo and video effects to play with
Beautiful display with spectacular colours, and the curve does make for nice experience
In-screen fingerprint reader well positioned
Fast and seamless to use
Setup allows you to configure the device for your dominant hand (left or right) for button placement
TCL 10 Pro cons:
Curved screen can cause some functionality problems
Wide-angle photos not as clear as you'd expect
Fingerprint scanner can be a bit temperamental
The phone's size in combination with the curved screen not the most comfortable or easy to use if you have small hands
Design and functionality
There is no doubt that TCL have made a really sleek looking phone. The finish on the back is a mix between matte and holographic; while its a subtle finish, it does look pretty special, and it both looks and feels really sleek in the Ember Gray colourway. The back material does smudge quite easily and since it's more of a matte finish, smudges and fingerprints do tend to stand out more. The quad rear camera setup is very different to what you get for most phones, with the cameras in a row across the top. This certainly helps it to stand out from its competitors, and it's nice to see a manufacturer trying out something different when designing a phone. The front facing camera is in a simple raindrop-style notch in the top middle of the screen, which is clean, simple and hardly noticeable.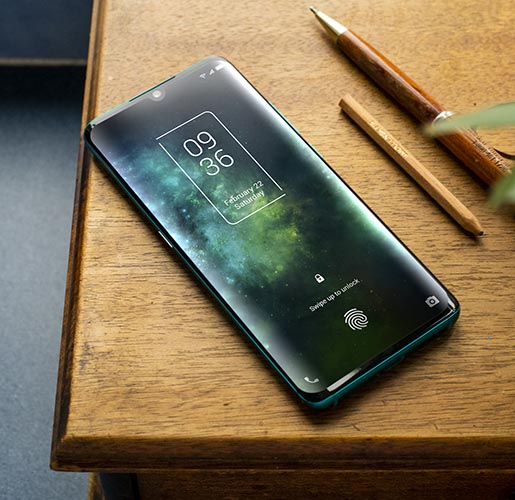 The screen is quite special — the curved display does help create these beautiful sleek lines and the curved screen really enhances the display quality and vibrancy. However, as nice as a curved screen is, it can sometimes impact the functionality. I found that I was using a particular app and the function I needed was sitting in the curve, it was a bit temperamental and hard to use. I also found myself accidently bumping parts of the display simply when I was holding the phone and navigating across the screen, although that might just be an issue if you happen to have smaller hands and short fingers. But really, it wasn't too much of an issue and the beautiful design and shape of the screen did make up for it.
While the curved screen does make for a more immersive video viewing experience, I found that using certain apps, especially with a white background, did create some shading in the curve which could be distracting if you're reading an article. This might be something you'd get used to, but the curved screen is definitely at its best when you're watching video. I did find that the built-in speakers were a little underwhelming, especially given how great the screen is. There is definitely a more 'tinny' sound quality and it does seem to lack a bit of the dynamics and depth you get with other phones, especially compared to an iPhone.
All in all, there the TCL 10 Pro ticks a lot of boxes when it comes to overall design and functionality. The few issues I had were definitely not enough to dampen my experience with this phone. It is beautifully designed and has the type of screen quality and style that you would expect from a company that mainly focuses on TVs. The overall design and feel of the phone means it both looks and feels like a premium device when you're using it, even if you're paying significantly less than you would for a premium handset from other manufacturers.
Performance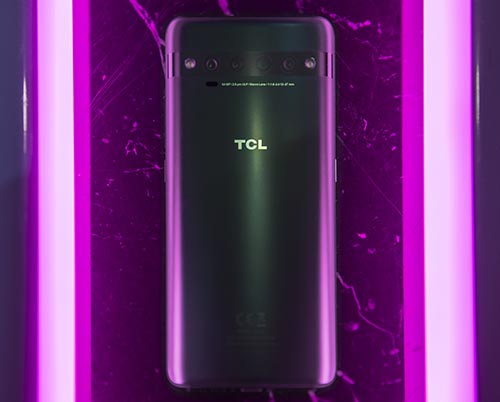 The TCL 10 Pro certainly has no problems with performance. It has a Qualcomm Snapdragon 675 octa-core processor and it's fast, seamless and reliable. Android 10 is included out of the box, and you'll get 6GB of RAM and 128GB of internal storage. It's also one of only a small number of smartphones to be Netflix-certified for HDR10 video streaming.
The 4500mAh battery also delivers a great battery performance, and with low usage, it definitely lasts a while and doesn't drain too quickly if you're watching video — about 10 minutes of video streaming used around 1%, so you really don't need to worry about Netflix catch-ups draining too much of your battery.
The in-screen fingerprint reader is very conveniently placed, however I did find at times the scanner sometimes took a while to scan. Sometimes I'd need to reposition my finger a couple of times, and it could be hard to tell how long you needed to hold your fingerprint on screen in order for it to register. However, this didn't happen often, and certainly wasn't annoying enough to detract from the overall performance of the TCL 10 Pro. After all, no fingerprint scanner or face reader technology is 100% perfect and without its occasional misreads.
Overall, there is nothing to complain about with the TCL 10 Pro's performance. It's easy to use, fast, reliable and everything you would expect from a phone like this. Considering these devices are some of the earliest ventures into smartphones for TCL, they've certainly pulled off a phone that matches up to devices from manufacturers that have been producing smartphones for much longer.
Cameras
The main focus of the TCL 10 Pro is its cameras, and especially its video capabilities. Of course, most new smartphones these days are measured by how much camera tech you can get in and the quality of photos your phone can produce. So, does TCL's camera and video-focus pay off for the TCL 10 Pro? Absolutely.
You'll get a quad rear camera setup with 64MP high-res, 16MP super wide, 5MP macro and 2MP super low light lenses, while the front-facing camera is 24MP. The cameras are certainly impressive and there are some great photo functions to play around with. There's also a clever function that allows you to see three different camera alternatives (original, ultra-wide and low-light video) at once so you can pick the best option for your photo.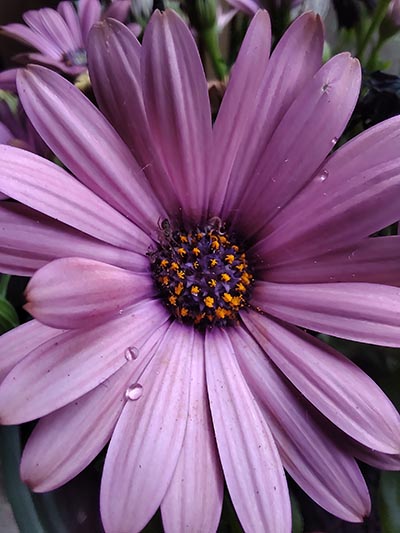 The macro lens is pretty impressive although I found it to be a little temperamental with colours. I had to take quite a few photos of the above flower to not only get the macro positioning right, but also to get the photo colours to match the flower's real-life colour. However, considering the results of the image (and the fact that the picture shows some tiny spiders and webs on the flower that weren't visible to the naked eye), it's a very impressive macro lens.
All the other lenses do what you would hope they would. The 64MP high res camera does capture some great high-res photos — and there is a high res photo function so you can use it to its full potential. Low light photos are often where many phones fail, or at least, the cheaper phones often struggle the most with low light photos. The TCL 10 Pro does low light photography well and without the blurry results you often get from other phone cameras. Often you need to hold your phone still for a long time as it slowly processes the low-light photo, however, I felt it was pretty quick and the results were very impressive.
The super-wide camera is perhaps the only slight let down.. The image quality wasn't as sharp as I was expecting, especially if you're using it for a photo of objects closer to you, although that is compared to the photos taken with the 64MP high-res lens.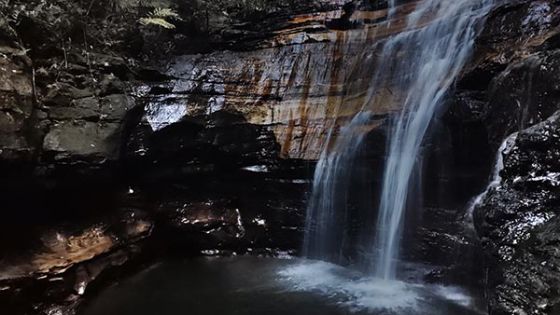 As for other photo features, the light tracing function lets you choose between capturing movement (waves, etc), capture light (cars, lights, etc) or you can draw light, for creative pictures where you draw with a light source, such as a sparkler. These functions are lots of fun to play around with, but will take some time to get it right. The front-facing camera is also excellent and portrait mode creates a really nice background blur. You're also able to use the edit functions in portrait mode before taking the photo, which is great for letting you see what works without having to take multiple shots.
Video is perhaps the main draw card for the TCL 10 Pro and it is certainly a big focus for the phone. For anyone who likes to create video with their smartphone, you will have a lot of fun with this device. The stop-motion function is particularly fun to play with and while it does take some getting used to, it does exactly what you want it to — create fun, stop-motion style videos. However, you'll definitely need either a very steady hand or means to hold your camera still, such as a tripod, to get the best results.
While many phone manufacturers do hype up photo and video functions of their smartphones, it can be hard to tell if these functions are 'better' than the competition. However, TCL certainly does deliver when it comes to the photo and video functions for the 10 Pro.
SIM-only plans for the TCL 10 Pro
If you want to pick up the TCL 10 Pro, you'll need to buy the phone outright, with the device currently available from JB Hi Fi and Officeworks. Then, simply pair with a SIM-only phone plan — your choice or prepaid or postpaid — and you're good to go.
Here is a selection of postpaid plans from Canstar Blue's database with a minimum of 10GB of data, listed in order of standard cost, lowest to highest, then by data allowance, largest to smallest. Use Canstar Blue's phone plan comparison tool to see a wide range of plans on offer from mobile providers. This table includes products with links to referral partners.
Here is a selection of prepaid plans from Canstar Blue's database with a minimum of 10GB of data, listed in order of standard cost, lowest to highest, then by data allowance, largest to smallest. Use our comparison tool to see a wide range of plans from other providers. This table includes products with links to referral partners.
Is the TCL 10 Pro the right smartphone for me?
There is a lot of competition in this space with many manufacturers promoting devices as being great for creatives. Cameras are one of the easiest metrics to measure and compare a smartphone's performance, so TCL did have a lot to prove with the 10 Pro. The good news is, this phone does deliver on this expectation.
If you like playing around with smartphone photography and video, you will definitely have a lot of fun with the TCL 10 Pro. The various video functions are especially great for anyone who likes to get creative and make movies, and the functions can also help spark that movie-making creativity. Even if you're not big on lots of video and photography, parents might find it to be a great device for filming some fun home movies and getting the kids involved in storytelling.
While there were a few issues I had with the functionality of the curved screen, the slightly temperamental fingerprint scanner and the colour differences with some photos, these are just minor issues that never took away from the overall experience. No smartphone is perfect and there will always be room for improvement. But, considering this device is one of the first smartphones for the TV manufacturer, there is really nothing to complain about.
The TCL 10 Pro is priced at $749 RRP, and while there are some other great premium devices around this price point, this is definitely a device you'll want to consider if you're comparing smartphones. If you like a premium phone but don't want to spend over $1,000, the 10 Pro proves that you can get premium devices without the huge price tag.
Smartphone reviews and guides