Fact Checked
Suez dumps the competition in waste management ratings
Operating a business can prove a handful, with plenty of moving parts to consider to keep the operation turning. An area that may not spring immediately to mind however, is waste management. While it may not be a glamorous subject to think about, it's an area that you'll need to consider, especially when your workspace starts to be impacted.
For some businesses, the idea of 'waste management' is simply remembering to put the bins out every week, but for others, the task covers the safe disposal of hazardous materials, which requires a lot more care and safety. There are a thousand different types of businesses and a thousand different needs when it comes to managing waste. So, who should you look for when it comes to taking care of business?
To help small businesses take their waste management responsibilities seriously, our annual ratings provide a guide as to which service provider may prove the best fit with your business practices and environmental stance. This year, Canstar Blue surveyed close to 400 business owners and key decision makers that have recently used a waste management service, so we could turn their feedback into the ratings table you see above, with brands compared on important factors like client service, responsible waste solutions, speed of waste disposal, value for money and so on. Those which received the minimum survey sample size of 30 responses are featured in our results. So, what did we find?
Suez took out top spot this year, claiming five stars across multiple categories, including client service, booking service and process, frequency of waste disposal, bin or container hire and overall satisfaction.
Best Waste Management Services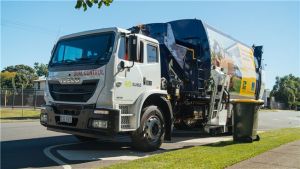 Here are the best waste management companies in Australia, as rated by businesses in Canstar Blue's 2021 review:
Suez
J.J. Richards & Sons
Veolia
Cleanaway
Suez topped our waste management ratings in 2021, earning five star reviews across multiple categories, including client service, speed of waste disposal, responsible waste solutions, bin or container hire, value for money and overall satisfaction.
Last year's winner J.J. Richards & Sons scored five stars for client service, while Veolia notched five star reviews for value for money as well as frequency of disposal. Cleanaway also getting in on the five star action, with the only five star rating for responsible waste solutions, in addition to five stars for frequency of disposal and bin or container hire.
While only four brands featured in our 2021 ratings, there are plenty of options available for SMEs to use, with 27% of survey respondents stating that they use a specialised paper shredding waste business for some or all of their waste (down from 62% last year), meaning there's plenty to consider when it comes to keeping the office neat and tidy. To help you find the best fit for your business, read on for a summary of each brand.
Top Waste Management Companies
Suez
Formerly known as SembSita Australia, Suez provides a number of services for businesses and local authorities, including waste collection, processing and recycling, along with urban cleansing for public pathways and roads. The company offers one-stop shop solutions for waste management, as well as specialised services and equipment hire for SMEs. In addition to the removal of waste, Suez offers diagnostic and analysis of business waste practices, allowing SMEs to alter their practices, as well as invest in environmental processes to align with regulatory bodies and guidelines. Suez has more than 100 sites and facilities across Australia, with operations across all levels of the sustainable resource recovery chain. Customers are encouraged to contact the company directly for pricing information.
Suez was rated five stars for client service, booking service, frequency of disposal, bin or container hire as well as overall satisfaction, but was also rated three stars for value for money and responsible waste solutions.
J.J. Richards & Sons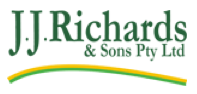 J.J. Richards & Sons has a range of services to suit its customers regardless of their business or industry. Whether your business deals with office paper, food scraps, or hazardous material, J.J. Richards & Sons will have you covered. For those after simple waste removal, J.J. Richards has a number of wheelie, skip and industrial bins to choose from, all ranging in sizes and capacities to suit your business size and waste needs. For those after industrial bins, you can also alter features such as the wheels and colour coding to suit your waste needs. The company also offers a range of recyclable services for businesses that will go through a lot of paper, or those simply looking to lighten their environmental footprint.
For those in need of a specialised waste service, such as those who need to remove hazardous material, building site materials, or dispose of sanitary products, J.J. Richards has an Industrial Services Division, which specialises in providing equipment and services for specialised cleaning, including liquid waste services, sewer and drain cleaning as well as oil collection and treatment. Compactors are also available for hire, helping to cut down on bulky waste items. Fees are listed on the company's website, meaning that there shouldn't be any surprises when the bill comes around, with J.J. Richards providing an app for businesses to use, which allows customers to keep on top of when their next service is, as well as view past invoices.
Last year's winner, J.J. Richards & Sons was rated five stars for client service in 2021, with four stars across all other categories, including value for money, booking process and overall satisfaction.
Veolia

While perhaps better-known for big business environmental initiatives, Veolia also offers SMEs a range of waste and recycling disposal and management services, including document destruction and e-waste management for confidential documents. Veolia doesn't offer pricing online, but encourages businesses to contact the company for a consultation to ensure all your waste needs are met.
In addition, for those businesses in construction or engineering, Veolia offers a wide variety of industrial waste management services, like cleaning and hazardous waste management to help your business run optimally and within any safety guidelines. Veolia also offers traditional waste management services like medical waste, liquid waste and drum disposal, helping businesses across a range of industries, and even provides a number of technologies and services for the energy industry to help with heating and cooling networks, covering almost every aspect of your businesses usage and waste.
Veolia was the only brand to score five stars for value for money, and also scored five stars for frequency of disposal, although it also scored three stars for bin or container hire and booking service, along with four stars for overall satisfaction.
Cleanaway

Cleanaway offers a variety of services to cover small businesses up to global corporations, with a range of industries and waste types covered. For specialised SMEs that deal with hazardous waste, Cleanaway has a variety of specialised services to help safely remove the waste from your premises, including paint disposal, contaminated soil in addition to medical waste. For some more traditional waste removal and management, Cleanaway has bin and compactor hire for businesses, as well as recyclable services. The collections can be set up for daily, weekly, fortnightly or monthly rotations, depending on your specific waste needs, with a variety of skip, bulk, wheelie and steel bins all available for purchase. All prices and fees are available on the company's website. Cleanaway even has an 'emergency spills hotline', allowing you to call in the experts if there's an accident.
In addition to physical waste, Cleanaway also deals with document disposal and e-waste, handy for the modern business that may be making the transition away from paper to online documents. Cleanaway offers document destruction, hard drive disposal and e-waste management to help ensure confidential business documents are properly removed, with centres monitored by 24-hour CCTV for peace of mind.
Cleanaway achieved five star ratings for frequency of disposal and bin or container hire, in addition to the only five star rating in the responsible waste disposal category. Additionally, Cleanaway was also rated four stars in all remaining categories, including overall satisfaction.
Other Waste Management Services
In addition to the four brands in our ratings, it may prove a worthwhile business decision to look into the other options available, including those listed below.
Ace Waste

Ace Waste currently only has two locations in Australia, but offers a broad range of services, including biosecurity, pharmaceutical waste removal and commercial waste removal to help businesses regardless of their industry. Waste containers, such as wheelie bins and disposable sharp containers, are available. You can even ask Ace Waste to audit your business' current waste disposal methods and practices, ensuring that you keep up with industry standards.
Toxfree

Currently owned by Cleanaway, Toxfree is a prominent figure within the waste management market, with over 80 facilities around Australia. Offering traditional waste management services such as waste collection, landfill management, recycling facilities and skip bin hire, Toxfree also offers hazardous waste disposal, e-waste recycling and the disposal of health-related waste. If you're worried about site safety, Toxfree also offers site audits and assessment, as well as waste management reporting, allowing you to keep on top of the business side of waste management.
Which waste management service should you use?
There's plenty to consider when it comes to engaging with a waste management service. While some may be happy as long as the bins are being taken away, 55% of survey respondents said it was important to them their business dispose of waste responsibly. Over a third (37%) stated that the environmental record of waste management companies is important to them. If you're looking to take your business in a more environmentally-friendly direction, researching into how your waste management service deals and disposes of your waste may help with your decision-making.
In addition to the environmental aspect, the final decision may be influenced by other factors, such as your budget, how frequently your waste can be collected, as well as whether any business tools such as apps are offered. With survey respondents spending an average of $422 a month (down from $477 last year) on waste management services, looking into all available options, as well as what services your business actually needs, can help you keep your budget intact, as well as your environmental record.
MYOB Accounting Software
Looking to make dollars and cents of your personal or small business finances? MYOB's accounting software includes options for invoicing, payroll, expenses and more. For more information on the featured plans below, click the button below to be referred to MYOB's site.
Payroll software for small businesses with up to 4 employees

Single Touch Payroll (STP) reporting
Pay your employees

from $10/month
min. cost $10.00 over 1 month
Go to site
Online accounting software great for new and smaller businesses

Single Touch Payroll (STP) reporting
Manage & track cashflow
Send quotes & invoices
Manage bills & expenses
30-day free trial available
50% off for first 3 months. New customers only. T&Cs Apply.

from $25.00/month
min. cost $50.00 $25.00 over 1 month
Go to site
Online or offline accounting software with job tracking and inventory

Single Touch Payroll (STP) reporting
Pay your employees
Send quotes & invoices
Manage bills & expenses
Bill by time & track jobs
Manage inventory
30-day free trial available
50% off for first 3 months. New customers only. T&Cs Apply.

from $60.00/month
min. cost $120.00 $60.00 over 1 month
Go to site
About the author of this page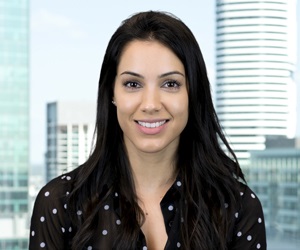 This report was written by Canstar Blue's Home & Lifestyle Content Lead, Megan Birot. She's an expert on household appliances, health & beauty products, as well as all things grocery and shopping. When she's not writing up our research-based ratings reports, Megan spends her time helping consumers make better purchase decisions, whether it's at the supermarket, other retailers, or online, highlighting the best deals and flagging anything you need to be aware of.