Review of Fisher & Paykel washing machines
If you're looking for a new washing machine for your home, Fisher & Paykel is almost certainly worth a look. Unlike some leading manufacturers, it still produces both front and top load washers, giving you plenty of options to consider. While they may not boast some of the extravagant features that you see with other brands, Fisher & Paykel washing machines are stacked full of value, giving you all the basics at a very reasonable price. This is generally true for all Fisher & Paykel appliances, including clothes dryers, dishwashers and refrigerators. But in this report we'll look specifically at washing machines.
Washing machines from Fisher & Paykel
To its Australian cousins across the ditch, Fisher & Paykel offers about 12 top loader washing machines, and seven front loaders. The entire range varies in price from about $600 for the most basic top loaders, all the way up to about $1,600 for the top-of-the-line front loaders. Let's get a better look below.
Fisher & Paykel Top Loaders
Fisher & Paykel has a large range of top loaders. Its most budget-oriented model costs about $700 and comes with a capacity of 5.5kg (MW513). The dearest is about $1,600 and comes with a large capacity of 10kg (WL1068P1). Fisher & Paykel top loaders generally have the following features:
"Smart Drive" – the motor the brand developed to deliver a gentler wash that is kinder on your clothes. It consists of three parts: a small computer, a flexible agitator and a direct-drive motor. This means that the washing machines sense each load and adjust water levels and wash cycles more intuitively.
Some washers have "Eco-Active", a system that helps boost water ratings, giving the 8.5kg model (WA8560P1) a four-star WELS rating.
This model also boasts the fastest full-load wash time. The wash time is between 59-69 minutes and this beats out other top brands from the likes of Samsung and LG.
Most models feature a "Smart Touch" control, which boasts 12 cycles for all manner of washing.
Soft-close lid – perfect for little curious fingers.
Fisher & Paykel Front Loaders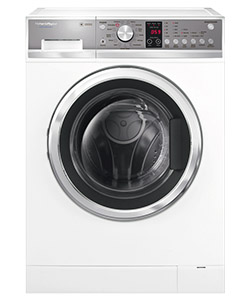 Fisher & Paykel has a shorter range of front loaders than top loaders, but what's on offer is still strong. Expect to pay anywhere between $900 and nearly $1,500. So expect a higher entry-level price, but at the top-level prices seem to be on-par with the brand's top loaders. However, capacity is somewhat stunted, with the largest front loader being 8.5kg. Generally, Fisher & Paykel's front loaders feature:
"Wash Smart" for intelligent load sensing to save on water and energy bills.
The direct drive motor is "whisper" quiet. A common complaint among front loader owners is that it sounds like a rocket taking off when their washing machine is in a heavy cycle.
Timed dispensary. This detergent dispensary ensures that detergent is injected into the wash at ideal times for a more thorough wash. This varies cycle-by-cycle so you have a better chance of getting a decent wash every time.
The "Smart Drive" front loaders have a 4.5-star WELS water rating and a 4-star energy rating. The 8.5kg model (WH8560P2) for example uses as little as 73L a cycle, which is potentially half of a top loader's consumption.
Soak option: This is not commonly found on other front loaders – according to Fisher & Paykel – but the soak function has a duration of one hour and the gentle tumble helps lift more stubborn stains.
'Add a Garment' optional add-on. This add-on allows you to pause the cycle and add something you have forgotten. What used to be an exclusive feature on top loader washers is now featured on Fisher and Paykel front loaders. Not having this option has historically been a common gripe among front loader owners, but they need not worry anymore.
Is a Fisher and Paykel washing machine a good move?
Fisher & Paykel's wide range of washing machines – both top and front loaders – means there is likely one that's right for you and your family. While its range does not boast any models with 'super-large' capacities – it tops out at 10kg – the overall prices seem to be quite good value. This is especially true considering how many techy features are included. Expect Fisher & Paykel washers to include smart detergent dispensaries, quiet motors, water-saving technology and smart cycle options.
The bonus is these features do not cost extra and are generally available even in the cheapest models. And as an extra little tidbit, a lot of Fisher & Paykel's manufacturing is still based in New Zealand – this ensures Kiwis remain employed in the manufacturing sector. Overall, Fisher & Paykel represents a solid option for smart washing machines that won't break the bank.